Patricia Ann Murphy, 88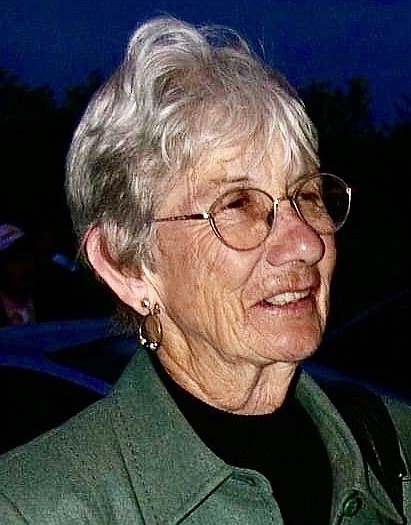 Mrs. Murphy no longer teaches here but her memory will live on with all those that she touched. On April 7, 2021, Patricia Ann Murphy left our earthly realm and climbed the stairway to heaven to be with Glenn. She passed away peacefully at Saint Luke's Community Hospital with her Terry by her side.
Pat was born Patricia Ann Walker on Jan. 13, 1933 in Spokane to Ural and Gladys Walker, and joined siblings Iris, Elaine, Dorthey, Betty and Francis. She was raised on a homestead on the Canadian Prairie at Coriander, Saskatchewan. Yes, she actually rode a horse named Blue Bell 3 miles to school even during the Canadian Winter.

She started in a one-room schoolhouse in Coriander. When that school closed (we think) she attended another one-room schoolhouse at Denniel. She graduated from Val Marie High School and went to Northern Montana College to become a teacher.
On Nov. 23, 1959 she married Glenn Murphy; they were together until Glenn Passed away on March 27, 2013. She started her teaching career in Havre, then Rocky Boy. Pat and Glenn moved to St. Ignatius in 1961 and bought land in the Post Creek Area and started raising cattle. In the fall of 1961, Terry was born. In the fall of 1962 she resumed teaching at St. Ignatius, where she taught mostly first grade until her retirement after the 1994 school year. She taught school for a total of 39 years.
While Pat was a teacher to her very last breath, she was also a rancher. She loved cattle and the cattle business. She put her teaching skills to good use by being a 4H leader for several years.
She was a proud member of the Montana Stockgrowers, Western Montana Stockmen's Association, National Cattlemen's Beef Association and Western Montana Cattle Women. Her work with the Brand Blankets was one of her great achievements.
Patricia was preceded in death by her husband, Glenn; her parents, Ural and Gladys Walker; and siblings Iris Rosser, Elaine Croston Dorothy Walters and Francis Walker. She is survived by her son, Terry, and his wife, Betsy; stepdaughter Wanda Nelson and her husband, Tom, their daughter, and her stepson, Aaron Labar, and wife Brenda; grandchildren Tiffani and husband David; Walker and Hunter; Christian and his wife Holly; Deborah and her husband Scott; Michael and his wife Alma; Allison; Christine and her husband Jon; and Milo; as well as her great-grandchildren Hailey, Lesli, Trey, Addessa, Jordan, Cameron, Logen and Penelope. A graveside service will be held at 10 a.m. May 8 in the St. Ignatius Catholic Cemetery.
---