Time Capsule: Cattle guard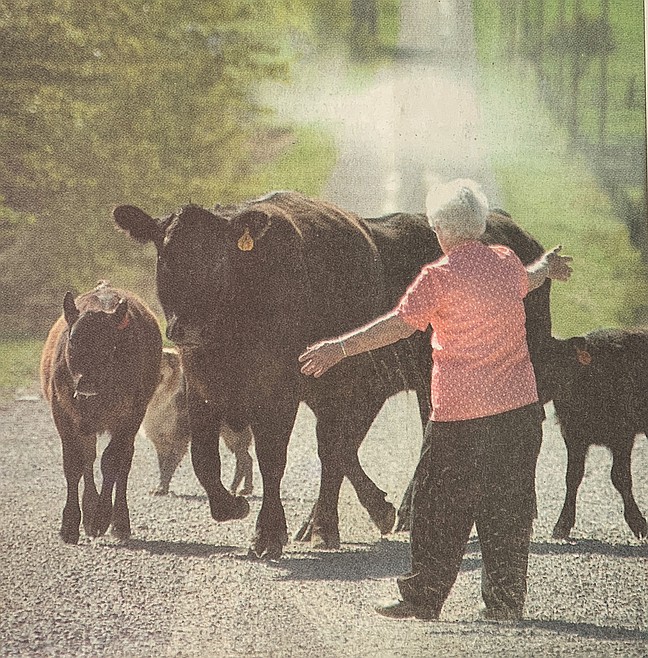 Headed for greener pastures, a few stragglers needed some gentle steerage by Mabel Reum of Twin Willow Ranch north of St. Ignatius as the cattle crossed McDonald Lake Road. The herd was recently vaccinated and the young calves branded. "They're all ready for summer," Reum said. "All they have to do now is eat." (Linda Sappinton, April 29, 2004 Lake County Leader)
by
Lake County Leader
|
April 29, 2021 12:05 AM
This week in Lake County news archives.
Floods close roads
May 1, 1997 Lake County Leader
Water pumping at 1,000 to 1,500 gallons a minute continues to keep a portion of Montana Highway 35 closed just below the Flathead County line as local disaster officials keep a wary eye on mountain snowpacks.
The road is closed indefinitely near Woods Bay, Lake County disaster and emergency services coordinator Dick Giffin said. Rushing spring water is causing the pond at a roadside game farm to flow across the highway.
Bulldozer sentencing
May 2, 1985 Flathead Courier
A Ravalli man was sentenced for using a bulldozer to alter the channel of the Jocko River and for placing a septic tank in the river's floodplain, apparently the first time such activities have been prosecuted in Lake County.
Billy Schall was found guilty two weeks ago of violating sewage disposal regulations. Lake County Justice of the Peace Charles Meyer fined Schall $2,050, deferred for two years on the condition that he correct the situation to the satisfaction of the county sanitarian within 15 day.
Riebe takes trap titles
April 27, 1972 Flathead Courier
Gary Riebe of Polson won the Class C Doubles championship in the Western Zone Trap Shoot last weekend in Spokane. He also tied for the all-around championship, shooting 365 out of a possible 400. The all-around title included scores in the singles, doubles and handicap. To take the doubles title, he shot 86 out of 100.
Shooters were plagued by 35 mph wind. Some 320 competitors attended. Contestants came from the West Coast and Northwest states, plus Alberta and British Columbia.
---