Boulder 2700 Fire hops Highway 35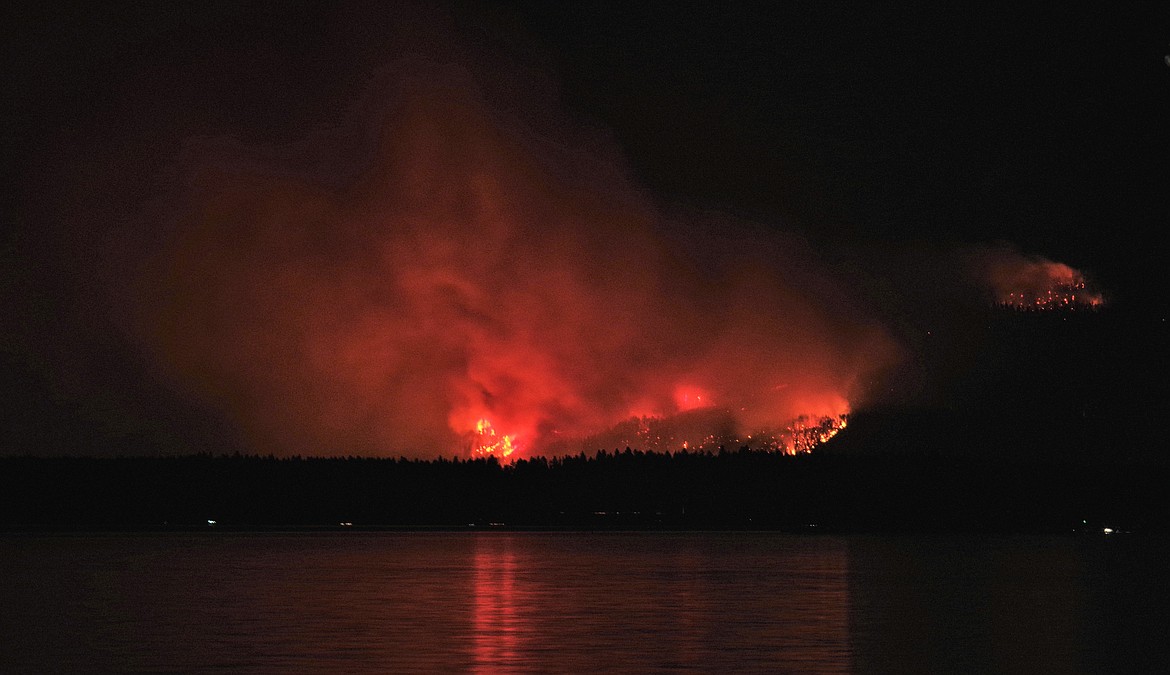 A view of the Boulder Fire from Ducharme Park in Polson early Sunday morning. (Courtesy of Anna Lee Lonnevik)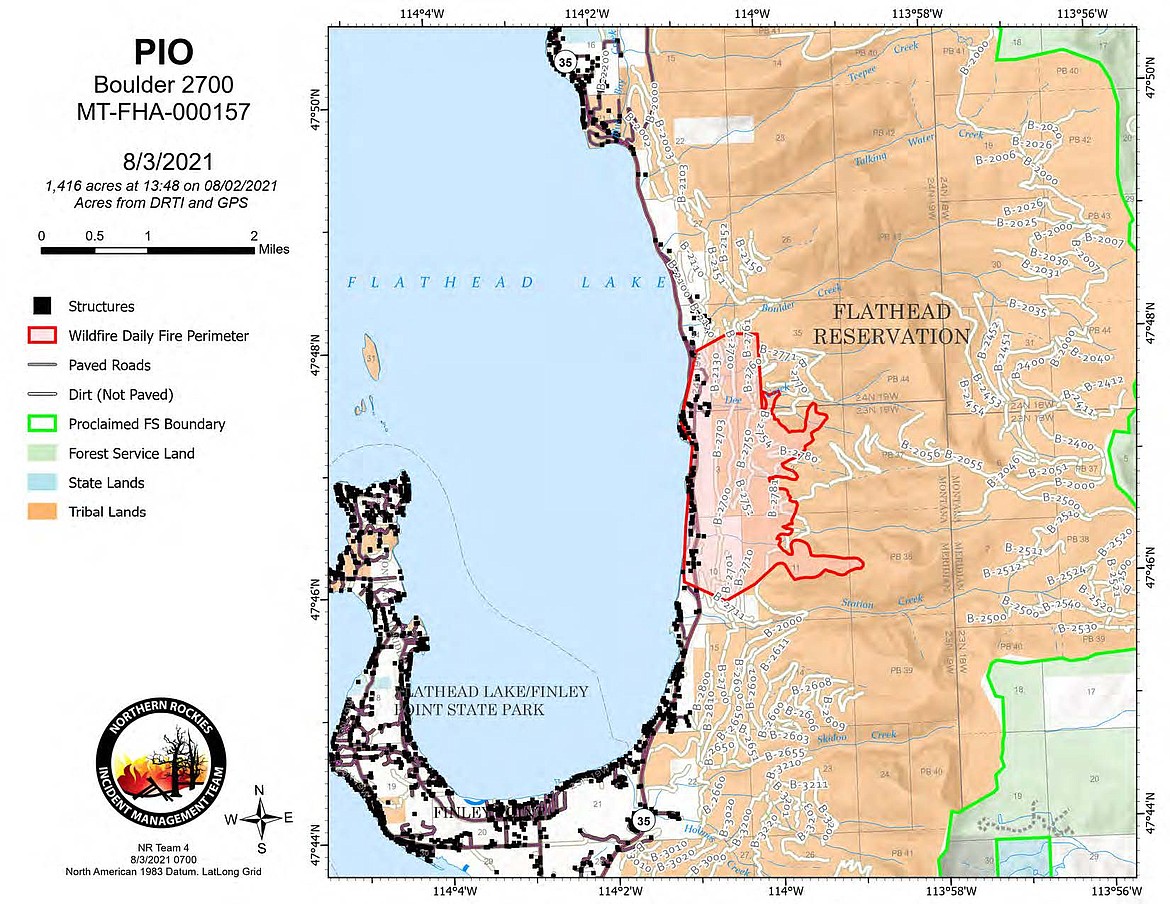 The boulder 2700 Fire map on Aug. 3. (Northern Rockies Incident Management Team 4)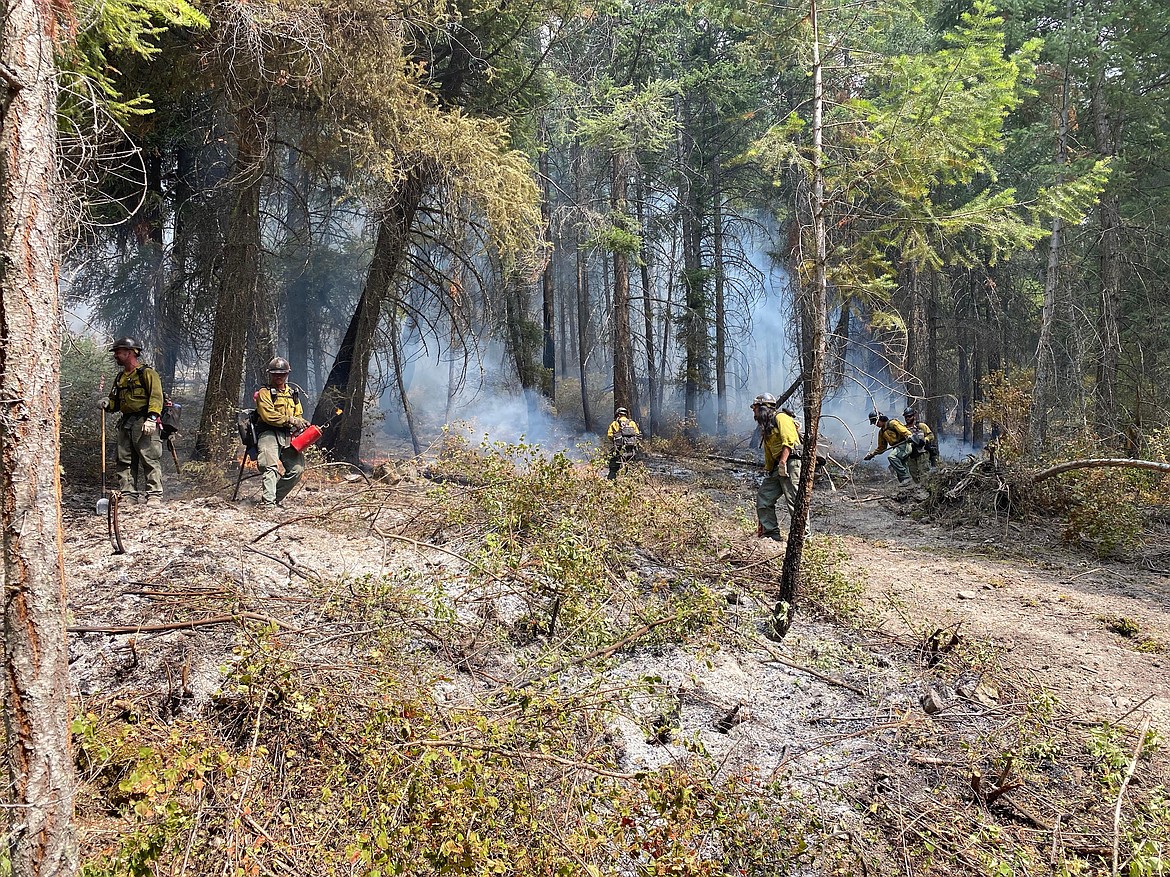 Firefighters work on the perimeter of the Boulder 2700 Fire east of Polson on Monday, Aug. 2, 2021. (Inciweb photo)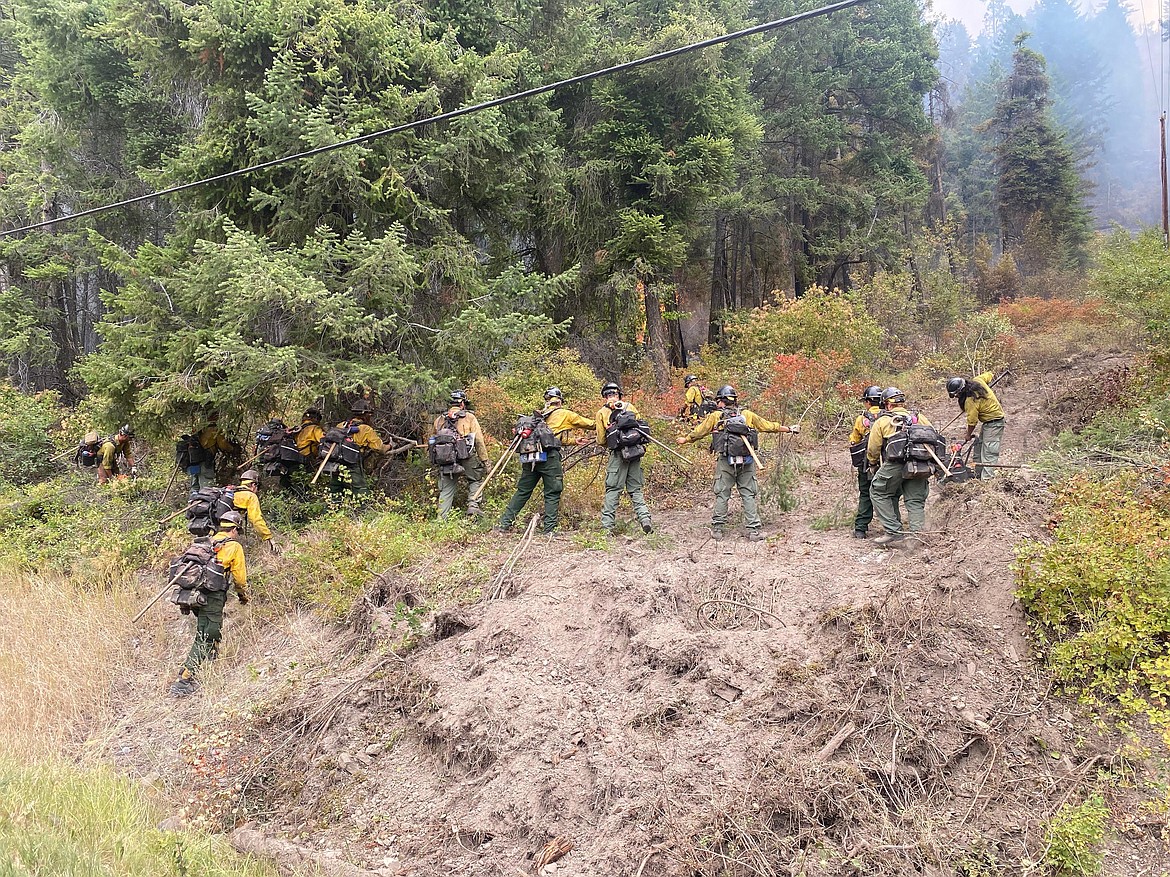 Firefighters cut a handline in the area of the Boulder 2700 Fire east of Polson on Monday.(Inciweb photo)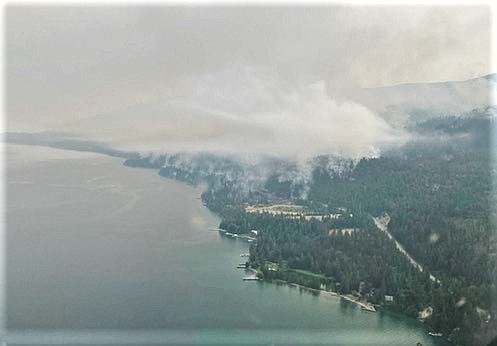 Smoke from the Boulder Fire rises from Finley Point on Sunday morning. (Courtesy of CSKT Division of Fire)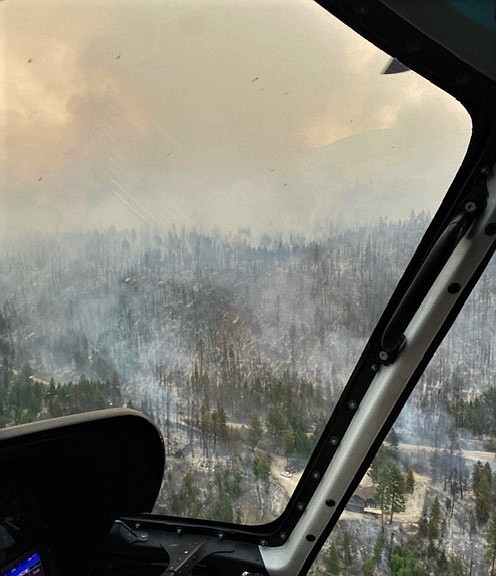 Smoke from the Boulder Fire rises from Finley Point on Sunday morning. (Courtesy of CSKT Division of Fire)
Previous
Next
by
SCOT HEISEL
Lake County Leader
|
August 3, 2021 9:08 AM
A wildfire in the Mission Mountains east of Flathead Lake that began early Saturday morning rapidly spread overnight, destroying several structures and forcing mandatory evacuations of the Skidoo Lane area and Finley Point.
According to C.T. Camel, information officer for the Confederated Salish and Kootenai Tribes' Division of Fire, the Boulder 2700 Fire destroyed structures on both sides of the highway between mile markers 9 and 10. An exact number of structures lost and types of structures was not available Tuesday morning but was expected to be released in the coming days.
"The downdraft winds are what got them," Camel said. "Then it started spotting downhill and across the highway."
He said fire crews worked all night and saved a few homes. Aircraft began dropping retardant and water on the fire, and an advanced type 2 Northern Rockies Incident Management Team assumed management of the fire Monday morning.
Lake County Sheriff Don Bell announced Monday night that residents could begin returning to their Finley Point properties Tuesday afternoon (see related article).
Highway 35 will remain closed at the Highway 93/35 junction on the south end and at mile marker 15 on the north end for several days.
Evacuations were ordered from mile markers 6 to 13 along Highway 35 and all of Finley Point, and the Red Cross established an evacuee shelter at Linderman Elementary, 312 4th Ave E. in Polson.
John Peregoy, chair of the Lake County Disaster Action Team, is coordinating the shelter's operations. Peregoy, who also is a local Red Cross volunteer, said Sunday afternoon that the shelter had received ample supplies for the time being.
"The community made an incredible response to our needs, which is very pleasing."
Peregoy said Red Cross groups in Missoula and Kalispell were assisting with management of the shelter.
He said approximately 40 clients arrived at the shelter between midnight and 3 a.m. Sunday.
"We're prepared to staff the shelter through the week or longer," he said. "It just depends on the demands. We're here for the duration, though."
Peregoy said he and the shelter staff have been coordinating with the Lake County Office of Emergency Management and the Lake County Sheriff's Office. Shelter volunteers include staff members from St. Luke Community Healthcare, Providence St. Joseph Medical Center and Confederated Salish and Kootenai Tribes' Tribal Health Department.
Both the Polson and Ronan fairgrounds have space available for displaced livestock. Call the Polson Fairgrounds at 406-253-5088. Call Sjaan Vincent at 406-396-0807 to inquire about the Ronan facilities.
Anyone who has been displaced by the fire and needs help with anything is asked to message the Polson Chamber directly on Facebook or Instagram, or send a text to 406-544-2162.
Anyone looking to help should stop by Linderman and speak to Red Cross staff first. Updates on the Linderman shelter are available at the Polson Wildfire American Red Cross Facebook page.
The Lake County Sheriff's Office issued a statement Sunday saying county dispatch "is receiving an externally high number of calls requesting information about active fires in the area. … Dispatch does not have any newer information. Please only call for emergencies."
Questions regarding Lake County fires should be submitted via email to fireinfo@lakemt.gov, or contact the CSKT Division of Fire at 406-676-2550.
The Boulder Fire originated about 8 miles east of Polson in a steep area with heavy downed fuels. Fire managers suspect it is human caused.
A shift in the wind started pushing the fire toward the lake to the west and south from mile marker 10, where the fire jumped Highway 35 overnight Saturday.
Camel said the fire grew from 150 acres Saturday to 1,150 acres by Sunday morning. Tuesday morning it was listed at 1,416 acres with 0% containment on the interagency website inciweb.nwcg.gov, the primary source of official information on the fire.
Among those who evacuated were Russ Harshberger, his wife Lori Frank, their 16-year-old son and two of his teenage friends, who were visiting friends along Skidoo Lane and camping in a travel trailer nearby.
Harshberger, a Kalispell native who now lives in Happy Valley, Oregon, said the sky emitted "a red glow" when his group tucked in Saturday night.
"We couldn't go to sleep because we were worried about the fire," he said. "Once it got dark, the fire really started taking off."
Around 1 a.m., Harshberger said, a sheriff's deputy stopped by and said they needed to leave immediately. It was pitch-black outside and he didn't feel comfortable hitching up the trailer, so everyone piled in the truck and they drove away — only to be evacuated a second time from their friends' house on Skidoo Lane.
The fire caused significant damage to the main line throughout the area, and Mission Valley Power crews began main line repairs Tuesday morning after getting the go-ahead from Incident Command.
Interagency fire managers initiated Stage II fire restrictions for all of Lake County on July 17.
Stage II fire restrictions prohibit building, maintaining, attending or using a fire, campfire or stove fire; smoking, except within an enclosed vehicle or building, a developed recreation site, or while stopped in an area at least 3 feet in diameter that is barren or cleared of all flammable materials; and operating motorized vehicles off designated roads and trails.
Additionally, operating an internal combustion engine, welding or operating an acetylene or other torch with an open flame, and use of explosives are prohibited from 1 p.m. to 1 a.m. Outside of those hours, a one-hour foot patrol in the work area is required following cessation of all activities.
Daily Inter Lake reporter Chad Sokol contributed to this article.
Recent Headlines
---