Skate on: Seventh Avenue skatepark still growing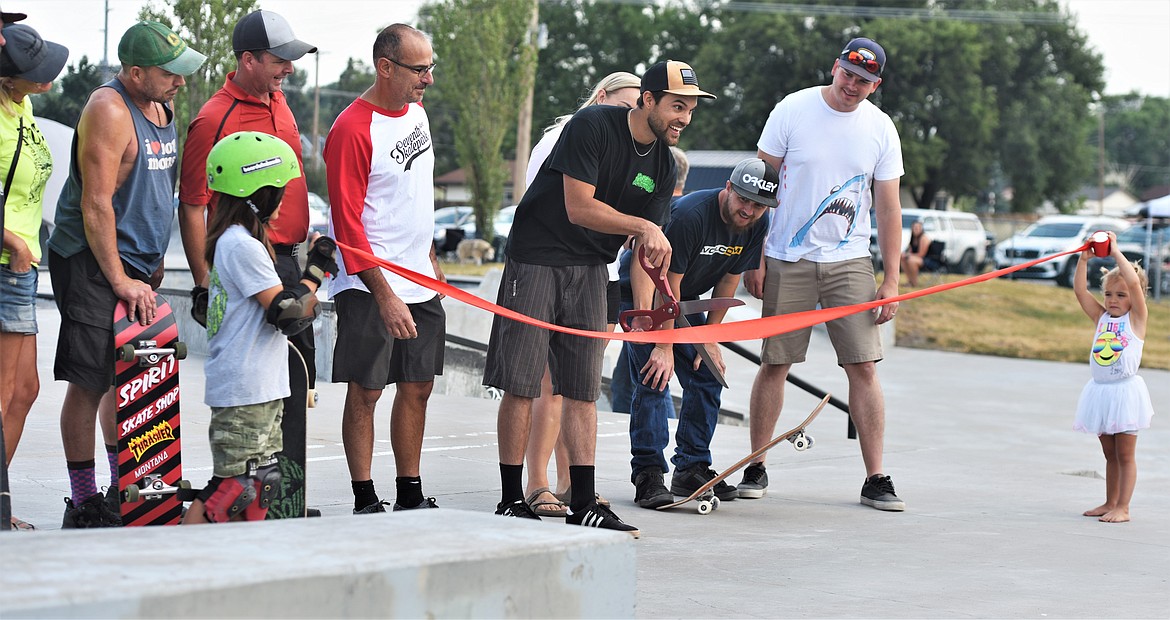 Jesse Vargas mans the giant scissors during a ribbon-cutting ceremony Saturday to kick off the annual Skate Jam and celebrate the completion of the Polson Skatepark's latest construction phase. (Scot Heisel/Lake County Leader)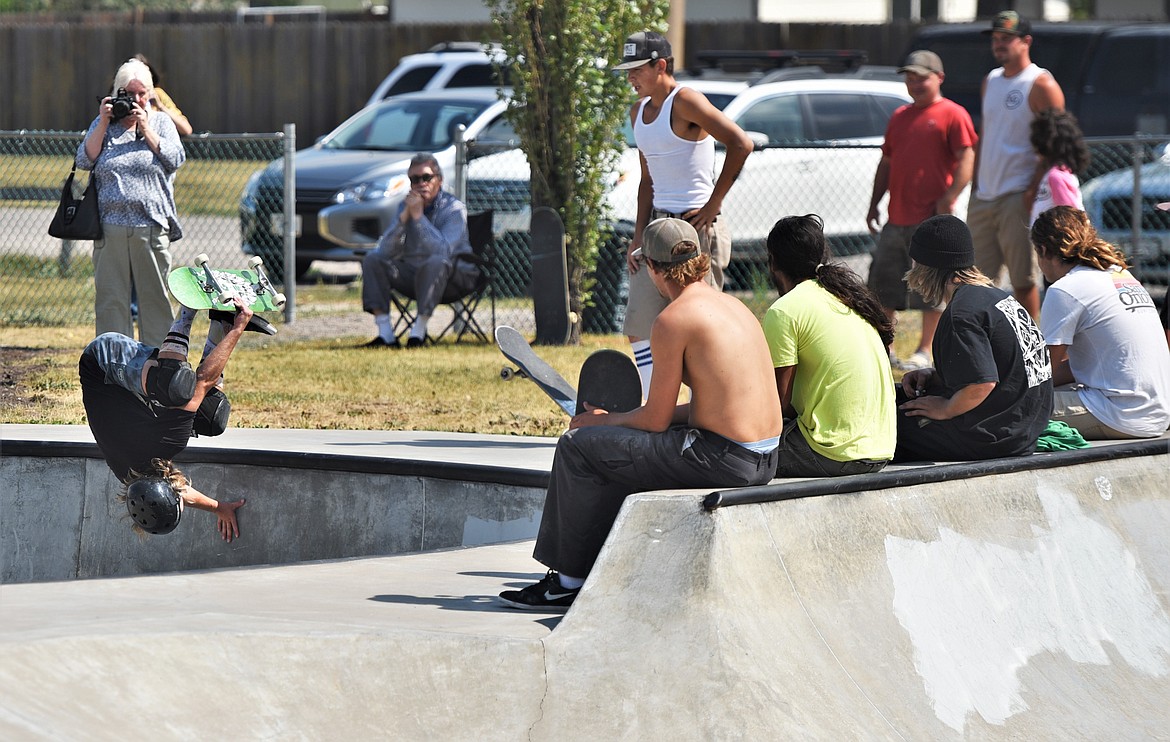 A crowd watches as an advanced skater rides one of the bowls. (Scot Heisel/Lake County Leader)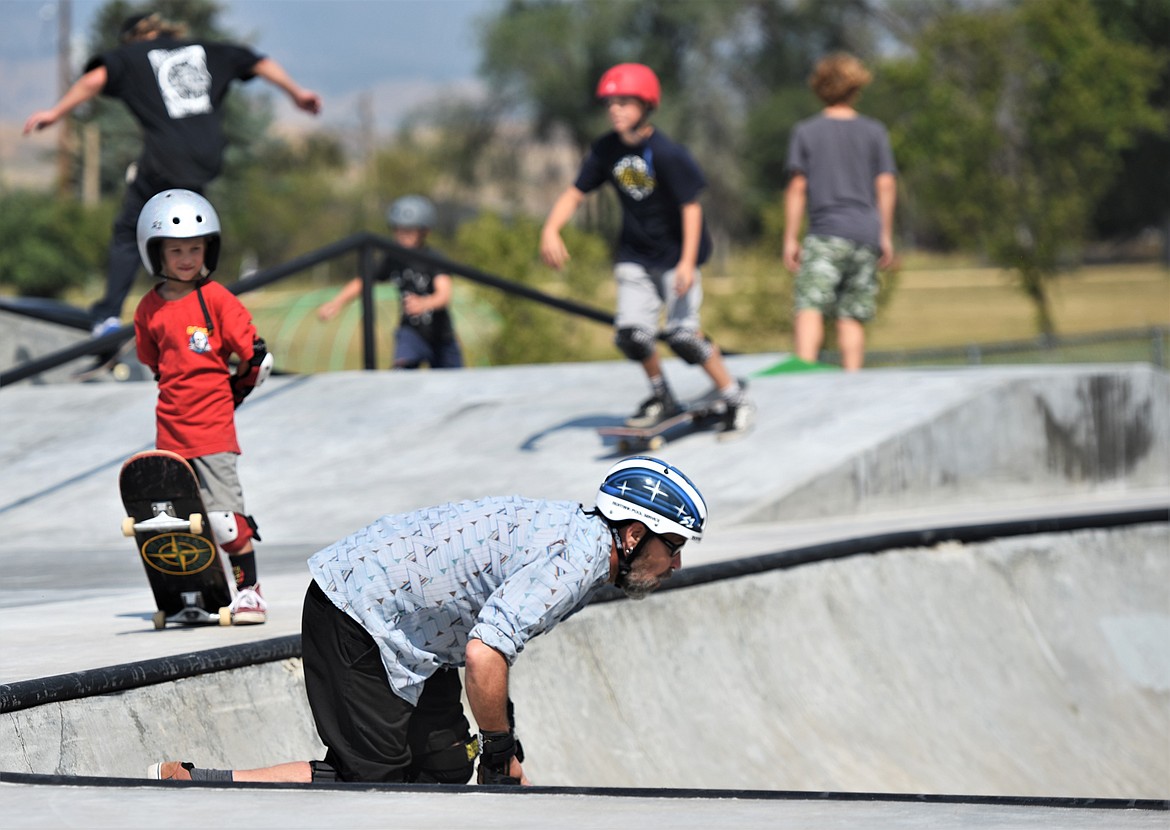 Skaters young and old came out for Saturday's celebration. (Scot Heisel/Lake County Leader)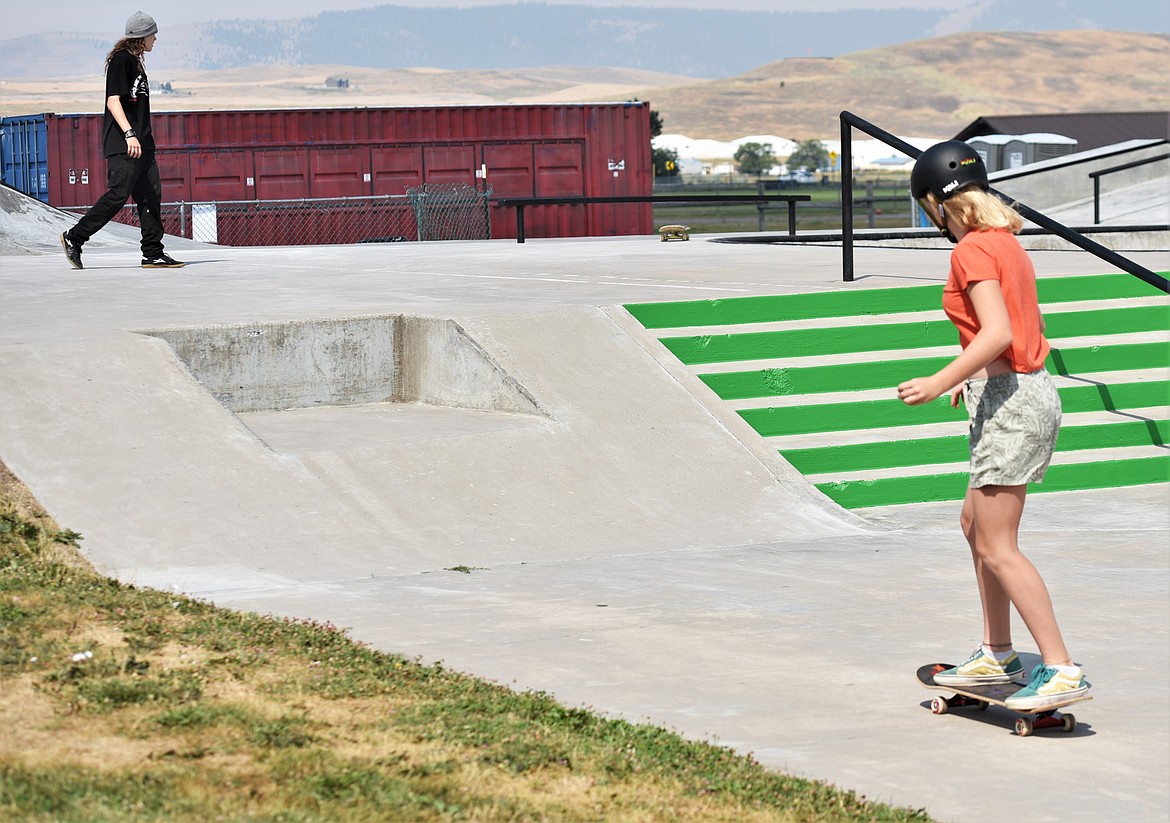 A novice skater takes her first run at Seventh Avenue Skate Park. (Scot Heisel/Lake County Leader)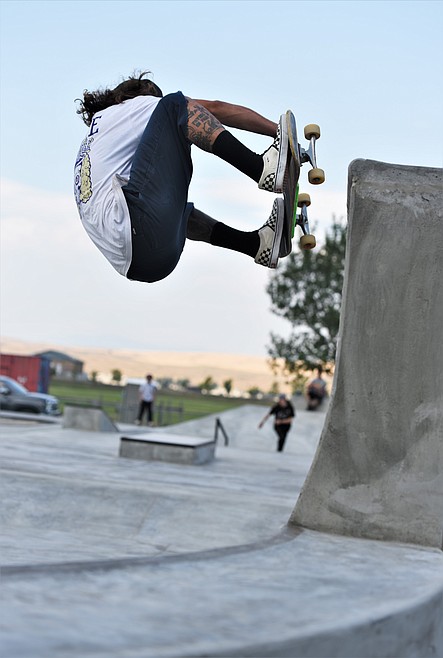 A skater catches some air off the wall at the park's north end. (Scot Heisel/Lake County Leader)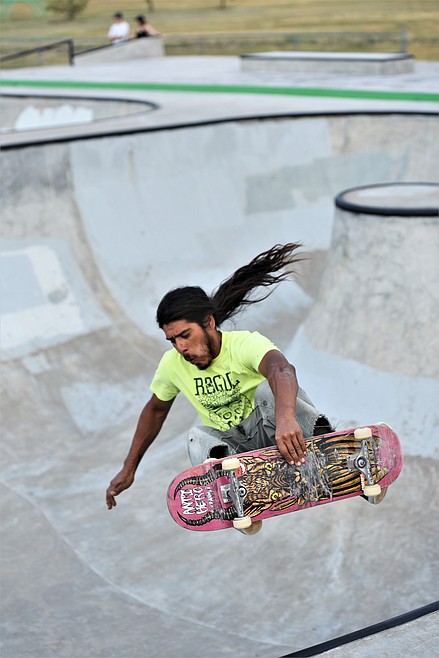 A skater catches some air off the wall of one of the park's bowls. (Scot Heisel/Lake County Leader)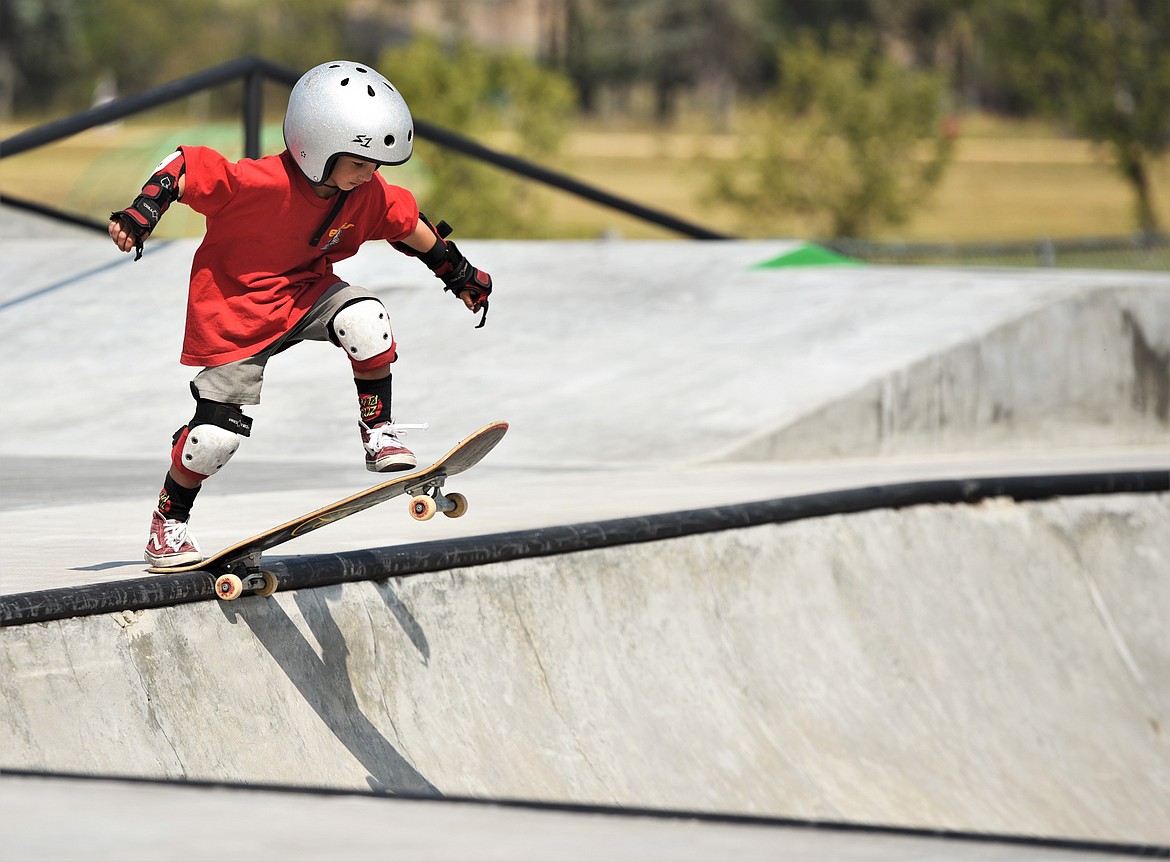 A young skater takes the dive into a bowl at Polson Skatepark. (Scot Heisel/Lake County Leader)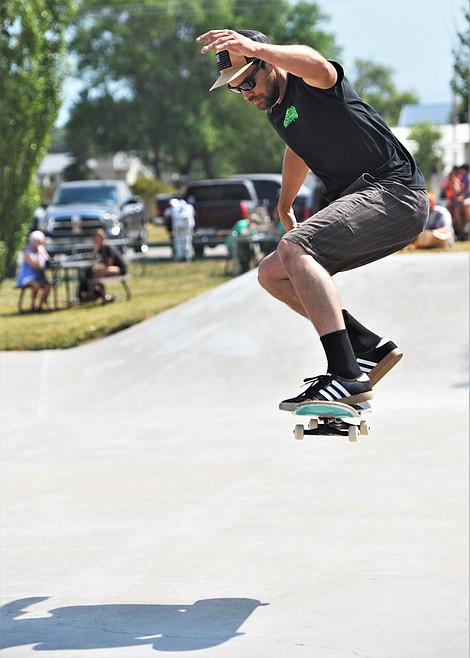 Jesse Vargas catches some air on the park's new addition to the south. (Scot Heisel/Lake County Leader)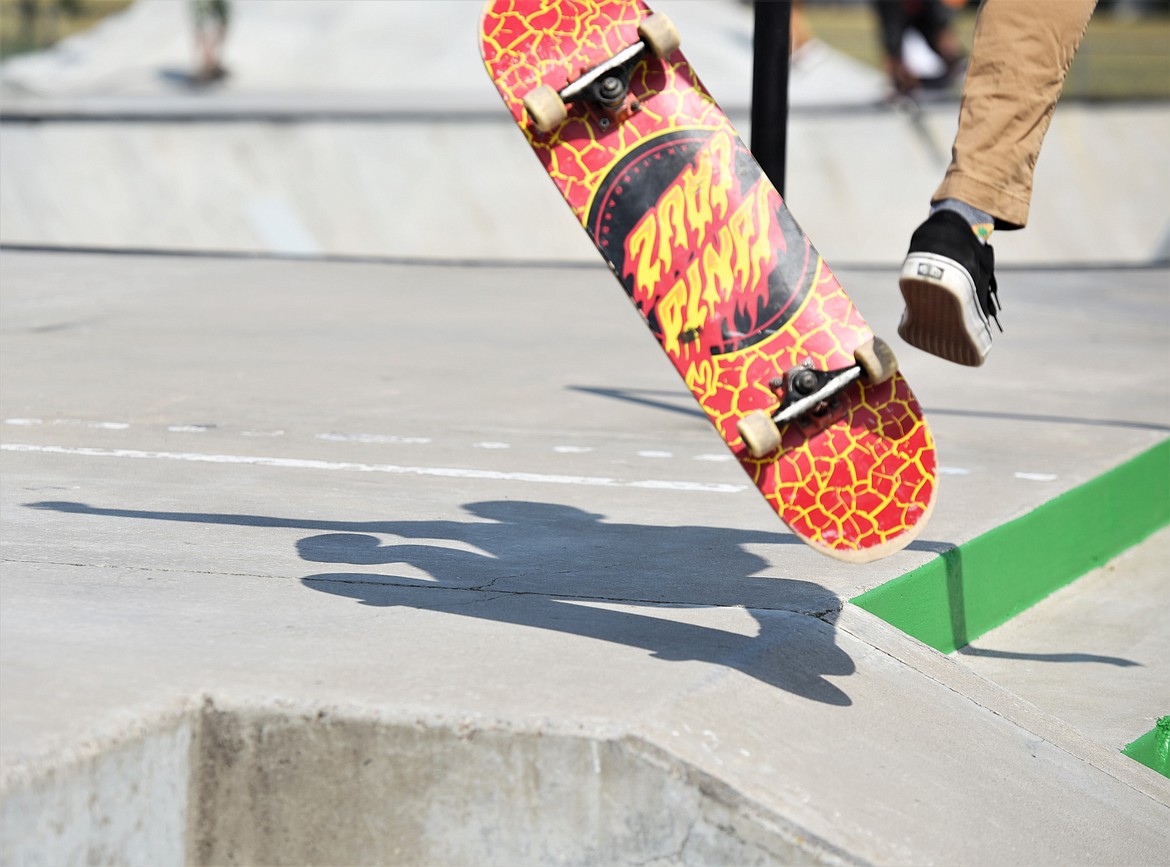 A skater flips his board mid-air. (Scot Heisel/Lake County Leader)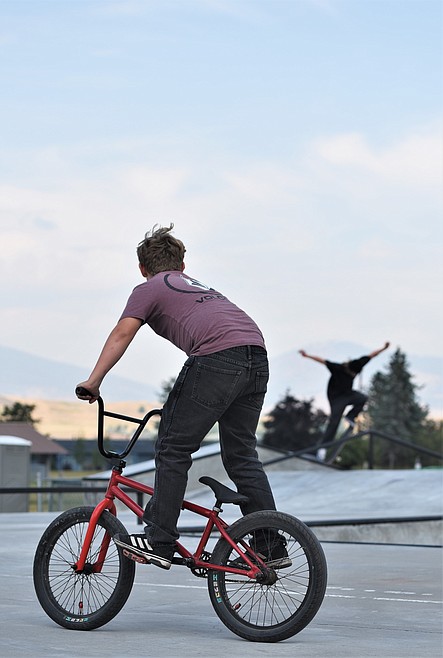 Polson Skatepark isn't just for skateboarders. A few kids on bikes showed up Saturday. (Scot Heisel/Lake County Leader)
Previous
Next
by
SCOT HEISEL
Lake County Leader
|
August 12, 2021 12:50 AM
Skaters young and old, from near and far, gathered Saturday afternoon at the Polson Skatepark on Seventh Avenue to celebrate completion of the park's latest phase of development during the annual Skate Jam event.
The skate park first opened in 2006, and since then nearly $500,000 in improvements have been made, all funded by grants and donations, with no taxpayer money. The Montana Skatepark Association kicked in more than $67,000 for the latest phase, which cost about $150,000.
Jesse Vargas has been involved since the park's inception, and his partner, Loni Havlovick, joined the effort about a year ago. Together they have helped nudge the project forward, with plenty of help from volunteers and local businesses.
Vargas credited former Parks director and interim City Manager Karen Sargeant for really getting the ball rolling in the beginning.
The latest phase included a 6,100-square-foot addition area for novice skaters to learn, built by Dreamland Skateparks.
"There were so many kids that would come by … and they would pick it up for about a week or two, and then we wouldn't see them again," Vargas said Saturday. "It became pretty obvious the reason why is because we didn't have any features they could learn on."
Vargas and his band of volunteers will now work toward completing the park's final stage, which he hopes can be finished next summer.
"We're going for the best skatepark in Montana," Vargas said. "That's the goal.
"I just want to thank everyone in the community, and the businesses and the organizations who helped make this thing possible. I just want to give back to the sport of skateboarding. It's been such a big thing for me, and I just want to give back to those younger kids coming up."
Visit the Polson Skatepark Facebook page for more information.
---