Shakespeare tour visits Lake County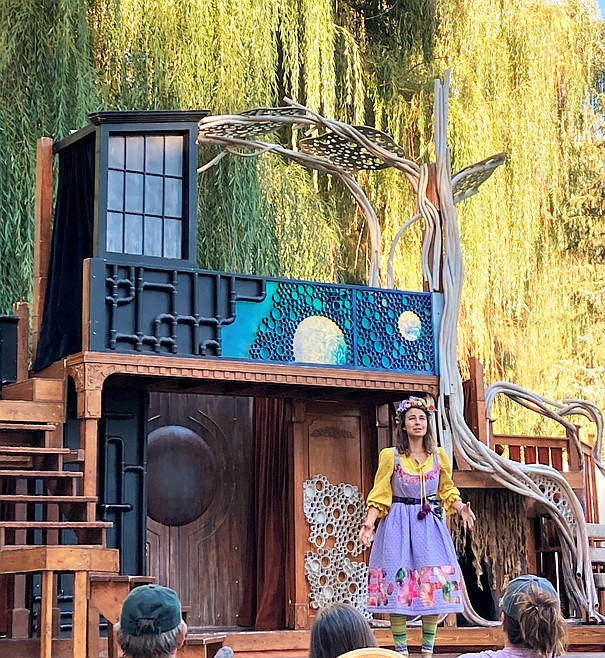 The lovely setting of Charlo's Palmer Park enhanced the atmosphere of Montana Shakespeare in the Parks' production of "Cymbeline, King of Britain." Imogen, daughter of Cymbeline, pines for her beloved Leonatus to return. (Carolyn Hidy/Lake County Leader)
by
CAROLYN HIDY
Lake County Leader
|
August 31, 2021 10:17 AM
Montana Shakespeare in the Parks is back for its 49th season, spreading love and drama to informal crowds throughout Montana's towns, small and large, far and wide, after a COVID-19 hiatus in 2020.
Families, sweethearts and friends poured out last weekend for two Lake County performances in St. Ignatius and Charlo. The fairyland of "A Midsummer Night's Dream" was interrupted for a short time by a midsummer eve's squall, but resumed to raucous laughter for the concluding farcical scene of farm hands performing sincerely, but ineptly, for the king and queen's wedding.
A crowd of nearly 200 turned out for "Cymbeline," one of William Shakespeare's later plays, in a setting fit for old England at the willow-draped Palmer Park out of Charlo. Because it is a lesser-known tale, murmurs abounded as the audience wondered whether it would end in tragedy or sweet romance and comedy. As the sun sank, the satisfying finale brought a standing ovation, and the crowd was left to pine for more Shakespeare in the Parks next year.
---