Ronan's Aaliyah Decker earns TATL award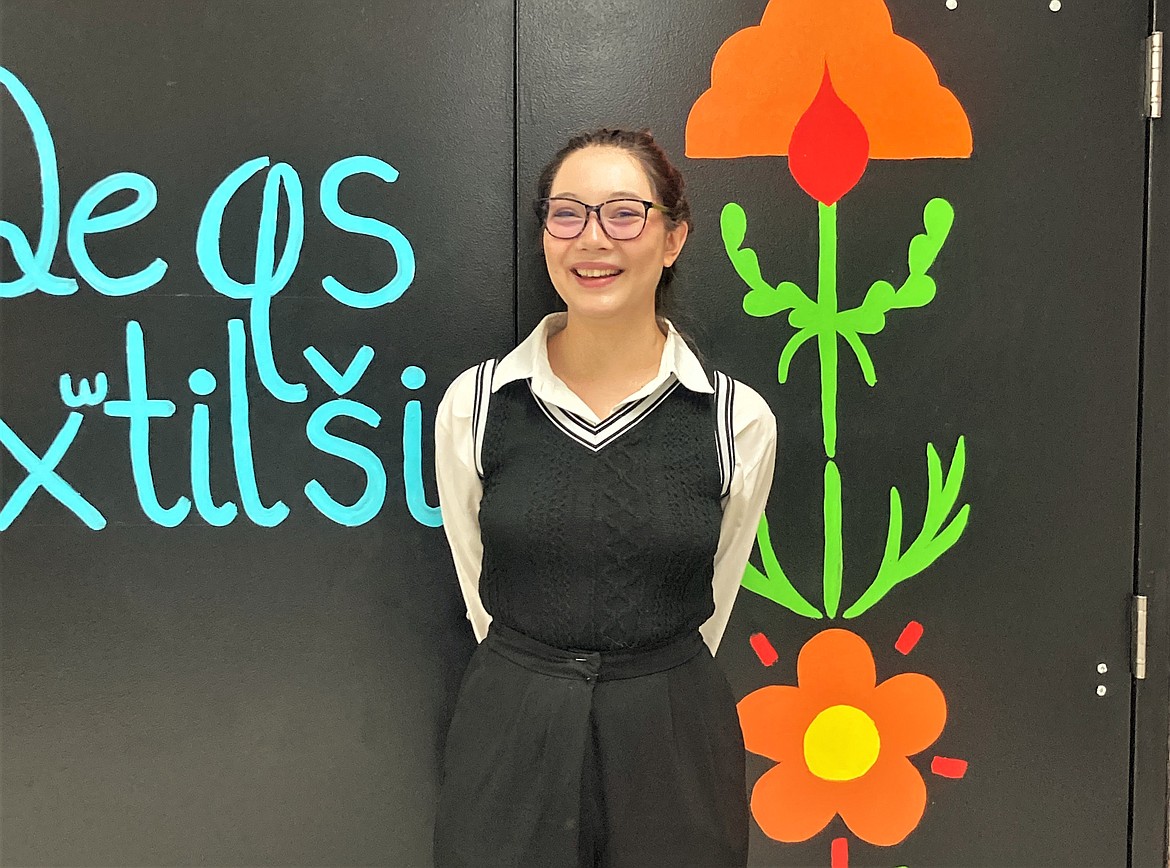 Aaliyah Decker of Ronan dives into everything she does with all she can give, including studying Salish language and neuroscience. (Carolyn Hidy/Lake County Leader)
|
December 2, 2021 12:15 AM
Aaliyah Decker, a senior at Ronan High School, is the recipient of the "Today's Achievers, Tomorrow's Leaders" (TATL) award for the first quarter of the 2021-22 school year. The award is cosponsored by Logan Health (formerly Kalispell Regional Hospital) and the Lake County Leader.
Aaliyah has melded a unique combination of interests and skills. She has achieved awards in a wide range of extracurriculars, from speech and debate and jazz/pep band (trombone), to sports (golf, cheerleading, tennis), math and science competitions, and professional organizations HOSA (Health Occupations of America) and FCCLA (Family, Career and Community Leaders of America). She also currently serves as student body president. With numerous AP and college courses already under her belt, she currently holds a 4.08 GPA.
While all of these activities have taught her to take on leadership roles and will no doubt contribute to future success in any career, there are two particular interests that pique her aspirations.
"Whenever I try to answer the question of how I want to make a difference in the world, it's mostly about preserving my [Salish] culture in a way that is also passionate for me."
That passion comes in the form of a lifelong desire and will to be a doctor. Neuroscience is of particular interest to her.
Aaliyah is studying Salish language at Salish Kootenai College, as well as seeking out the stories told by her grandparents and others, especially as they gather closer during winter. As she has grown, she has been able to see her culture within the context of health care. She hopes to return home after receiving her medical training.
"Maybe coming back here, I can make a difference by researching and finding out why there are these disparities between Native health care versus the general population."
While she enjoys mathematics as one of her top subjects, her favorite was a research class in which she was able to independently study in the field of her choice, neurology. She found out that many behavioral afflictions are at their core neurological disorders.
"I am always wanting to know how the brain works and get a better understanding of human nature in general," she said.
Science teacher Christne Briske nominated Aaliyah for the TATL award, noting her "exceptional achievements in all areas are the direct result of her self discipline, time management and exceptional intellect."
Aaliyah often ends up gaining the support of others to take on leadership roles, including as this year's student council president.
"I really try to fully commit myself to whatever I join. If I'm going to be there, I make sure to promise that to them."
She said that over time that level of commitment and service in any organization builds up trust.
On the student council, she works with others to plan and organize events, and to "connect student voices to advisors."
Last year, with a high interest in girls' wrestling among the student body, Aaliyah successfully advocated for creating a girls' team for MHSA-sanctioned competition.
As a TATL winner, Aaliyah will receive a $250 donation to any school function of her choice from Logan Health. She chose to make the donation to her HOSA chapter, which provides leadership development, motivation and recognition for students interested in pursuing careers in the health professions.
Besides applying to Montana universities, Aaliyah is applying to start her medical studies at several Ivy League schools and Washington State University.
She credits much of her success to the support she has received from her family.
"They always wanted the best from me and what I could do but they didn't push me an exorbitant amount. They just encouraged me to pursue my fullest potential."
She said when she started high school, "I just branched out into everything I could, to see where I worked best in, and how to become less shy or reticent. … I think success comes from learning how to blossom in your own right and finding a support system who you can rely on."
Recent Headlines
---