Polson, Ronan pass marijuana regulations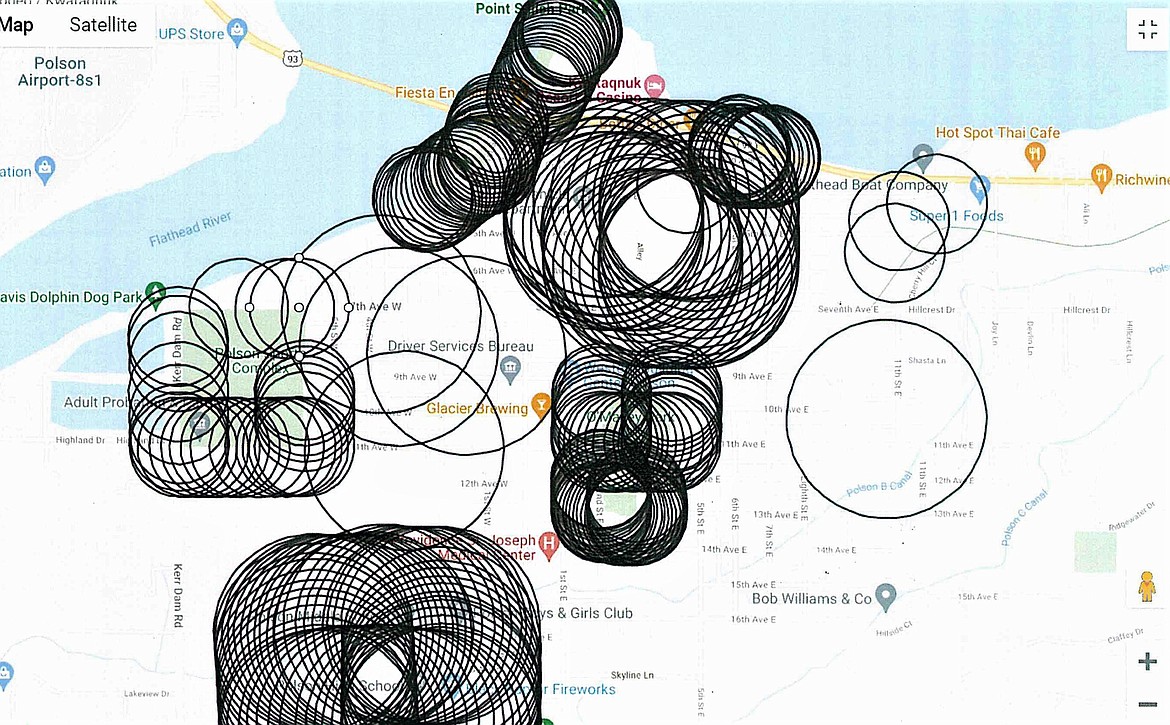 City of Polson staff produced this rough map intended to show exclusion zones for new recreational marijuana businesses. Churches, schools, state-registered daycare facilities and city-owned properties serve as the epicenter of each circle. Visit www.cityofpolson.com for additional maps and information. (City of Polson)
by
SCOT HEISEL
Lake County Leader
|
December 23, 2021 12:15 AM
The cities of Ronan and Polson enacted ordinances for the regulation of recreational marijuana sales Monday night, less than two weeks before such retail becomes legal under state law on Jan. 1.
The Polson City Commission passed its initial regulations on a second reading Monday. Only minor changes were made to the ordinance that passed a first reading Dec. 6.
Subjects addressed by the ordinance presented Monday include acceptable locations for marijuana shops, licensing, the transport of product through city limits, and local advertising standards.
The latest revisions clarify that new recreational marijuana businesses must be located at least 1,000 feet from all schools, public and private, not including home schools. The final version also adds state-registered daycare facilities to that list.
Polson's ordinance also requires such businesses to be located at least 300 linear feet from property zoned residential within city limits. They also must be 500 feet from all churches, and 500 feet from property, including parks, that is owned by the city. Businesses must also be located 500 feet from one another.
Distances are measured from the entrance of the marijuana businesses to the closest outer edge of the relevant properties.
City Manager Ed Meece presented a series of maps identifying exclusionary zones, with a few caveats: first, that the maps only show rough estimates of the zones; and second, that the map doesn't display boundaries for residential zoning.
"Without an operating GIS system, we have some really limited tools for showing you these things," Meece told commissioners. "But we made a good stab at it."
The city's website, cityofpolson.com, has a link at the top of its homepage titled "Marijuana Ordinance & Maps" that leads to copies of the ordinance and accompanying maps.
Polson currently has two medical marijuana shops in city limits that will be eligible to pursue recreational sales after the new year. Those businesses will be grandfathered in and will not have to meet the distance requirements outlined in the city's new ordinance.
Flathead Lake Herb is located at the corner of Highway 93 and Second Street East. Owner Cori Monatukwa said last week that he and his partner, May Becker, do not intend to pursue recreational sales. Monatukwa said they have established a loyal clientele and do not want to alienate their current customers.
"A lot of them are retired veterans," Monatukwa said. "We want to stay focused on the medical."
A second medical shop, Alternative ReLeaf, is located near the intersection of Highway 35 and Heritage Drive, across from Eagle Bank. Owner Barbie Turner spoke during Monday's meeting and said she intends to pursue recreational sales. She complimented city staff for doing a "thorough" job putting together the ordinance. She asked that the Commission consider lowering the cost of an annual business license from the $1,500 proposed fee.
Turner said she has a production facility out of town but could offer Polson 10 jobs.
"$1,500 a year seems excessive for a licensing fee," she said. "We're working out of a small space in Libby, and we would love to get those jobs over to Polson."
She suggested the high fee may deter her from doing so.
As the ordinance was in its second reading, commissioners declined to lower the fee on the spot but noted that adjustments could be made in the future.
The ordinance passed on a 5-0 vote, with Commissioners Tony Isbell and Jan Howlett absent.
Meece said a second ordinance stipulating that production facilities be located only in industrial zones is in the works. He said businesses with separate retail and production facilities will need separate licenses. However, a combined facility in an industrial zone would only need one.
Meanwhile, at about the same time the Ronan City Council passed an emergency ordinance outlining many of the same issues. A copy of the ordinance was not available Tuesday, but Mayor Kim Aipperspach confirmed that the ordinance passed on a unanimous vote Monday night.
Aipperspach said Ronan will offer two types of licenses: retail and wholesale. He said one of each license will be available for every 1,000 city residents, adding that the latest census lists a population of approximately 2,200 for Ronan.
Aipperspach said Ronan's ordinance, like Polson's, also spells out required distances from churches, schools, parks, etc.
"Anywhere where you might see kids hanging out," he said.
And like Polson, Ronan added daycare facilities to its list of exclusionary zones.
Also Monday, Ronan swore in its newest council members. Current Ward 2 Councilman Chris Adler takes over as mayor for Aipperspach after Jan. 1. Aipperspach has served as Ronan's mayor for the past 15 years.
Also joining the council is newcomer Ryan Corum, who will replace Marilynn Tanner in Ward 1. Their election remained tied long after the night of the election, and Tanner eventually stepped aside and conceded.
Also elected in November was new City Judge Allysen Jones.
Polson will swear in its new members in January.
Recent Headlines
---