Third man sentenced for 2018 storage unit gold theft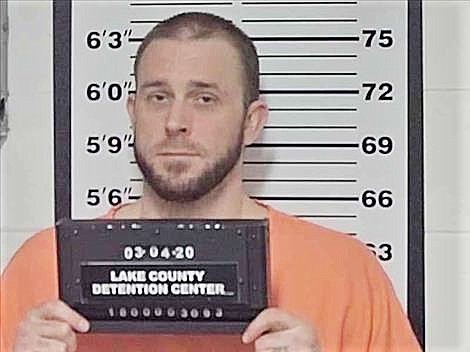 by
SCOT HEISEL
Lake County Leader
|
February 10, 2021 9:50 PM
A Bigfork man with a lengthy felony history was sentenced to 10 years in prison with no chance for parole Wednesday, Feb. 3 in Lake County District Court for his role in a high-stakes 2018 storage unit theft involving gold bars, coins, valuable artwork, guns, talk of a treasure map and, eventually, a race car.
Robert Earl Staudenmayer, 35, pleaded guilty to felony theft in December in a plea agreement that led to the dismissal of felony charges of money laundering and robbery. He faced a maximum of 70 years if convicted on all three counts.
Staudenmayer received a 20-year sentence in 2019 for charges of felony theft and money laundering related to the case, but his conviction was overturned by the Montana Supreme Court on a technicality and a new trial was ordered.
In addition to the 10-year sentence, District Court Judge James Manley ordered Staudenmayer to pay $1,038,035 in restitution.
According to charging documents, in June 2018 Jim Browne reported a break-in at a storage unit at Swan Self Storage. Browne told authorities property stolen from the unit included gold bars, coins, guns, a safe and valuable artwork. Several weeks later the Lake County Sheriff's Office received a tip that one of the guns had been pawned in Kalispell by Kristen Kliev. Her landlord told authorities that Kliev and Staudenmayer used to live together.
A search of Kliev's residence turned up several pieces of art that Browne identified as stolen. Kliev later claimed that Richard Gordon, 49, gave her the artwork to sell along with some guns.
The investigation turned up multiple transactions involving Staudenmayer, Gordon and gold coins. A witness involved in the purchase of a vehicle said Staudenmayer originally told him the coins were part of an inheritance, but later claimed the coins were found using a treasure map.
Kiev's landlord later told investigators that a race car and trailer recently purchased by Staudenmayer and Gordon in Washington was on the property.
Gordon admitted to selling several gold coins at a Kalispell pawn shop, and Staudenmayer eventually admitted he knew items he traded for a Jeep soon after the break-in were stolen.
In November 2019 Gordon was sentenced to 10 years with seven years suspended for theft and 10 years with seven years suspended for money laundering. He was also ordered to pay restitution of $1,038,035.
The previous month a third co-defendant, Joshua Wilson of Kalispell, was sentenced to 10 years with six years suspended for one count of theft.
Last year Staudenmayer agreed to work with authorities to try and recover some of the stolen items. Several items were recovered during the initial investigation, but nothing had been recovered since Staudenmayer's arrest.
Staudnemayer's phone privileges, which had been rescinded, were restored in December so he could make phone calls in an effort to retrieve stolen items. Lake County Jail Commander Joel Shearer testified at the sentencing that he listened to dozens of Staudenmayer's phone conversations and never heard him attempting to track down items.
Deputy County Attorney Ben Anciaux played recordings of several of the phone calls, several of which were made to Staudenmayer's mother. In at least one call he admitted to his mother that he wasn't going to help recover the stolen items.
Shearer also suggested Staudenmayer was finding ways to call people whose numbers had been blocked by jailers. Shearer said he suspected Staudenmayer was using a texting app to set up alternative numbers.
Anciaux also called Browne as a witness. Browne said he was raised on the east shore of Flathead Lake and attended the University of Montana before becoming a smokejumper in 1949. He also served in the U.S. Marine Corps as a jet fighter pilot and later was a pilot for American Airlines for 34 years before retiring. He and his wife ran an antique business and bronze foundry in Kalispell and Whitefish.
Browne testified that 80% of his wealth was in the storage shed at the time of the theft.
"How much of that do you think you will recover?" Anciaux asked.
"At the most, 5%," Browne replied.
Judge Manley noted that Staudenmayer had eight felony convictions prior to his arrest in this incident, and he had three suspended sentences revoked. He also was convicted of felony bail jumping in September in Lake County and sentenced to 10 years without parole by District Court Judge Deborah Christopher. Manley ordered that the sentences be served consecutively.
---