Boys Basketball Roundup: Pirates stay the course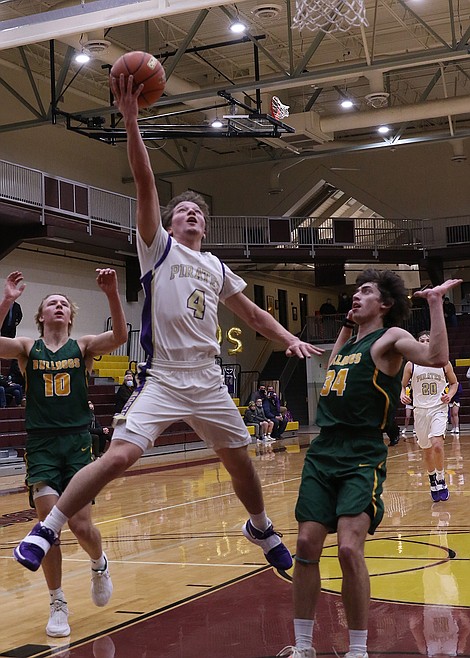 Polson guard Xavier Fisher goes to the hoop against Whitefish. (Courtesy of Bob Gunderson)
by
Lake County Leader
|
February 16, 2021 9:14 PM
Colton Graham scored 20 points, while Xavier Fisher and Darian Williams each added seven, as Polson improved to 11-1 on the season with a 55-44 win at Libby on Saturday.
The Pirates built a 15-point lead over the Loggers by half and held steady from there.
Senior JC Steele went 2 for 2 from 3-point range, finishing with six points and four steals.
The Pirates are ranked No. 2 in the state by 406MTSports.com, behind only undefeated Dillon.
They'll wrap up the regular season with a home game against Browning on Thursday and a visit to Ronan on Saturday. The Chiefs are ranked No. 5 in the same poll.
Polson opened the week with a convincing 75-38 home win over Class B Lake County foe Mission on Tuesday.
Zoran LaFrombois led the Bulldogs (9-5) with 21 points in the loss.
The Pirates led by a single point at half, but went on a 29-7 run in the third period.
Graham scored 24 points and pulled down six rebounds. Jarrett Wilson added 19 points and Steele scored nine.
Polson hit 11 of 30 3-point attempts.
At Whitefish on Thursday, Trevor Lake poured in 13 points and grabbed five rebounds, while Graham again led Polson in scoring with 14 points. Braunson Henriksen pulled down eight rebounds.
Mission's game scheduled for Thursday, Feb. 11 at Troy was rescheduled for Friday.
Chiefs dominant in two wins
Ronan (9-3) rolled to a pair of wins last week to help cement its grasp on the No. 2 seed in the Northwest A Conference behind rival Polson.
The Chiefs took down Whitefish 74-49 at home on Tuesday, Feb. 9, and topped Stevensville 67-38 at home on Saturday.
Friday's home game against Browning was cancelled.
Senior Girma Detwiler notched a double-double against Stevi with 16 points and 10 rebounds. Leonard Burke contributed 15 points, while Elijah Tonasket and Sage Coffman each added 10 points. Coffman went 2 for 3 from 3-point range.
Payton Cates grabbed seven rebounds in the win.
The Chiefs outscored the Yellowjackets 39-17 in the second half.
Against Whitefish, Burke went off with a team-high 25 points, Tonasket added 17 points to go with four rebounds and four assists, and Detwiler scored 12 points and grabbed six rebounds.
Marlo Tonasket added 10 points.
Vikings head to district play
Charlo (6-5) wrapped up its regular season Friday with a 71-52 loss at St. Regis. The Vikings trailed 26-13 after the first period and couldn't close the gap much until late. No other stats were provided.
Charlo will be the No. 4 seed in 14-C district play. They were set to host No. 5 seed Plains on Tuesday night in the district opener.
Warriors fall to Rams
Arlee (0-10) hung tough with conference foe Missoula Loyola but fell just short Tuesday, Feb. 9 at Missoula. No game stats were provided.
The Warriors wrap up their regular season Thursday at home against Anaconda.
---