Winter postseason picture coming into focus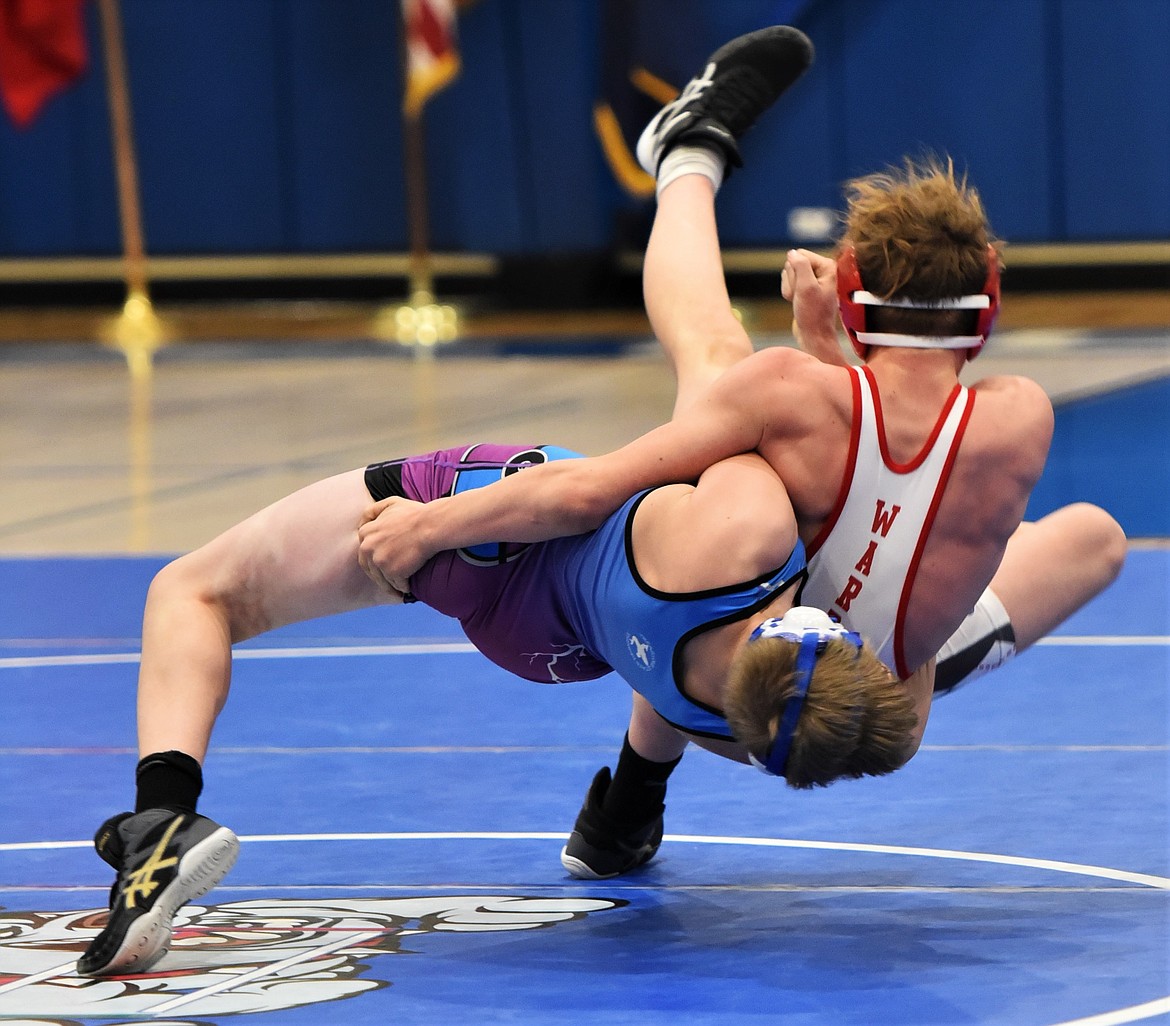 Mission-Charlo's Kodiak Killhorn and Drew Knoll of Arlee wrestled at 138 pounds Thursday at St. Ignatius. (Scot Heisel/Lake County Leader)
by
SCOT HEISEL
Lake County Leader
|
February 16, 2021 1:26 PM
Lake County high school teams are wrapping up another winter regular season, and after much consternation regarding winter travel, pandemic restrictions and possibly other unforeseen variables, postseason plans are relatively finalized. Here's a guide to how the postseason is expected to play out:
Wrestling
Local teams will have their final tune-ups this week before heading to divisionals Feb. 26-27. Class A teams will head north to Libby, while Class B/C will gather at Cutbank.
State tournaments are set for March 5-6, with Class A heading to Miles City and Class B/C going to Shelby.
Swimming
Mission Valley Aquatics in Polson will host the Class A/B swim meet March 6. Polson's Mason Sloan owns the best times in five events among Class A-B competition: three freestyle events (100, 200, 500), the 100 breaststroke and 200 individual medley. He and his teammates will get a chance to grab state hardware at their home pool in their team's inaugural season.
Class C basketball
Both Charlo teams wrapped up their regular seasons Friday at St. Regis.The Lady Vikings are 11-0 and ranked No. 5 in the state over at 406MTSports.com. They'll get a bye in the opening round of district play, during which all games will be hosted by the higher seeded team.
The top-seeded Lady Vikings will host either Plains or St. Regis on Thursday night in a district semifinal. A win there means they'll also host the title game Saturday.
The Charlo boys (6-5) are the No. 4 seed in the 14-C district play. They beat No. 5 Plains 47-38 on Tuesday night and will play a semifinal game Thursday at Clark Fork.
The boys and girls Class C divisional tournaments take place Feb. 25-27 at Deer Lodge. The Class C state tournaments are set for March 11-13 at Billings.
Class A basketball
The Pirates (11-1) and Chiefs (9-3) are looking like the top two seeds for Northwest A districts. The latest boys rankings at 406MTSports.com have Polson at No. 2 behind Dillon, while Ronan moved to No. 5 this week. One more win this week locks up the two seed for Ronan. That would mean the season finale, Polson at Ronan, would be played with nothing on the line other than pride. The Pirates won handily against the Chiefs on Jan. 29 at Salish Kootenai College.
The Maidens (8-6) lost a pivotal conference game at Whitefish on Tuesday, meaning it's likely Ronan will not secure the No. 2 seed and a bye at districts. The Maidens wrap up the regular season Feb. 20 at Polson, and there's a fair chance they could see the sixth-seeded Lady Pirates again in a district opener Feb. 22.
The higher-seeded team will host all district games. Class A boys and girls district tournaments will take place Feb. 25-27 at different venues at Butte. The Class A state tournaments last week were moved to Great Falls. The change of venue required the tournaments be moved up one week to March 3-6.
Class B basketball
Unlike the A and C classes, Class B district play will involve a single play-in game between the league's No. 4 and No. 5 seeds, according to Mission athletic director Tyler Murray. That likely would mean play-in games for the Arlee Warriors (0-10), Arlee Scarlets (1-10), with the Scarlets squaring off against Deer Lodge, the victim in their lone victory this season. The Mission Lady Bulldogs (8-6) also look headed for a play-in game with winless Troy. Those games would take place Feb. 22-23. The Mission boys (9-5) look firmly entrenched as the No. 3 seed behind Bigfork and Thompson Falls.
The Class B boys and girls divisional tournaments will take place at Eureka, with the girls tournament running March 3-5 and the boys tournament going March 4-6.
The Class B boys and girls state tournaments are set for March 11-13 at Billings.
---