Gov. Gianforte visits Polson vaccination clinic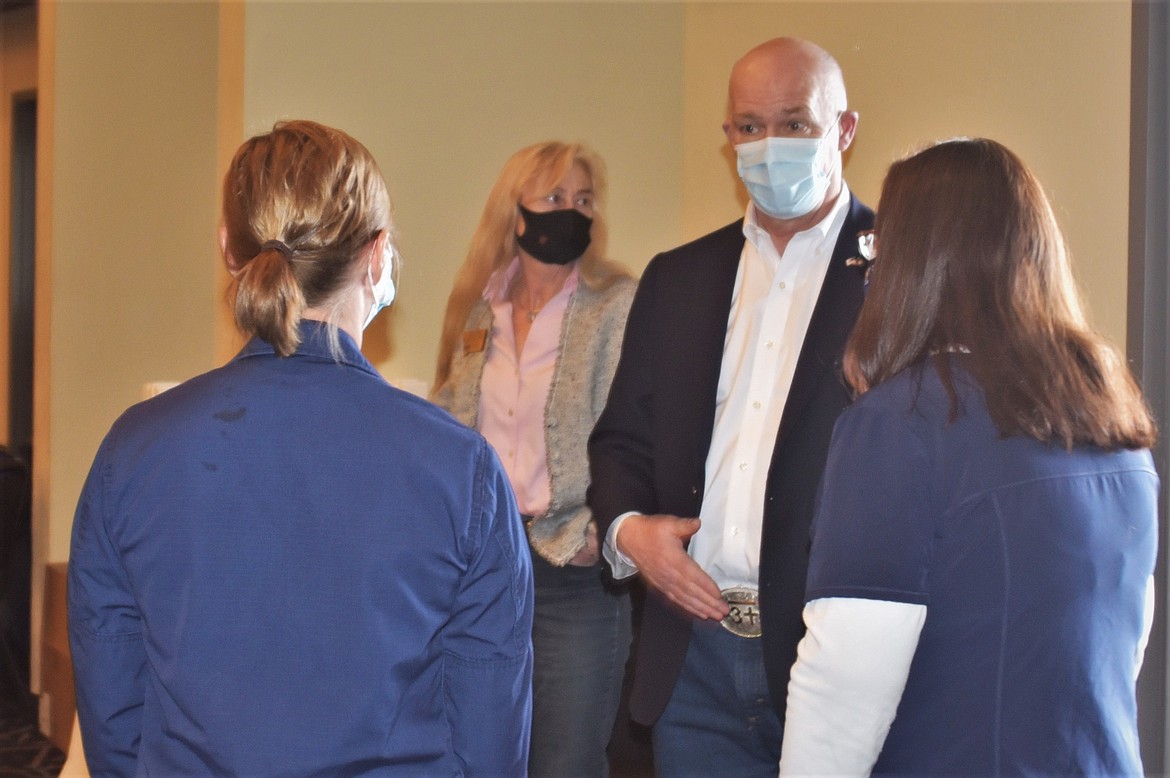 Gov. Greg Gianforte and first lady Susan Gianforte talk with CSKT Tribal Health staff Friday at a COVID-19 vaccination clinic in Polson. (Scot Heisel/Lake County Leader)
by
SCOT HEISEL
Lake County Leader
|
February 17, 2021 9:29 AM
Montana Gov. Greg Gianforte made a swing through the northwest region of the state to visit COVID-19 vaccination clinics in Kalispell and Polson on Friday, the same day he signed an executive order allowing a statewide mask mandate expire.
The governor, first lady Susan Gianforte and a small entourage — all wearing masks — stopped by a temporary CSKT Tribal Health clinic set up in the lower level of the Kwataqnuk Resort and Casino in Polson.
Gianforte talked with Tribal Health officials and volunteers for about 20 minutes before meeting with members of the media.
"I was impressed," he said. "... here, 360 doses yesterday, about another 300 today. I'm just so impressed with the work that our health care workers are doing to get these shots in arms. This vaccine is safe and effective, and it's the light at the end of the tunnel after a very dark year."
As of Tuesday morning, 181,572 doses of vaccine had been administered in Montana, with 52,453 people considered fully immunized, according to state data. Both vaccines currently available require two doses spread out over several weeks.
In Lake County, 6,662 doses have gone out, with 1,468 people fully immunized. More than 24,000 people in the county currently are eligible in the active phase of the vaccination rollout, Phase 1b, which includes residents age 70 and older; those age 16 to 69 with underlying medical conditions that put them at the highest risk for serious complications; and Native Americans and other people of color at elevated risk.
Phase 1a, which is ongoing, covers high-risk health care workers — those who work in frontline positions or have direct patient contact — and residents and staff at long-term care facilities.
Phase 1c, expected to start in mid-spring, includes people 60 and older; frontline essential workers such as teachers, first responders and grocery workers; those age 16 to 59 with medical conditions that put them at elevated risk; and people living in group care homes and corrections facilities.
"We've seen new infections come down, hospitalizations come down, vaccinations go up," Gianforte said. "We have now had at least one clinic in all the nursing homes and long-term facilities in the state. Sixty percent of those facilities have had a second clinic already, which means they're fully immunized."
On Friday the Governor's Office sent a letter to President Biden seeking more doses for Montana. Gianforte noted that Montana is among the lowest per capita for doses received. He said Montana has proven it can get the shots administered in a timely manner.
"As of yesterday, 94% of all vaccines received in the state were in people's arms," Gianforte told The Daily Inter Lake in Kalispell. "We're just not getting enough vaccine. So I reached out to the White House today requesting our fair share."
Montana's statewide mask mandate had been in place since July. Gianforte, a Republican, promised the day after assuming office in January that he would lift the state's mask mandate once there were liability protections in place for businesses and health care providers, and once vulnerable Montana residents began receiving vaccines against COVID-19.
The governor said this week that both requirements had been met after he signed a law that would protect businesses from lawsuits by customers and employees related to contracting the virus.
The state's chief medical officer resigned from his post Thursday, the day after Gianforte announced he would lift the mask mandate.
Dr. Gregory Holzman, who has been a key figure in the state's response to the coronavirus pandemic, will continue to serve in the role until April 16. Holzman did not say in his letter of resignation whether the move was connected to the governor's decision to lift the mask requirement.
Among those keeping local mask rules are: Lewis and Clark, Gallatin, Butte-Silver Bow and Missoula counties along with the city of Whitefish and several of Montana's Native American reservations.
On Feb. 11, Crystal Reese, network operations manager for the Confederated Salish and Kootenai Tribes, issued the following statement:
"CSKT Employee and Building protocols will remain in place until rescinded by Tribal Council, regardless of the actions taken by the Governor of the State of Montana. Tribal Council is vitally concerned about the public health and safety of all Flathead Indian Reservation residents and masking, social distancing, and hand washing remain our best defense, in addition to current vaccination efforts. Violations of these protocols will be reported by the building monitors to their supervisors and appropriate actions will be taken."
During an appearance on CBS's "Face the Nation" on Sunday, Dr. Rochelle Walensky, director of the Centers for Disease Control and Prevention, said it's too early for states to lift mask-wearing mandates.
"We still have 100,000 cases a day. We still have somewhere between 1,500 and 3,500 deaths per day," Walensky said. "And yet we see some communities relaxing some of their mitigation strategies. We are nowhere out of the woods."
In Polson, Gianforte said he can sympathize with Montanans who are tired of wearing masks, but he added that continued caution is vital.
"No Montanan likes to wear a mask. We would all like to take them off and throw them in the trash can. I look forward to the day when I can do that and go about life safely. I choose to wear a mask because I want to protect my own health and the people that I engage with, my family and friends, and I'm asking Montanans for them to adopt personal responsibility to protect themselves and the people they love. And I think the decisions about these things are better made at the local level."
Chelsea Kleinmeyer, community health division director for CSKT Tribal Health, met with Gianforte during Friday's visit. She said her staff and volunteers have been using the site to administer doses as they arrive, usually only a day or two at a time. She said Tribal Health has been receiving about 200 doses of the Moderna vaccine each week, while St. Luke Medical Center in Ronan and Providence St. Joseph in Polson also receive about 200 to 300 doses each week.
The doses administered Thursday and Friday at the resort were part of a one-time allotment of unused Pfizer doses redirected from a federal program.
Kleinmeyer said the transition from Phase 1b to 1c in Lake County is complicated since 1b includes "Native Americans and other people of color."
"That's CSKT's entire population. That's about 12,000 people. At that allocation, it's going to take us months."
A third vaccine, produced by Johnson & Johnson, is under review by the U.S. Food and Drug Administration. It doesn't require the same refrigeration levels of the existing versions and it can be administered in a single dose, making it a game-changer, particularly for rural communities.
Kleinmeyer praised her staff, saying they've been holding up very well despite the challenges. Salish Kootenai College has been providing nursing staff one day a week to help out. Local RNs and medical doctors also have volunteered to help administer doses.
She said Tribal Health currently does not require additional volunteers for clinics, but that may change as allocations increase. The best way to learn about volunteer opportunities is to check the CSKT Tribal Health Facebook page.
Aside from the Polson site, vaccination clinics also are frequently set up at the community center in St. Ignatius.
How to set up an appointment
CSKT Tribal Health has created an online form patients can use to request a COVID vaccine.
Tribal Health prioritizes patients who can receive COVID vaccines. The form is available at www.cskthealth.org. Once the form is submitted, each patient will be evaluated to determine when they are eligible to receive the vaccine.
Patients who do not have a local primary care provider may call Lake County Public Health at 406-883-7288 to get on a waitlist. The department is being flooded with calls, so those who do not reach a receptionist directly are asked to leave a name, phone number, date of birth and, if applicable, any underlying health conditions. There's no need to call repeatedly. Those who are determined to be eligible will receive a phone call to schedule a vaccination appointment. For more information, visit lakecountypublichealth.org.
Staff members at Providence St. Joseph Medical Center in Polson are reviewing patient records to help determine vaccine eligibility. If you've been a patient at the hospital, you may receive a call offering to set up an appointment.
St. Luke physicians are prioritizing patients to identify those at highest medical risk, and staff are reaching out to them to schedule them for a vaccine first. They have also developed an online wait list, available through their website at www.stlukehealthcare.org, so anyone who is interested in receiving a vaccine can sign up. They do ask for patience during this time, as the list is already fairly extensive and vaccine supplies are not coming in quickly. However, this will at least place community members on the list, so they can be scheduled once they are eligible and a vaccine is ready for them. They ask that the public does not call at this time to schedule a vaccine.
---