Charlo girls seize district crown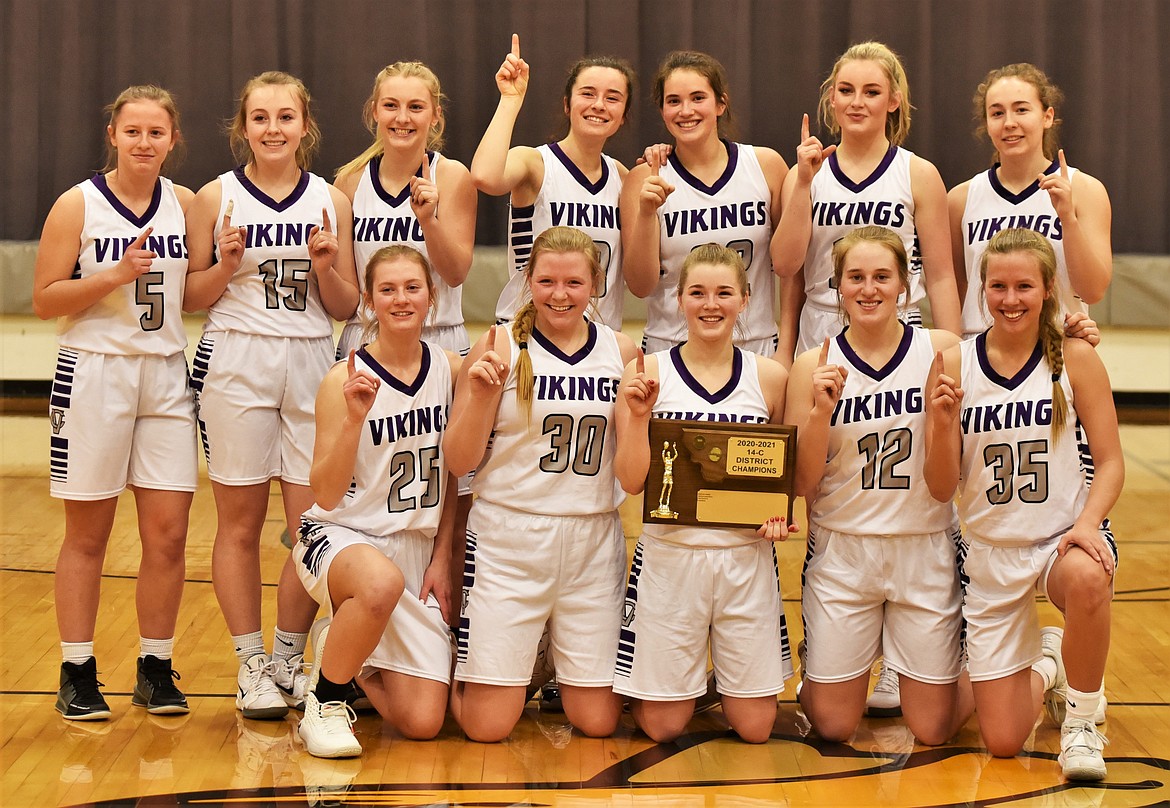 The Charlo girls basketball team captured a fourth consecutive District 14-C title Saturday with a 60-30 home win over Clark Fork. The Lady Vikings (13-0) were set to open the Western Divisional Tournament on Wednesday afternoon against Twin Bridges at Deer Lodge. Pictured are, back row, from left: Karly Alder, Sidney Bauer, Katelyn Young, Hayleigh Smith, Mila Hawk, Kassidi Cox and Kyla Tomlin; front row, from left: seniors Brooke Alder, Connor Fryberger, Aryal Love, Liev Smith and Carlee Fryberger. See related story in Sports, page B1. (Scot Heisel/Lake County Leader)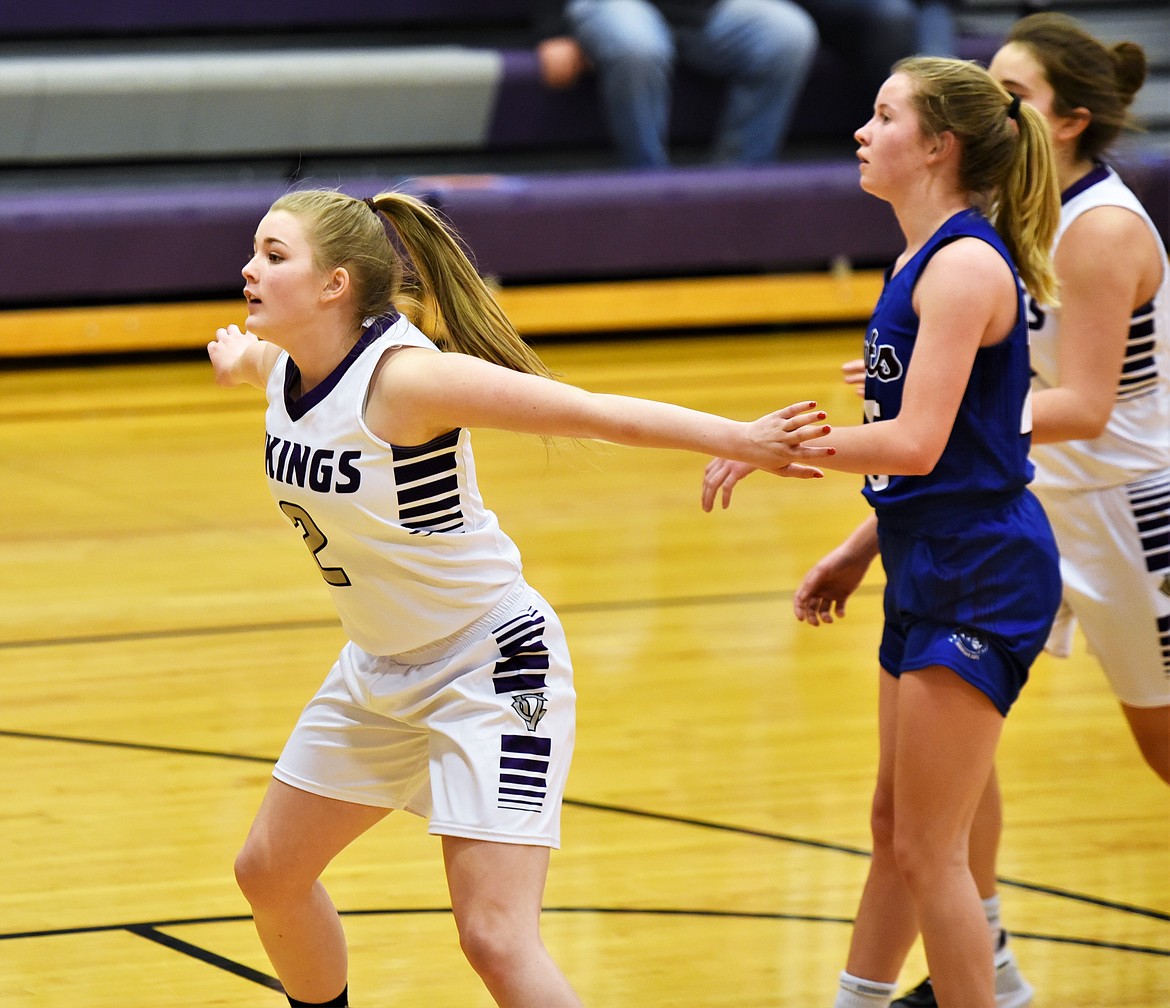 Charlo senior Aryal Love shuts down a passing lane on defense against Clark Fork. (Scot Heisel/Lake County Leader)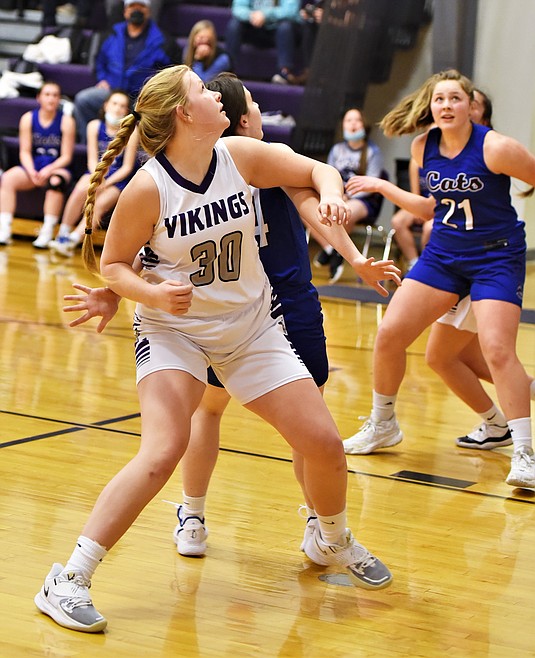 Connor Fryberger looks for a rebound against Clark Fork. She grabbed 12 on the night. (Scot Heisel/Lake County Leader)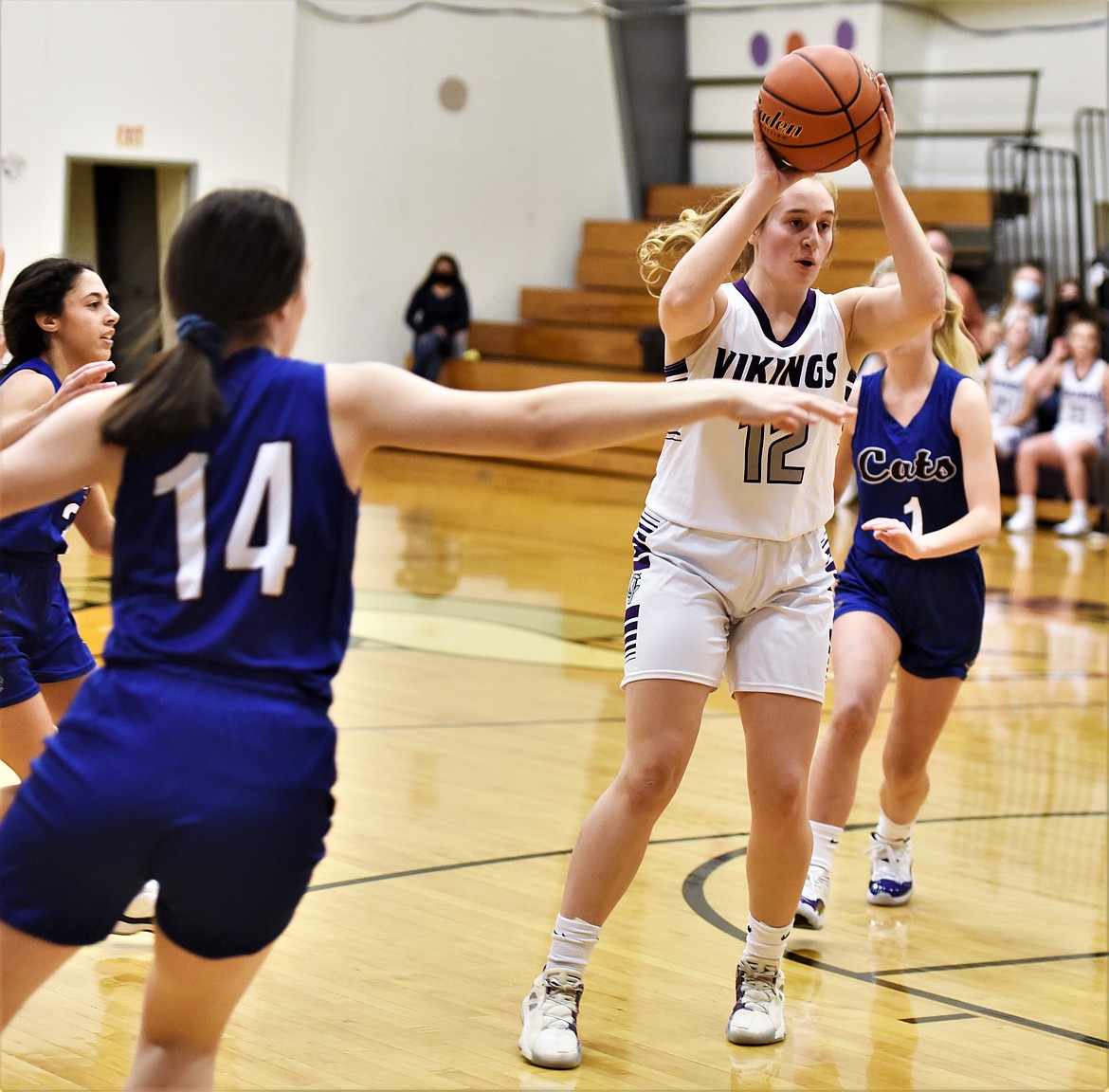 Senior Liev Smith looks for a passing lane against the Clark Fork defense. (Scot Heisel/Lake County Leader)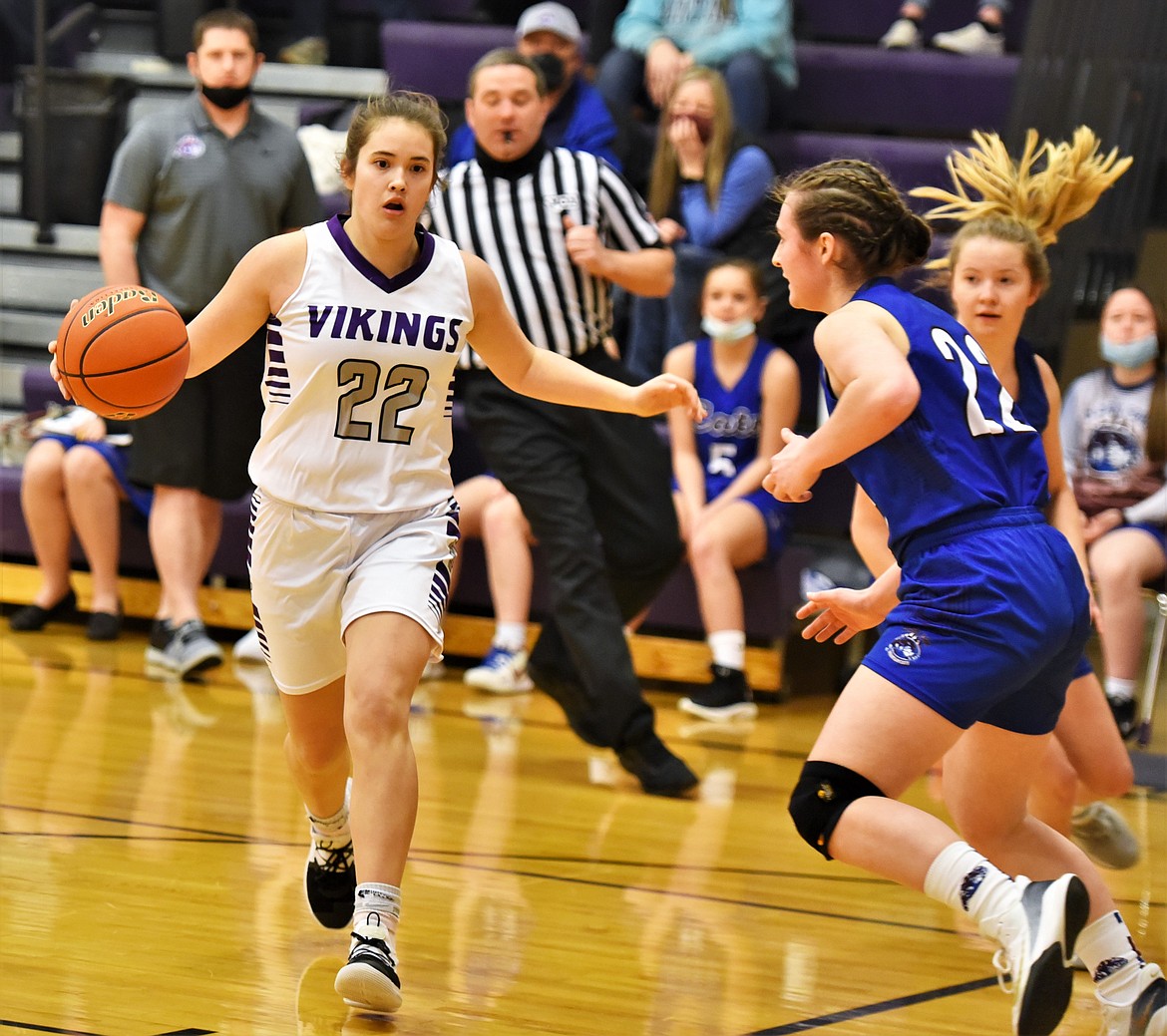 Mila Hawk looks to go inside against the Clark Fork defense. (Scot Heisel/Lake County Leader)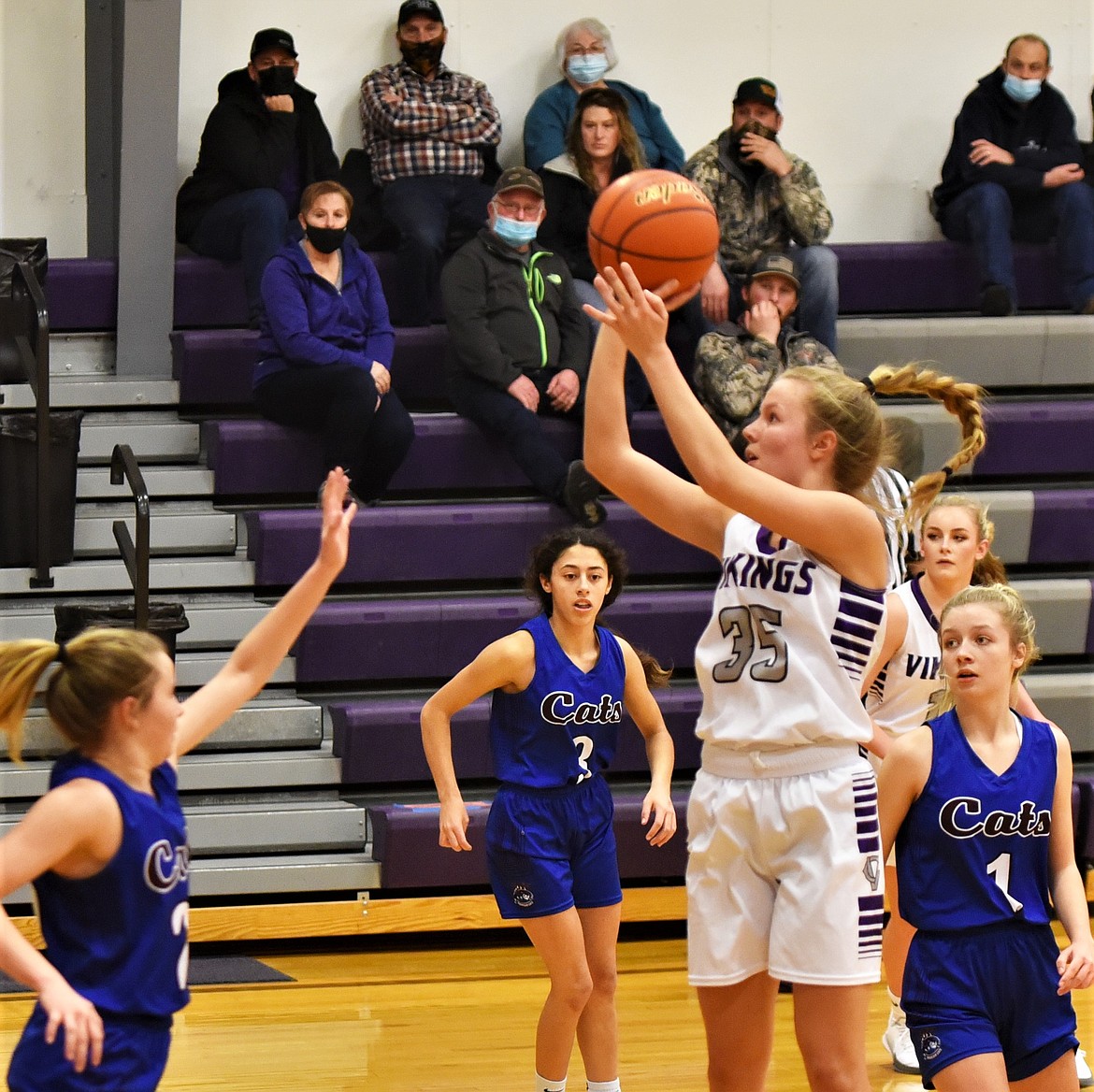 Carlee Fryberger puts up a jumper against Clark Fork. (Scot Heisel/Lake County Leader)
Previous
Next
by
SCOT HEISEL
Lake County Leader
|
February 23, 2021 4:50 AM
CHARLO — The Lady Vikings maintained their reign over District 14-C with two more impressive wins at home to lock up a top seed at the divisional tournament and clinch their fourth straight division title.
Charlo improved to 13-0 on the season after defeating fourth-seeded Plains 53-25 in a semifinal on Thursday and No. 2 Clark Fork 60-30 in the title game Saturday. Over those eight quarters, the visiting team posted double-digit points in just one — Clark Fork managed 12 points in the fourth when the game was well decided.
Constant hustle and a stealthy defense has carried Charlo all season. The team's closest call so far was a 59-41 victory at home against Noxon on Jan. 30. Only two other teams managed to score 30 on them.
Seasoned head coach Bret Thompson has been down this road a time or two, and he knows the difficulty is about to increase substantially.
"Now we just have to make sure we rise to the talent that we're about to step onto the court with," he said after Saturday's game.
"Once we get to divisionals we're going to become one of the shorter teams, so we're going to have to adjust. We're going to have to hit a few more from the outside and make sure we make the easy ones."
The emotion of the night was apparent on the face of senior Connor Fryberger after the game. She admitted it was on her mind beforehand as well.
"I tried to not think about it."
She had no problem settling in after the tip, though, finishing with 15 points and 12 rebounds for a double-double in the final home game of her career.
Carlee Fryberger, also a senior, snagged four steals on the night to go with nine rebounds.
The sisters are two of five seniors on the team who know how to play together.
"All of the seniors right now have been playing together since the seventh grade," Carlee Fryberger said. "Since we only graduated one player last year, we pretty much have the same team, plus the younger girls have really stepped up."
Sophomore guard Mila Hawk scored 11 points to go with six rebounds Saturday. Fellow sophomore Hayleigh Smith grabbed six rebounds and added 10 points.
"These guys at the very end, no matter what happens, they're always going to give themselves a chance," Thompson said. "They're never gonna make anything easy for anyone."
And while his team managed to run the table through district play, he said he's been impressed by the overall quality of the conference this season.
"I thought our conference improved a ton. There are a lot of really good young coaches, and you can tell they really care about what they're doing. I hope that we can credit those teams after the divisional weekend for really getting us prepared."
One advantage for Charlo going forward is that the offense doesn't rely on one or two players.
On Thursday against Plains, senior Liev Smith and junior Kassidi Cox led the way with 10 points each. Smith contributed nine points, while Carlee Fryberger finished with six points.
"That was a really good game for us, so hopefully we can stay rolling and get all the way through divisionals," Connor Fryberger said after Saturday's win.
"We're definitely not done yet," added Carlee. "We're just getting started."
Charlo begins divisional play against Twin Bridges at 3 p.m. Wednesday at Deer Lodge.
---