Joseph Leo Havlovick, 89
|
February 25, 2021 8:50 AM
Joseph Leo Havlovick, dedicated husband, father, grandfather, coach and friend, passed away Feb., 23, 2021 at St Luke's Extended Care in Ronan.
Joe was born Aug. 13, 1931 in Arlee and he considered himself a homestead baby. His mother rode the train from the homestead near Lost Lake and Dodson, Mont., to have her sister-in-law, a midwife, help deliver Joe into the world 89 years ago. He was proud of his homestead heritage and his ties to his family's Czechoslovakian roots. Both his mother Lillian and father Paul with their parents immigrated to the U.S. in the early 1900s from Bohemia (Czech Republic) to be early Montana pioneers. Later, Joe and family moved to Ronan, where he graduated high school in 1949. He later attended Gonzaga University on a boxing scholarship, then returned to the Flathead to marry Patricia Yanzick and raise a family.
Joe was a hard worker. ROTC during college led him to serve two years as an Army first lieutenant at Fort Benning, Ga. He proudly served, returning to the Mission Valley and Ronan, where he turned his degree in education into a long career as a New York Life Insurance agent (55-plus years) and became a Montana Hall of Fame agent and the ultimate Million Dollar Roundtable agent. He also spent 25 years as a Flathead cherry grower, running a roadside stand called Joe's Cherries. His largest crop ever weighed in at 22 tons. And Joe was a coach of all things athletic in the Polson schools. He coached his four children in everything from football and basketball to track and softball. He coached some of his grandchildren, and many other Polson youth. He always enjoyed helping others "do their best".
His own pursuits in athletics were some of his cherished stories: as captain of the "First Five" 1949 Ronan basketball team setting the school's biggest win-loss record at 25 wins, six losses. to his colorful history as a boxer for the Gonzaga Bulldogs. He delighted in telling the come-from-behind story of his heavyweight victory fight that brought the Zags (all plagued by flu) to an exciting finish, tying the Idaho Vandals in the last match of the year.

While Joe was serious minded, he sported a big smile and as a kid had a knack for instigating pranks and fun, as his sister, Pauline Hall, of Spokane, will attest, "He would start things and drag me into it." Joe is famous for his Chinese pheasant story, in which the high school track team was en route from Ronan to Polson, riding with the javelins hanging outside the window of the 1940s sedan. A Chinese pheasant crossed the road and one boy cried out, "Hit it", and the driver tried to do just that. They crashed the car into the embankment, and luckily a passerby came along to help them arrive at the track meet, although slightly late. Joe would delight in telling this story, chuckling every time, although it isn't clear that he instigated the distraction on that day.
He leaves behind a love of the outdoors, and a lifelong joy of fishing. Mud Lake, being 1 mile from the family farm at Crow Creek, provided constant entertainment for him and his brothers, Frank and Victor. He fished the Flathead by boat. He would take in Lake Koocanusa, near Libby, and Lake Mary Ronan, joined by Mary, his second wife of 35-plus years. Together they enjoyed many days fishing on the water with pictures and fish tales to tell the grandchildren.
As a father, Joe was most proud of his children and felt they were his best accomplishment in life. He valued education and was proud of the numerous college degrees shared by his children and grandchildren.
In his later years, his smile and enthusiasm for life delighted caregivers with ALL of his colorful stories. His very physical life left his spine, hips and knees with mobility problems as he spent several of his final years at Polson Health and Rehab and St. Luke's Extended Care. His family wants to thank these wonderful people for their compassionate caregiving. A special thank you to Dr. William Cullis for his expertise in gerontology and to Valerie Henderson and all his nurses for their gentle and joyous bedside manners.
Preceding Joe in death were his parents, Paul and Lillian; his brother Francis, and an infant sister Barbara; and his wife, Mary Ellen Havlovick.
He is survived by his sister Pauline (of Spokane) and brother Victor (of Falls Church, Va.); daughters Penny (Ted) Fogelstrom of Eugene, Ore., and Peg Havlovick of Polson; sons Brad Havlovick of Idaho Falls and Brian (Lisa) Havlovick of Polson; and seven grandchildren (Alex and Loni Havlovick of Polson, Jacob, Zach and Josie Havlovick of Idaho Falls, and Jillian and Halley Fogelstrom of Eugene), with one great-grandchild on the way. He is also survived by stepchildren Greg Dumontier, Brian Dumontier and Denise Rankin and their extended families.
Joe enjoyed gardening and growing flowers, particularly dahlias. In lieu of sending flowers, honor him by planting a dahlia in your own backyard.
A public wake will be held from 4 to 6 pm Friday, Feb. 26 at The Lake Funeral Home in Polson, with a rosary service at 9:30 a.m. and a Catholic funeral mass at 10 a.m. Saturday, Feb. 27 at the Immaculate Conception Church with Father Kevin Christofferson presiding. Burial has taken place at the Ronan Mountain View Cemetery. Memories and condolences may be sent to the family at www.lakefuneralhomeandcremation.com. Services may be viewed on The Lake Funeral Home website.
Arrangements are under the care of The Lake Funeral Home and Crematory.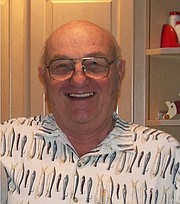 ---