Time Capsule: Stringing them along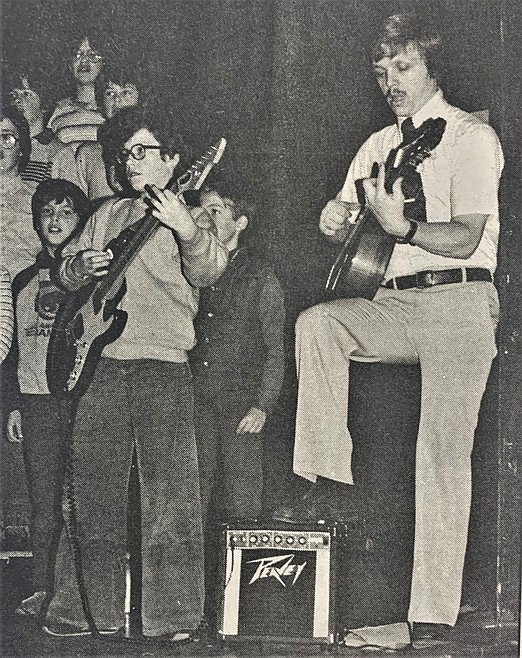 Mike Durbin, left, and Jerry Lemieux provide the music for the Linderman fifth-graders' singing. This will be just one of the performances at the concert March 2 in the Polson Middle School gym. (Feb. 25, 1982 Flathead Courier)
by
Lake County Leader
|
February 25, 2021 12:05 AM
This week in Lake County news archives.
Pirates No. 1
(Feb. 26, 1981 Flathead Courier)
Polson's Pirates, with only one loss as they move into the final weekend of action before the divisional tournament, have been voted No. 1 in the Associated Press power poll.
The Pirates gained the prime spot last week after they defeated Butte Central by 16 points.
Last weekend they just added to the opinion with victories over Hamilton and Eureka.
All shook up
(Feb. 22, 1968 Flathead Courier)
Mysterious temblors are rocking and rolling Valley View residents these days. The series in what seem to be localized minor earthquakes started last Thursday about 9:30 p.m. A second shock followed about 10 minutes later.
Friday night another tremor was reported at 8:25 p.m. Another was felt early Saturday. Others followed Tuesday night and Wednesday morning.
Mrs. Max Mahler comments that the shaking definitely is not caused by sonic booms, that there is a rolling, swaying motion in each instance. A rumbling noise also has been noted.
Bergoust to jump
(Feb. 22, 2001 Lake County Leader)
Freestyle ski jumpers will have an opportunity to watch Olympic gold medalist and world-record holder Eric Bergoust perform as he returns to Big Mountain for one day of jump hill training this Sunday. Film crews from NBC Sports will be filming.
---