Lady Bulldogs hold off Maidens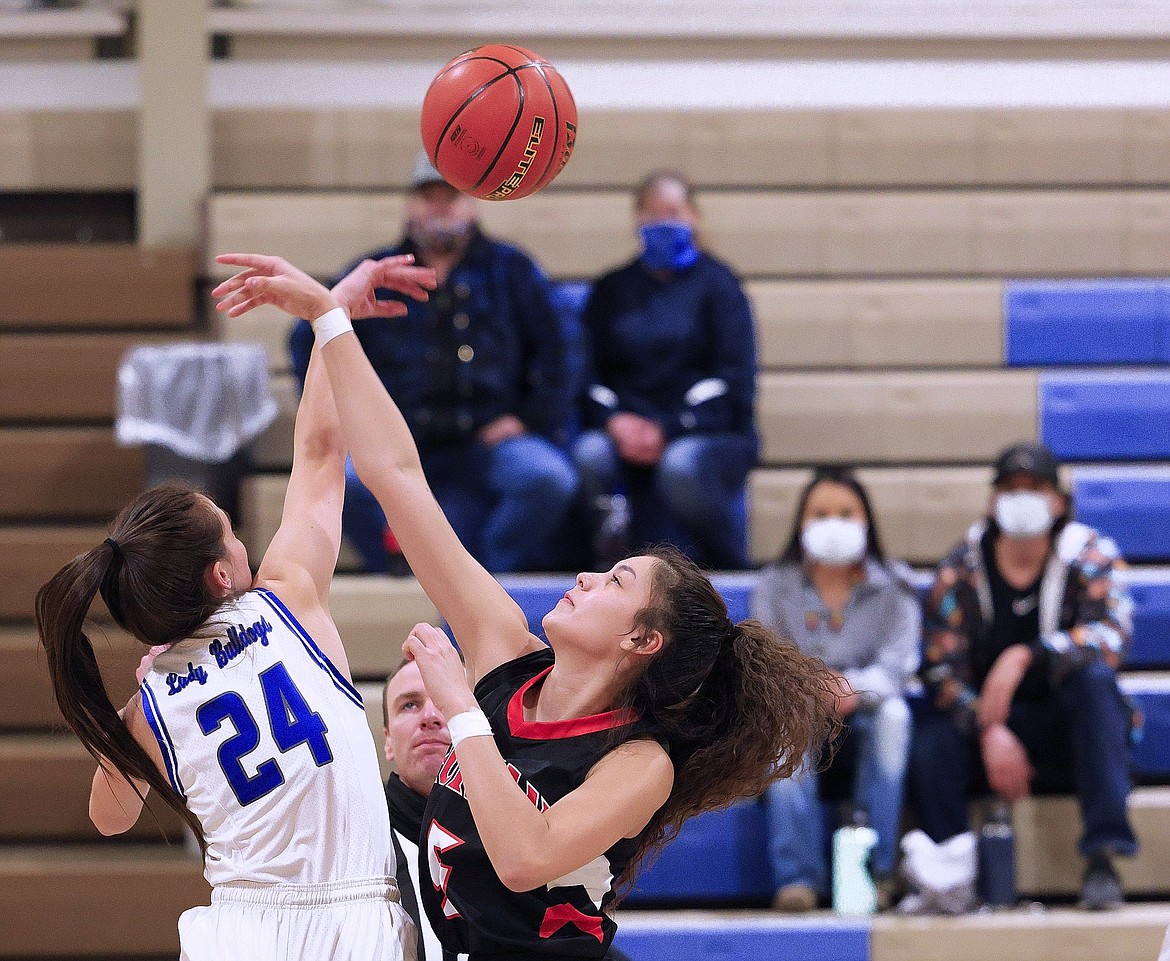 Mission's Sydney Brander (24) rises for a jump ball against Ronan's LaReina Cordova. (Courtesy of Stephen Hunt)
by
by John Heglie, special for the Leader
|
January 6, 2021 8:00 AM
ST. IGNATIUS — The visiting Maidens and the host Lady Bulldogs engaged in a classic confrontation whose outcome hung in the balance until the final buzzer, when the Lady Bulldogs took a 52-51 victory.
Mission nearly doubled up on Ronan in the first quarter, but the Maidens countered to knot the contest at 24-all at half. Two more ties ensued at 27 and 33-all before the Lady Bulldogs eventually built a cushion to a three possession advantage, 46-37.
But Ronan refused to fold, mounting a rally that twice pulled them within a single possession as guards Lexi Wirz and Ari Burke converted on a trio of crucial conversions down the stretch. Mission countered with just enough to hold the rally at bay as veterans Madyson Currie and Sydney Brander each netted strategic deuces under pressure as well as split clutch free throws from the charity stripe to hold on for the win in the inaugural debut of Lady Bulldog coach Dalton Delaney.
Both teams placed a trio of players in double figures. Maidens Jaylea Lunceford and LaReina Cordova both notched double-doubles, while Lady Bulldog Madyson Currie also turned in a double-double while leading all scorers with 17 points.
The Maidens were playing without 6-foot senior Madeline McCrea and lost the services of Jaleigh Gatch to injury, while LaReina Cordova fouled out with under two minutes remaining.
"It was nice to get started, but we have a long way to go to improve to where we want to be," Ronan coach Steve Woll said. "These girls will work hard and come together in the long run."
"It was nice to get a rivalry win, and I thought the girls played good team ball," Mission coach Delaney said. "We are looking forward to using this momentum into conference play."
The Maidens host a pair of Bitterroot teams when they face Corvallis on Thursday, Jan. 7, after having already played Hamilton the previous Tuesday. Mission will be in the midst of a marathon of matchups when they travel to Thompson Falls on Jan. 7 after having already faced Eureka on Tuesday. They then host the Plains Trotters on Saturday, followed by a game against Arlee on Tuesday.
Mission 52, Ronan 51
7B Mission (1-0), NWA Ronan (0-1)
Ronan 8 - 16 - 13 - 14 – 51
Mission 15 - 9 - 14 - 14 – 52
RONAN – Jaylea Lunceford 5 2-7 13, LaReina Cordova 5 1-4 11, Ari Burke 4 0-0 10, Lexi Wirz 2 2-3 7, Dani Coffman 2 3-4 7, Margaret Cordova 2, Jaeleigh Gatch 0 1-2 1. 19 9-20 51
MISSION – Madyson Currie 7 1-2 17, Kooper Page 5 0-0 15, Sydney Brander 5 3-5 13, Gabby Smith 0 2-3 2, Izzy Evans 2 0-4 4, Kason Page 0 1-5 1. 19 7-19 52
3FG – R4-16 (Burke 2-10, Lunceford 1-1, L.Wirz 1-3), MSI 7-30 (Ko.Page 5-15, Currie 2-5). REB – R46 (L.Cordova 15, Lunceford 11, D.Coffman 8, J.Gatch 5, M.Cordova 4, A.Burke 3), MSI 37 (Currie 12, Ko.Page 7, S.Brander 4, G.Smith 4, Cedar Hunt 3, Evans 4, Ka.Page 3). AST – R13 (Lunceford 3, L.Wirz 2, Burke 2, M.Cordova 2, Coffman, Gatch, L.Cordova, noID1), MSI 12(Currie 5, Ka.Page 4, Ko.Page 2, S.Brander). STL – R15 (L.Cordova 4, Lunceford 3, L.Wirz 3, M.Cordova 2, Burke 2), MSI 8 (S.Brander 3, Currie 2, Ka.Page 2, Ko.Page). BLK – R6 (Lunceford 3, L.Cordova 2, Coffman), MSI 7 (Currie 5, Evans, Ko.Page). DFL – R14 (Lunceford 6), MSI 11 (G.Smith 4, Currie 3). (Sa02Jan21)
Asterisk (*) denotes stat variant(s) where alternate data exists
---