Basketball Roundup: Pirates nip Hamilton at buzzer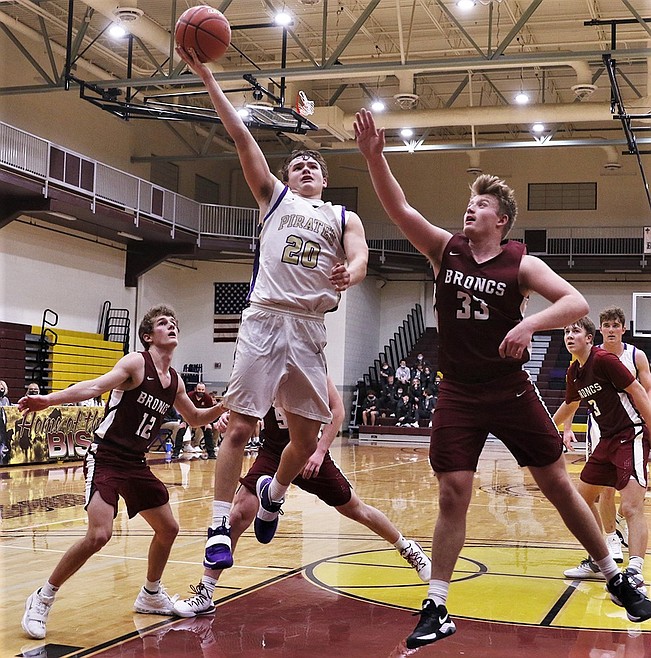 Jarrett Wilson drives the lane against Hamilton. (Courtesy of Bob Gunderson)
by
by John Heglie, special for the Leader
|
January 11, 2021 12:50 AM
At Salish Kootenai College in Pablo for the Polson boys basketball season opener Thursday, the host Pirates squeezed out a 30-29 win against Hamilton that went down to the wire. Trailing 28-29 with 25.6 seconds remaining, Polson's Jarrett Wilson corralled the rebound of a narrowly missed Broncos shot at one end of the court and sailed coast to coast, scoring the winning basket with a second and change remaining on the clock. Wilson finished with a team-high nine points
On Saturday at Columbia Falls, the Pirates turned in two huge middle frames on their way to a convincing 81-49 NWA conference win. Five Pirates scored in double figures. Colton Graham led the way with a team-high 22, while Jarrett Wilson and Xavier Fisher collaborated on 25 points. The Pirates generated 20 assists over the course of the contest with Wilson, Darian Wiliams and JC Steele dishing four each.
Chiefs bounce Broncs, Blues
The Ronan boys swept a pair of tough road matches against Bitterroot Valley opponents this past week.
At Hamilton last Tuesday, senior post Girma Detwiler and senior forward Leonard Burke combined for two dozen as the Chiefs held a Broncos rally at bay to edge Hamilton 40-39. The contest was knotted at 27 apiece entering the final frame, but a triple by Ruben Couture, a triple and deuce by Burke and clutch free throw shooting down the stretch by Detwiler as well as Elijah Tonasket sufficed to maintain the margin.
At Corvallis on Thursday, the Chiefs trailed by eight at the half, 18-26, but rallied to knot the contest at 40 apiece entering the final frame before culminating their comeback to emerge with a 57-50 victory. Ronan placed a quartet in double figures, led by a dozen and a half from Leonard Burke, and a double-double by Girma Detwiler that included 11 points and 13 boards.
Bulldogs unsaddle Horsemen, cage Lions
Against visiting Plains, the Mission boys had a trio in double figures in a 70-37 win. Isaiah Nasewytewa notched a dozen, while Zoran LaFrombois and Kellen McClure added 10 each.
At Eureka, the visiting Bulldogs held a single-possession advantage over the course of the first three frames and pulled away for a 71-57 win.
Mission guard Zoran LaFrombois scored a career-high 37 points.
Vikings take down Plains
At Plains, the Charlo boys harnessed the Horsemen 60-46 as they flipped the script on their double digit series sweep losses last season. Seasoned seniors Roper Edwards and Phil Marquez both notched double figures as they collaborated on 27 points.
Maidens split against Bitterroot teams
The Ronan girls split a pair of nonconference contests last week.
Jaylea Lunceford and LaReina Cordova scored 10 each in a 39-29 loss to Hamilton on Tuesday.
Against Corvallis on Thursday, the Maidens doubled up the scoring on their visitors at the half, then held off a rally to take 48-41 win. Lunceford and LaReina scored 12 each in the victory. Cordova also had 10 rebounds.
The Maidens (1-2) are slated to host Libby on Thursday, followed by Frenchtown on Saturday, before traveling to Columbia Falls this upcoming Tuesday.
Lady Pirates buckle against Broncs
At Hamilton in their season opener, the Polson girls were squeezed by the Broncs' full court in a 60-25 loss. Polson hit 3-pointers to account for the lion's share of their scoring. Although senior post Grace Hobbs didn't factor into the scoring, Lady Pirate coach Ryan Antos acknowledged a multitude of positive contributions along with other intangibles that included four boards, four steals, an assist and a pair of deflections along with holding her own in the paint.
The contest against Columbia Falls slated for Saturday was rescheduled until February after a Polson player tested positive for coronavirus, implementing quarantine protocols. The upcoming nonconference varsity match against Frenchtown has been scrubbed, although a revamped JV and froshmore squad will play their portion of the road contest. The conference clash with Libby originally slated for Saturday has been rescheduled to a date yet to be determined.
Lady Vikings topple Trotters
At Plains, the Charlo girls picked up where they left off last season against conference competition as they tamed the Trotters 51-11. Senior post Connor Fryberger was the lone player to notch double figures with 10 points, while Liev Smith led all rebounders with 10 boards. Carlee Fryberger and Kassidi Cox both splashed nine. Charlo was slated to host Noxon on Saturday, but the matchups were cancelled due to the Noxon School District going to remote learning after a student in their school system tested positive for coronavirus.
Lady Bulldogs busy early on
The Mission girls packed three games into a five-day span. Their conference clash against Eureka was knotted at 33-all at the half, but a less productive third quarter led to o a 60-56 loss. Sydney Brander scored 21, while Madyson Currie and Kooper Page scored 11.
At Thompson Falls, MIssion kept things close early but their game plan unraveled thereafter in a 66-49 loss. Brander scored 18, while Kooper Page contributed 11.
Against the visiting Trotters of Plains, the Lady Bulldogs placed a quartet in double figures as Kooper Page splashed five triples, Brander notched 14, and Madyson Currie and Izzy Evans scored 10 each.
---