Bulldogs' rally stalls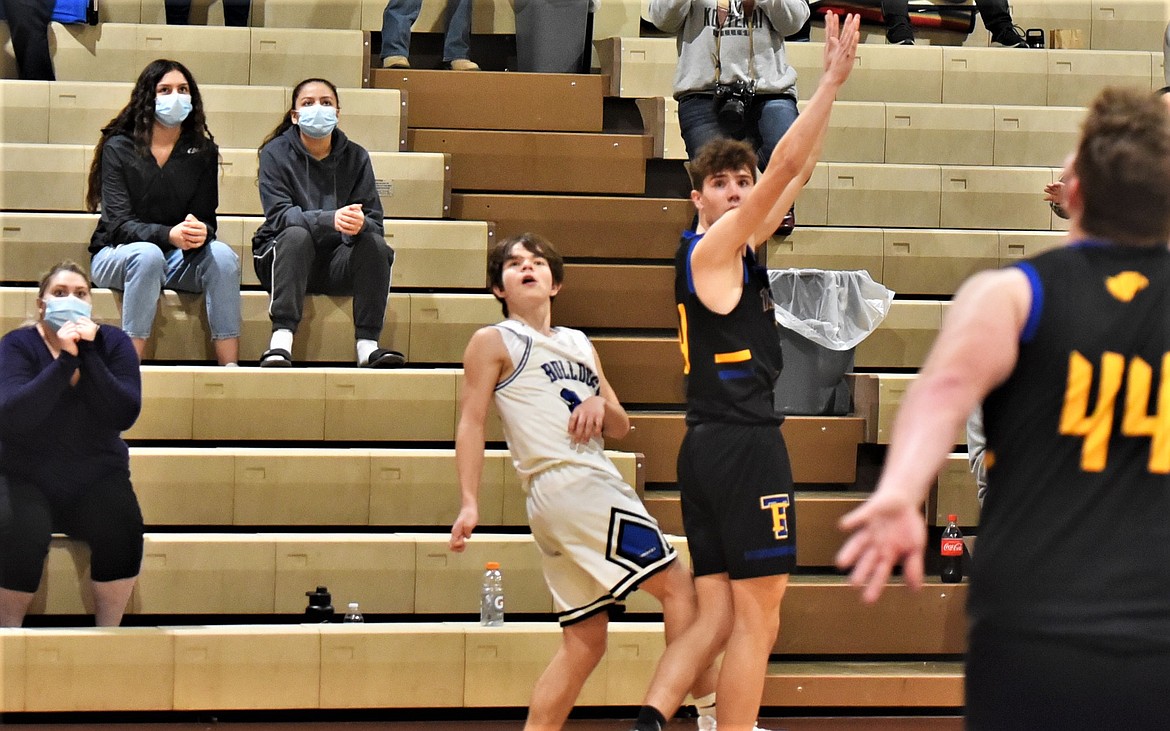 Mission guard Zoran LaFrombois watches his potential game-winning 3-pointer at the buzzer come up short against Thompson Falls. (Scot Heisel/Lake County Leader)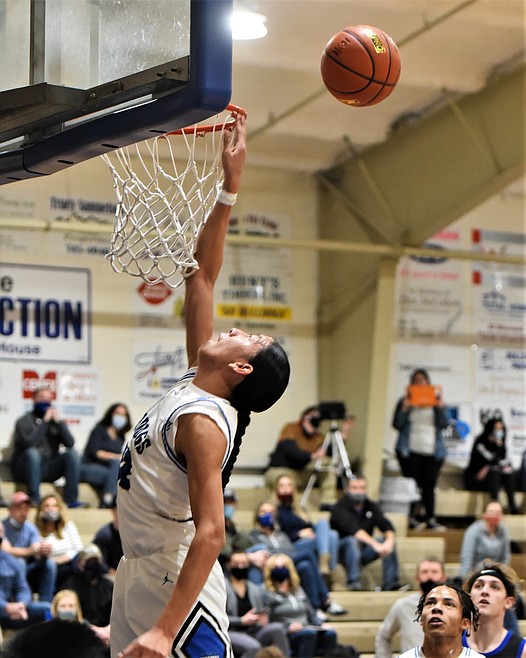 Sophomore Cedric McDonald rises for a rebound against Thompson Falls. (Scot Heisel/Lake County Leader)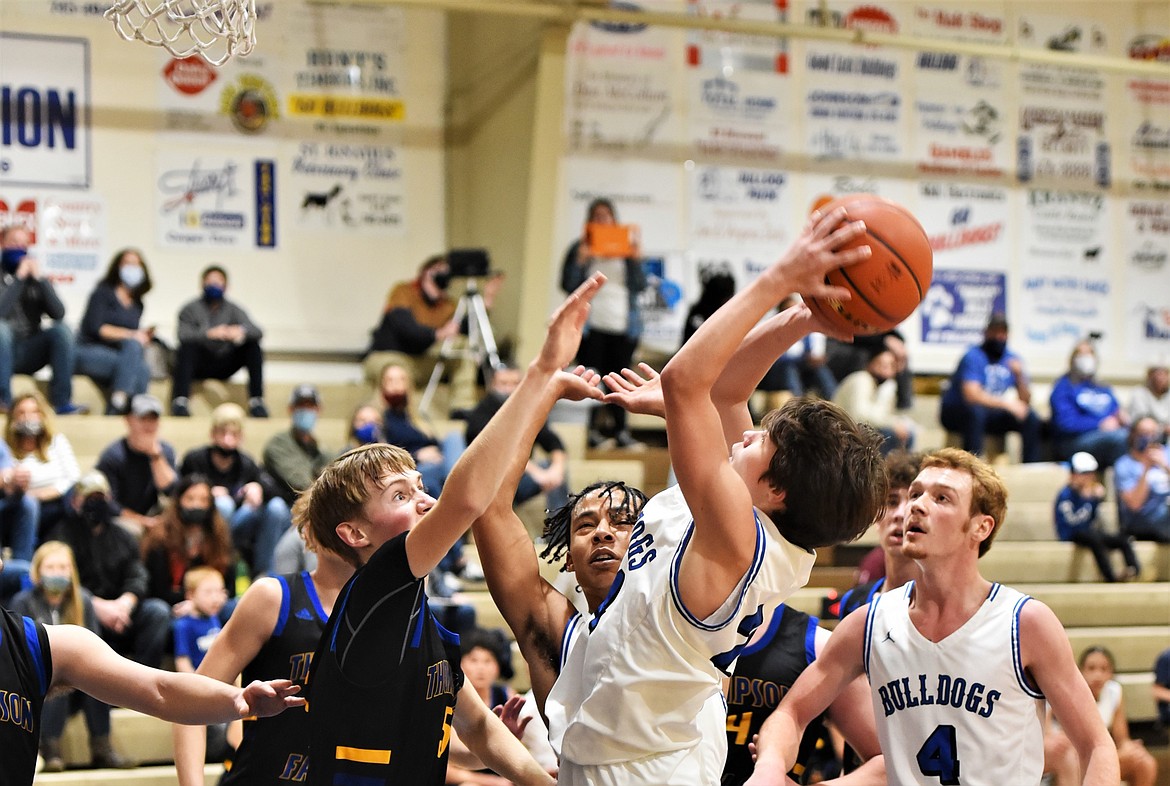 Zoran LaFrombois puts up a shot in a crowd, as Thompson Falls' Justin Morgan defends, in front of Bulldogs Layne Spidel (4) and Javon Bolen. (Scot Heisel/Lake County Leader)
Previous
Next
by
SCOT HEISEL
Lake County Leader
|
January 11, 2021 2:00 AM
ST. IGNATIUS — The Mission Bulldogs opened with a flurry and closed with a furious rally, but ultimately came up just short Friday night at home against conference rival Thompson Falls.
Sophomore guard Zoran LaFrombois hit five 3-pointers, including four in the first period, and finished with 26 points to lead Mission. The Bulldogs sharpshooter cooled in the second half, however, as the Bluehawks cranked up the press, and LaFrombois' final 3-point attempt at the buzzer bounced off the iron, resulting in a 59-57 loss for Mission.
The Bulldogs pounced from the opening tip and built a 19-12 lead heading into the second period. Their lead topped out at 10, 22-12, before the Bluehawks slowly began to claw back.
Thompson Falls went on an 11-3 run and took back the lead just before half, then gave it back. The Bulldogs went to the locker room up 32-30.
The Bluehawks press forced several ill-advised passes and a string of turnovers in the third, and the Bulldogs found themselves trailing 45-42 heading into the final period.
Thompson Falls led by nine with around 2 minutes remaining, but the Bulldogs weren't yet done. Sophomore Cedric McDonald, who finished with 12 points, hit a 3-pointer from the corner to close the gap to 59-55 with 25 seconds remaining. Following a turnover, McDonald hit another shot from the top of the arc with a foot on the line.
Suddenly the Bluehawks' lead was down to two.
In a frantic finish, and following another turnover, La Frombois dribbled toward the right corner against tight defense and launched a potential game-winner from behind the arc that missed its mark.
Senior guard Dante Micheli paced Thompson Falls with 20 points. Fellow senior Kade Pardee added 14.
The Bulldogs got 12 points from junior Ross McPherson. Layne Spidel added four points, and Kellen McClure rounded out the scoring with three.
"We've got some young players in there, and I think this is their first time being on the varsity stage," Mission coach Stuart Grant said after the game. "There needed to be some mental adjustments out there. And it's on me as well. I needed to make some adjustments in the second and third quarter to help them get ready for the press."
Mission was in the middle of a stretch of four games in eight days. After a season-opening loss to class A Ronan on Jan. 2, the Bulldogs cruised to a win at Eureka the following Tuesday. They followed the tough loss to Thompson Falls with a big win at home over Plains on Saturday.
"They made a great comeback," Grant said Friday. "They hung in there. They could have folded."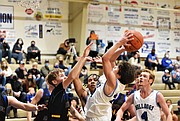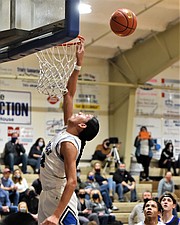 ---