Johann (John) Ortgies, 77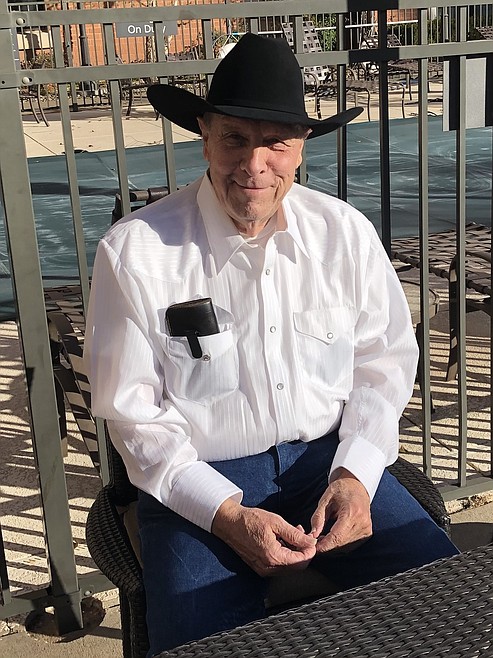 |
January 11, 2021 10:15 AM
Johann (John) Ortgies, 77, of Redmond, Ore., passed away on Tuesday, Dec. 29, 2020 of lung cancer. He was a loving husband, father, grandfather, great-grandfather, brother and uncle. The family will plan a memorial in Montana and Iowa in the summer of 2021.
John was born Aug. 27, 1943 to Alvin and Laura (Caspers) Ortgies at John McDonald Hospital in Monticello, Iowa. He attended elementary school at Frog Hollow Country School, west of Langworthy, Iowa, where they farmed. In 1952, the family moved to Cass Center north of Anamosa. He attended Anamosa schools and graduated in 1961. He was a member of the Anamosa FFA and showed cattle at the Jones County Fair.
In 1959 his parents helped him buy a farm in Cass Center. In October of 1961 he enlisted in the Navy but received a medical discharge due to a bad leg.
On June 22, 1962 he married Phyllis Hart at St. Paul Lutheran Church, Anamosa, Iowa. In January 1963 they moved to the farm at Cass Center, where they lived for 19 years. They moved to their Viola Farm in December 1982. They then moved in April 1984 to the ranch in Proctor, Mont., where they lived 21 years. Due to health reasons, they sold the Proctor ranch in 2005 and moved to Jette Meadows in Polson, where they resided for 10 years. In 2015, they moved to Redmond, Ore., where they still reside.
During his lifetime, John worked construction, drove school bus and drove semi, all while farming. In Montana he ranched and worked odd jobs. When in Iowa he helped with 4-H clubs, participated on Jones County extension council, helped with Boy Scout Troop 99 in Anamosa and chaperoned Troop 99 to Ely, Minn., on a canoe trip to the northern boundary waters. He loved the mountains, hunting elk and deer, fishing and pack trips to the Bob Marshall Wilderness and mushrooming. He was an accomplished rancher and cowboy and did everything on horseback. He loved his cows and horses.
His greatest love was his family and grandchildren. His joy was helping the granddaughters with their sheep projects and showing at the fair.
John is survived by his wife of 58 years, Phyllis; his children: Valerie Ortgies of Kalispell, Joni (Ruben) Chavez of Corvallis, and Anthony (Katie) Ortgies of Redmond; his grandchildren: Kristin (Scott) Mauseth of Great Falls, Shawn Ortgies of Bozeman, Justin Ortgies of Butte, Alyssa Hopper of Wibeau, Mont., Ashley Hopper of Victor, Mont., Amanda Ortgies of Redmond, Keanna Chavez of Corvallis, Abigale Ortgies of Redmond, Alaina Chavez of Corvallis and Allison Ortgies of Redmond; his great-grandchildren: Taylor Mauseth of Great Falls, and Ava and Finn Ortgies of North Branch, Minn; his two sisters, Julie (David) Raak of Ryan, Iowa, and Ruth Engelken of Montgomery City, Mo.; and his brother Richard Ortgies of Monticello, Iowa. He also is survived by many cousins, nieces and nephews. Special mention to Jerry (Renee) Hart and Dustin Thornton, both of Kalispell, and Vaughn Zimmerman of Springfield, Mo. John was preceded in death by his parents, Alvin and Laura Ortgies, his in-laws Robert and Muriel Hart, and his son Phillip John Ortgies. He will be greatly missed by all.
---