Wrestling Roundup: Pirates overpower T-Falls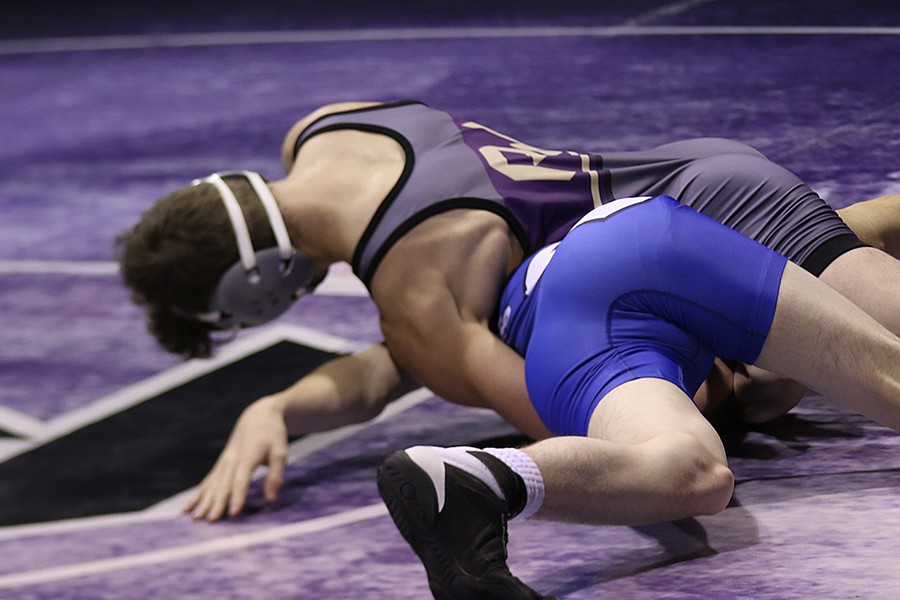 Polson's Maysn Cowell, top, tries to control Ted Melott of Corvalsis in a 126-pound match. (Courtesy of Bob Gunderson)
by
John Heglie, special for the Leader
|
January 11, 2021 12:20 AM
At Corvallis on Saturday, the Pirates almost doubled up Thompson Falls 42-24, getting pins from Cole Cross, Maysn Cowell, Noah Trosper and Caleb Pierre. At the 132 weight class, Gavin Knutson faced one of the tougher draws against defending state champion Trae Thilmony.
Against Columbia Falls, the Pirates got pins from Ryley Knutson, Caleb Pierre and Tyler Otto, but fell short against the Cats 51-24.
At a triangular in Polson last Thursday, the Pirates got pins from Ryley Knutson, Maysn Cowell and Tyler Otto along with two forfeits, but were outpointed by Corvallis 42-30. Against Whitefish, the Pirates got pins from Micah Craig, Maysn Cowell and Logan Adler, though the visiting Bulldogs held a 4-3 edge in actual head-to-head matches. But empty weight classes made up the difference as Polson capitalized on a 4-2 advantage on forfeits to edge Whitefish 42-36.
Chiefs sweep conference clashes
On Friday, Ronan wrestlers swept a pair of NWA conference meets.
Against Libby, the Chiefs got pins from James Kenelty as well as Julian Strait and decisions from Landon Bishop and Daniel-Collins-Bishop along with a quartet of forfeits as Ronan clipped Libby 42-30.
Against Browning, Ronan received pins from Donavin Brown along with Daniel Collins-Bishop and decisions from Landon Bishop and Caleb Cheff supplemented by a trio of forfeits as the Chiefs edged the Indians 36-21.
Dawgs duel well against Cats, Horns, Eagles
Mission-Charlo Bulldog wrestlers engaged in three duals last week.
Against the Clark Fork Mountain Cats at Superior on Jan. 7, Canyon Sargent (152) won the lone match for the Bulldogs.
At Fairfield on Saturday, the Bulldogs wrestled the host Eagles and the visiting Fort Benton Longhorns.
Against Fairfield, Charley Adams (145) and Chance Bockman (170) won their matches. Against Fort Benton, Canyon Sargent (152) and Christian Smith (170) won their matches.
Next up: at Ronan on Jan. 12; home quad Thursday; at Darby on Saturday.
Warriors among the mix at Cut Bank
Arlee traveled to Cut Bank on Friday for a quad/mixer that included Choteau and Fairfield. A trio of Warrior wrestlers collaborated on four pins and a decision.
Colt Crawford (145) came out on the short end of a 7-1 decision, but pinned his other opponent. Charley Crawford (152) won both of his matches by pin, while RJ Knoll (160) captured one match by decision while pinning his other opponent.
Next up: Plains/Hot Springs and Thompson Falls at Arlee on Friday.
---