Charlo Grocery marks a century of service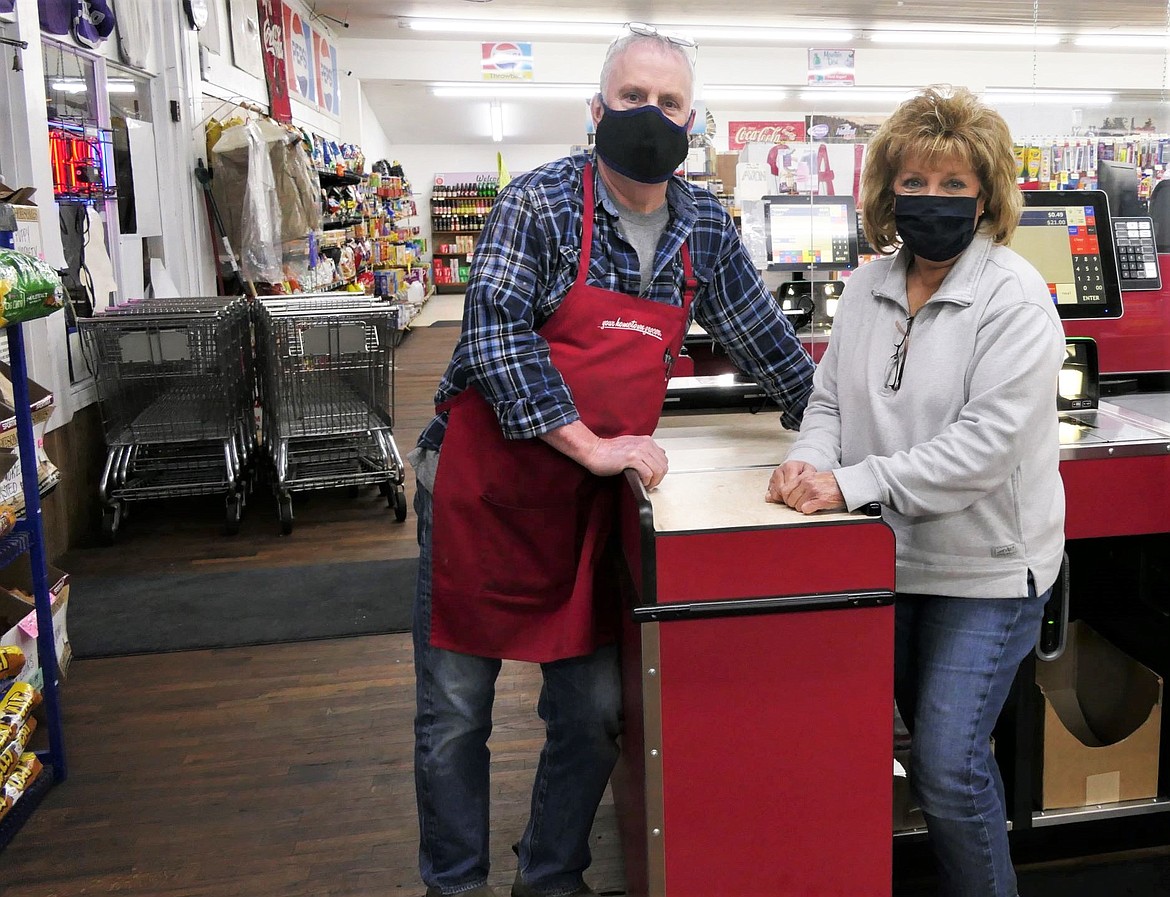 Rick and Linda Marcure carry on the Charlo Grocery legacy, keeping the century-old building in top shape. (Carolyn Hidy/Lake County Leader)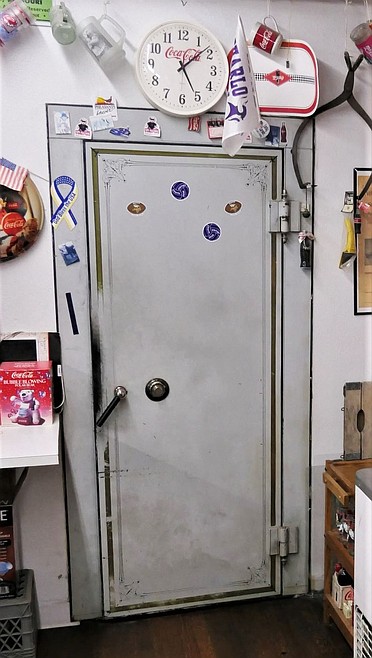 The original safe of First National Bank of Charlo, now an ice cream parlor in Charlo Grocery. (Carolyn Hidy/Lake County Leader)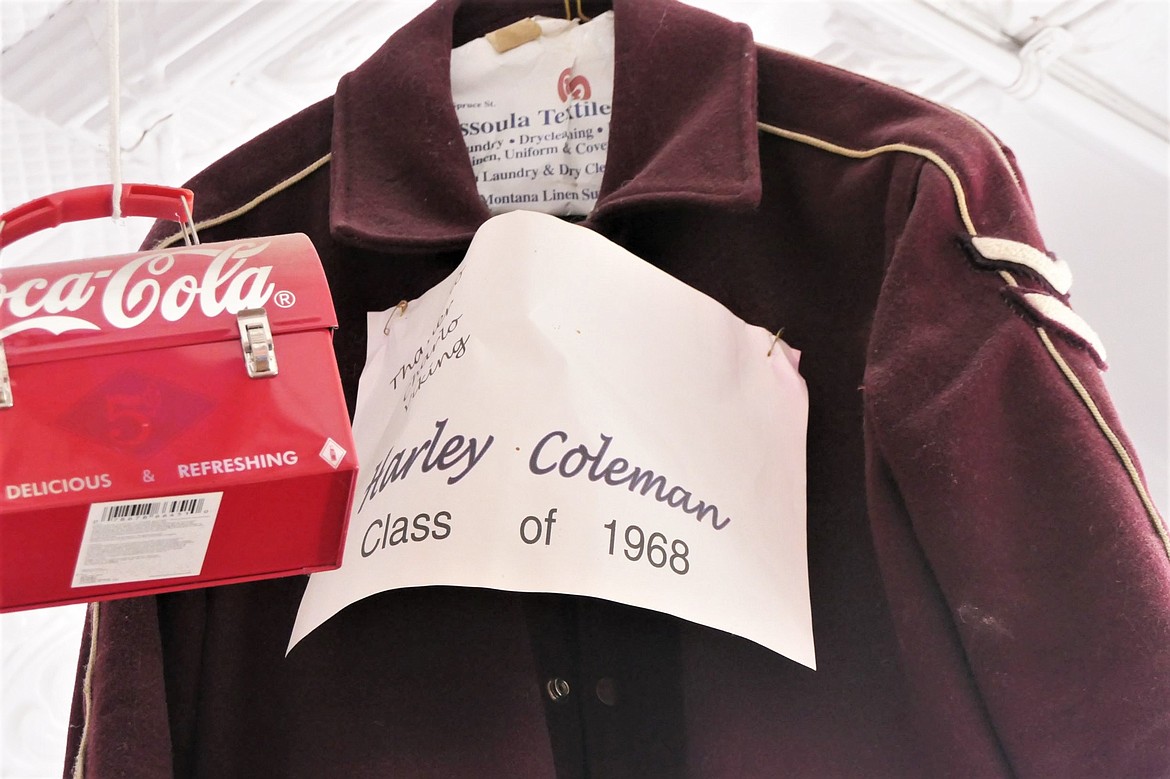 Harley Coleman's 1968 Charlo letterman's jacket and Coca-Cola memorabilia are featured in the hstory section of Charlo Grocery. (Carolyn Hidy/Lake County Leader)
Previous
Next
|
January 14, 2021 12:50 AM
CHARLO — Spend some time in Charlo and you'll find its charm goes beyond scenic views and the nearby National Bison Range. The community also enjoys a thriving school enthusiastically supported by the community, several long-standing family ranches, a growing manufacturer, an innovative inland shrimp farm, and a famous Fourth of July parade.
A primary glue that keeps any town together is its downtown businesses, and Charlo Grocery has served that role for a century or so.
Rick and Linda Marcure are part of a long line of grocers and farmers who have helped feed small towns throughout the area for generations. The couple has owned and operated Charlo Grocery for 25 years, and helped out with it before then as they worked the family's 2,500-acre dryland wheat farm.
Rick's parents, Alverd and Ellen Marcure, retired after owning the Charlo store nine years. Before that, the ownership lineage included Allen and Delores Swalling (10 years), Delores' parents (Wiebke Grocery, 45 years) and even another family for about a decade before that, when Charlo was part of Missoula County.
In the very earliest photos of Charlo from the first decade of the 1900s, the First National Bank features prominently. That bank still lives on as the north wing of Charlo Grocery, including the safe that once held the community's precious savings.
Now an ice cream and pizza parlor popular with the school crowd, this part of the store is a trip down memory lane. With the ambience and Coca-Cola memorabilia of a 1950s diner, this is "Viking Central," a tribute to the local school and its sports competitors, from preschool T-ball to high school football and volleyball. People still drop off trophies and treasures to add to the collection of old-time gadgetry and photos.
Both of Rick and Linda's kids graduated from Charlo.
"Small towns love their teams," Rick said. "They are our professional sports team. It's not just about winning. It's about having fun."
He credits longtime football coach/teacher Mike Krahn for inspiring his own son, Andrew, who played college ball at Dillon and now teaches and coaches a state championship team in Bighorn, Wyo.
Rick and Linda cherish the building's history. They still hang onto the original meat-cutting equipment and grain scales, though their useful era is past. When the store is closed every Christmas, they clean and polish the original wood floor. They even keep up old-fashioned service, chatting with customers as they carry their bags out to their cars.
As part of the Associated Grocers network, they are able to be competitively priced with larger supermarkets, yet maintain local mercantile charm and practicality by offering hardware, fishing gear, package shipping service, and even cattle shipping permits.
Rick is proud of his town, and touts the fact that though Charlo looks small, there are over 40 active businesses in the area. Many of them have been around a long time as well. He says part of what keeps them in business may be that they are "off the beaten path."
"My dad always said, 'Don't try to be the other (bigger) stores. Just be what you are. Take care of it and do the best you can at being that.' "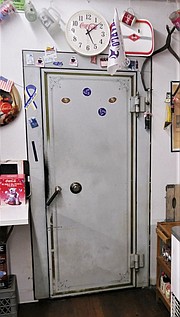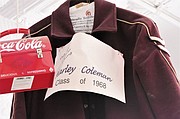 ---