Time Capsule: Luedtke sets record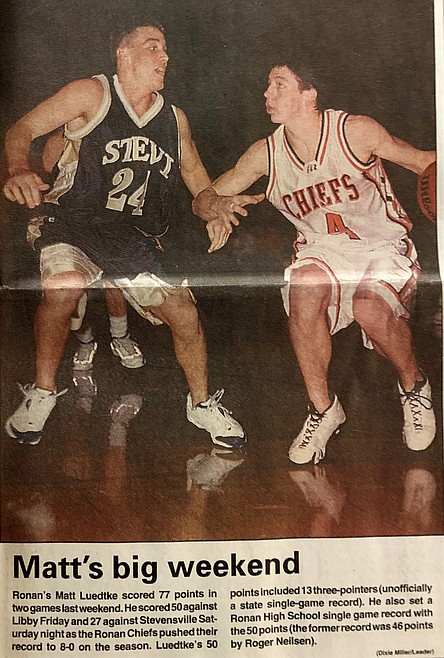 From the Jan. 13, 2000 edition of The Lake County Leader.
|
January 14, 2021 12:15 AM
This week in Lake County news archives.
Tractor splashes
Jan. 14, 1993 (Lake County Leader)
Firefighters and other volunteers worked for several houses Tuesday to free a tractor that broke through lake ice near KwaTaqNuk Resort.
The rig ventured onto the ice about 300 yards from shore to clear sow for a skating rink. Its back wheels and plow blade broke through 4 inches of ice. No one was injured.
It took five hours to get the tractor to shore. Ronan Auto Body's heavy-duty tow truck used several hundred feet of steel cable in the effort.
Juveniles guilty of thefts
Jan. 15, 1981 (Flathead Courier)
A seven-month investigation came to a conclusion last week with four juvenile boys appearing in District Court in Polson to answer to charges involving 43 separate crimes.
Lake County Sheriff Glenn Fram said the investigation included 19 burglaries, 12 felony thefts, 10 forgeries and two misdemeanor thefts that occurred in the county between may and November 1980.
In some instances, he said, "there were three or four burglaries in one night."
Judge Jack L. Green ordered the boys to pay $6,000 in restitution. In addition, two of the four will be incarcerated in the juvenile section of the county jail for several weekends.
Lundeen is Polson's Junior Miss
Jan. 16, 1968 (Flathead Courier)
Blonde-haired, blue-eyed Janice Lundeen, Polson High School senior, has been named Polson's Junior Miss of 1968. She is the daughter of Mr. and Mrs. Marvin Lundeen of Polson.
Runners-up were Annette Soucie, daughter of Mr. and Mrs. William Soucie, and Sheila Gill, daughter of Mr. and Mrs. Michael J. Gill.
In the talent portion of the pageant, Miss Lundeen presented a trumpet solo. Miss Soucie gave a vocal solo, and Miss Gill presented a dramatic reading.
---