Road to the show: Clinic offers local kids tips for county fair livestock competition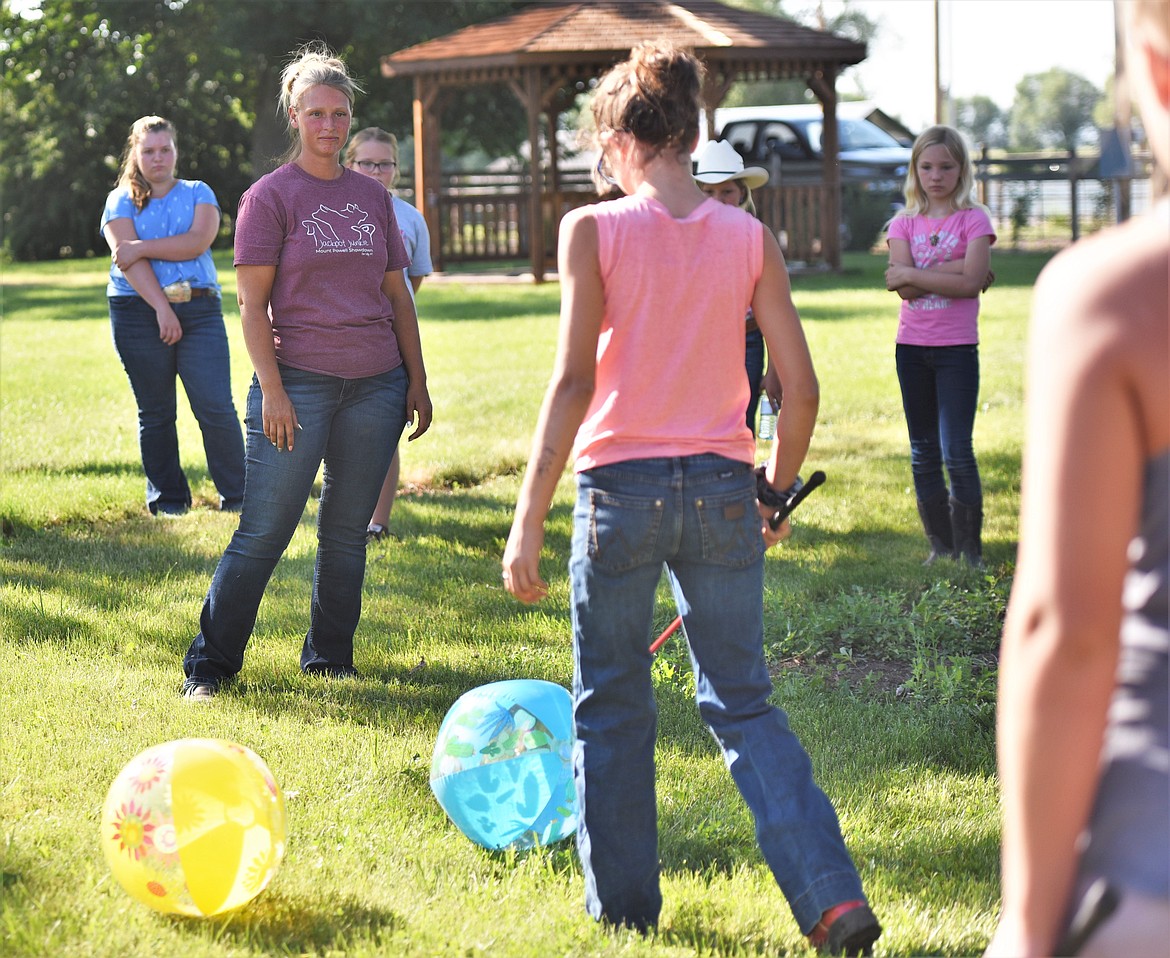 "If you can show a beach ball, I guarantee you can show a hog," instructor Kayla Lowery told students at a showmanship clinic Friday in Ronan. (Scot Heisel/Lake County Leader)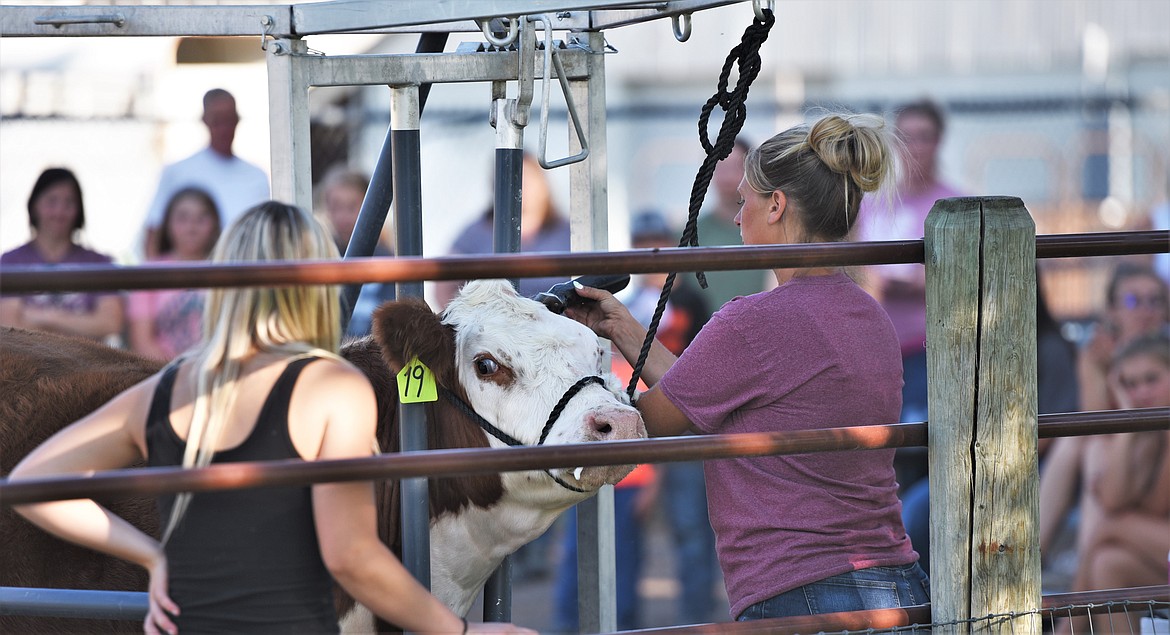 Kayla Lowery demonstrates methods for trimming and blending a steer's coat to best capture judges' eyes. (Scot Heisel/Lake County Leader)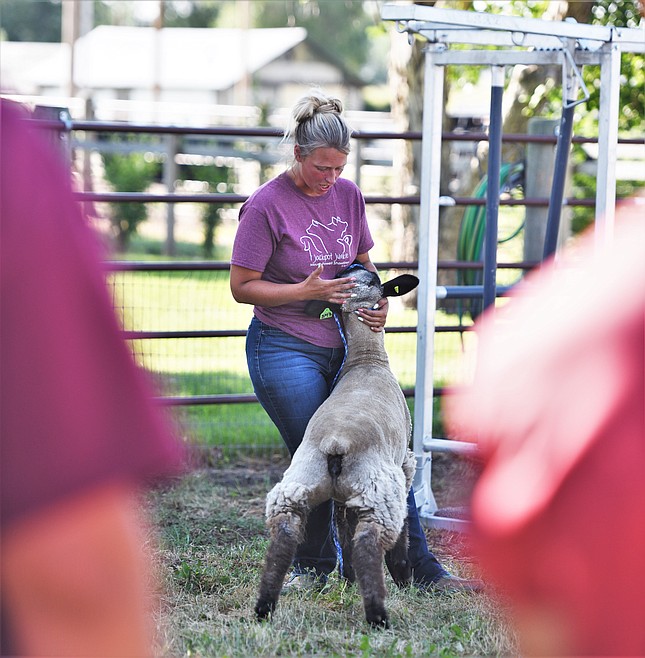 Kayla Lowery of Deer Lodge shows students how to hold a sheep during judging. (Scot Heisel/Lake County Leader)
Previous
Next
by
SCOT HEISEL
Lake County Leader
|
July 15, 2021 12:50 AM
RONAN — Young members of 4-H and the National FFA Organization had an opportunity to get a leg up on the competition ahead of this week's fair during a showmanship clinic Friday evening at the Lake County Fairgrounds in Ronan.
A few dozen kids learned tips on how to care for and show their animals over the two-hour clinic presented by Kayla Lowery of Deer Lodge and sponsored by Mountain West Co-op Cenex in Ronan.
Friday's clinic focused on large animals — sheep, pigs and steers — on the heels of a previous clinic on small animals.
Lowery raised and showed animals over eight years in 4-H and understands what it takes to grab that grand champion ribbon. She also has 18 years of experience raising cattle and six years raising show hogs.
The Lake County Fair opens Saturday and runs through Sunday, July 25. There's a dog show Tuesday, then livestock judging begins Wednesday and showmanship starts Thursday morning.
"First of all, it's looking like it's going to be pretty hot," Lowery warned her pupils. "You need to get used to the heat."
She suggested kids spend time with their animals in the sun prior to the fair to avoid a shock to their system when they get to competition.
Other tips included preparing animals for the chlorinated water at the fairgrounds, something most animals aren't accustomed to.
"If you don't prepare them, there's a chance they just won't drink at all," Lowery said.
She opened with a lesson on how to show a sheep, how to brace the animal and the best way to display it to the judges. She also gave tips on how to shear sheep so they look as filled-out as possible, how to clean the animal and how to trim hooves.
During a lesson on hogs, she talked about what feed to use as you're raising the animal and the importance of closely monitoring levels of lysine and protein in your feed.
Several kids brought animals to serve as instructional volunteers. However, the weather was too warm for pigs, so instead students "showed" beach balls. Lowery explained that the force with which you touch a pig with a whip is about equal to what you need to move a beach ball around a yard.
Students whipped their beach balls, trying to maintain eye contact and keep the judge's attention — Lowery in this case.
"If you can show a beach ball, I guarantee you can show a hog," Lowery said.
Lowery also discussed trends in showmanship. For example, where to put your free hand while showing a hog.
"It used to be behind your back," she said. 'But that makes it hard to get your balance if you trip over someone's animal." She said she preferred to have a brush in her free hand, held to her chest.
Near the end of the clinic Lowery gave a steer a show trim with the clippers, discussing strategies for contouring the animal's fur based on its unique body structure.
"Studies have shown that the size of a steer's forearm correlates with the size of the ribeye, so it's a good idea to show off that forearm as much as possible."
Jack Stivers, Lake County MSU 4-H Extension agent, also walked the students through how to prepare for interview judging, when kids display their records on an animal and calculate their break-even price.
This year's livestock sale, when the kids will cash in on all their hard work, takes place at 7 p.m. Thursday, July 22. For a complete Lake County Fair schedule, see the History of the Fair publication inserted into this week's Lake County Leader.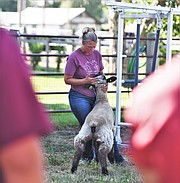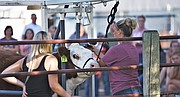 ---