St. Luke earns 'Employer of Choice' award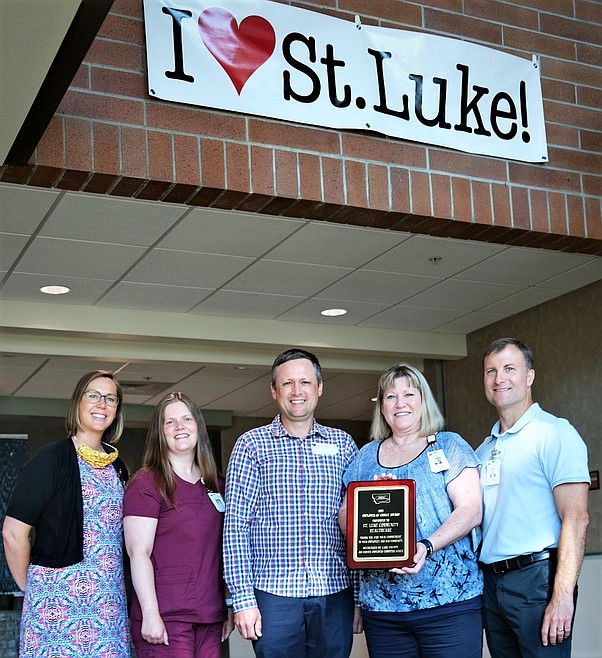 St. Luke's staffers, from left, Public Relations Manager Whitney Liegakos, Director of Nursing Abigail Byers, Lake County JSEC co-coordinator Kris Schock, Human Resources Manager Theresa Jones and CEO Steve Todd. (Courtesy photo)
by
Job Service Polson
|
July 16, 2021 5:00 AM
The Lake County Job Service Employer Committee (JSEC) presented the 2021 "Employer of Choice" award to St. Luke Community Healthcare. The award recognizes businesses that demonstrate a high level of commitment to their employees and the surrounding community.
St. Luke Community Healthcare has been in the healthcare industry since 1953 and has over 400 employees. As a key contributor to the Mission Valley economy, St. Luke Community Healthcare supports partnerships and initiatives that help build stronger and healthier communities for the future. In 2020, St. Luke donated $650,000 to the community through a variety of local programs, numerous hours of people time and in-kind support, and financial assistance for low-income patients.
St. Luke "has a large number of long-term employees: 29% of which have been here for over 10 years and several for longer than 40 years," Human Resources Manager Theresa Jones wrote in the nomination application. "That is a remarkable testament as to the working environment, the way employees are treated, the benefits, and the leadership of administration."
JSEC is an advisory committee composed of area employers and representatives from the Job Service with the goal of identifying and addressing the needs of the business community.
---