Paden Alexander wins Buffalo Run half marathon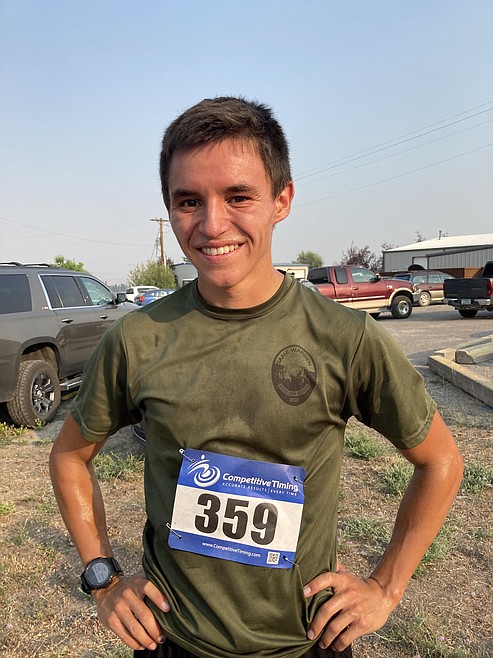 Payden Alexander won the men's division of the 2021 Buffalo Run, sponsored by St. Luke Healthcare. (Carolyn Hidy)
by
CAROLYN HIDY
Lake County Leader
|
July 20, 2021 7:20 AM
ST. IGNATIUS — With a 6:04-minute-per-mile pace, Paden Alexander, 26, of St. Ignatius, took first place — again — out of 47 runners in the Buffalo Run half marathon Saturday.
Alexander finished in 1:19:23.66.
"It was good; it was rough," Alexander said. "Definitely the most competitive race I've had here so far."
It was his sixth time running the race.
"There's some younger people back there that are pretty quick. They were pretty impressive."
Nathaniel Gale, 16, of Florence, took second place in the men's division at 1:22:24.68. He was followed by Andrew Rush, 18, of St. Ignatius in third, with a time of 1:31:21.34.
Scarlet Kaplan, 25, of Whitefish, took home the women's division gold with a mark of 1:40:33.20. Second place went to Molly Sitter, 19, of Polson, at 1:44:29:09, who was followed by her dad, Michael, a second later. Brooke Hansen, 22, Polson, came in third at 1:57:21.44.
Besides the half marathon (13 miles), many runners showed up for the 1-mile, 4-mile and 7-mile fun runs, challenging and supporting family members and buddies of all ages and species, as dogs encouraged their people to do their best.
The Buffalo Run is sponsored every year by St. Luke Healthcare as part of the Good Old Days festival.
Recent Headlines
---