Lady Pirates dominate at state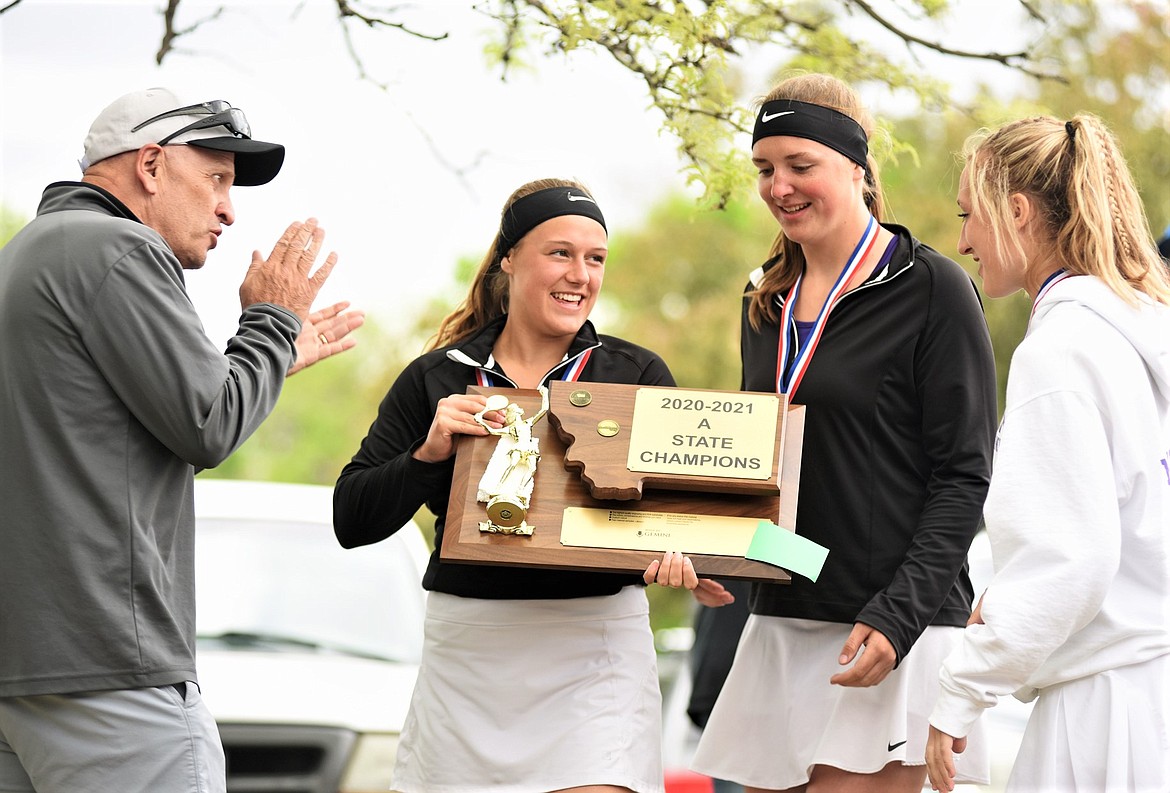 Class A doubles state champions Berkley Ellis, left, and Qia Harlan hold their trophy in Billings. At right is teammate Ara Mercer. (Whitney England/Whitefish Pilot)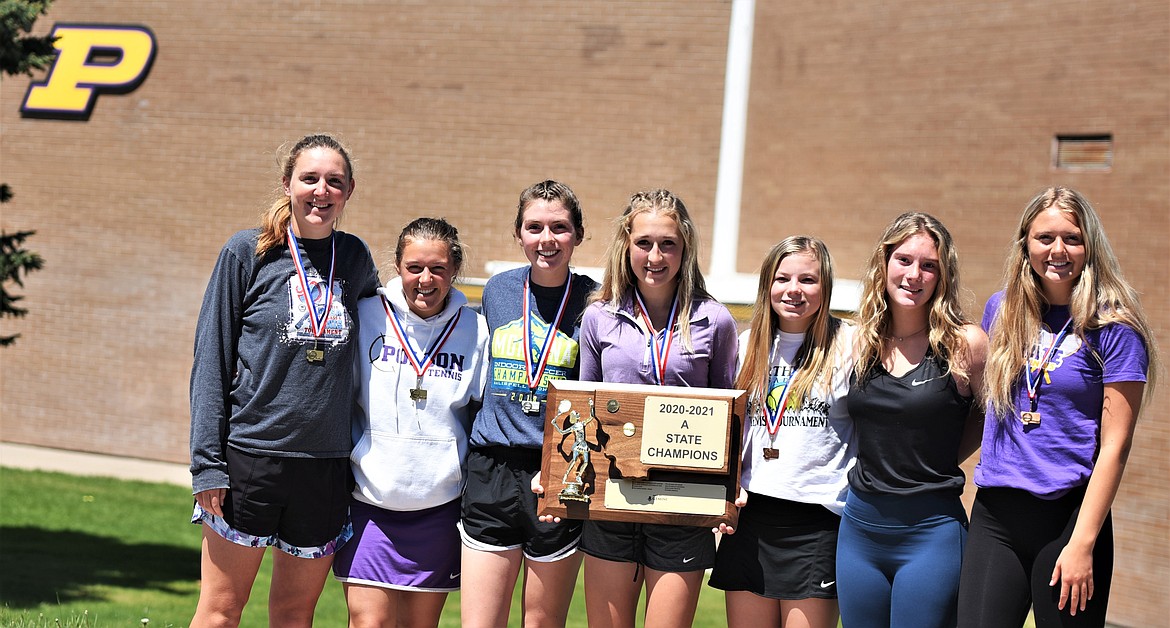 The Polson girls captured the team title at the state tennis tournament in Billings. Pictured, from left, are Qia Harlan, Berkley Ellis, Megan Rost, Ara Mercer, Taylor Collinge, Sierra Lundeen and Clara Todd. Harlan and Ellis are also Class A girls doubles state champions. (Scot Heisel/Lake County Leader)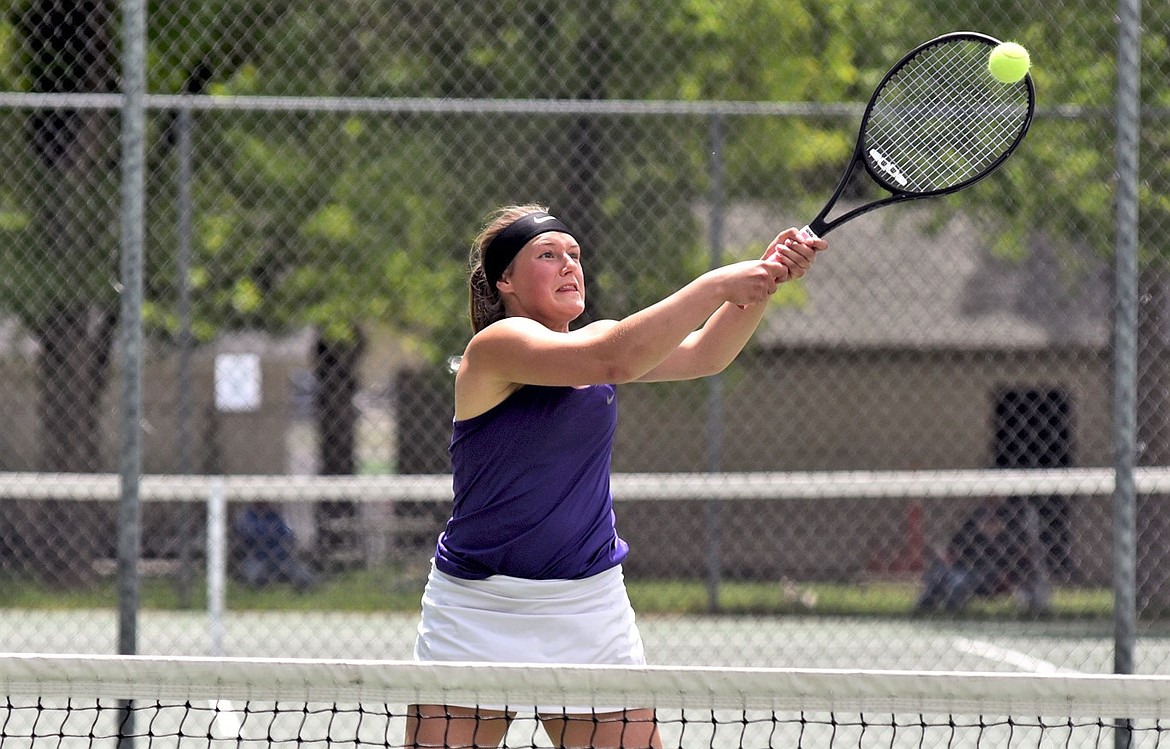 Berkley Ellis hits a shot during the state tournament at Billings. (Whitney England/Whitefish Pilot)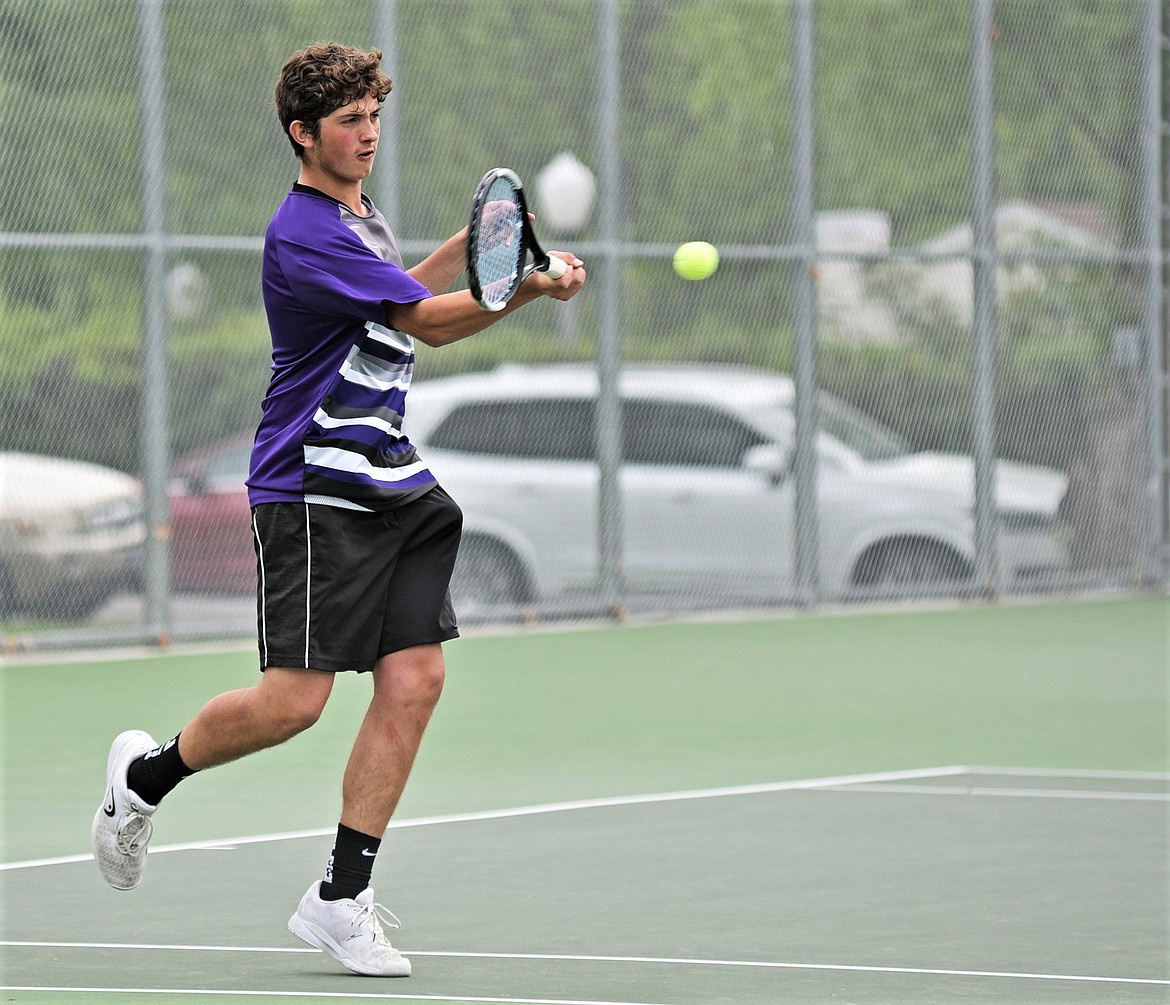 Polson senior Michael Smith (pictured) and freshman Torrin Ellis finished second at state in boys doubles. (Whitney England/Whitefish Pilot)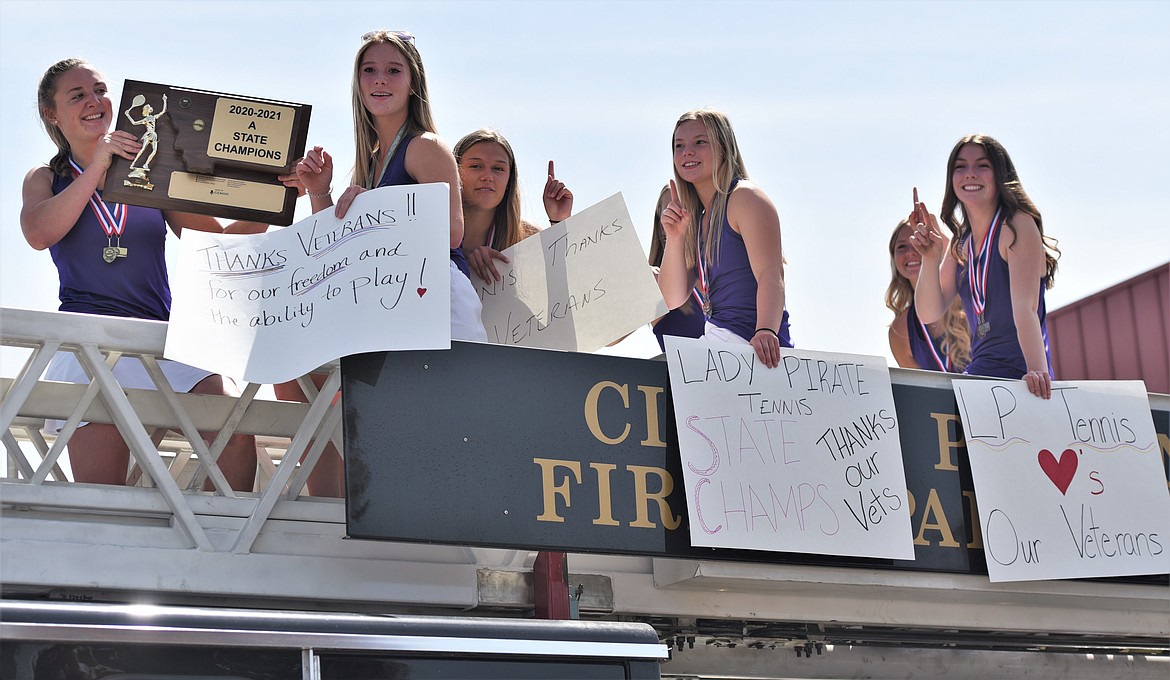 The Class A state champion Polson girls tennis team participated in a Memorial Day parade Monday. (Scot Heisel/Lake County Leader)
Previous
Next
by
SCOT HEISEL
Lake County Leader
|
June 1, 2021 4:10 PM
The Polson tennis team quietly carried out one of the most dominant performances of the spring in any sport over State Title Weekend in Billings.
It probably shouldn't have come as a surprise, as a week earlier the girls achieved the rare feat of advancing a trio of doubles teams out of divisionals — seeds 1-3 — to go with a No. 1 seed boys team.
Head coach Bob Hislop and his assistants had his players ready for the step up in competition at state, and the results were nearly the same.
Seniors Berkley Ellis and Qia Harlan defeated teammates and fellow seniors Ara Mercer and Megan Rost 6-1, 6-1 Saturday to claim the doubles title. Meanwhile, teammates Taylor Collinge and Clara Todd, who fell to Mercer/Rost in the semifinals, worked their way through the consolation bracket and took the first set of the third-place match before ultimately losing 4-6, 6-3, 6-2 to Molly Powell and Bailey Jessop of Corvallis.
The 1-2-4 finish gave Polson the girls team title in a landslide. The Lady Pirates wracked up 37 team points, followed by second-place Whitefish with 19 points.
"I think our goal all along was to play our best, and we thought if we did that we'd be able to beat out a lot of other teams," Ellis said Saturday afternoon in Polson.
"It was just our weekend," Mercer said.
Ellis and Harlan won the title without losing a set along the way. The path to the title match was a bit bumpier for Mercer and Rost, who won their quarterfinal and semifinal matches by identical scores of 3-6, 6-3, 7-2.
"It was almost euphoric," Rost said of the comeback victories.
The team's lone boys duo — senior Michael Smith and freshman Torrin Ellis — did their part to carry the Polson banner as well, going 3-1 in the tournament and finishing second after a 2-6, 4-6 loss in the title match to Ben Noteboom and Kent Swisse of Hardin.
"They just loosened up and they played very, very well," Hislop said.
In the end, Polson duos lost to teammates as many times (twice) as they did to teams from other schools.
Hislop said the success is a result of putting in the hours year round and taking kids to tournaments to give them extra experience.
"If they're willing to put in the work, we'll get them to where they need to be to compete," he said.
Class A State tournament at Billings
Girls Doubles
Round 1
Berkely Ellis and Qui Harlan (Polson) def. Natalie Jennings/Loree Reck (Butte Central) 6-0, 6-0
Taylor Collinge/Clara Todd (Polson) def. LeFaye Russell/Leighton Green (Hardin) 6-1, 6-4
Ara Mercer/Megan Rost (Polson) def. Debbie Chambers/Tess Cocotos (Park) 5-7, 6-2, 6-3
Round 2
Berkely Ellis and Qui Harlan (Polson) def. Hailey Anderson/Madison Henry(Corvallis) 6-4, 6-0
Taylor Collinge/Clara Todd (Polson) def. Jillian Litwiller/Addison Marx (Dawson Co.) 7-5, 6-3
Ara Mercer/Megan Rost (Polson) def. Molly Powell/Bailey Jessop (Corvallis) 3-6, 6-3, 7-2
Semifinals
Berkely Ellis/Qia Harlan (Polson) def. Macie Flamm/Rilee Green (Hardin) 6-1, 6-2
Ara Mercer/Megan Rost (Polson) def. Taylor Collinge/Clara Todd (Polson) 3-6, 6-3, 7-2
Championship
Berkely Ellis/Qia Harlan (Polson) def. Ara Mercer/Megan Rost (Polson) 6-1, 6-1
Third-place match
Molly Powell/Bailey Jessop (Corvallis) def. Taylor Collinge/Clara Todd (Polson) 4-6, 6-3, 6-2
Boys Doubles
Round 1
Michael Smith/Torrin Ellis (Polson) def. Liam O'Connell/Jackson Heath (Hamilton) 6-1, 6-1
Round 2
Michael Smith/Torrin Ellis (Polson) def. Jentz Scarpholt/Austin Jacobson (Dawson Co.) 6-1, 6-4
Semifinals
Michael Smith/Torrin Ellis (Polson) def. Jace Guptill-/Sean Mehling (Hardin) 6-2, 4-6, 6-4
Championship
Ben Noteboom/Kent Swisse (Hardin) def. Michael Smith/Torrin Ellis (Polson) 6-2, 6-4
---