Reign reclaimed: Lady Pirates earn eighth softball state title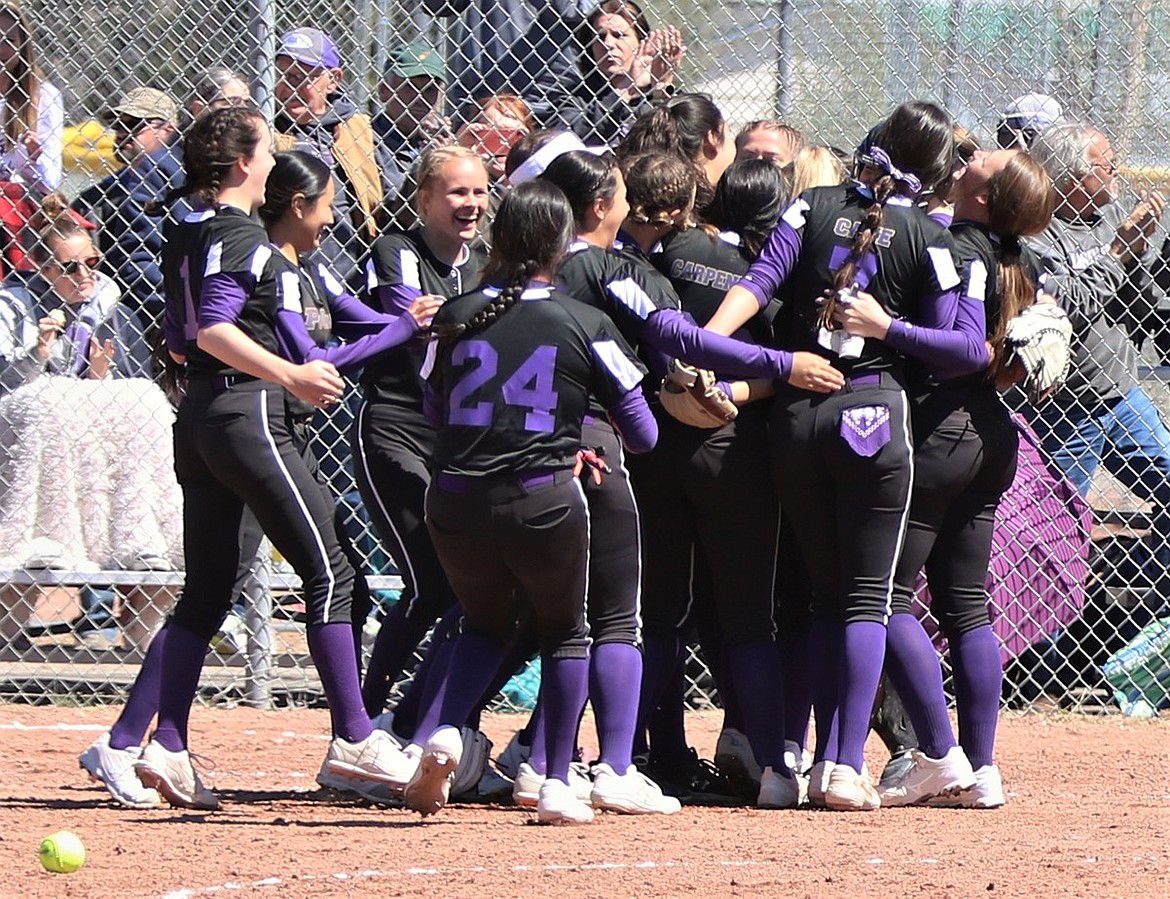 The Lady Pirates celebrate after clinching the state title. (Courtesy of Bob Gunderson)
The Polson softball team raises its 2021 Class A state championship trophy in the high school parking lot Saturday night after returning from the state tournament in Butte. (Scot Heisel/Lake County Leader)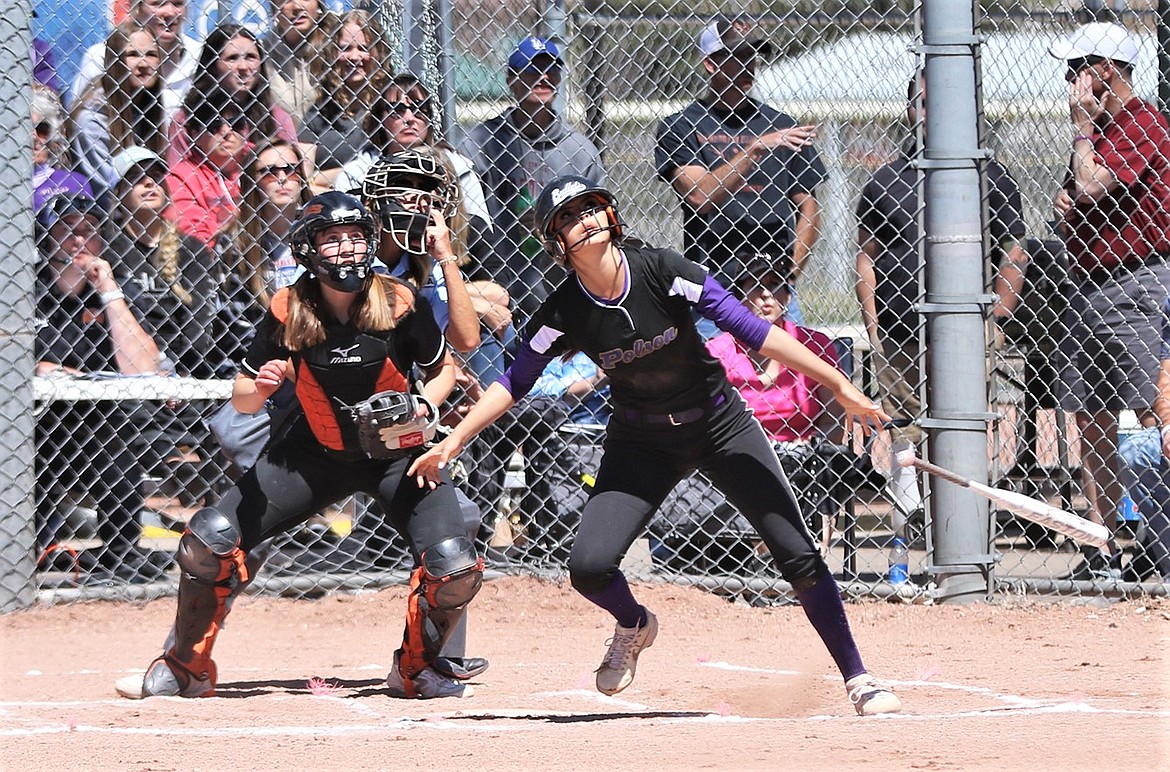 Polson senior Josie Caye hits a lead-off home run in the Class A state title game against Frenchtown. (Courtesy of Bob Gunderson)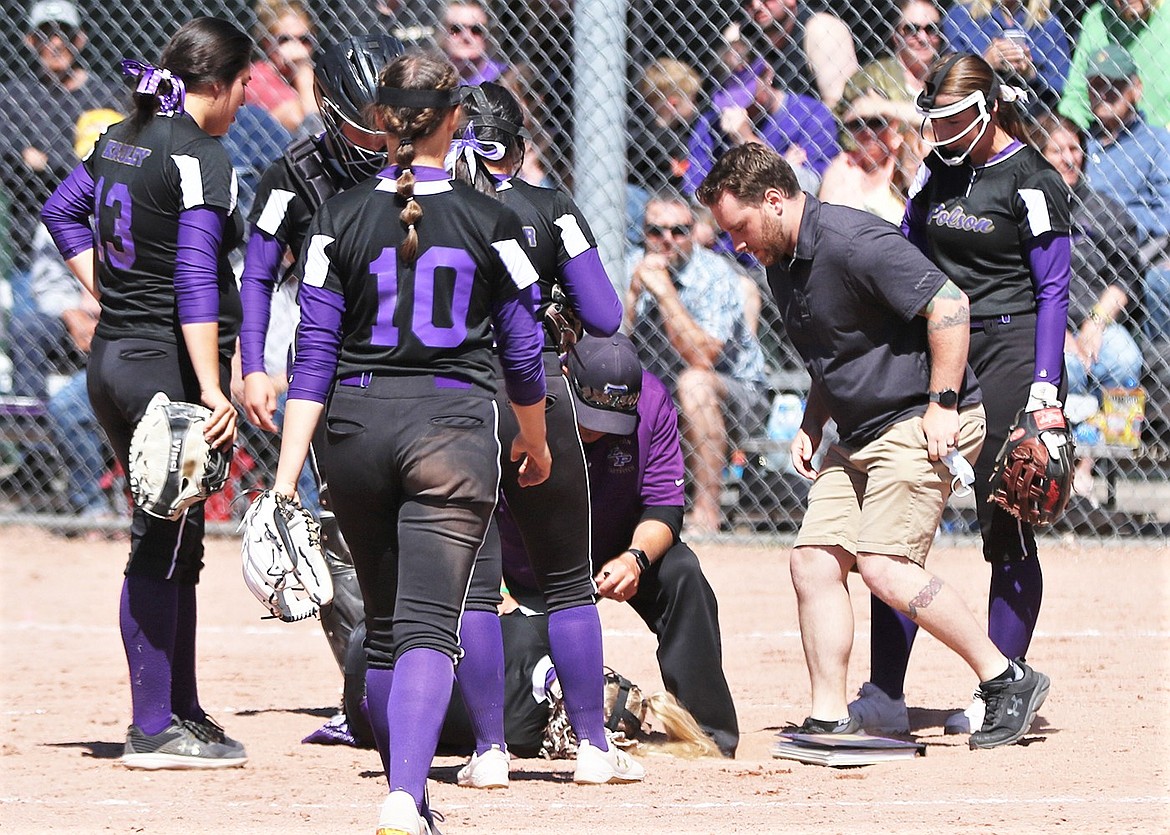 Polson head coach Jami Hanson tends to pitcher Katelyne Druyvestein after she was hit in the knee by a line drive during the state title game against Frenchtown. (Courtesy of Bob Gunderson)
The Polson softball team bus is escorted down Highway 93 toward Main Street in Polson upon arriving back home Saturday night. (Scot Heisel/Lake County Leader)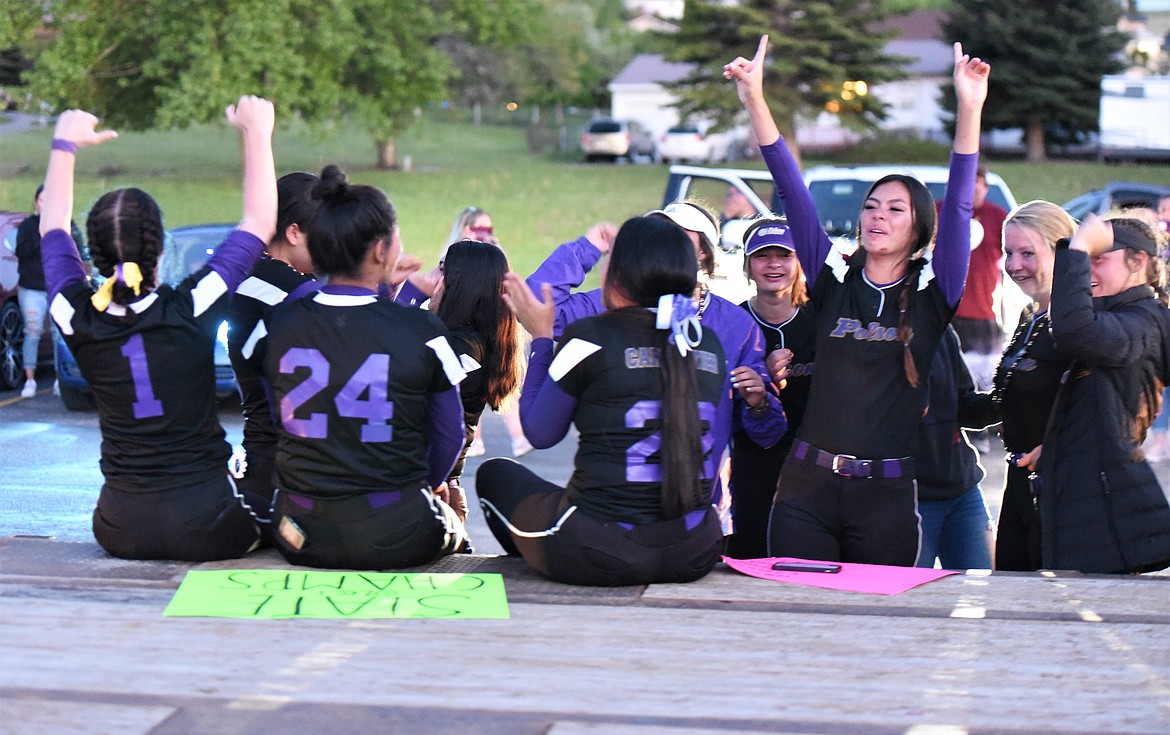 The Lady Pirates cheer from the back of a flatbed truck at the Polson High School parking lot Saturday night. (Scot Heisel/Lake County Leader)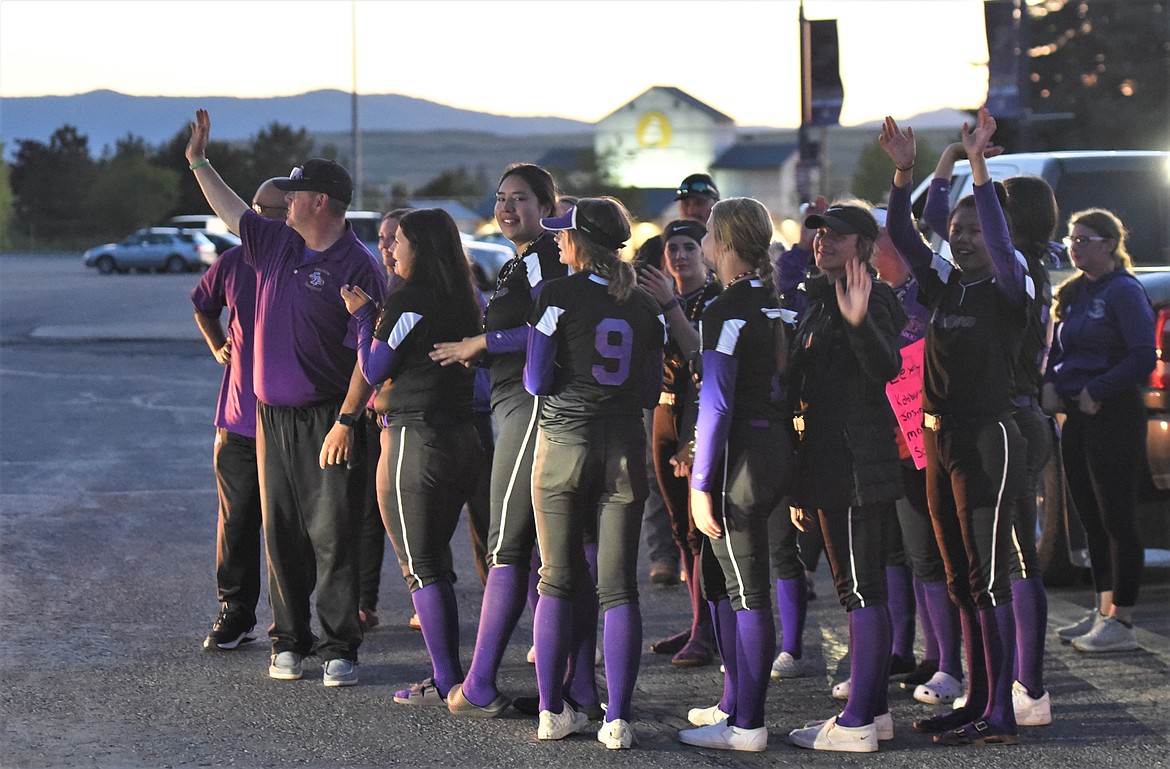 Polson softball players and coaches offer thanks to supporters Saturday night at the high school. (Scot Heisel/ Lake County Leader)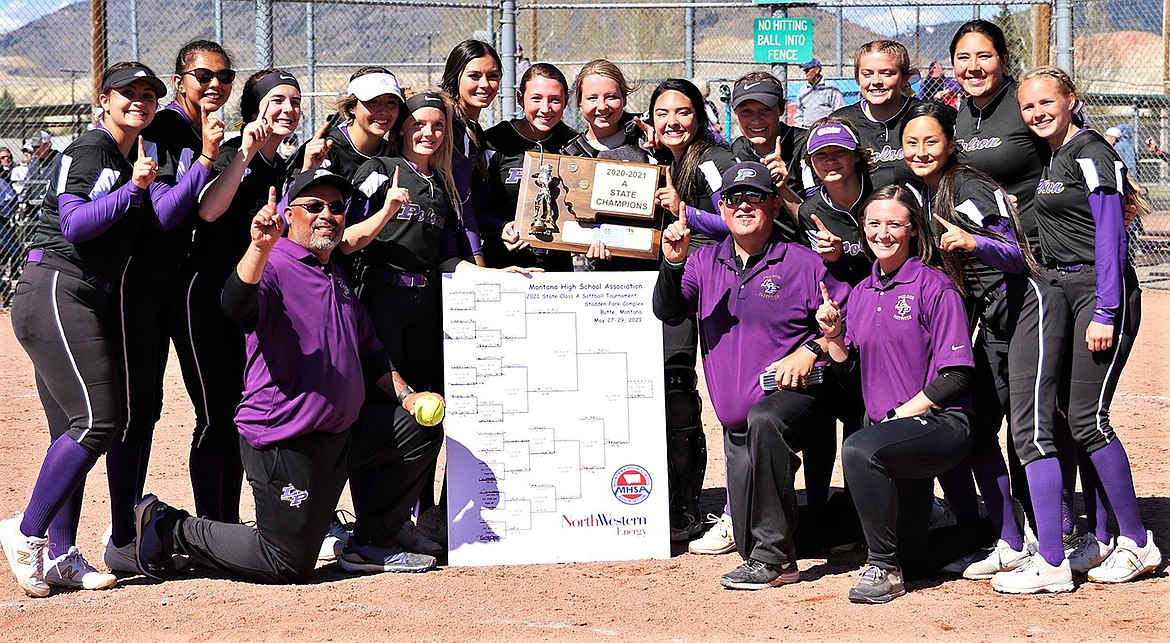 The 2021 Class A state champion Polson softball team. (Courtesy of Bob Gunderson)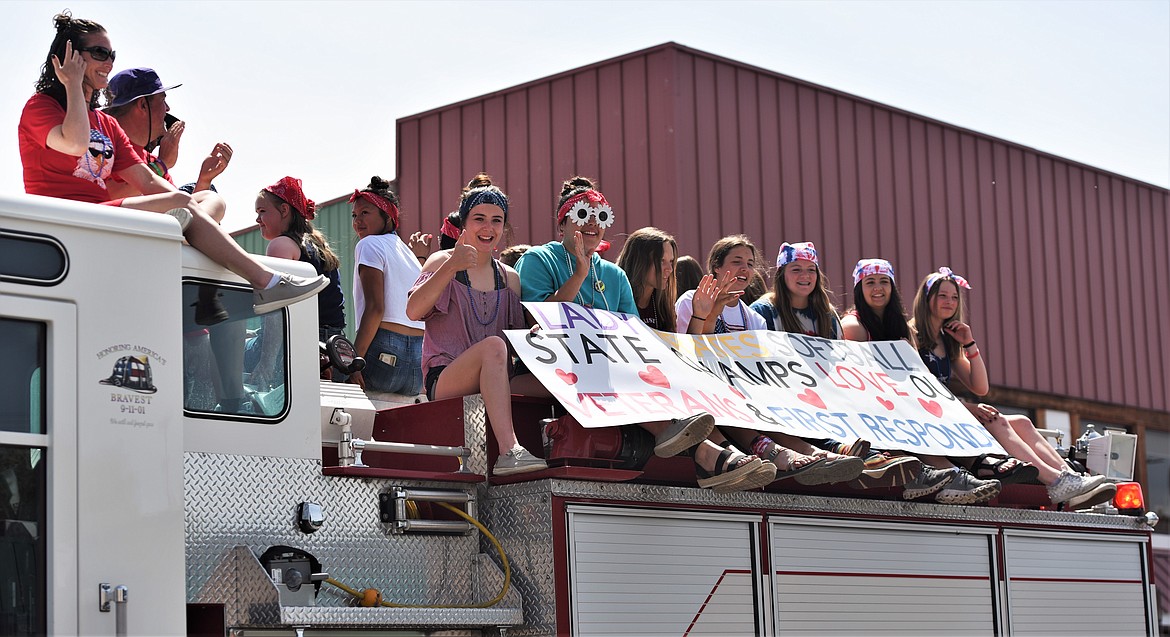 The Class A state champion Polson girls softball team participated in a Memorial Day parade Monday. (Scot Heisel/Lake County Leader)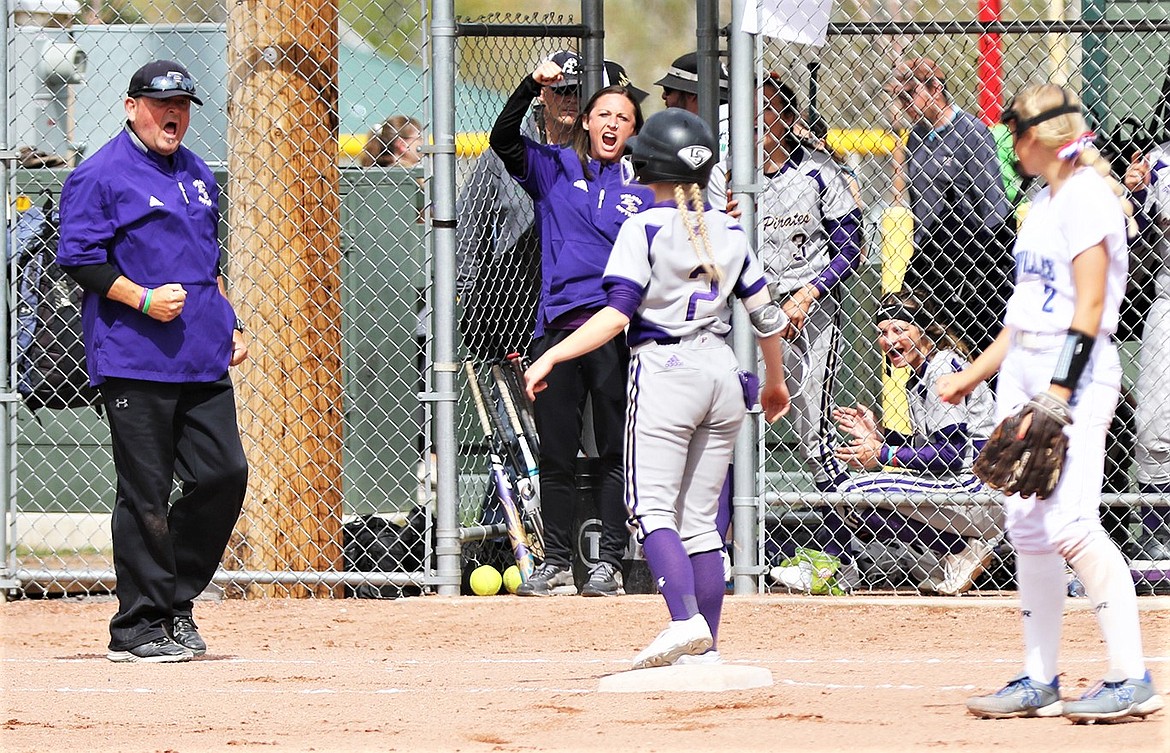 The Polson dugout, including head coach Jami Hanson, left, and assistant coach Jaelin Moldenhauer, center, reacts after Katelyne Druyvestein (2) drove in the Lady Pirates' first run of the state tournament with a triple against Corvallis. (Courtesy of Bob Gunderson)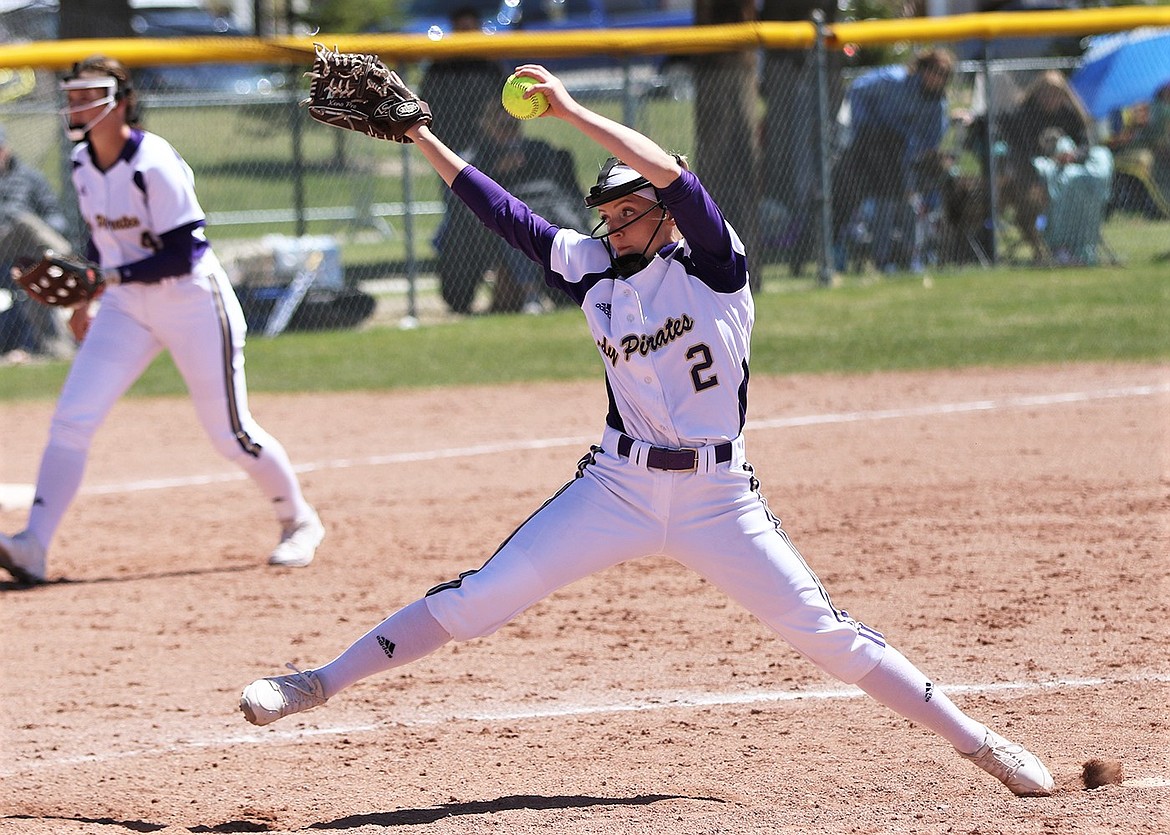 Katelyne Druyvestein fires a pitch against Fergus on Friday in Butte. (Courtesy of Bob Gunderson)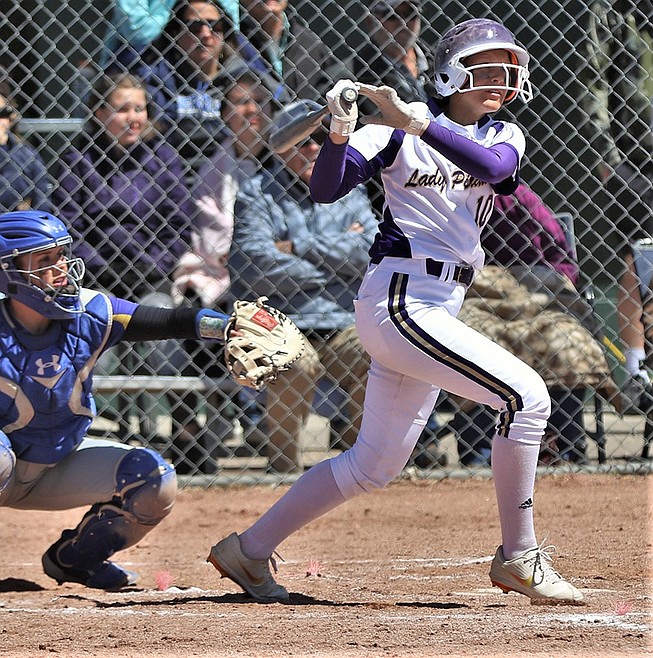 Mckenna Hanson launches a three-run home run against Fergus on Friday in Butte. (Courtesy of Bob Gunderson)
Previous
Next
by
SCOT HEISEL
Lake County Leader
|
June 1, 2021 4:20 PM
Sirens broke the relative silence in Polson around 9:45 p.m. Saturday, which is hardly an uncommon occurrence.
This time, however, there was no grisly crash, no task force bust, no out-of-control fire.
These were sirens of joy, ushering home the town's newly crowned Class A state softball champions.
Earlier in the day, the Lady Pirates held off undefeated Laurel 1-0 in nine innings and routed Frenchtown 9-3 to complete an unbeaten run through the state tournament and claim the title.
It is the program's eighth state title, and it came 20 years — nearly to the day — since its first title in 2001, when Polson beat Laurel twice in one day to seize the crown. It is their first since 2012.
The game of the tournament came in the undefeated semifinal Saturday morning, when Polson's Katelyne Druyvestein and Laurel's Ella Crookston combined for 29 strikeouts in a classic pitchers' duel. Both teams advanced runners to third, but neither could get them home until senior first baseman Mossy Kauley drove in the game's only run on a double in the top of the ninth that scored Mckenna Hanson.
"I was just determined to try and get a base hit," Kauley said Monday. "The adrenaline was running. (Laurel) was some of the best competition we played all season, so we played hard and stayed intense. Both teams played hard. I was very proud of us."
Druyvestein struck out two and induced a groundout to close out the win.
"I knew going in it was going to be about which pitcher could out pitch the other," she said Monday. "So I just had to keep pushing, and even if they hit it, make sure it was something we could field them out."
It was Laurel's first loss of the season, and they followed it with a second loss of the day against Frenchtown in the play-in game.
Senior Jose Caye led off the bottom of the first with a home run to left to put the Lady Pirates up 1-0 in the championship game. Caye went 3 for 4 and drove in a pair of runs in her final game for Polson, which built a 5-1 lead and tacked on four insurance runs to take a 9-2 lead into the seventh.
Druyvestein took a liner off her knee in the final frame and collapsed to the ground for several minutes. She shook off the injury and closed out the game, giving up one run but securing the title.
"It was right in the side of the kneecap," Druyvestein said Monday. "It's OK. It's got a pretty good bruise on it, but it's good now."
Caye went 6 for 14 from the plate for the tournament, with four RBIs. Hanson, a freshman, went 4 for 12 with a home run and five RBIs.
Druyvestein was 5 for 14 from the plate with 2 RBIs. She went 4-0 from the rubber with 49 strikeouts over 30 innings. She pitched every inning for Polson and allowed just 17 hits, four walks, and three earned runs for an ERA of 0.70.
Besides Caye and Kauley, three other seniors won the title in their final game. Kobbey Smith was 4 for 12 in the tournament with two RBIs; Lexy Orien was 5 for 16 with an RBI; and SaVanna Carpentier was 3 for 13. Carpentier also had the distinction of recording the season's final assist, a toss to Kauley at first on a groundout to clinch the title.
The Lady Pirates finished the season with a record of 23-1-1. They played to a 2-2 draw against Lake County B/C state title contender Mission-Arlee-Charlo at the Frenchtown Invitational, and their only loss was by a score of 8-7 at Class AA Glacier in early May.
Once back home, a procession of police and fire vehicles escorted the champs through town and up the hill to the high school, where emotions spilled out with the realization of their accomplishment.
Players cheered and thanked the supporters who had followed them to the school, mostly family who had been at Butte.
Both Caye and Druyvestein said the tears really started to flow as they passed the softball complex along the way and saw their numbers on the fence.
"We were like, 'Oh my god, that was the last time.' But we took home the hardware, so they are happy tears," Caye said Saturday night.
"That senior leadership is unbelievable," head coach Jami Hanson said Saturday night. "Those girls have been at it since they were little, and that's not school-fed. That's the families, the parents taking them all over the place and making sure they have what they need.
"Thank you to the community, for all the support."
Polson 9, Frenchtown 3
Frenchtown 001 001 1 – 3 4 1
Polson 120 114 x – 9 12 4
Sadie Smith, (1) Kendra Jacobs (5IP), (6) Olivia Campbell and Toni Beatty. Katelyne Druyvestein (6K,0W) and Lexy Orien. W – Druyvestein (22-1-1). L – S.Smith.
FRENCHTOWN – Cassidy Bagnell 0-3, Sadie Smith 1-4, Maddy Eggers 0-3, Shelby Miotke 0-3, Juna Ashby 0-3, Khasidy Hodge 1-2, Chloe Long 0-3, Toni Beatty 1-3, Alexis Godin 0-0, Abby Faulhaber 1-3, (cr): Olivia Campbell, Dakota Fortney, Alexis Godin.
POLSON – Josie Caye 3-4, Katelyne Druyvestein 1-4, Kobbey Smith 0-3, Lexy Orien 2-4, Savanna Carpentier 1-3, McKenna Hanson 1-3, Mossy Kauley 1-3, Turquoise Pierre 2-2, Anna Vert 1-2, (cr): Jaivin Bad Bear, Nikki Kendall.
HR – Caye, Kauley. 2B – Faulhaber. RBIs – Bagnell, Hodge Faulhaber; Caye 2, Druyvestein, Orien, Kauley, Pierre, Vert. SF – Pierre, Vert. BB – none. HB – Bagnell; Ko.Smith.
Polson 1, Laurel 0 (9 innings)
Polson 000 000 001 – 1 8 1
Laurel 000 000 000 – 0 6 2
Katelyne Druyvestein (16K,0W) and Lexy Orien. Ella Crookston (13K,1HB) and Taylor Feller. W – Druyvestein (21-1-1). L – Crookston.
POLSON – Josie Caye 1-4, Druyvestein 2-3, Kobbey Smith 0-3, Orien 2-4, SaVanna Carpentier 0-4, Mckenna Hanson 1-4, Mossy Kauley 1-4, Turquoise Pierre 0-4, Anna Vert 1-3, (cr) Jaivin Bad Bear.
LAUREL – Josie Benson 0-4, Taylor Feller 1-4, Cora Styles 1-4, Lexie Stahlman 1-4, Bailey Chapman 0-4, Shelbi Block 1-4, Taylor Strecker 1-4, Mikayla Moorman 1-3, Mia Anderson 0-3.
2B – Kauley; Moorman. RBI – Kauley. SH – Druyvestein. HB – Ko.Smith.
Polson 5, Fergus 4
Polson 000 203 0 – 5 5 4
Lewistown 000 004 0 – 4 4 4
Katelyne Druyvestein (14K,1W,1PO,1A) and Lexy Orien. Jessica Morgan (10K) and Madison Affolder. W – Druyvestein (20-1-1). L – J.Morgan.
POLSON – Josie Caye 1-4, Druyvestein 0-4, Kobbey Smith 2-3, Orien 0-4, SaVanna Carpentier 1-3, Mckenna Hanson 1-2, Mossy Kauley 0-3, Turquoise Pierre 0-3, Anna Vert 0-3, (cr) Jaivin Bad Bear.
LEWISTOWN (FERGUS) – Affolder 1-3, Jessica Morgan 1-3, Chelsea Jensen 0-3, Eliazar Southard 1-3, Hailey Welsh 1-3, Riley Anderson 0-3, Anna Gremaux 0-3, Sam Talkington 0-3, Madeline Denton 0-1, Karolyne Southworth 0-2, (cr) Josie Dubbs.
HR – Hanson. 2B – Southard 2, J.Morgan. RBIs – Hanson 3, Kauley; Jensen, Andersen. SH – Hanson. BB – Ko.Smith;, J.Morgan.
Polson 9, Corvallis 2
Corvallis 010 000 1 – 2 3 6
Polson 240 120 x – 9 10 2
Gabby Krueger, (2a) Macee Greenwood, (3) Krueger, (3) M.Greenwood, (6) Krueger and Sami Knapp. Katelyne Druyvestein (13K,3W,1PO,1A) and Lexy Orien. W – Druyvestein (19-1-1). L – Krueger.
CORVALLIS – M.Greenwood 2-3, Emma Cashell 0-3, J McConnell 0-1, Knapp 0-3, Kaitlin McCartny 0-2, Krueger 0-2, Katelyn Behner 0-2, Sydney Wolsky 1-2, Jessica Saturday 0-3, Jadyn Greenwood 0-2, Ella Dowd 0-1.
POLSON – Josie Caye 1-2, Druyvestein 2-3, Kobbey Smith 2-3, Orien 1-4, SaVanna Carpentier 1-3, Mckenna Hanson 1-3, Mossy Kauley 0-2, Turquoise Pierre 1-3, Anna Vert 1-3 (cr): Jaivin Bad Bear, Nikki Kendall.
HR – Wolsky. 3B – Druyvestein. 2B – M.Greenwood. RBIs – Wolsky 2; Caye 2, Druyvestein, Ko.Smith 2, Hanson 2, Kauley. SH – Behner, Wolsky; Carpentier, Kauley. BB – M.Greenwood, McCartny, Krueger; Caye 2, Druyvestein.
---