Eighth-graders experience Montana history up close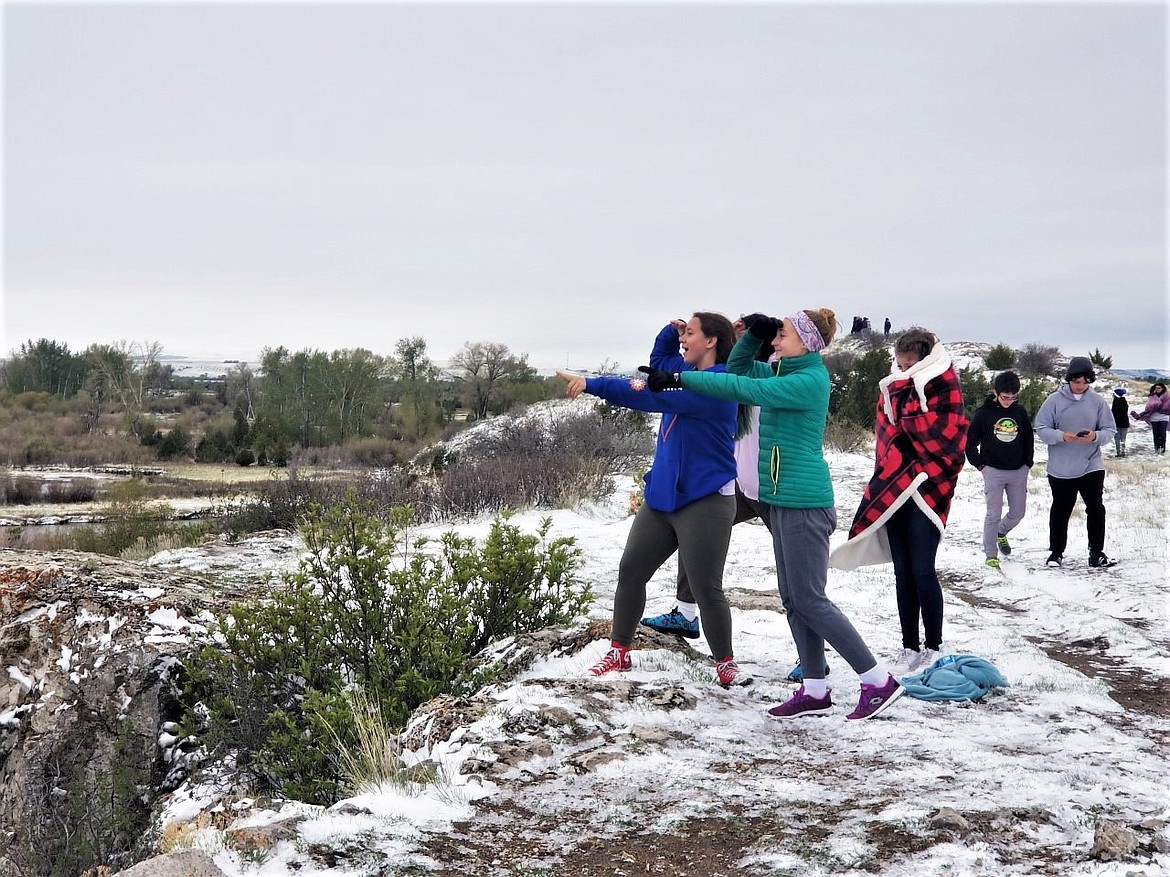 McKensey Burke and Lola Schock play Lewis and Clark spotting a moose at Missouri Headwaters State Park. (Courtesy of Stacey Doll)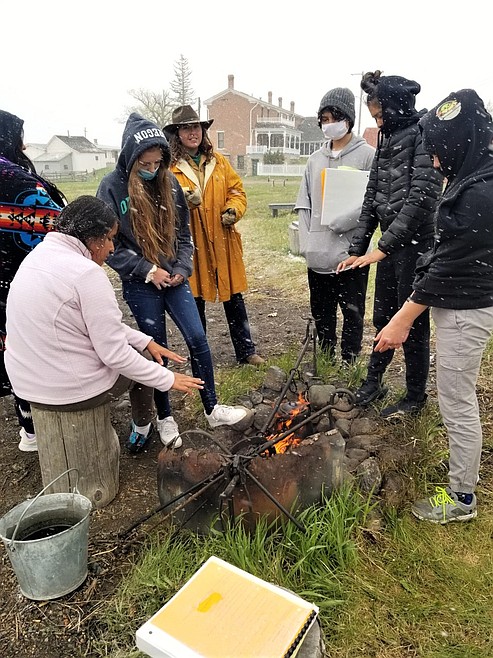 Unseasonably cold weather made the chuckwagon fire at Grant Kohrs Ranch a choice gathering spot for the annual eighth-grade Montana history field tour. (Courtesy of Stacey Doll)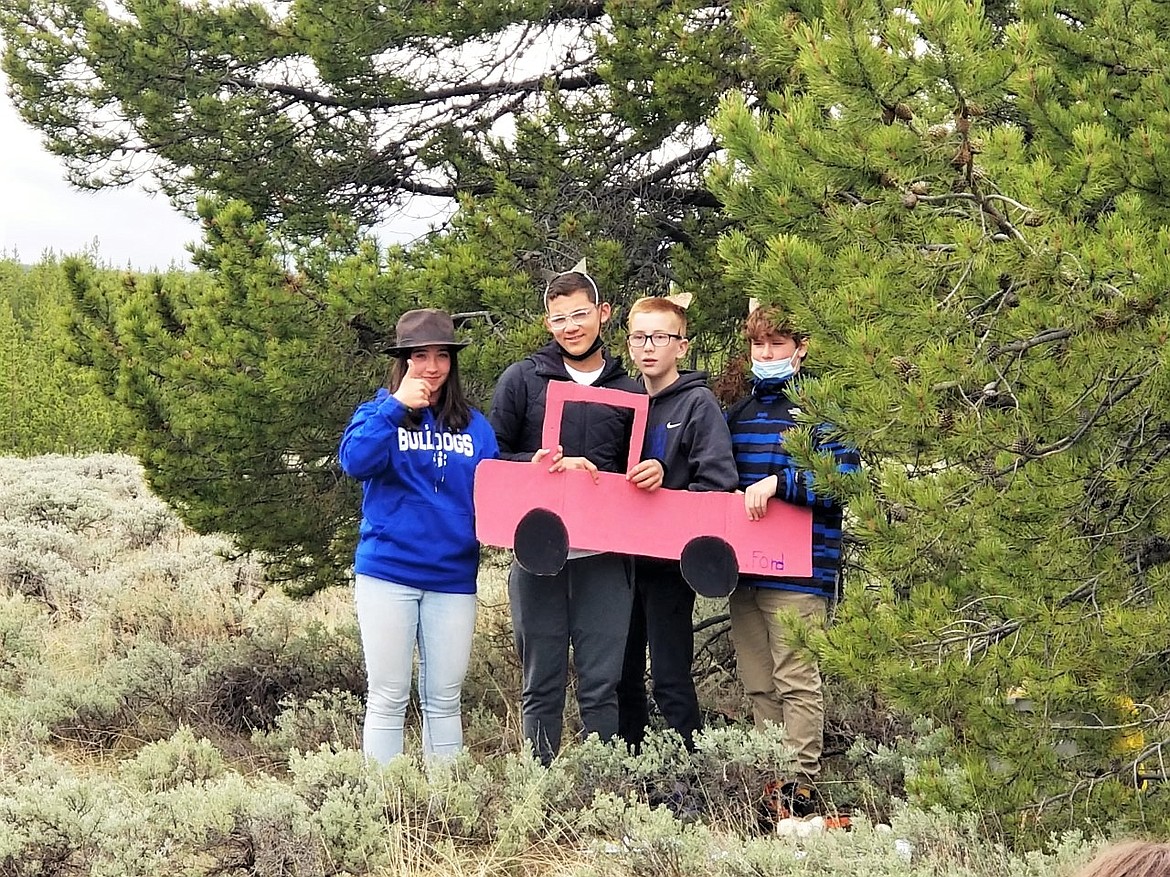 Amelia Cronk, Jose O'Brien, Harlon Leishman and Jack Keast perform a skit about the wildlife of Yellowstone. (Courtesy of Stacey Doll)
Previous
Next
by
CAROLYN HIDY
Lake County Leader
|
June 10, 2021 12:05 AM
McKensey Burke, an eighth-grade student in Stacey Doll's Montana History class at St. Ignatius, felt the gravity of history as they toured Big Hole Battlefield on a four-day, 900-mile field trip in May. She had studied up on the place before they arrived.
McKensey took a few moments to sit where 60 to 90 Nez Perce members were in an early morning ambush by U.S. troops.
"Knowing the history and seeing it was just really sad, awful actually," McKensey said. "A lot of innocent people died there."
Other sites where the class got a feel for living history included Madison Buffalo Jump State Park, Bannack State Park (the original Montana Territorial capital), Grant Kohrs Ranch and the St. Mary's Mission church at Stevensville. Students learned that some plants need fire to grow when they saw the remnants of Yellowstone's 1988 fire, and they took in the short tour at the bottom of Lewis and Clark Caverns. For each site, select students had prepared a skit that summed up some of the main points to know about its history.
E'liena Peone named several sites they found at Bannack, such as the church, school, saloon, doctor's house, cemetery, hotel and barber shop, and the first jail in Montana. In one building, she said, "I closed my eyes to feel what it was like to live back then, and I felt something touch me." She told her friend she was getting out of there.
"For me the most fun part is in that old hotel," said Doll. "It just feels so spooky, and then hiding in the vaults and then scaring kids. They usually figure it out and then hide in the vault to scare the next kid."
Sawyer Pule described seeing where Salish, Blackfeet and other tribes would stampede bison over the cliff at Madison Buffalo Jump State Park. Because it was icy and cold, they could not go to the top of the cliff, but he could imagine the work done at the bottom, harvesting the meat, skin, bones and organs for clothing, housing and food for over 2,000 years.
Students Maurita Voice, Titan Mansell, Elijah Gobert and Iyezk Umphrey also shared memories of the trip. Several were surprised to learn at the chuckwagon talk at Grant Kohrs Ranch that cowboys and ranch hands had a very limited menu.
"All they ate was beans and coffee," they recalled. "When they went to town, they made sure they only ordered anything that did not have beans in it."
With Crystal Park closed due to snow, the class fit in a visit to the old Montana State Prison at Deer Lodge. Again, the sadness of the place left an impression. They described "the Hole," the place for solitary confinement.
They were allowed to go in and found it was very dark when the door was closed, so they realized prisoners were kept in darkness. Stories of prisoner uprisings, murders, breakouts and such stuck in their minds.
"When you get to experience [history], it's a different feeling than when you just read it off a piece of paper," Titan said. "You get to see where they would have been and what they did. Even though it was not at that time, it's still cool to see what they would have been living through."
Doll cited the example that very cold winter weather occurred when the St. Francis Mission was being built. Though there was a very tall priest, they had to get the roof on before a storm, so they had to leave a layer of logs off over the door. Thus, it was, and remains, a very short door.
The trip is an annual event for the Montana History class. While Doll has taught and led it 20 times in her 23 years, the tradition began about five years prior to her tenure.
"Every group gives it a different feeling," Doll said.
To save on school funds, they sleep on the hard floors of other school's' gyms. It's not the lap of luxury, but a visit to Bozeman Hot Springs helped provide a fun break and helped ease sore spots.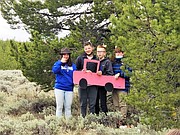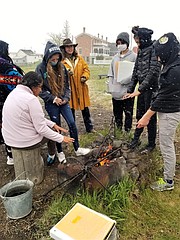 ---