Photos: Ronan Chainsaw Rendezvous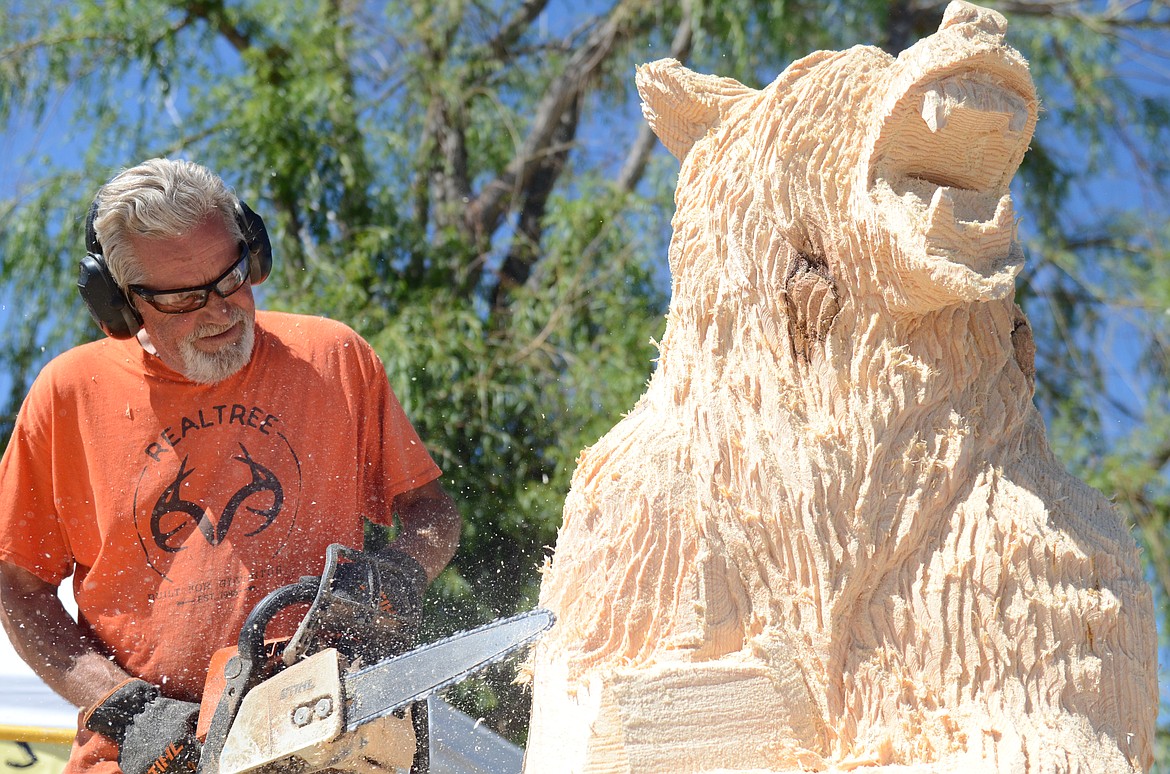 Todd Coats' prize-winning bear starts to appear out of a log after the first day of carving. (Carolyn Hidy/Lake County Leader)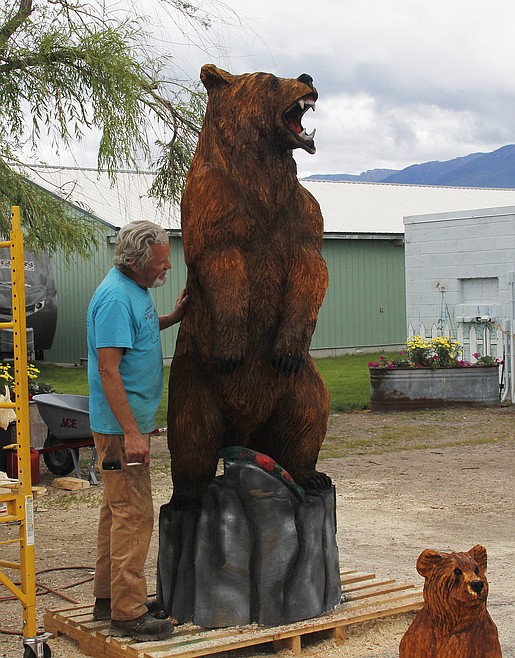 Todd Coats of Bigfork carved his way to glory last weekend, winning first prize at the Ronan Chainsaw Rendezvous. His grizzly bear sculpture brought in $3,800 at Sunday's auction, purchased by Stella's Bakery and Deli. A portion of the funds go back to the community through the contest sponsor, the Ronan Area Chamber of Commerce. (Courtesy of Susan Lake)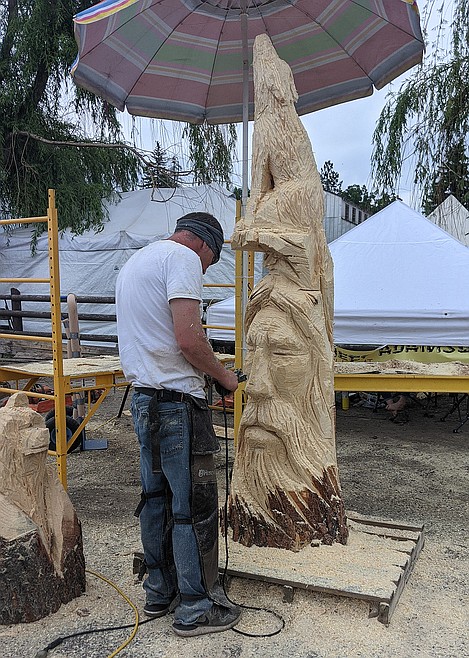 A sculpture of a coyote and mountain man by Jeff Adamson of Libby won second prize and brought in $750 at auction. (Courtesy of Susan Lake)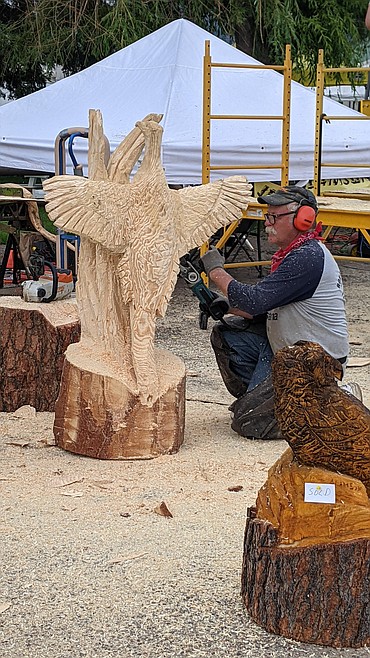 Ron Adamson breathes life into a pheasant sculpture. He took third place for his artistry at the Chainsaw Rendezvous. (Courtesy of Susan Lake)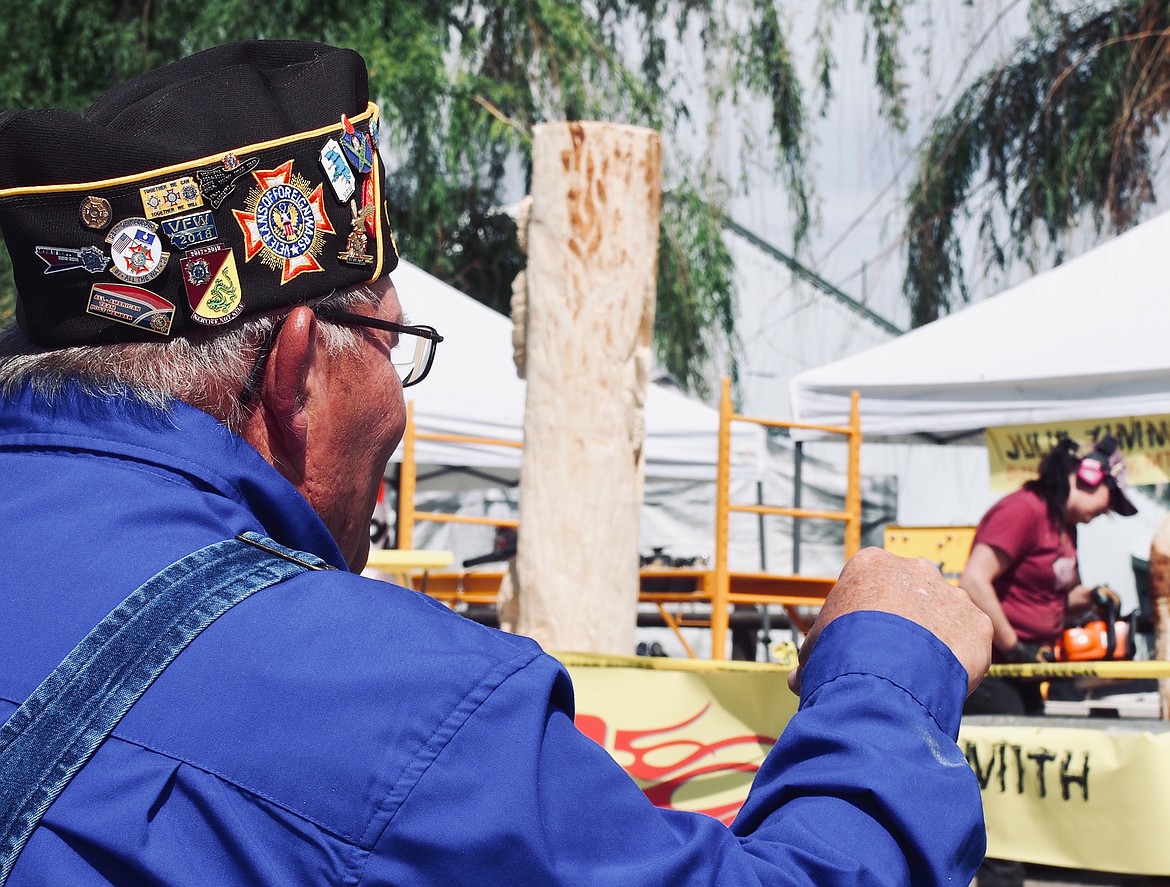 Melvin Quakenbush takes in the action at the Ronan Chainsaw Carving Rendezvous. (Emily Lonnevik/Lake County Leader)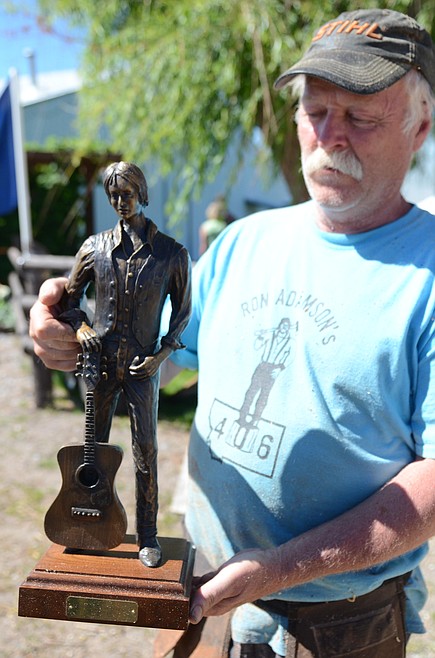 Ron Adamson of Libby, who took third in this year's Chainsaw Rendezvous, displays a small replica of his famous "Standin' on the Corner" sculpture in Winslow, Ariz. The original was created in 1999 to capture the feel of the Eagles song "Take it Easy." Millions of people veer off of I-40 onto Route 66 through Winslow to have their picture taken with the statue. Coincidentally, years after the statue was created, Adamson found a photo of his grandfather as a youth, standing on Route 66 with his guitar on his toe, almost exactly like the statue. (Carolyn Hidy/Lake County Leader)
Previous
Next
by
Lake County Leader
|
June 22, 2021 12:50 PM
Todd Coats of Bigfork carved his way to glory last weekend, winning first prize at the Ronan Chainsaw Rendezvous. His grizzly bear sculpture brought in $3,800 at Sunday's auction and was purchased by Stella's Bakery and Deli. A portion of the funds go back to the community through the contest sponsor, the Ronan Area Chamber of Commerce.
A sculpture of a coyote and mountain man by Jeff Adamson of Libby won second prize and brought in $750 at auction. Ron Adamson's pheasant sculpture took third place.
The event was sponsored by the Ronan Area Chamber of Commerce, and sculptures were made from logs donated by Greg and Kim Harding and family.
Recent Headlines
---