Mission Valley sends 25 wrestlers to state meets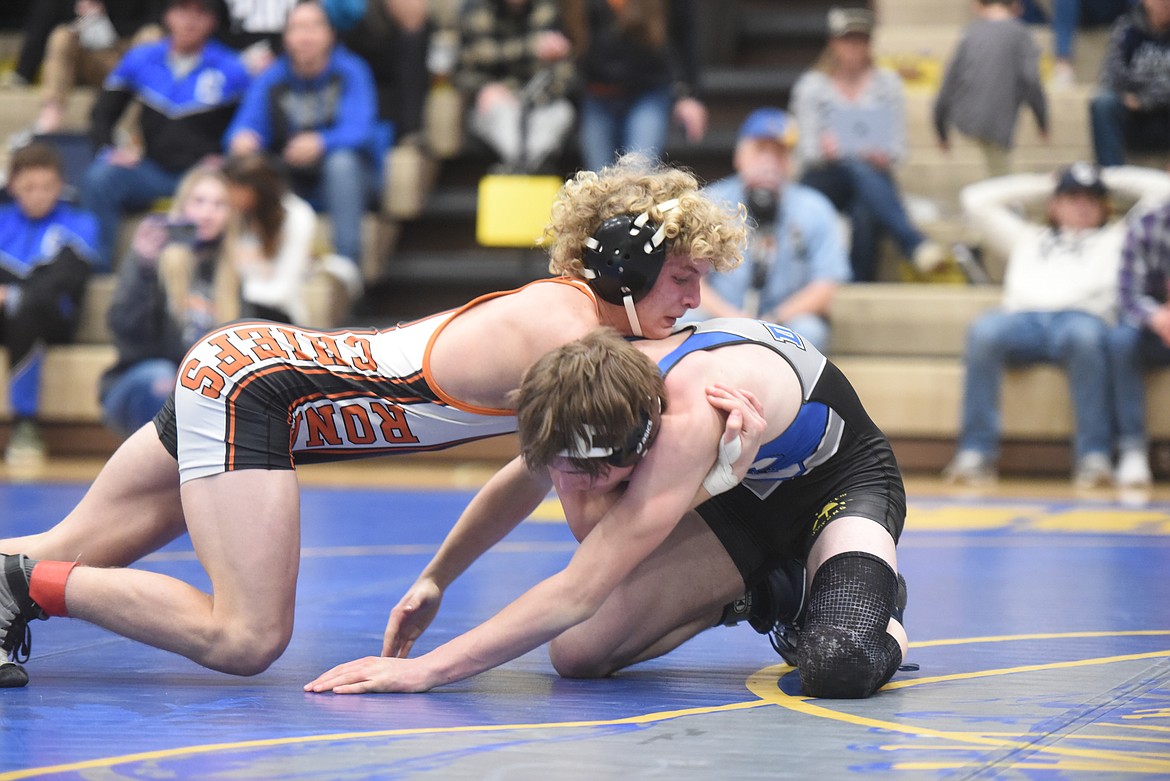 Ronan's Landon Bishop looks for an advantage over Corvallis' Jason Davis in the 138-pound championship match Saturday at Libby. (Will Langhorne/The Western News)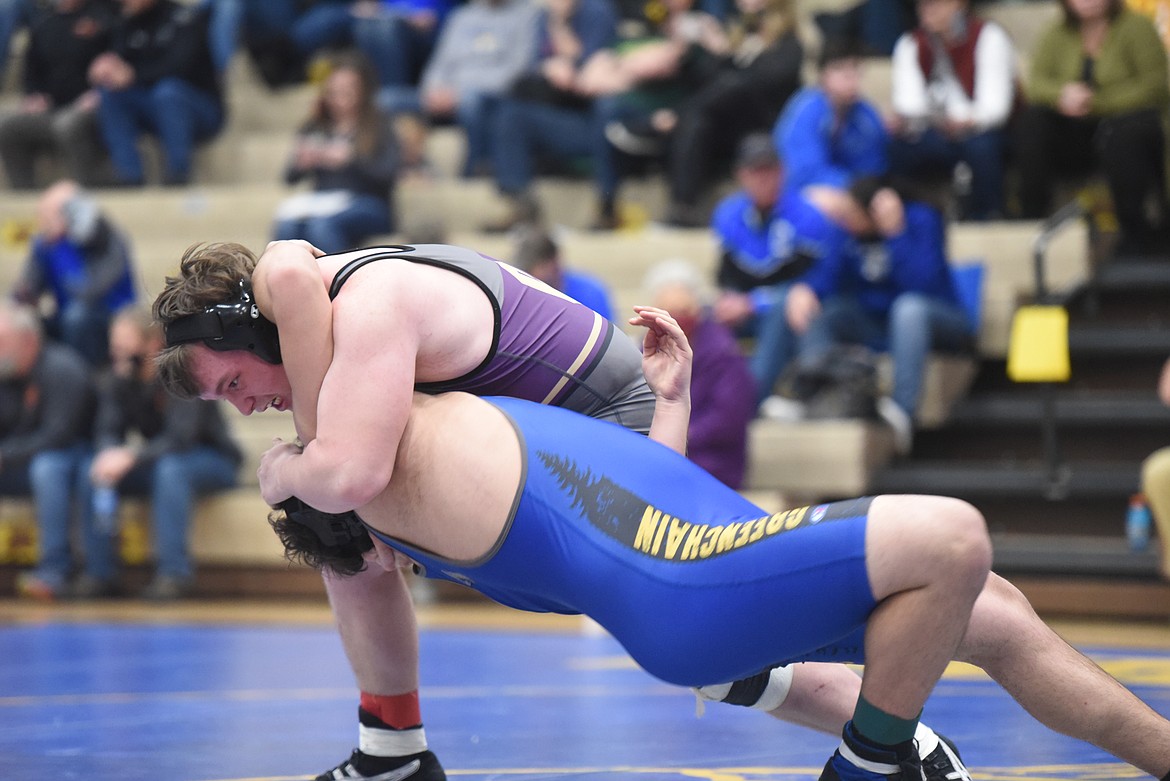 Polson's Aaron O'Roake takes on Greenchain's Tyler Smith at 285 pounds Friday at Libby. (Will Langhorne/The Western News)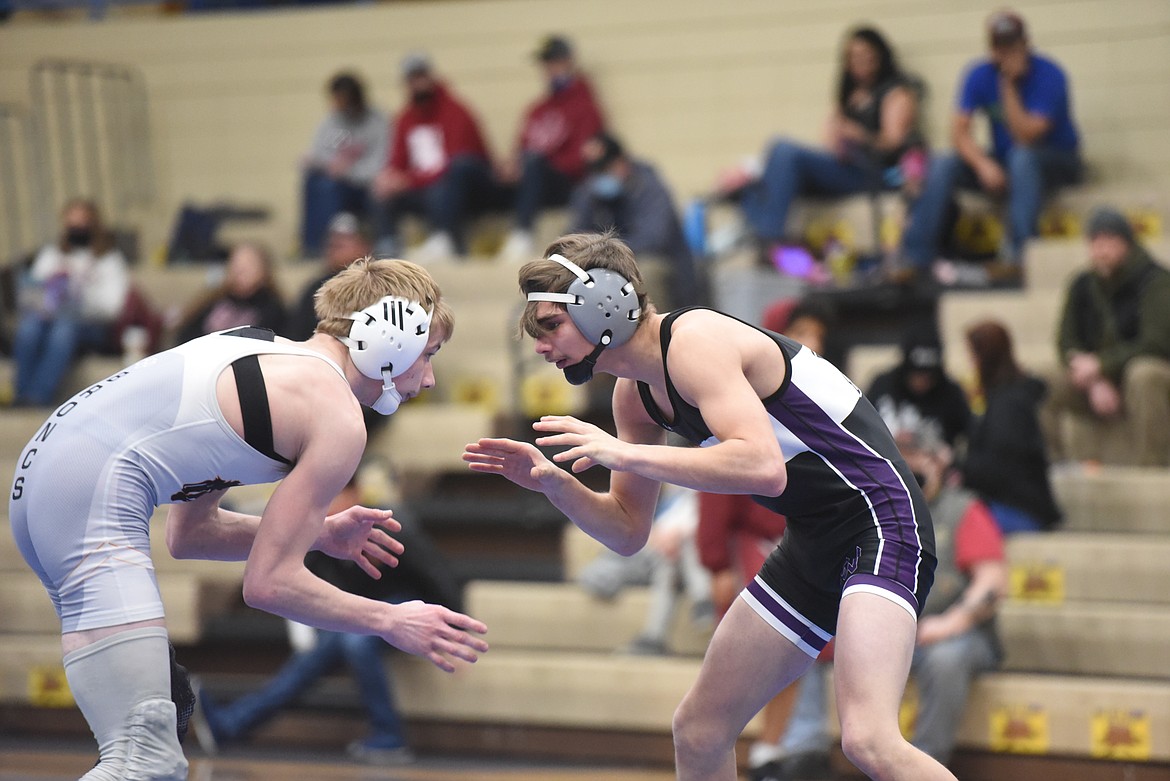 Polson's Maysn Cowell tangles with Frenchtown's Nicholai Blanchard at 126 pounds Friday at Libby. (Will Langhorne/The Western News)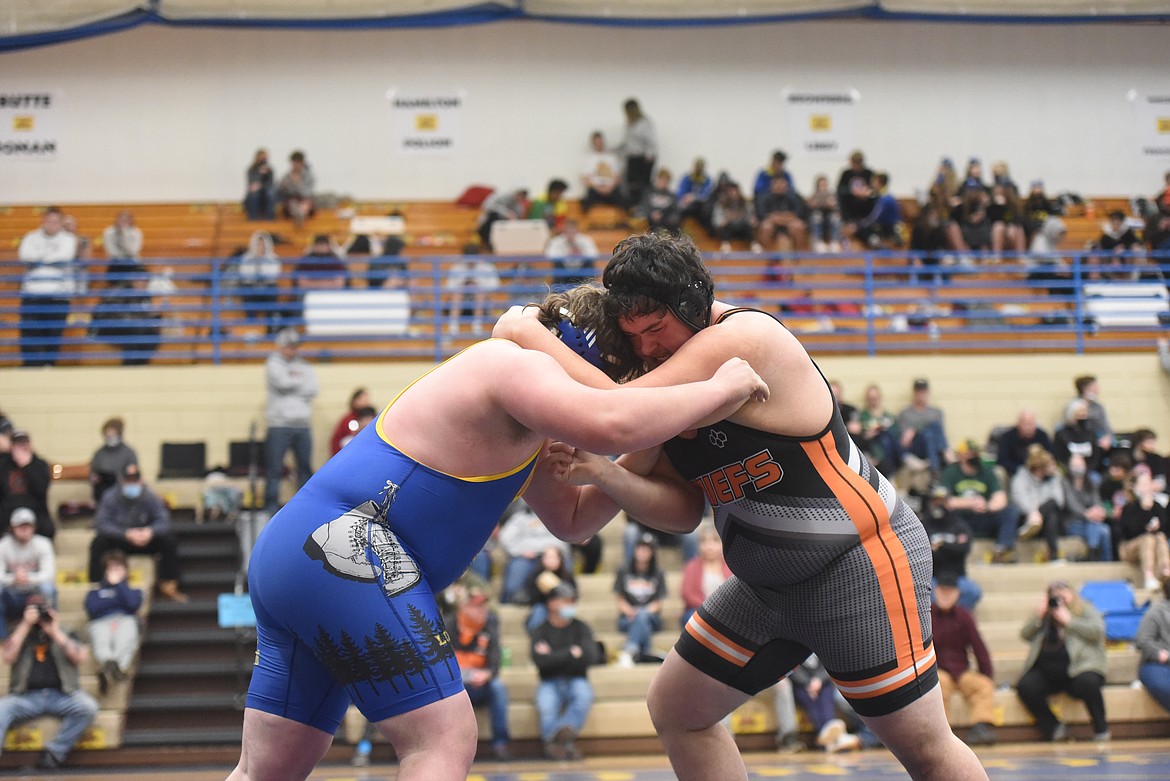 Ronan's Max Morency takes on Greenchain's Aydan Williamson in the semifinals of the heavyweight category Saturday at Libby. (Will Langhorne/The Western News)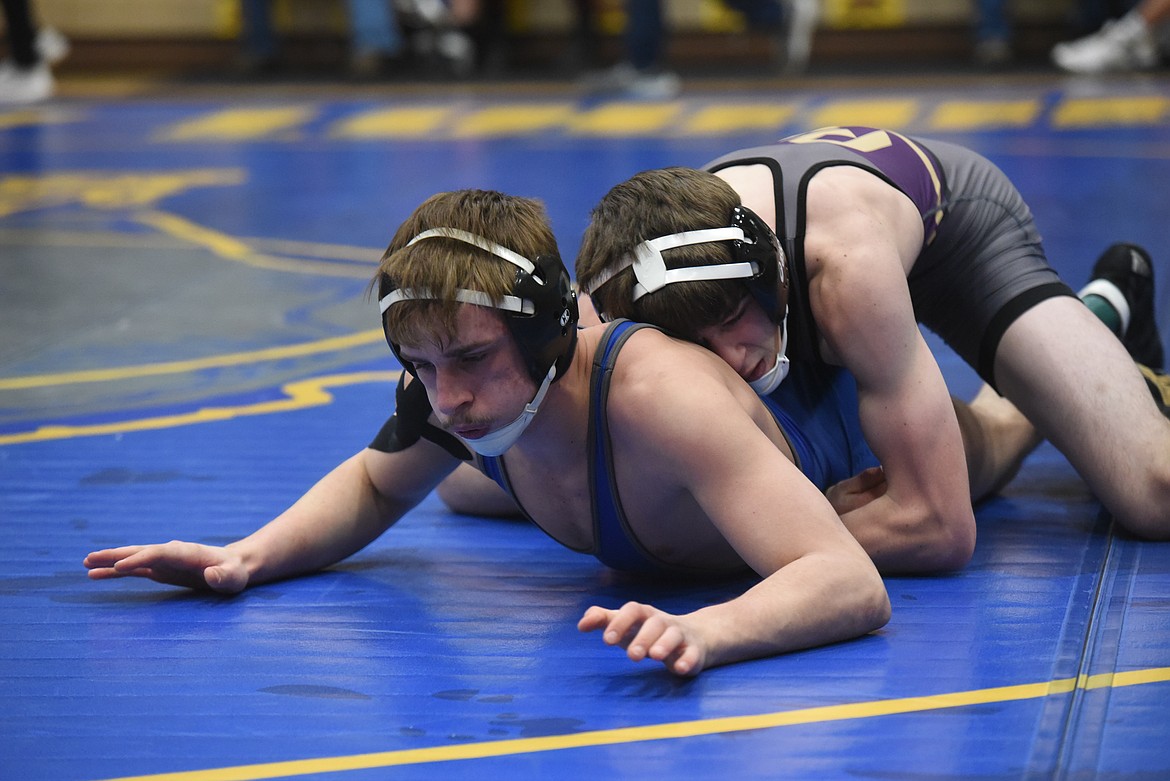 Polson's Noah Trosper tangles with Greenchain's Xander Spady at 138 pounds Friday at Libby. (Will Langhorne/The Western News)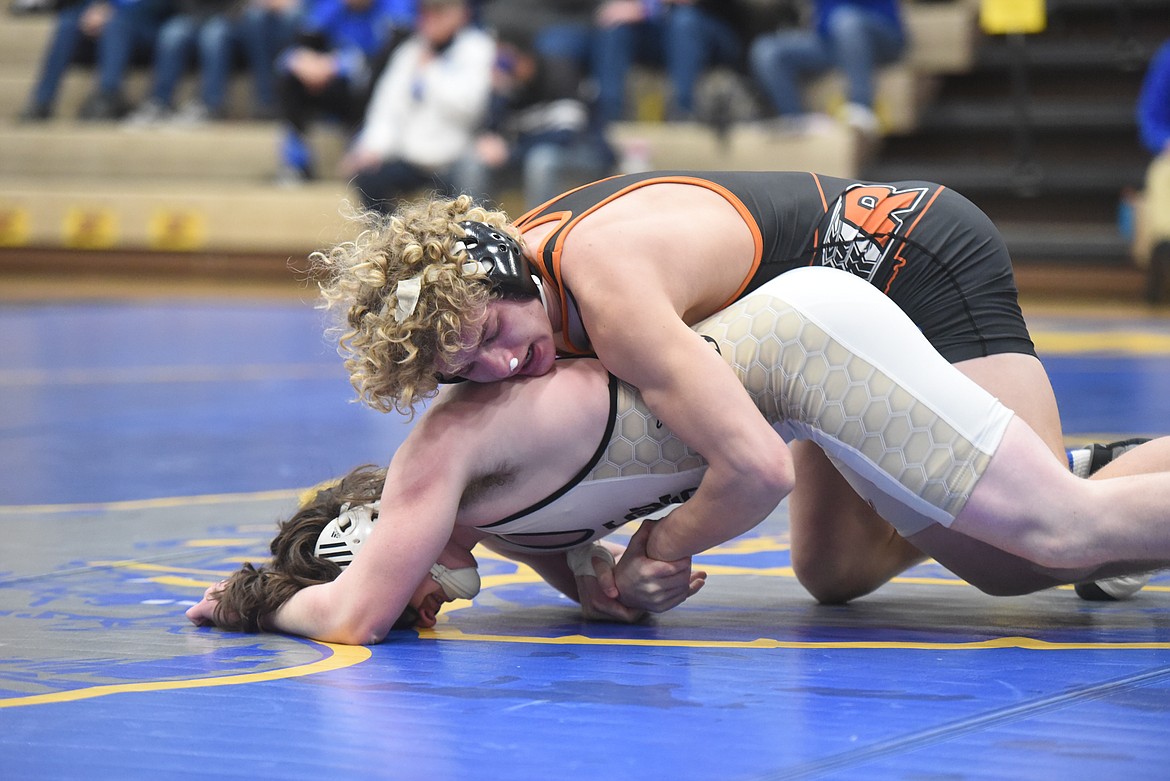 Ronan's Landon Bishop takes on Stevensville's Ty Thompson at 138 pounds Friday at Libby. (Will Langhorne/The Western News)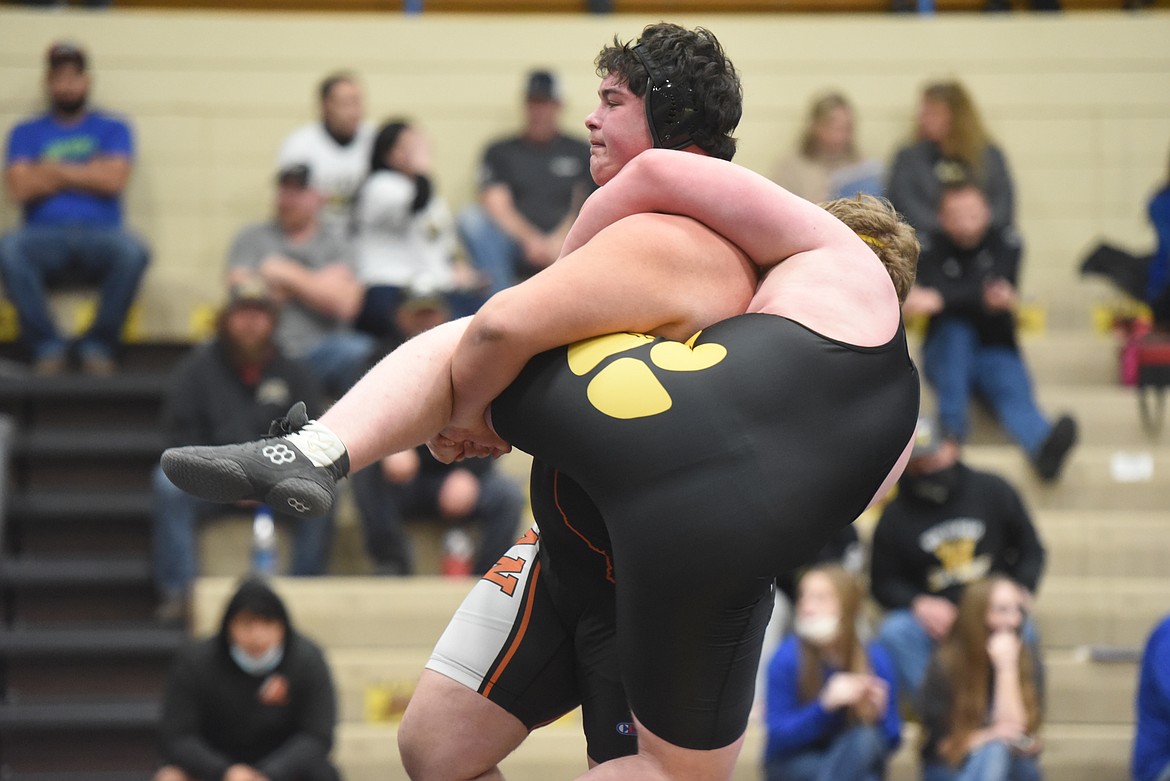 Ronan's Max Morency tangles with Whitefish's Kai Nash at 285 pounds Friday at Libby. (Will Langhorne/The Western News)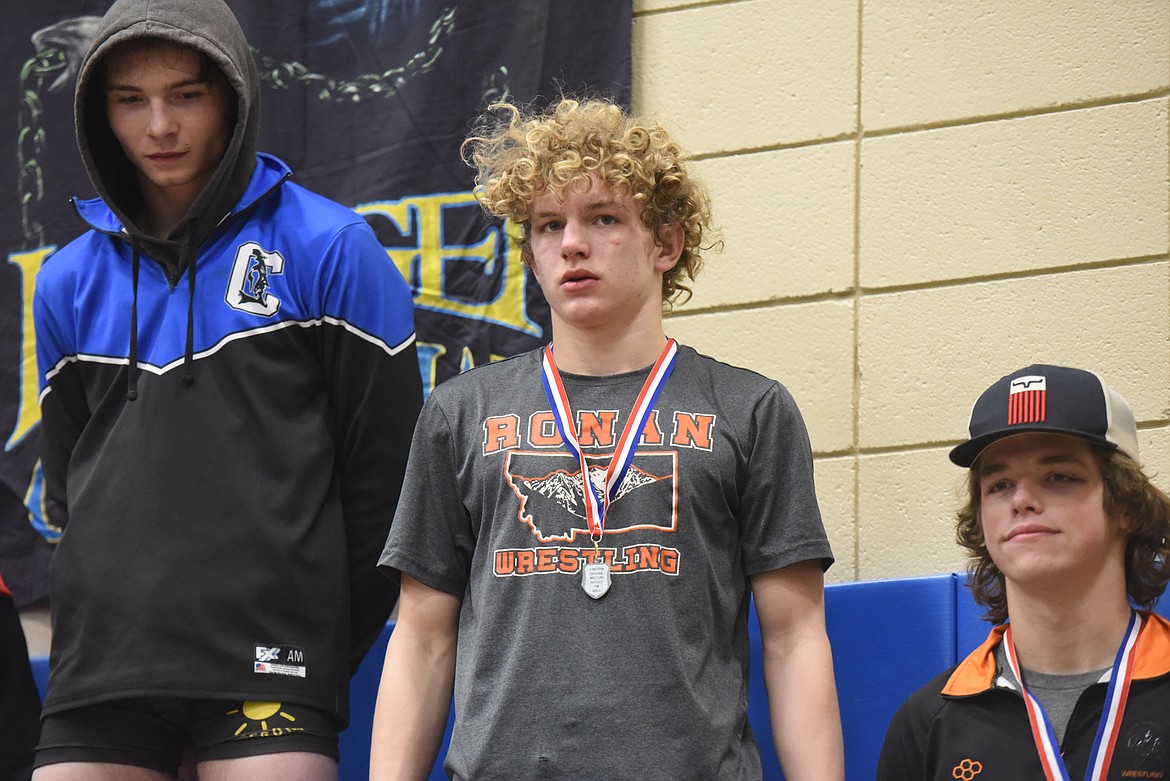 Ronan's Landon Bishop took second at 138 pounds during the Class A divisional tournament at Libby. (Will Langhorne/The Western News)
Previous
Next
by
SCOT HEISEL
Lake County Leader
|
March 2, 2021 4:45 PM
Twenty Lake County wrestlers — 11 from Ronan and nine from Polson — punched their ticket to state last weekend during the Western A divisional tournament at Libby.
Ronan finished fifth in the team standings with 139.5 points, behind: Frenchtown (297.5), Columbia Falls (205), Libby/Troy (194) and Whitefish (142). Polson finished 10th with 75 points.
The top eight places for each weight division advanced to the Class A state tournament Friday and Saturday at Miles City.
Ronan had a pair of second-place finishers in Landon Bishop at 138 pounds and Trapper McAllister at 152 pounds.
Bishop (21-6) won by 5-2 decision over Brad McLean of Frenchtown (12-3) on his way to the final, where he fell to Jason Davis of Corvallis in a tight 6-4 decision.
McAllister (10-3) won by fall over three straight opponents, including Smokey Stoker of Frenchtown (29-3) in a semifinal before losing by fall to Cody Crace of Libby/Troy (21-1) in the final.
Other state qualifiers from Ronan were Beaudean Decker, third at 132 pounds; Caleb Cheff, fourth at 145 pounds; Max Morency, fourth at heavyweight; Jesse LittleBoy, fifth at heavyweight; Ian Dillard, fifth at 103; Fortino Silva, fifth at 120; Tristan Fisher, seventh at 182; Trevor Bartel, eighth at 126; and Nate Young, eighth at 132.
The Pirates' top placers were Ryley Knutson (24-5), who finished third at 103 pounds, and Maysn Cowell (12-4), third at 126.
Knutson got a pin over Cash Byrd of Columbia Falls in the quarterfinals before losing a 13-5 decision to nemesis Isaac Stewart of Frenchtown (11-2 ) in the semifinals. He finished off his tournament with wins over Ronan's Dillard and Browning's Chris Hall.
Cowell was pinned by unbeaten Justin Windauer of Columbia Falls, but pinned three other opponents and won by injury default over Nicholai Blanchard of Frenchtown in the third-place match.
Other state qualifiers from Polson were: Cole Cross, sixth at 113; Gavin Knutson, sixth at 126; Aaron O'Roake, sixth at 285; Braedon Iliff, seventh at 103; Abel Kimmel, seventh at 170; Micah Craig, eighth at 120; and Xavier Pierre, eighth at 145.
Five B/C wrestlers headed to state
Four wrestlers from Mission-Charlo and one from Arlee advanced to the state B/C tournament from the divisional meet last weekend at Cutbank.
Arlee's Colt Crawford (20-5) finished third at 145 pounds. Crawford went 4-1 over the weekend, with all four wins coming by pin. His only blemish was a semifinal loss by fall to Eli Ratliff of Thompson Falls/Noxon, who has gone 34-1 for the season.
Mission-Charlo's top placer was Canyon Sargent (26-12), who finished fifth at 152 pounds. Sargent had two decision wins, a win by fall and a loss by fall on his way to the consolation semifinal, where he lost a 6-5 decision to Shane Reishus of Thompson Falls/Noxon. He finished with a pin of Sam Lane of Townsend in his final match.
Also placing for Mission-Charlo were Kody Dillard, eighth at 103; Isaiah Fields, eighth at 126; and Deago Hostetler, eighth at 182.
The Class B/C meet takes place Friday and Saturday at Shelby.
---