Pirates land No. 2 seed to state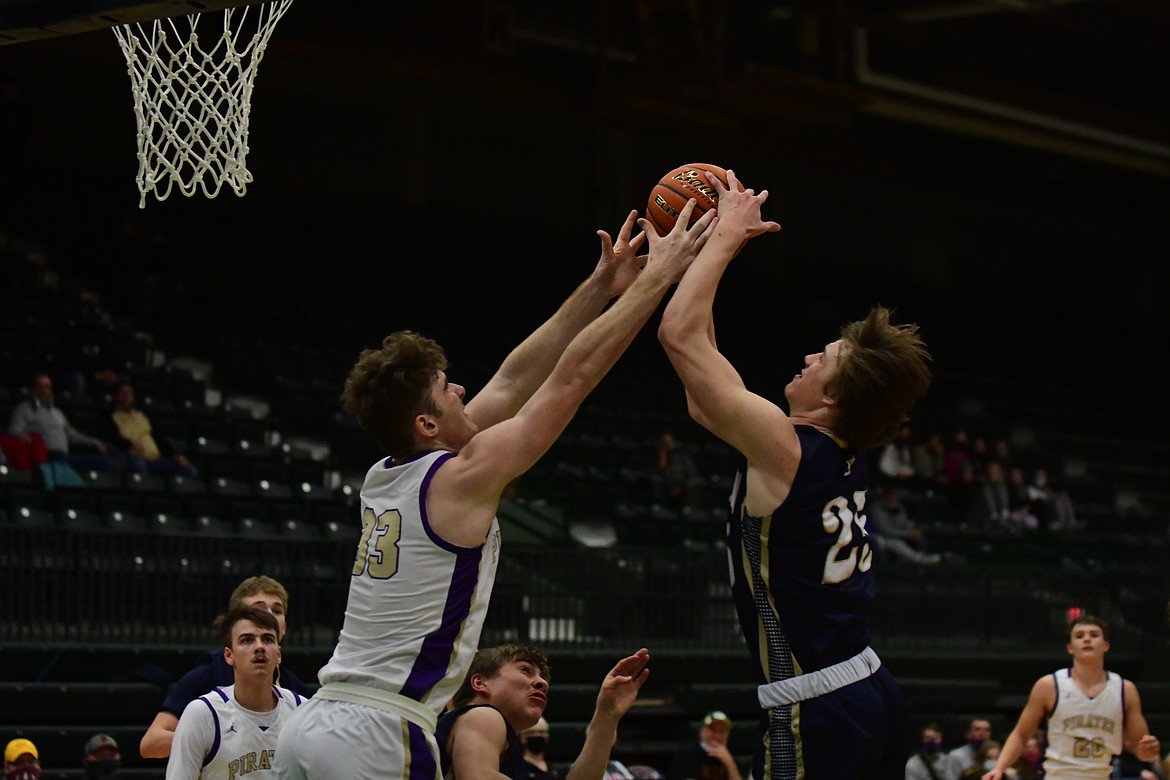 Polson's Trevor Lake Battles for a rebound with Dillon's Connor Curnow on Saturday night at Butte. (Teresa Byrd/Hungry Horse News)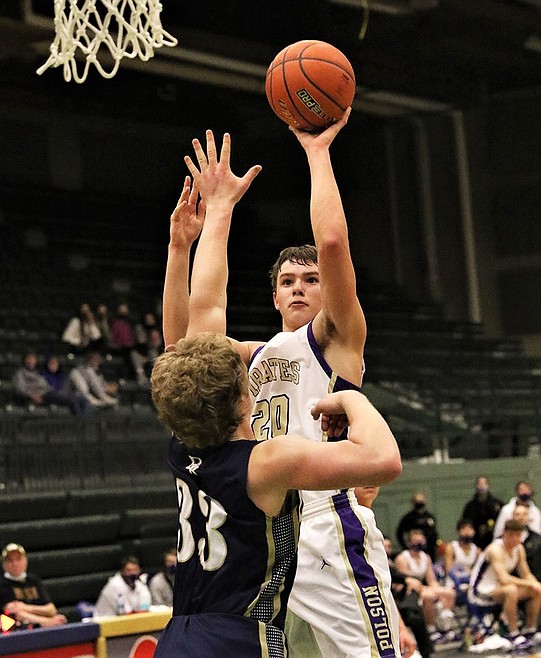 Jarrett Wilson rises for a shot over a Dillon defender Saturday at Butte. (Courtesy of Bob Gunderson)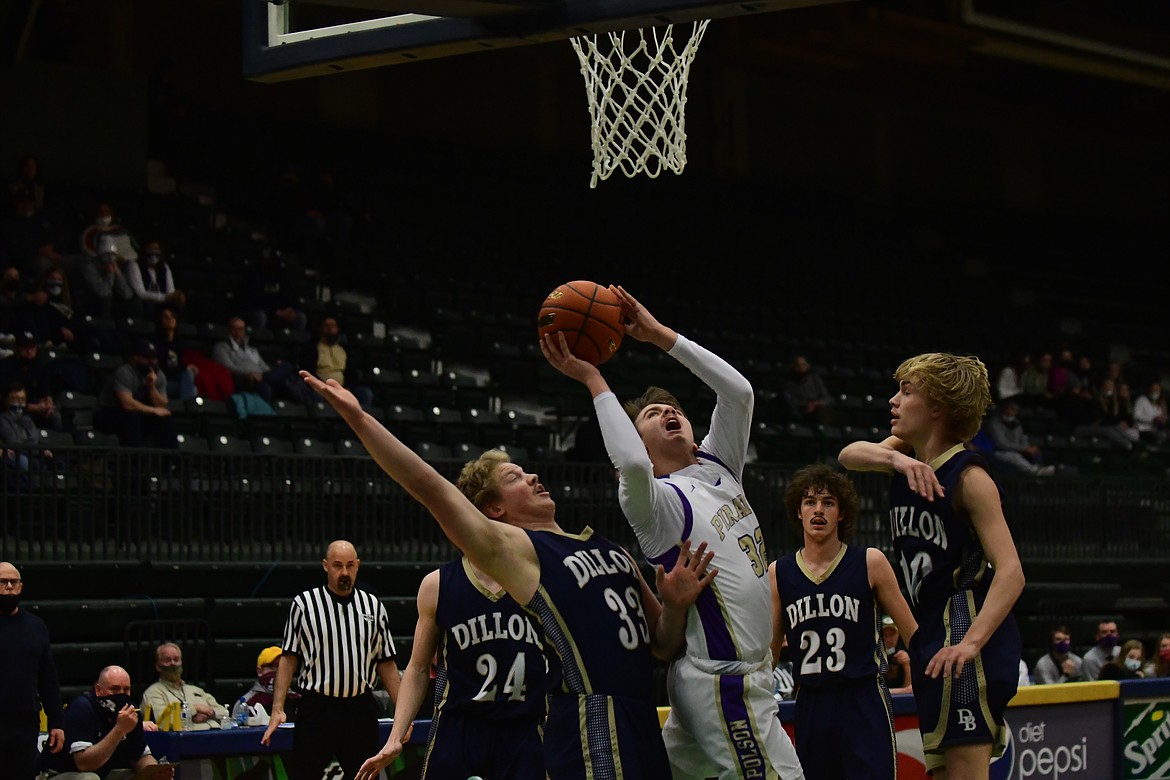 Polson's Colton Graham, surrounded by Dillon defenders, looks for two points during the title game at Butte on Saturday. (Teresa Byrd/Hungry Horse News)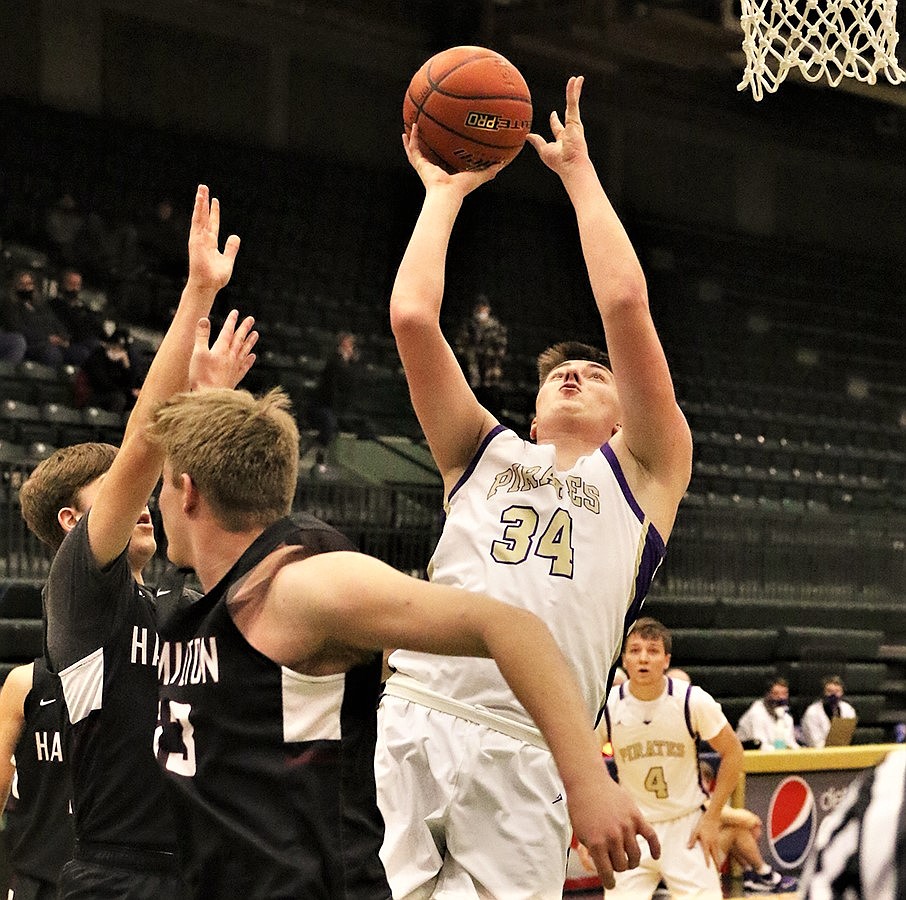 Trevor Lake puts up a shot in the paint against Hamilton on Thursday at Butte. (Courtesy of Bob Gunderson)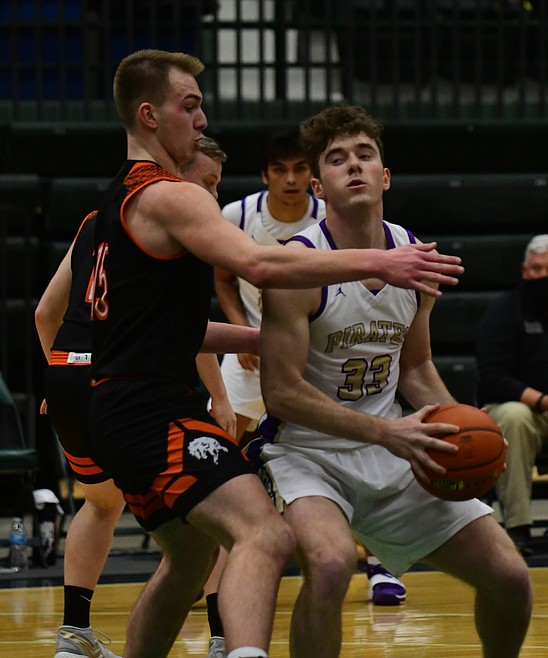 Braunson Henriksen looks for a shot against Frenchtown on Friday night during a divisional semifinal game at Butte. (Teresa Byrd/Hungry Horse News)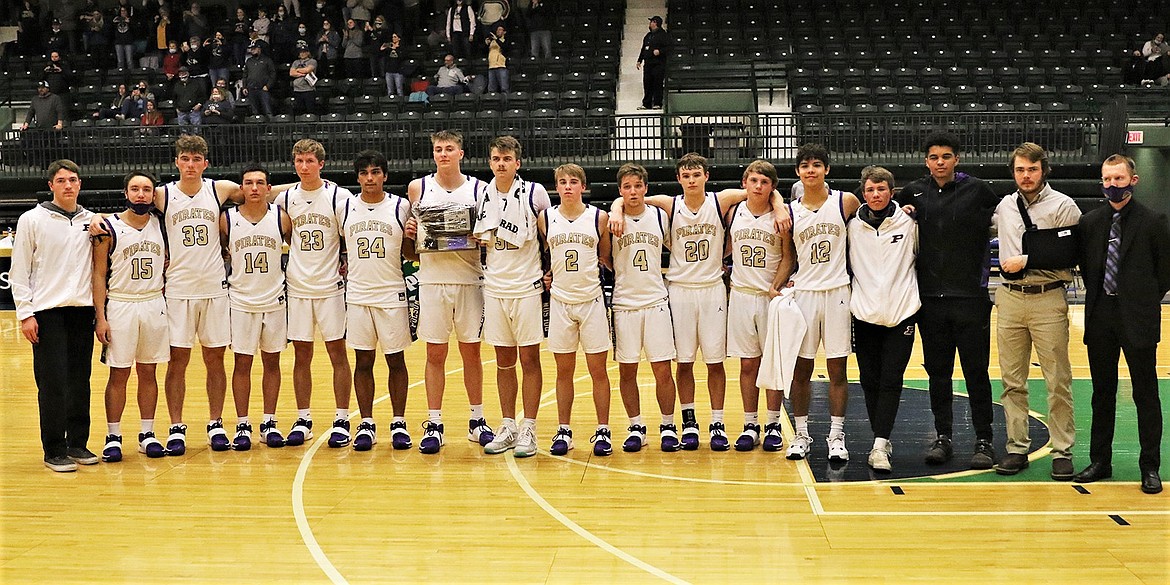 The Polson Pirates finished second at the Western A divisional tournament and will be the No. 2 seed out of the West at the Class A state tournament. Pictured, from left, are: Owen McElwee, Tyler Wenderoth, Braunson Henriksen, Alex Muzquiz, Sam Fisher, Darian Williams, Trevor Lake, Colton Graham, JC Steele, Xavier Fisher, Jarrett Wilson, Trent Wilson, Robert Perez, Lucas Targerson, Nikolai Figaro, Ethan McCauley and manager David Bjorge. (Courtesy of Bob Gunderson)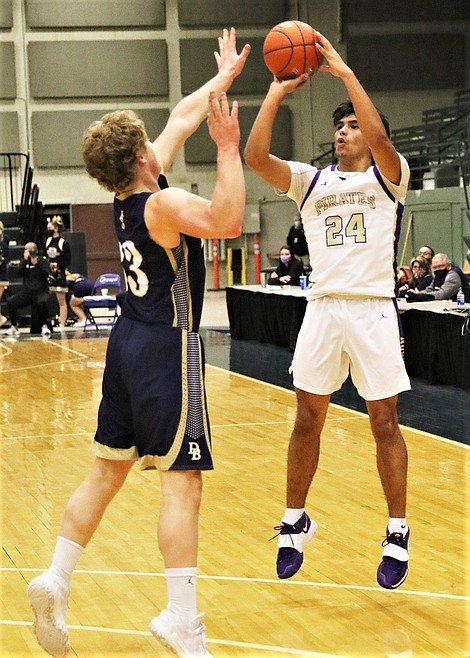 Darian Williams fires off a 3-pointer against Dillon in the championship game Saturday at Butte. (Courtesy of Bob Gunderson)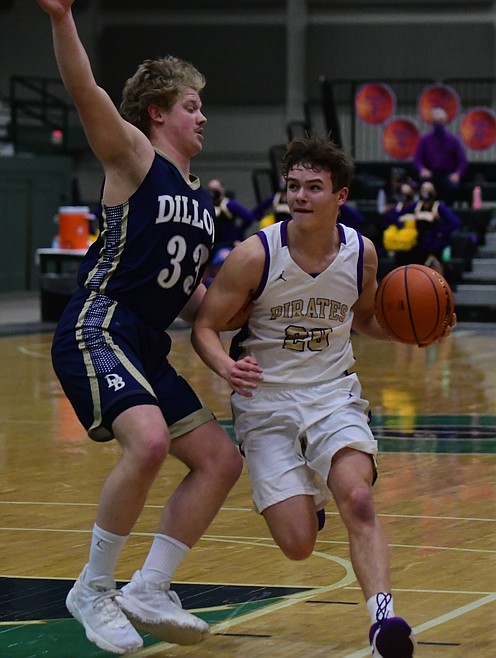 Polson's Jarrett Wilson drives past Dillon's Jace Fitzgerald during the Western A title game Saturday night at Butte. (Teresa Byrd/Hungry Horse News)
Previous
Next
by
SCOT HEISEL
Lake County Leader
|
March 2, 2021 5:00 PM
The Polson Pirates' run through divisionals last week at Butte had a very familiar feel.
After locking down the Northwest A No. 1 seed with an undefeated run through conference play, the Pirates opened divisionals with a game against fourth-seeded Hamilton, their nonconference opponent from the season opener way back on Jan. 7 at Polson.
That first game ended on a Jarrett Wilson layup that gave the Pirates a 40-39 win.
At Butte on Thursday, Hamilton again proved a test. Polson was slow out of the gate and trailed 15-6 after the first period, but battled back behind a game-high 17 points from senior Colton Graham and a late rally to win 40-37. Graham also grabbed five rebounds. Wilson added nine points in the win, including another late shot — this time a jumper from the top of the key — to put the Pirates over the top.
Trevor Lake scored six points, while fellow big man Braunson Henriksen pulled down 10 rebounds.
In a semifinal game Friday, Polson saw another familiar opponent, Frenchtown. The Pirates beat the Broncs 52-50 at home on Jan. 14, and Friday's score, 51-45, didn't miss the earlier result by much.
The two teams traded blows back and forth the whole night, and a tight fourth period ended with the teams knotted up at 41-all. The Pirates pulled away in overtime to advance to the final.
Graham contributed 22 points and nine rebounds against Frenchtown, while Darian Williams shot 4 of 7 from the field and finished with 14 points for Polson.
The tournament final Saturday night was a showdown between the state's top two ranked teams — unbeaten No. 1 Dillon and No. 2 Polson, whose only loss going into the game was a 54-46 defeat at Dillon on Jan. 26.
It was a defensive battle, with Polson struggling to get through Dillon's zone but outrebounding Dillon 27-17.
The Pirates trailed by just two after three periods. Then Dillon went off for 19 points in the fourth en route to a 42-32 win and the divisional title.
Graham led Polson with 15 points and nine rebounds in the loss. He was named to the all-tournament first team, voted on by media members and non-referee tournament officials.
Wilson had eight rebounds and six points. The sophomore received an all-tournament honorable mention. Xavier Fisher hit 2 of 3 from beyond the arc and finished with nine points.
Darian Williams was named to the all-tournament second team.
The Pirates (15-2) will be the No. 2 seed out of the West at this week's state tournament at Great Falls. They open with a game against Fergus at 9 a.m. Thursday.
---