Polson's Maggie Todd signs with Carroll College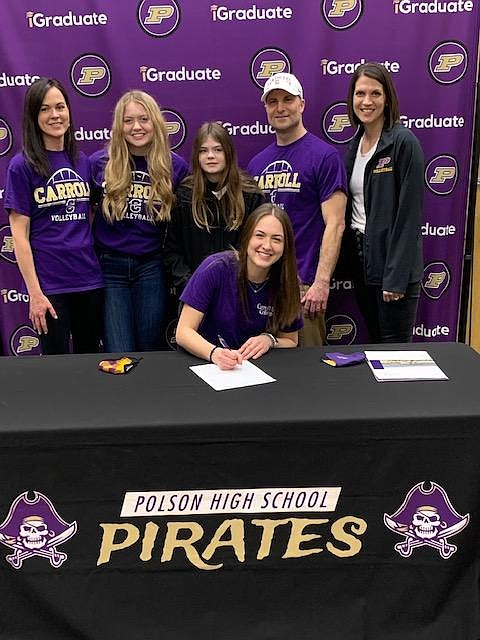 Maggie Todd, seated, signs her letter of intent to play volleyball at Carroll College. Behind her are, from left: mother Jill Todd, sisters Clara and Eliza, father Steve Todd and Polson volleyball coach Lizzy Cox. (Courtesy of Polson High School)
by
SCOT HEISEL
Lake County Leader
|
March 2, 2021 12:35 PM
Polson High School senior Maggie Todd signed a letter of intent Feb. 24 to play volleyball at Carroll College in Helena.
Todd, a 4.0 student on track for valedictorian honors, will receive a partial academic scholarship and a partial athletic scholarship, at least initially.
"It's possible that over time the athletic scholarship increases," she said Monday.
Todd is a two-time all-state volleyball standout who recorded more than 100 kills and digs the last three seasons. She finished with more than 200 kills last fall during her senior season. She also had more than 200 digs and led the Lady Pirates in blocks. Polson advanced to the state tournament last fall as the No. 2 seed out of the West.
In addition to high school volleyball, she's also played club ball for several years, the last two years with Fury Volleyball Club and this year with a new club, Mission Valley Cutthroat Volleyball Club.
Todd said she also considered Rocky Mountain College in Billings and made visits to both Frontier Conference campuses in January. She said she plans a double major in Spanish and environmental science. Rocky's lack of a Spanish program played heavily into her final decision.
Her mother, Jill Todd, is from Helena and she has grandparents and an uncle who live there, so that was a factor as well.
She'll continue to play club ball through the summer before moving to Helena in August and joining the Saints.
"I'm excited. It's a sport that I love a lot. If I could play every day I would," she said.
---