Malt Shop lives on to serve another generation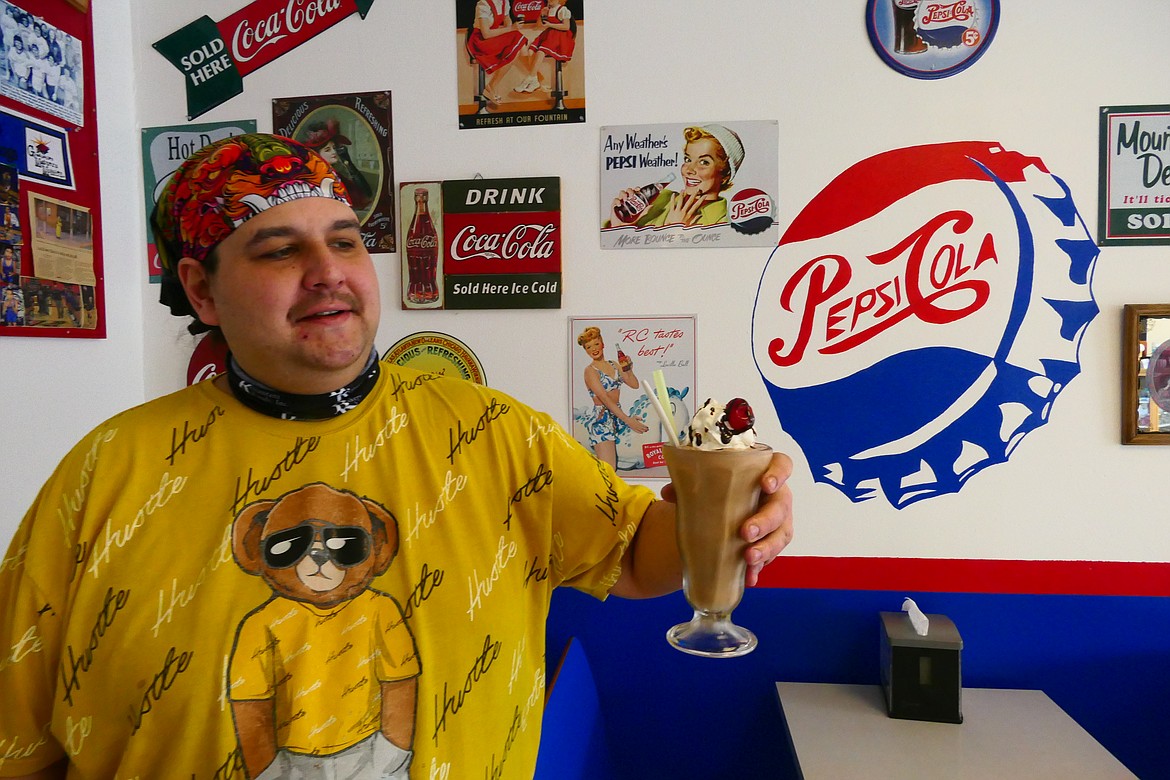 Tyler McGee Morigeau shows off the Malt Shop's signature chocolate malt, one of many specialties the iconic establishment has offered in St. Ignatius since 1948. (Carolyn Hidy/Lake County Leader)
by
CAROLYN HIDY
Lake County Leader
|
March 4, 2021 12:05 AM
ST. IGNATIUS — Tyler McGee Morigeau couldn't watch his beloved Malt Shop, a cornerstone of his youth, pass into history when owner Amy Miller decided to retire last summer.
"It's just something that's always been here," Tyler said. "It's kind of a staple of Mission."
The Malt Shop had given him his first job — wiping counters and washing dishes, then learning how to cook and serve. Tyler remembers crowding into the cafe at lunch and after games at the school. Besides '50s and '60s memorabilia, the walls were covered with pictures of local sports, veterans and other hometown heroes.
The cafe also gave him a career. He went on to cook at high-end steak houses and eventually he became manager of the Three Wolves Deli, the cafeteria at Salish Kootenai College.
As owner of Ty's Malt Shop since last August, Tyler is focusing on fresh, local ingredients when he can get them. Burgers are hand-pattied daily with beef from White's Meats in Ronan, and his popular homemade pickles use local-grown cucumbers when they can be found. The taste of fresh ingredients makes a big difference, he said, and helps support local businesses.
"If we all try to keep it local, as much as possible, it will help keep all of the locals in business," he said.
Besides the favorite ice cream, burgers and fries, Tyler's customers enjoy his creativity. He offers specialties such as chicken jalapeño soup on Thursdays, Indian tacos on Friday, and all manner of burgers, including the "Dixon Burger," a cheeseburger with egg and onion, a Mission Valley classic passed down through Bud Smock of Dixon by his mother Jo Ann. Tyler's "burrito supreme" is a grilled phenomenon smothered in nacho cheese, and he intends to eventually get an oven that would make things like enchiladas possible.
Tyler and employee Tammie Washburn, a longtime co-worker and friend, enjoy visiting with customers and Mission alumni who come back to reminisce about their Malt Shop years. The business started in 1948. They look forward to locals bringing in photos of veterans and sports or other area activities to post on the walls and carry on Malt Shop traditions into the future.
"It's nice to have the time to sit and visit with people, some who have seen this place through generations of their own families," Washburn said.
The new owner's fondness for the place infuses the atmosphere. "The Malt Shop is just one thing that should always be in Mission," Tyler said.
---