Winnie Jones, 93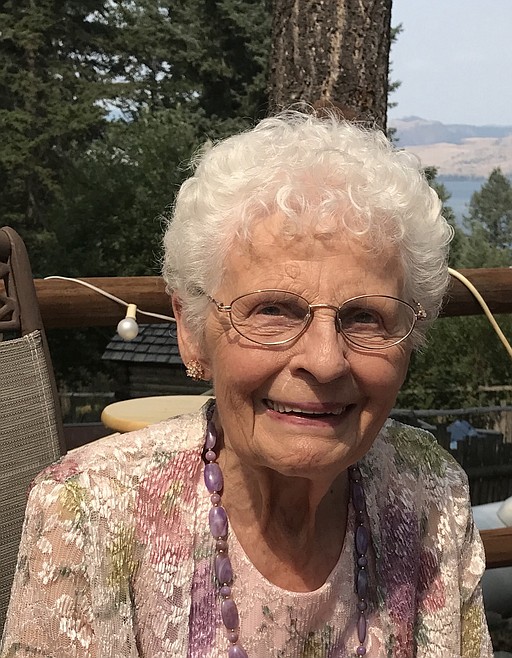 Winnie Jones, 93, of Polson passed away Monday, Oct. 19, 2020 while surrounded by her family.
She was born to parents Fred August Bauer and Frances Ester (McFadden) Bauer on Aug. 07, 1927 in Kalispell.
Winnie spent many years working for the U.S. Postal Service. She married Walter (Walt) Jones on April 14, 1946. They lived together in Kalispell before moving to Polson, where they happily grew their family for many years.
Winnie loved her family more than life itself and always strived to make them happy. She was kind, compassionate and regal. Winnie was the sort of person who could always make you feel better and would stop any task at hand for the needs of others. She enjoyed going to church and being around her congregation. She loved sitting peacefully in her home watching, from her window, the many birds she fed.
Winnie is survived by four children: Julie Ann Paul (Richard) of Ronan, Jeffrey Lyle Jones (Debbie) of Polson, Randal Larry Jones (Monica) of Polson, and Kevin Lee Jones (Cheryl) of Missoula. She is also survived by nine grandchildren and 19 great grandchildren.
Winnie was preceded in death by her husband, Walter Lyle Jones; her parents, Fred and Frances Bauer; as well as her siblings, Frank Bauer, Ester McAtee and Evelyn Jones.
A celebration of life will be held at the Jones residence for both Winnie and Debbie gtp, 11 a.m. to 2 p.m. Saturday, June 26, 2021. Memories and condolences may be sent to the family at www.lakefuneralhomeandcremation.com.
Arrangements are under the care of The Lake Funeral Home and Crematory.
---