Local Scouts get a taste of the Klondike
by
Lake County Leader
|
March 15, 2021 12:30 AM
Boy Scout Troop 1947 out of Polson attended a Klondike Derby in late February on private land approximately 11 miles south of Missoula.
The event was sponsored by the Mullen/Bitterroot District of the Montana Council of Boy Scouts.
The annual Klondike Derby has been held at various locations, and it's loosely based on the Alaska Kondike Gold rush where miners hauled their belongings, including food and mining tools, over the dreaded historic Chillkoot Trail.
As those gold hungry miners did back then (1897-98) the scouts made their own sleds.
The sled is then filled from a list of required supplies, including three gallons of water, lunch, blanket, tarps, and more and pushed/pulled by the Boy Scout Patrol from station to station. The snow was several inches deep, and snow shoes would have been a huge help.
Scouts eat lunch, heated over a fire, at whichever station they happen to be visiting at lunch time. They camp in tents overnight and make a campfire to keep warm. The stations are also educational points where they learn map and compass reading, among other things.
After the final station, judges award ribbons.
Those ages 11-18 who wish to join the Polson troop should contact Sheri Connors-David at 406-304-8664. Troop 1947 meets 5:30 to 6:30 p.m. Wednesdays at the Boys and Girls Club of Polson. Applications can be picked up during meetings.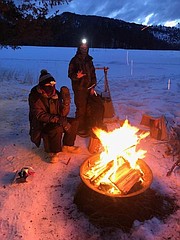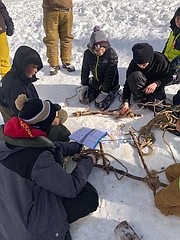 ---