Time Capsule: Ronan goes green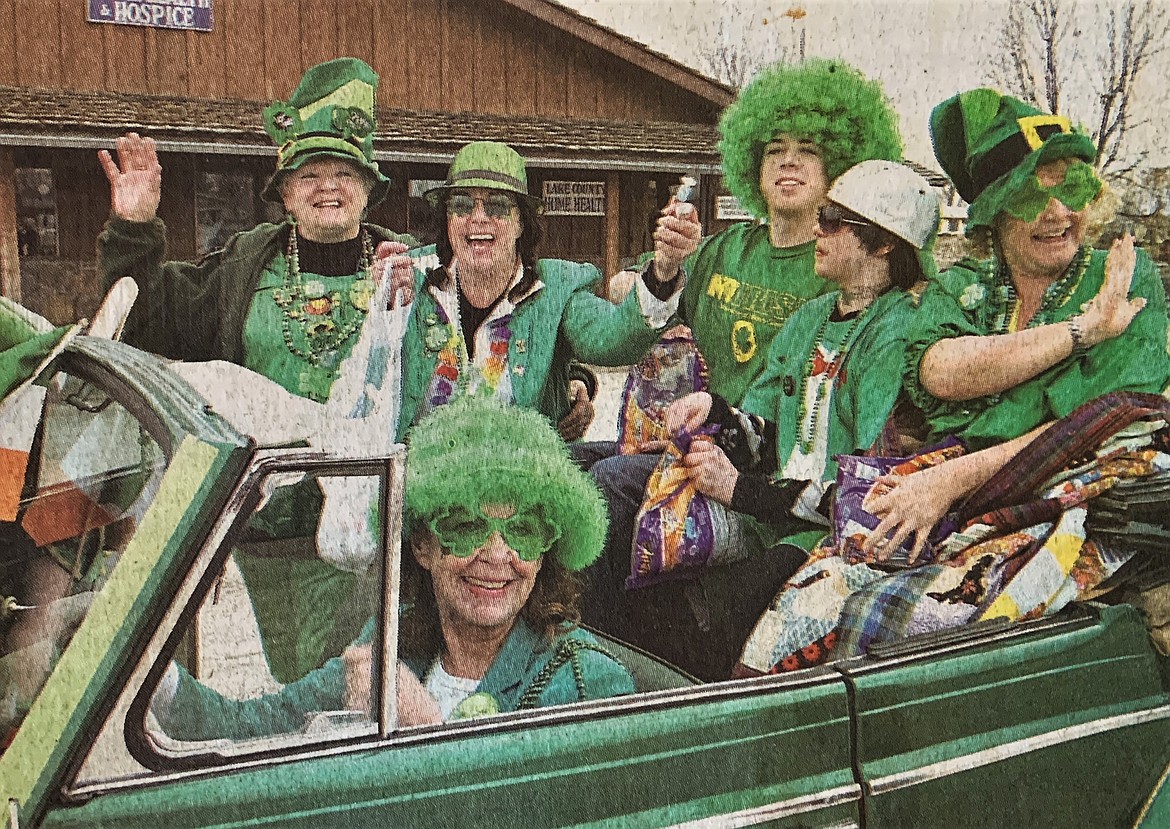 Decked out in green, Dottie McWelch (driving), Bev Bangen (far left), Nancy, Nick and Joey McMullen (center, left to right), and Julie McWhite get into the St. Patty's Day spirit for the annual Main Street parade in Ronan. The parade also included an appearance by Denny Palmer and his dyed-green horse, J.J. (Ali Brondsdon, March 20, 2008 Lake County Leader)
by
Lake County Leader
|
March 18, 2021 12:00 AM
This week in Lake County news archives.
Pirates are state champs
(March 18, 1993 Lake County Leader)
Purple has long been the color of royalty, and after an often spell-binding 35 minutes of basketball Saturday night, the Pirates proved their right to wear it as state Class A basketball champs.
Unheralded Polson beat the Belgrade Panthers 59-58 in overtime at the Butte Civic Center for the school's first-ever hoops crown. PHS activities director Dennis Jones says it was the first athletic championship of any kind since a track title in the early 1980s.
For the win, the Pirates (15-9) survived chilly free throw shooting and a Panther run that erased a 10-point lead in the fourth quarter. The game was tied 53-53 after four, but the Pirates sealed it when Jarod Tait sank two crucial freebies in OT and Neal Smith stole a late pass.
St. Ignatius student is top speller
March 20, 1980 Flathead Courier
It was two days before St. Patrick's Day and "blarney" tripped up the second-place speller of the Lake County fourth annual Spelling Bee, giving the championship to Kimimi Miller, daughter of Mr. and Mrs. Preston Miller, of St. Ignatius.
Kimimi, an eighth-grader, correctly spelled "blarney" and "domesticate" to earn the right to represent Lake County in the State Spelling Bee on April 19 in Helena.
Trophy winner
March 18, 1976 Flathead Courier
This has been a year of trophies for Penny Havlovick, who won the first-place trophy and $100 in the FFA speech contest sponsored by KCFW TV in Kalispell, and also the first-place trophy and a heifer and calf (valued at $1,000) at the KGVO contest in Missoula. She placed second in the district FFA speech contest last weekend in Stevensville.
---