Polson Middle School girls attend Ready…Set…Goals! program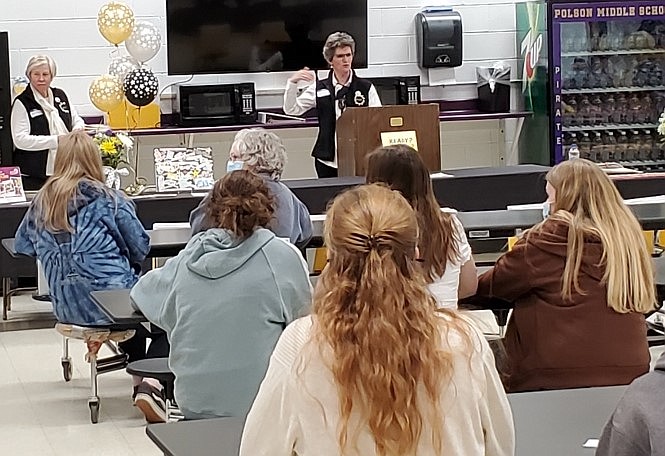 P.E.O. Chapter CA Ready…Set…Goals! committee members Marilyn Trosper and Lynn Gardner explain the program to 18 students at Polson Middle School. (Courtesy of Suz Rittenhouse)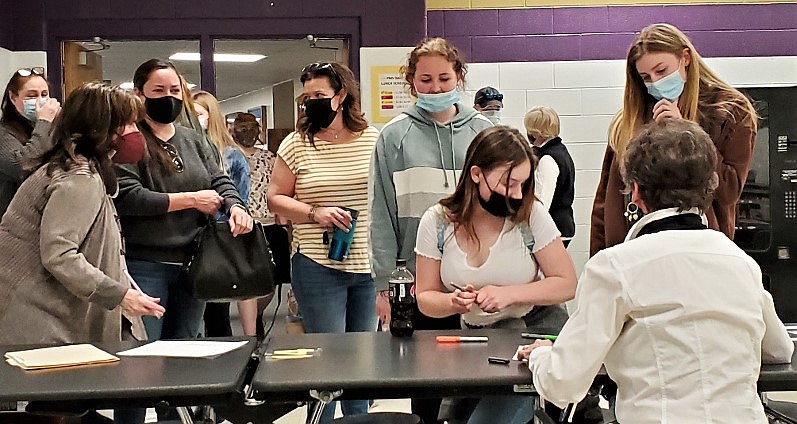 Pictured are Polson Middle School Guidance Counselor Rhonda Hinman, parents Shannon Borjorquez Cannon and Charmel McClure-Sternick, and students Kila Cannon, Lexi Stratton and Haislea Sternick, and P.E.O. Chapter CA member Janice Donovan. (Courtesy of Suz Rittenhouse)
Previous
Next
by
Lake County Leader
|
March 31, 2021 8:00 AM
P.E.O. Chapter CA, Polson, presented their Ready…Set…Goals! program to Polson's eighth-grade girls March 18. The program is designed specifically to assist today's young women in preparing for their future educational goals. There were 18 girls in attendance, along with their mothers.
Throughout the program, the students were encouraged to start early by staying organized, writing everything down and tracking all their community service and extracurricular activities. A three-ring binder was presented to each student as a tool to hold all transcripts, essays, and awards. When it comes time to fill out job, college or scholarship applications, the information will be organized and readily available.
Another part of the program explained different aspects of P.E.O. loans, grants and scholarships available to women. Information was provided on Cottey College, a fully accredited four-year independent liberal arts and sciences college for women offering baccalaureate and associate degrees. Located in Nevada, Mo., it has been owned by the P.E.O. Sisterhood since 1927.
Chapter CA's Ready…Set…Goals! committee appreciates the assistance of middle school guidance counselor Rhonda Hinman for her help in organizing the event. The chapter also thanks Principal Jesse Yarbrough, who has been extremely supportive of the program.
A gift certificate to the Cove Deli & Pizza was presented to the girls as an added bonus for attending the program.
Students who attended were Kila Cannon, Olivia Jore, Sasha McCoy, Dixie Montgomery, Summer Newman, Autumn Skillicorn, Haislea Sternick, Layla Tenas, Elanna Baehr, McKenzie Beard, Aryssa Seitz, Reanna Trosper, Nycoddaah Auld, Karley Stanley, Lexi Stratton, Ayden Loveless, Bethany Butler and Destanie Brunson.
The Ready…Set…Goals! Program is chaired and developed by Lynn Gardner and Marilyn Trosper with assistance from Chapter CA members Linda Bone, Janice Donovan, Barb Lyons and Lois Abell. For questions, please contact Lynn at gglivestock84@gmail.com.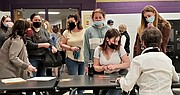 ---