Dayton kids plant 180 tamaracks during DNRC field trip
by
Lake County Leader
|
May 10, 2021 5:53 PM
About two dozen Dayton fourth-, fifth- and six-graders participated in a tree-planting event May 6 that was sponsored by Friends of Lake Mary Ronan and included presentations from the Montana Department of Natural Resources.
Another 25 adults, including teachers, members of the school district's parent-teacher organization, and members of the Friends of Lake Mary Ronan accompanied the student.
The planting location was at the east end of Lake Mary Ronan on Thunder Mountain, the site of a recent DNRC tree harvest.
DNRC conducted an interactive education session on a variety of topics, including the role of a forest in the watershed; the types of trees in the area; how seeds are produced; a demonstration on determining the age of trees; anatomy of trees; how trees are selected for harvesting and non-harvesting; the role fire plays in nature; and how to plant seedlings.
DNRC provided 180 tamarack seedlings and the tools to plant them. Students did the digging and planting. Friends of Lake Mary Ronan provided an on-site lunch for all participants.
Students counted tree rings, learned how pine cones seed, and how to tell a tree species by examining the pine needles.
Students in groups of three and four worked the steep slope, finding just the right place (from the DNRC criteria) to dig the hole and place the seedling.
After the planting, the kids gathered around for a wrap-up of what they had accomplished. When asked by the presenter "how many of you would like to become foresters?" a lot of dirty little hands shot into the air.
The Department of Natural Resources is charged with the management of school trust lands. The revenue generated from that trust goes back to state schools. The Dayton kids were replanting seedlings onto a recently harvested area, completing the cycle.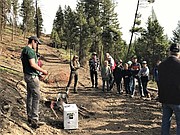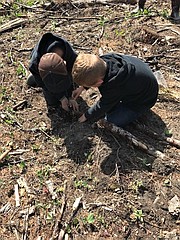 ---