Polson's Rost to play tennis, soccer at Highline College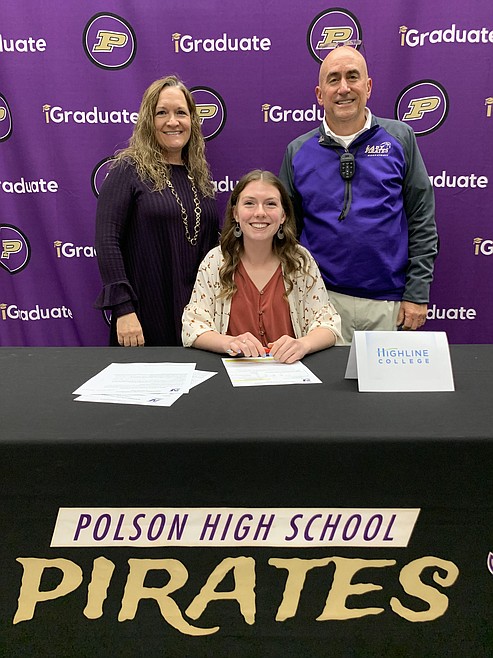 Megan Rost with her mom, Lisa Rochin, and her step-father, Mark Rochin, during a signing ceremony Aug. 26 at Polson High School. (Courtesy of Polson High School)
Megan Rost with Polson tennis coach Bob Hislop and her spring soccer coach, Jess Kittle, during a signing ceremony Aug. 26 at Polson High School. (Courtesy of Polson High School)
Previous
Next
by
SCOT HEISEL
Lake County Leader
|
May 11, 2021 2:00 PM
Polson High School senior Megan Rost will continue her athletic career at the next level.
Rost recently signed a letter of intent to play soccer and tennis next year at Highline College in Des Moines, Wash.
Rost said she intends to earn an associate degree at Highline, a two-year college that competes in the Northwest Athletic Conference, before transferring to a four-year school to pursue a bachelor's degree in elementary education.
"I heard about Highline from my tennis coach (Bob Hislop), and he had been in touch with the Highline coach (Laura Rosa). I reached out to her, learned more about her, toured the campus."
Rost said she visited Highline in March and decided it's where she wanted to be.
"I just really felt at home on campus and felt it was a good fit for me."
Rost has family in nearby Sequim, Wash.
"We would always drive through Seattle on our way to visit," she said. "I think it will be a good change of pace for me to experience the contrast between small town life and city life."
Rost said she started playing soccer locally when she was in kindergarten. She has been a part of three Polson FC state titles at various age categories and is competing with the U18 squad this spring while also playing tennis for Polson.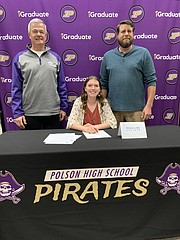 ---