Shoreline Mussel Walk Challenge goes DIY for second year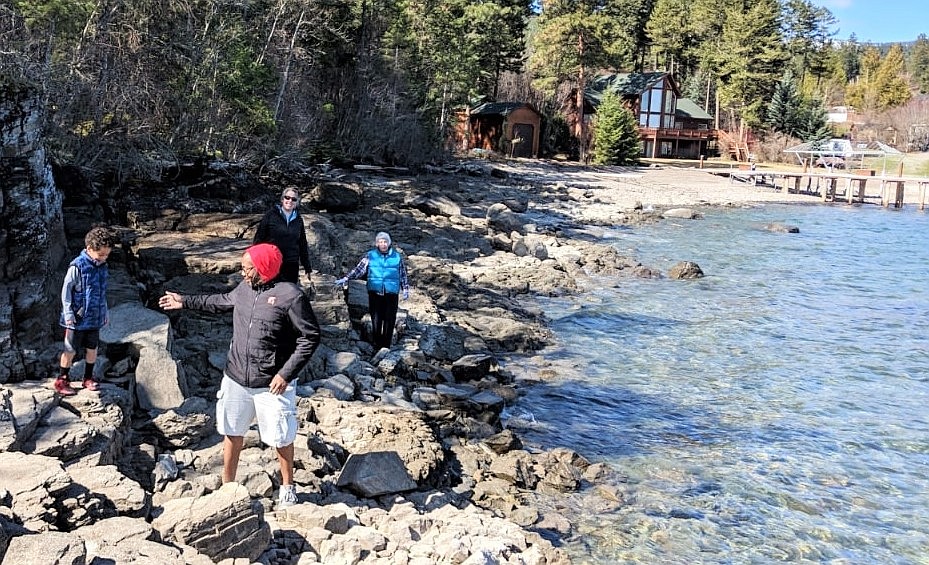 Volunteers search for mussels along the west shore of Flathead Lake. The Flathead Lakers, a Polson-based nonprofit, invites lake lovers to help keep a sharp eye out to ensure harmful, invasive mussels do not get a toehold in the lake. (Courtesy of The Flathead Lakers)
by
CAROLYN HIDY
Lake County Leader
|
May 13, 2021 12:20 AM
The 2021 Flathead Lake Mussel Walk Challenge is in full swing. Though the days of making it a large community event are on hold for a second year, the Flathead Lakers still make it fun for lake lovers and shore walkers of all stripes to continue citizen monitoring of the watershed for aquatic invasive species throughout April and May.
"Pick a beautiful day and go to your favorite Flathead Lake spot," said Hilary Devlin of The Flathead Lakers. "Slowly walk along your stretch of shoreline, turning over rocks and inspecting docks and seawall structures. If you have children, take them along."
Volunteers can walk their favorite shoreline area. The Lakers' website, www.flatheadlakers.org, provides an invasive mussel guide, survey instructions and a link to submit findings, photos and locations, so volunteers' efforts can contribute to an overall picture of the lake's condition.
"Take a photo or video, and send it to us," Devlin said. "Note and collect anything suspicious."
Everyone submitting the results of their mussel walk on the website will be entered into a raffle for prizes donated by the Confederated Salish and Kootenai Tribes.
Walkers are encouraged to bring gloves and a garbage bag, as often those who care about the lake find much to clean up along the way. Last year, volunteer Ian McRyhew and his grandkids went back several times, hauling hundreds of pounds of garbage to the dump.
Zebra and quagga mussels are two tiny, highly invasive, shelled animal species that attach to rocks, boats, docks, pilings and even pipes. Once they become established in a waterway, brought in attached to boats, aquarium plants or other means, they spread rapidly and create a hard, sharp surface that eliminates many other species, clogs pipes and even makes shoreline walking difficult.
"Early detection is key," Devlin said, as no effective way to eliminate them has been found once they grow beyond a small area. "A mussel infestation would have devastating effects on the ecology and economy of this beautiful area."
An all-hands-on-deck cooperative approach has been adopted to prevent the mussels from being brought into Flathead Lake and other western Montana waters. Besides Flathead Lakers, the effort includes boat inspections and research by Montana Fish Wildlife and Parks, CSKT and the University of Montana Flathead Lake Bio Station. Several other groups and individuals also contribute, including those who volunteer to stroll along the shore, turn over rocks and look for the insidious little buggers.
Last year, 35 boats carrying these mussels were intercepted at check stations, according to FWP officials. The Lakers, CSKT and Montana FWP remind all water users to clean, drain and dry your boat and water sports equipment every time you move it, and to remind friends and guests to have their boats inspected before launching in the Flathead watershed.
Contact Hilary Devlin at hilary@flatheadlakers.org or 406-270-1462 for more information.
---