Time Capsule: Breakin' out at school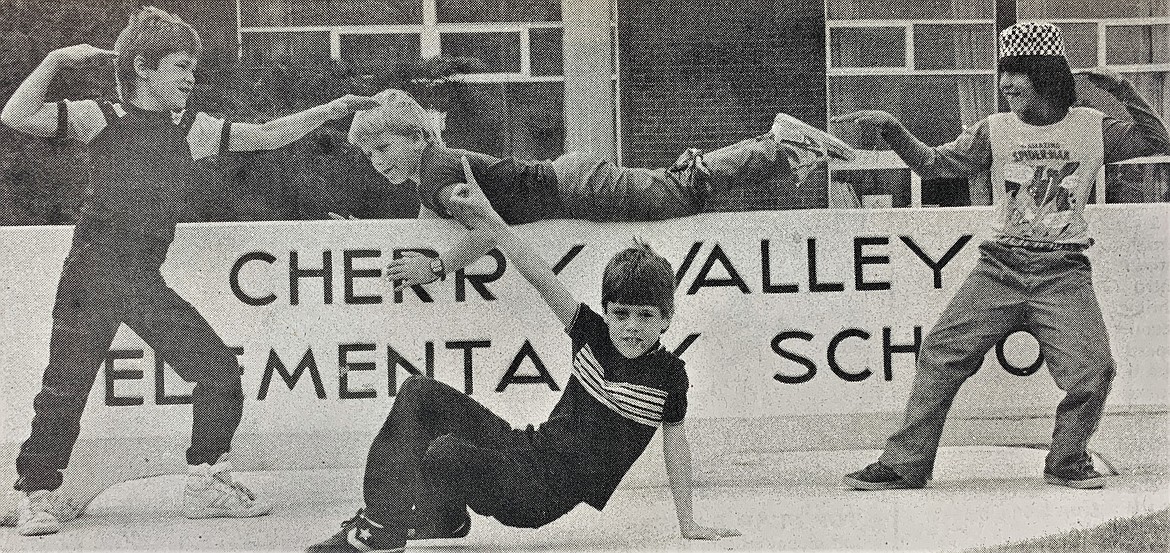 Third-grade break dancers, from left, Steve Vert, Billy Fricker, Pat Matt and Cody Brown (top center), along with other students in grades 1-3, will present Cherry Valley School's spring concert, "Music Moves Me," at the Polson High School auditorium. (Alan Fugleberg, May 9, 1985 Flathead Courier)
This week in Lake County news archives.
Prayer with the governor
May 13, 2004 Lake County Leader
Prayers were abundant Thursday night in the Mission Bulldogs gym, but this time it wasn't for a win on the basketball court. Nearly 300 people attended the St. Ignatius Community National Day of Prayer and Praise Concert to pray for leaders and hear keynote speaker Gov. Judy Martz.
"We need to pray with clarity for the needs of these people," Martz said.
Martz stressed the importance of forgiving people, praying for them, and allowing God to heal the hurt.
All in the family
May 16, 1996 Lake County Leader
The family of Jim and Carla Cahoon of Charlo were notified in March that they are the French's Mustard Youth Baseball Family of the Year for Montana. The Cahoons and their eight children — Jamal, Justin, Josh, Julie, Jamie, Jessi, Jared and Jordan, ages 2 to 15 — earned the title because of their dedication to youth baseball.
Jim is vice president of the Mission Mountain Bambino League and also coaches several teams. Carla is league treasurer and does everything from making out lineups and coaching.
Space flight study
May 16, 1974 Flathead Courier
Don't be surprised when women astronauts are orbiting around in space or exploring the moon that one of them once lived in Polson.
Bonnie Kultgen, now head nurse at the Cottage Hospital in Santa Barbara, Calif., was one of a dozen possible female astronauts who successfully underwent extensive scientific studies last fall to determine the effects of weightlessness and gravitational stress on the female body.
---