Six Polson soccer players receive postseason honors; Moderie named all-state
by
Lake County Leader
|
November 9, 2021 1:00 PM
Six Polson High School soccer players received postseason honors this week with the announcement of Northwest A all-conference and all-state awards.
Senior boys Jack Colton and Kaden Nelson landed on the all-conference teams. Colton, who played all over the pitch for the Pirates, was named to the all-conference second team. Nelson, who split time between forward and goalkeeper, received an honorable mention.
Four Lady Pirates — two seniors and two juniors — were honored.
Senior Sophia Moderie was Polson's lone all-state selection. Moderie led her team with 22 goals and nine assists on the season. She also was the only all-stater from the conference — both boys and girls — who didn't play for powerhouses Columbia Falls or Whitefish.
Lady Pirates senior Jazlyn Dalbey and junior Tia Mercer were named to the all-conference second team, while junior Scout Wenzel received an honorable mention.
Mercer, a forward, was second on the team with 13 goals to go with six assists.
Northwest A Boys all-conference first team (all-state selections in bold): Gabe Menicke, Whitefish; Chase Sabin, Whitefish; Kai Golan, Columbia Falls; Darby McCarthy, Whitefish; Aaron Dicks, Whitefish; Dale Blickhan, Columbia Falls; Nico Lang, Columbia Falls; Will Pepmeier, Whitefish; Walton Nichols, Columbia Falls; Landen Byerman, Bigfork; Finley Sundberg, Columbia Falls.
Boys second team: Jack Colton, Polson; Collin Lyman, Whitefish; Willem Gray, Whitefish; Charlie Hyatt, Whitefish; Ryder Elliott, Whitefish; Andrew Miner, Columbia Falls; Bryce Dunham, Columbia Falls; George Robbins, Columbia Falls; Caden Riedesel, Bigfork; Levi Peterson, Bigfork; Ivan Cano, Libby.
Boys honorable mention: Kaden Nelson, Polson; Niko Hunter, Whitefish; Ethan Austin, Columbia Falls; Cylis Goddard, Libby; Isaac Stenros, Libby.
Northwest A Girls all-conference first team (all-state selections in bold): Sophia Moderie, Polson; Anna Akey, Whitefish; Emma Barron, Whitefish; Maddie Robison, Columbia Falls; Cheyanne Johnston-Heinz, Columbia Falls; Isabelle Cooke, Whitefish; Adrienne Healy, Whitefish; Hope McAtee, Columbia Falls; Brooke Roberts, Whitefish; Olivia Genovese, Whitefish; Josie Schneider, Whitefish.
Girls second team: Tia Mercer, Polson; Jazlyn Dalbey, Polson; Sydney Mann, Columbia Falls; Alexis Green, Columbia Falls; Brette Guenzler, Bigfork; Scout Nadeau, Bigfork; Maya Lacey, Whitefish; Zoey Byrd, Columbia Falls; Danika Bucklin, Bigfork; Lucy Lowry, Whitefish; Josie Harris, Columbia Falls.
Girls honorable mention: Scout Wenzel, Polson; Sophie Olson, Whitefish; Aletheia Fisher, Columbia Falls; Lily Tanko, Bigfork; Braeden Gunlock, Bigfork.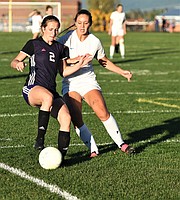 ---