Mission's stellar season ends at Fort Benton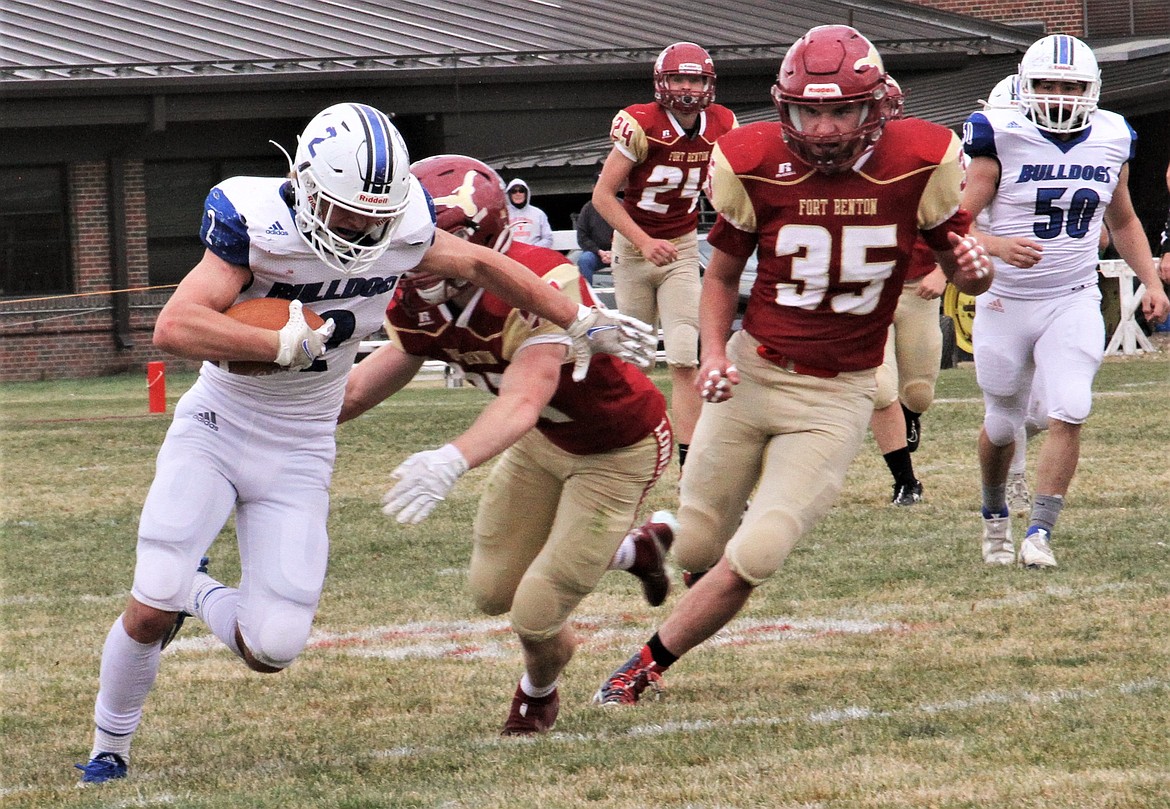 Mission's Canyon Sargent breaks a tackle against Fort Benton. (Courtesy of Daisy Adams)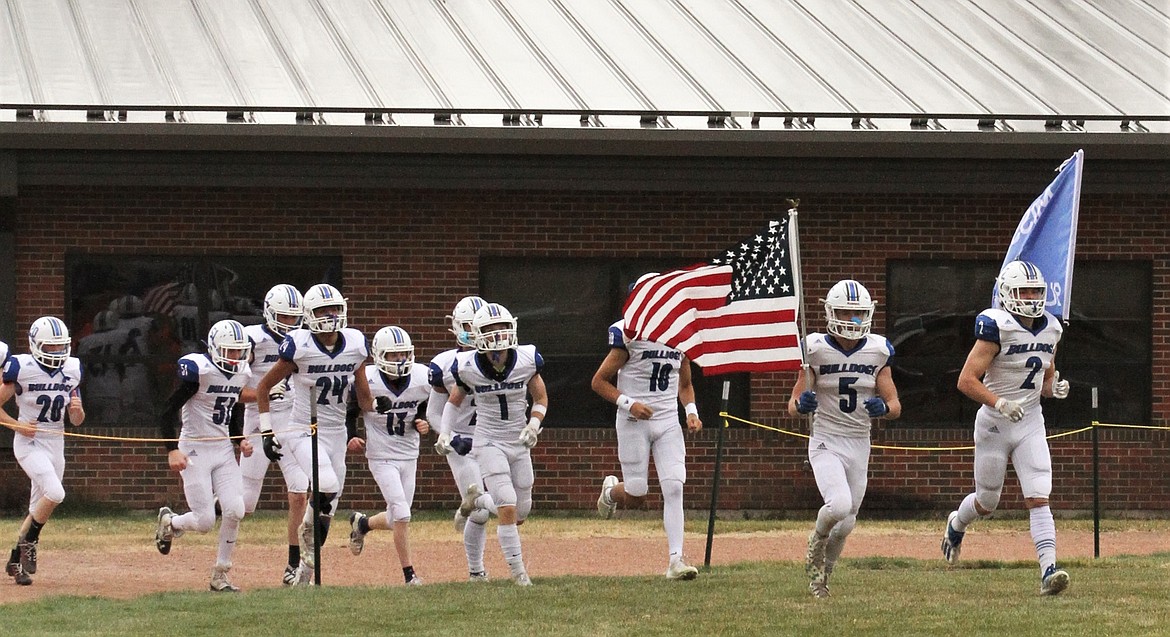 The Mission Bulldogs take the field before their 8-man state quarterfinal game at Fort Benton. (Courtesy of Daisy Adams)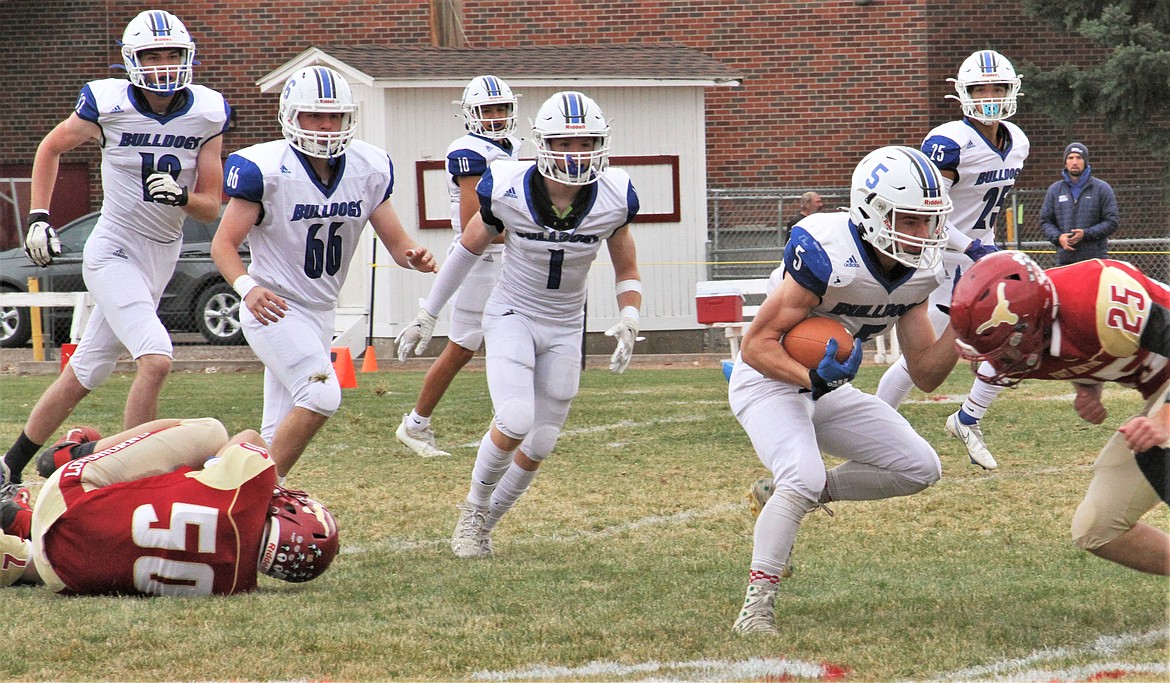 Bulldogs running back Charley Adams takes on a Fort Benton defender. (Courtesy of Daisy Adams)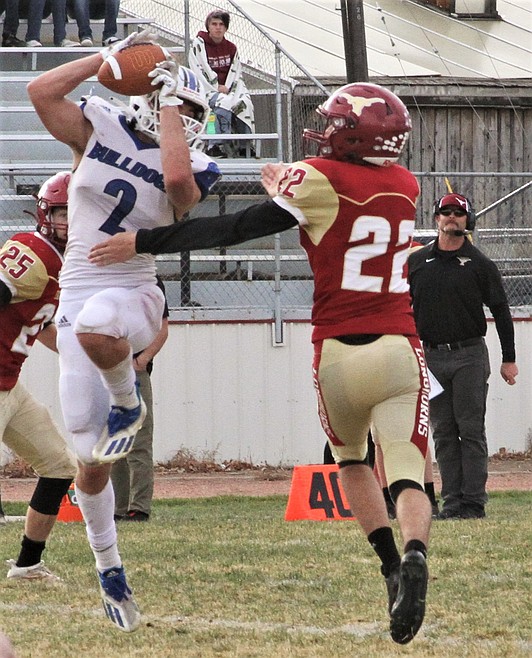 Mission's Canyon Sargent pulls down a reception at Fort Benton. (Courtesy of Daisy Adams)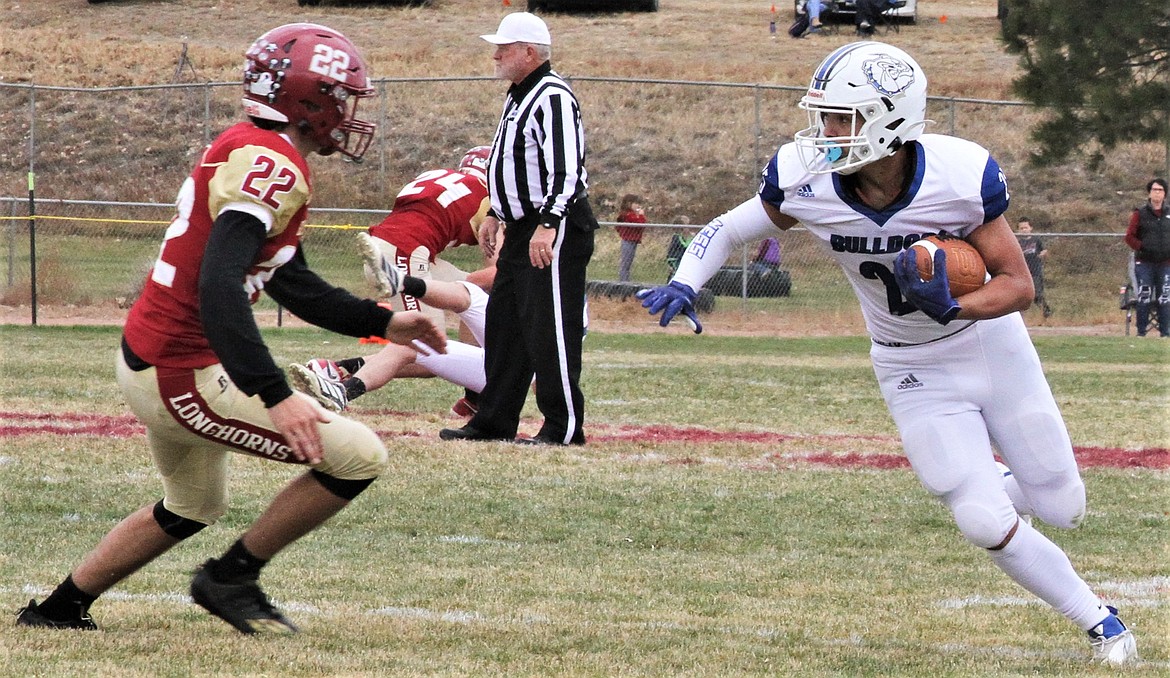 Kenny Ness looks for some running room during Mission's quarterfinal game at Fort Benton. (Courtesy of Daisy Adams)
Previous
Next
by
Lake County Leader
|
November 10, 2021 7:00 AM
The Mission Bulldogs put a scare into the No. 1 team from the north on the road Saturday at Fort Benton. One week after knocking off Joliet 34-12 on the road in the first round of the state 8-man playoffs, Mission (7-3) came out swinging against the Longhorns (8-1), a team that beat them 61-6 during the 2020 playoffs.
Mission quarterback Kellen McClure threw for 276 yards and three TDs as the Bulldogs built a 22-6 first-half lead before falling 42-26 in the state quarterfinals.
McClure hit Canyon Sargent from 34 yards out to start things off. After the Longhorns put six points on the board, Charley Adams punched in a score from 1 yard out. Then McClure found Sargent again for a 55-yard score.
McClure's third TD pass was a 70-yarder to Bryce Umphrey.
Fort Benton's defense put the clamps on the Bulldogs from there, and the Longhorns' running game began to click. Fort Benton outscored Mission 22-0 in the second half for the win.
Sargent had seven catches for 146 yards and two scores.
Under first-year head coach Carson Oakland, the Bulldogs' three losses this season all came to teams still alive in the 8-man playoffs: Thompson Falls, Drummond-Philipsburg and Fort Benton.
Fort Benton 42, Mission 26
St. Ignatius — 6 - 20 - 0 - 0 — 26
Fort Benton — 6 - 16 - 6 - 14 — 42
Mission — Canyon Sargent 34 pass from Kellen McClure (run failed)
FB — Cade Ball 1 run (Socorro De laFuente kick failed)
Mission — Charley Adams 1 run (Kenny Ness pass from McClure)
Mission — Sargent 55 pass from McClure (run failed)
FB — Colter Ball 1 run (Ballyntine run)
Mission — Bryce Umphrey 70 pass from McClure (pass failed)
FB — Ballyntine 50 run (Ballyntine run)
FB — Cade Ball 5 run (kick failed)
FB — Ballyntine 4 run (Ballyntine run)
FB — Ballyntine 13 run (run failed)
---