Pirates take care of business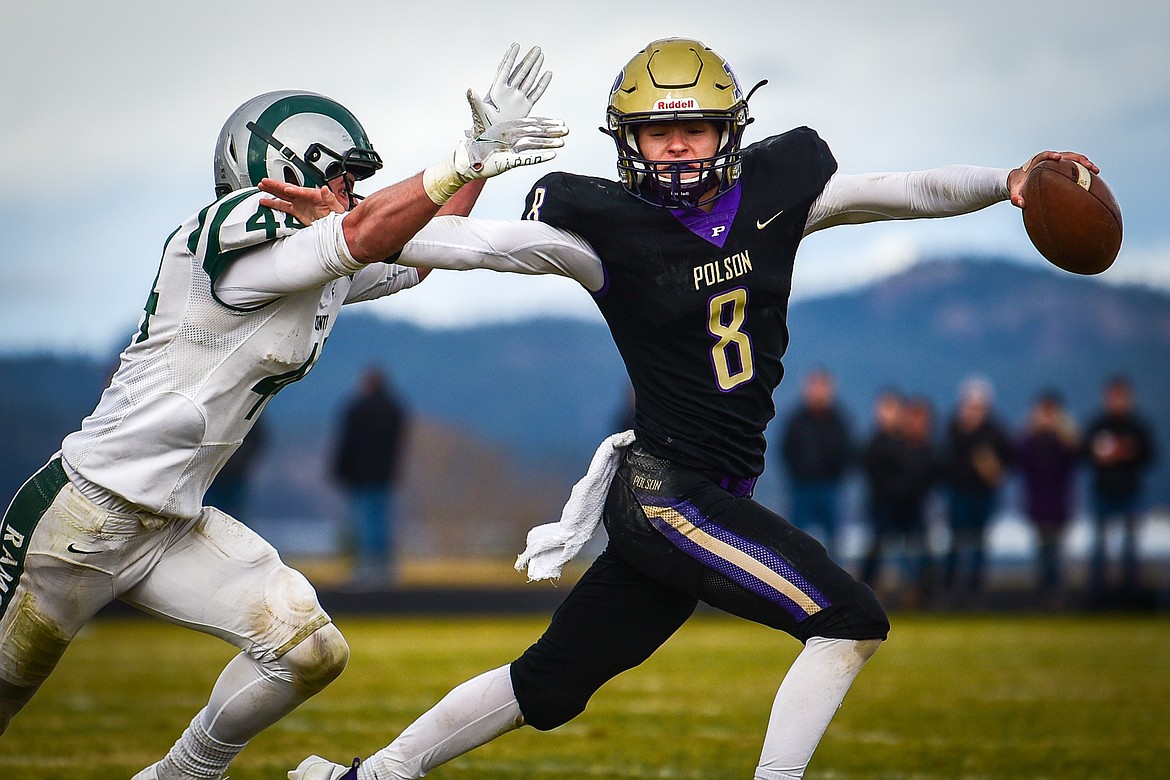 Polson quarterback Jarrett Wilson looks for a play under pressure from a Billings Central defender. (Casey Kreider/Daily Inter Lake)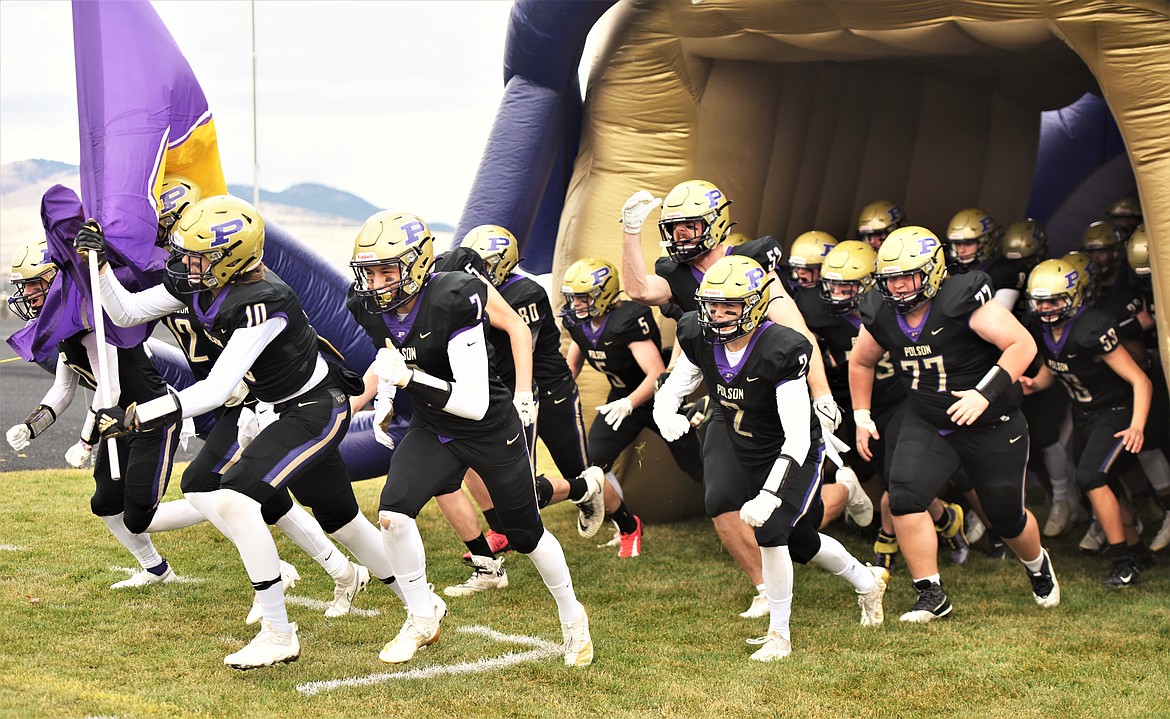 The Pirates take the field prior to their Class A quarterfinal game against Billings Central. (Scot Heisel/Lake County Leader)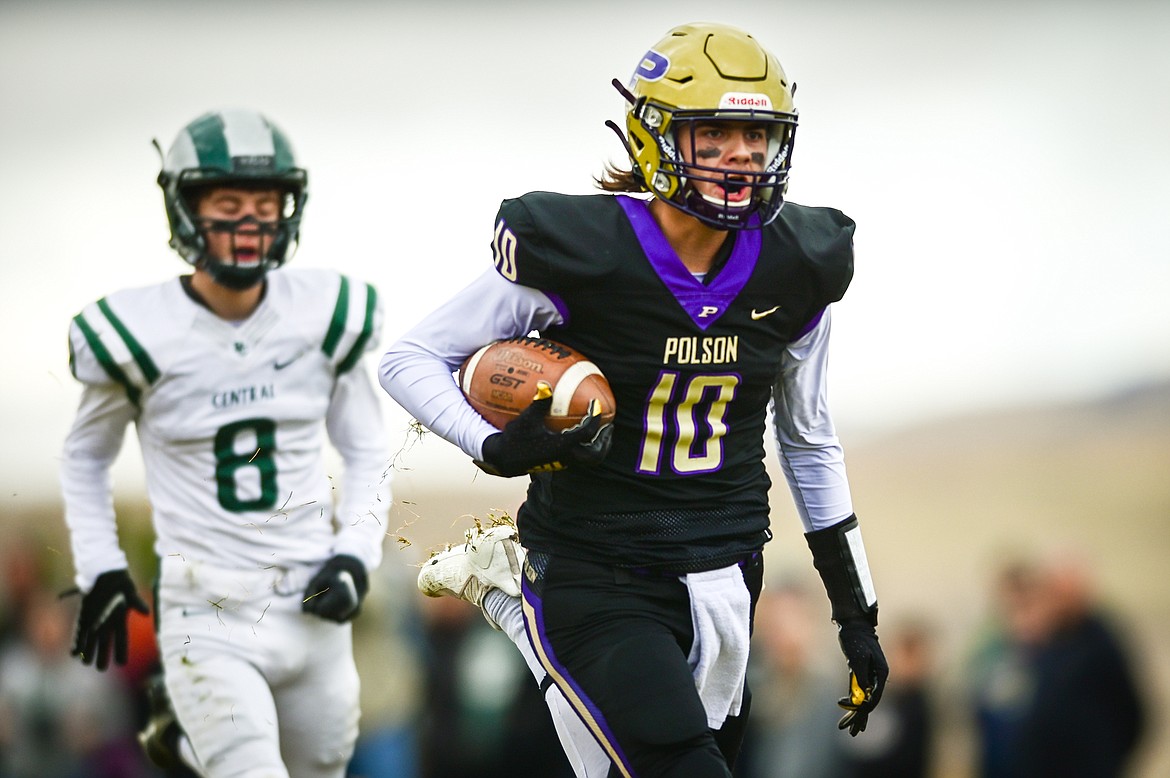 Polson wide receiver Colton Graham (10) heads into the end zone on a first-quarter touchdown reception against Billings Central.(Casey Kreider/Daily Inter Lake)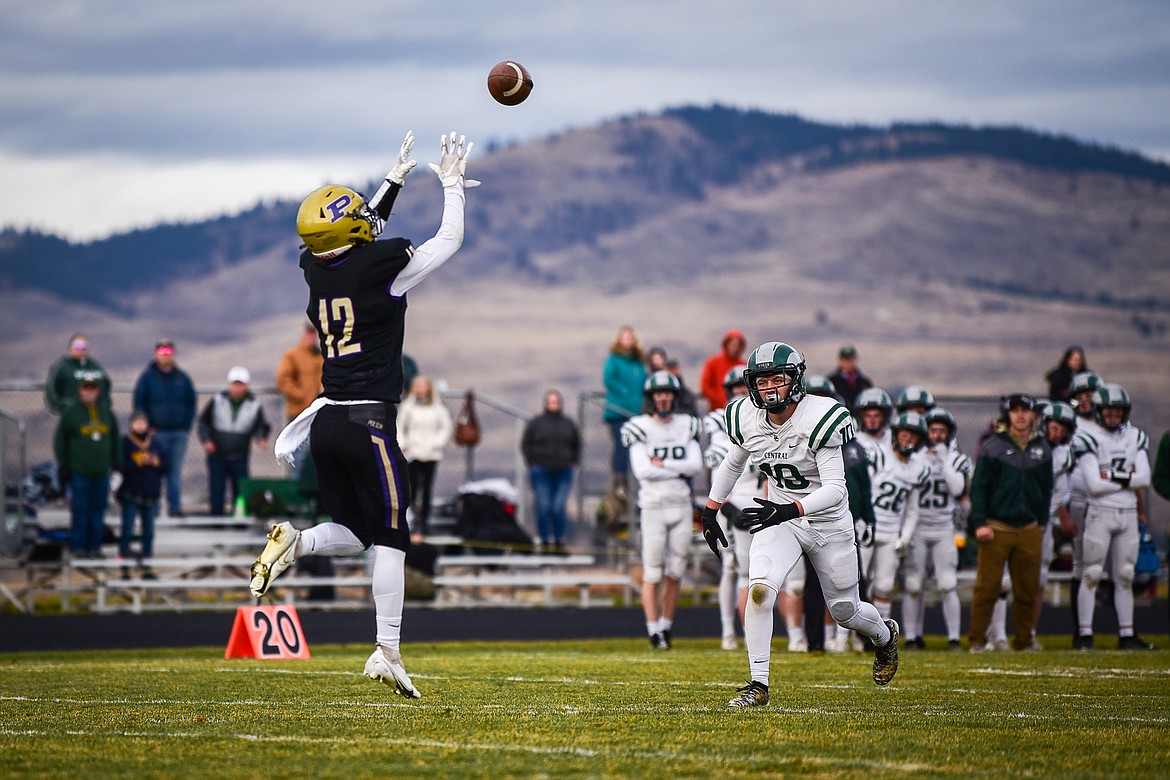 Senior receiver Robert Perez pulls down a reception against Billings Central. (Casey Kreider/Daily Inter Lake)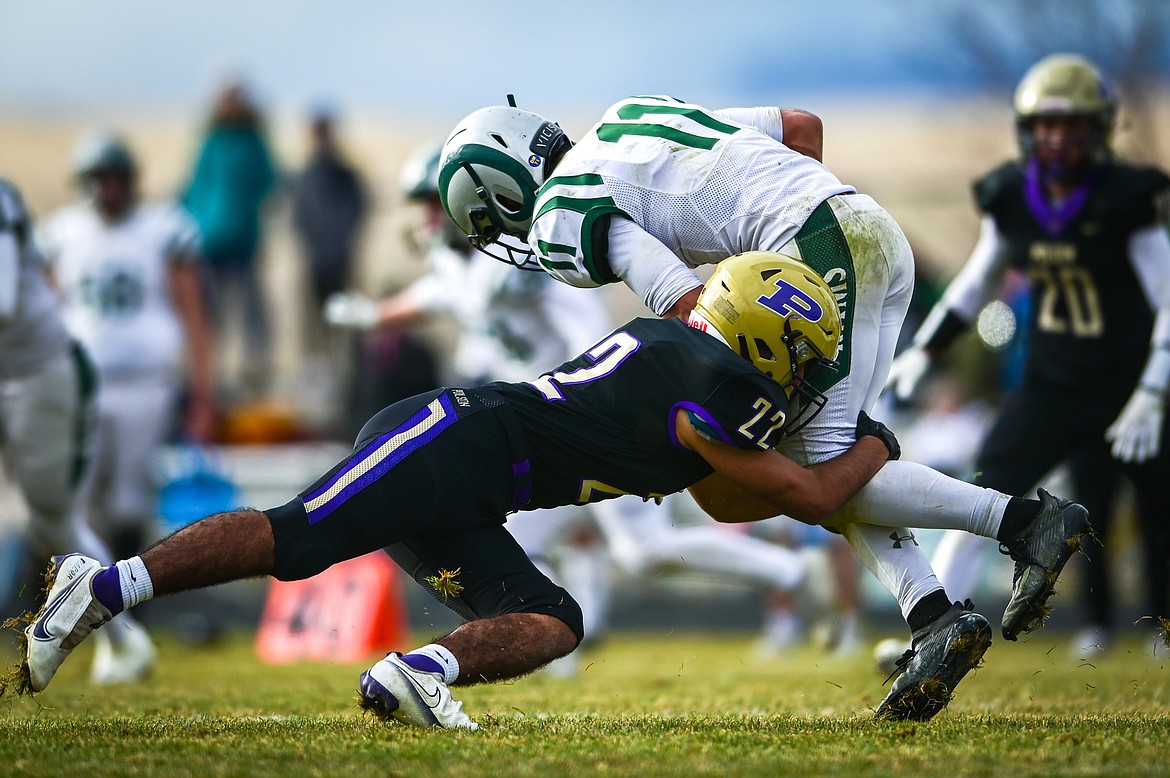 Jaren Keene wraps up Rams running back Kade Boyd. (Casey Kreider/Daily Inter Lake)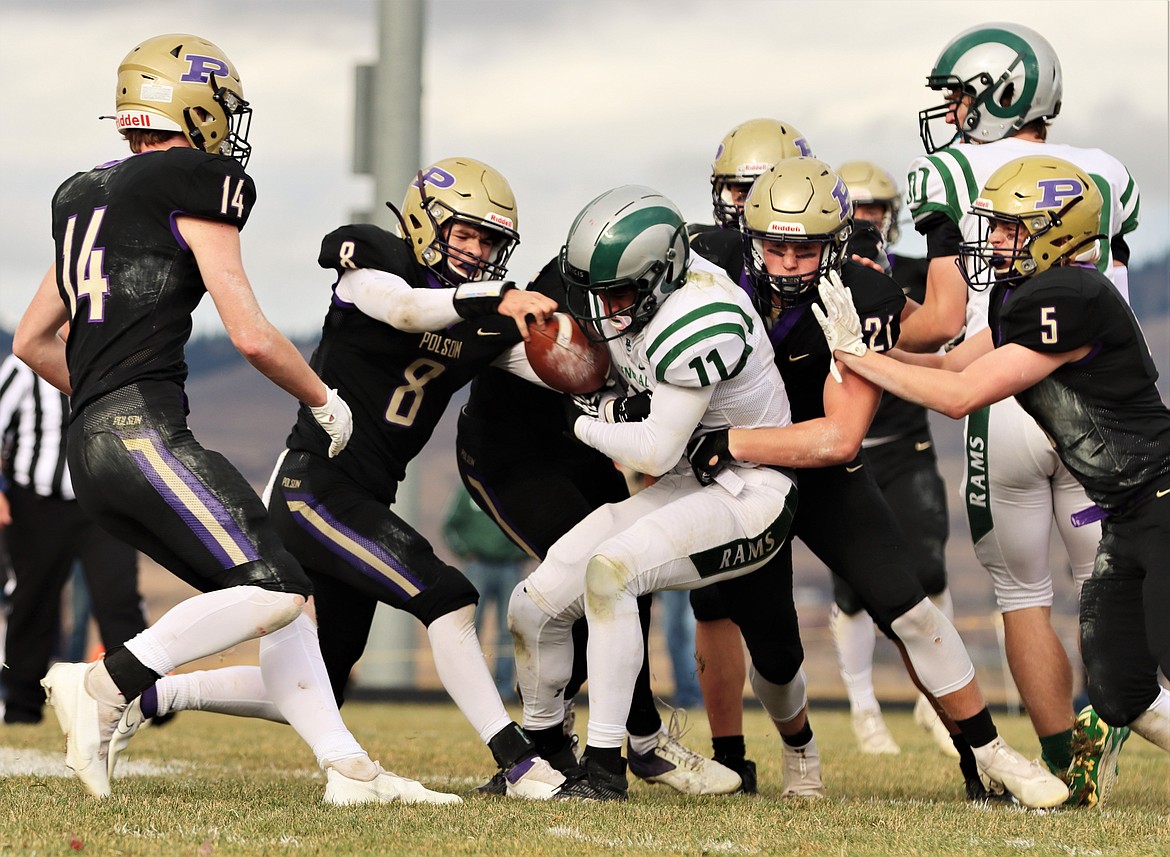 Playing defense, Polson Jarrett Wilson (8) strips the ball from Rams running back Kade Boyd. Wilson took the ball the distance for a Pirates touchdown. (Courtesy of Niki Graham)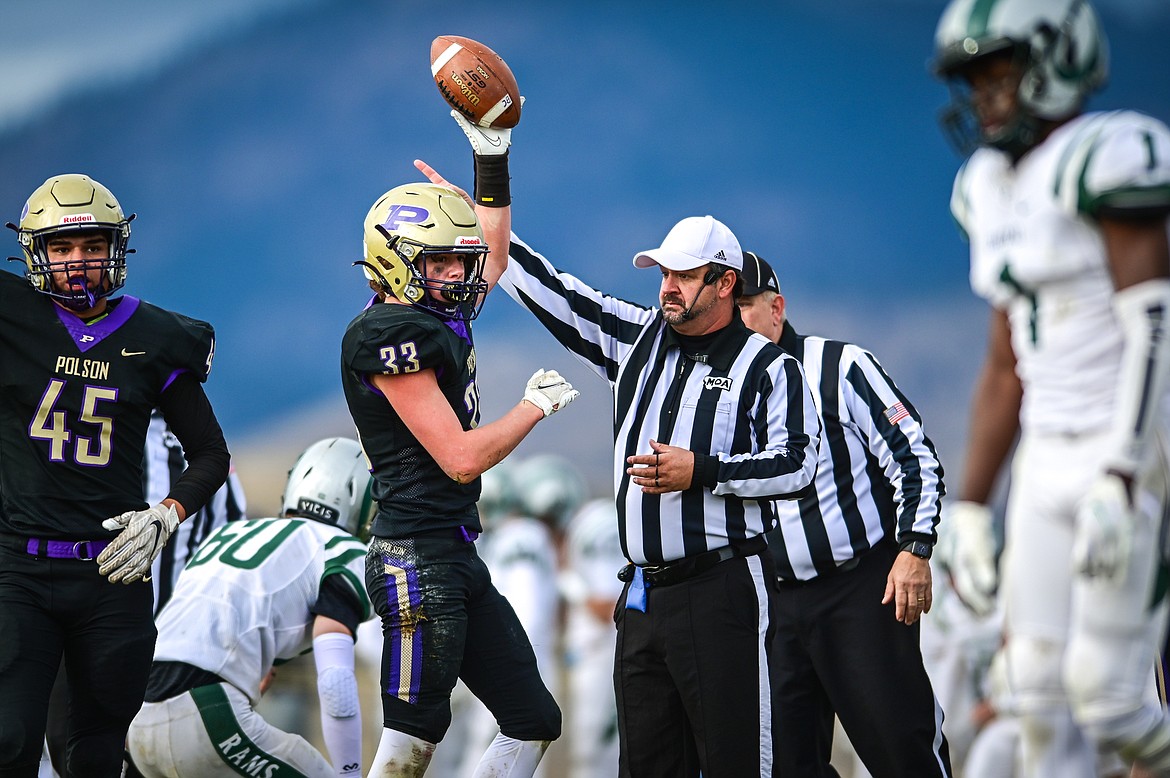 Polson linebacker Keyen Nash (33) holds up the football after recovering a fumble in the third quarter against Billings Central. (Casey Kreider/Daily Inter Lake)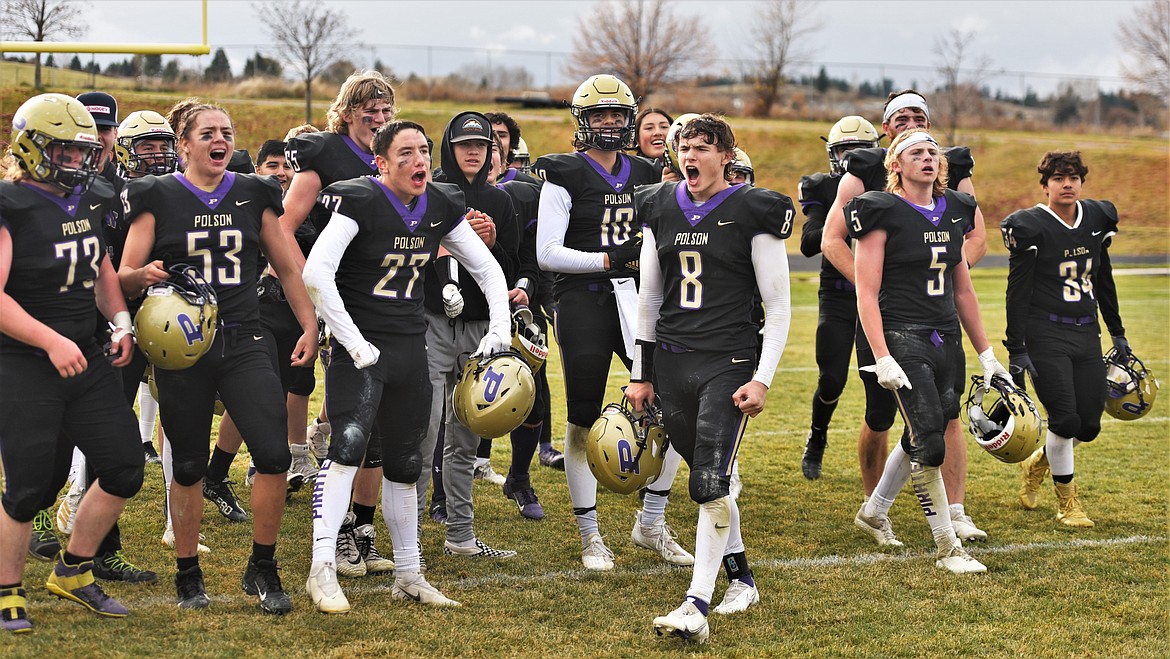 The Pirates celebrate after defeating Billings Central 49-28 in the Class A state quarterfinals Saturday in Polson. (Scot Heisel/Lake County Leader)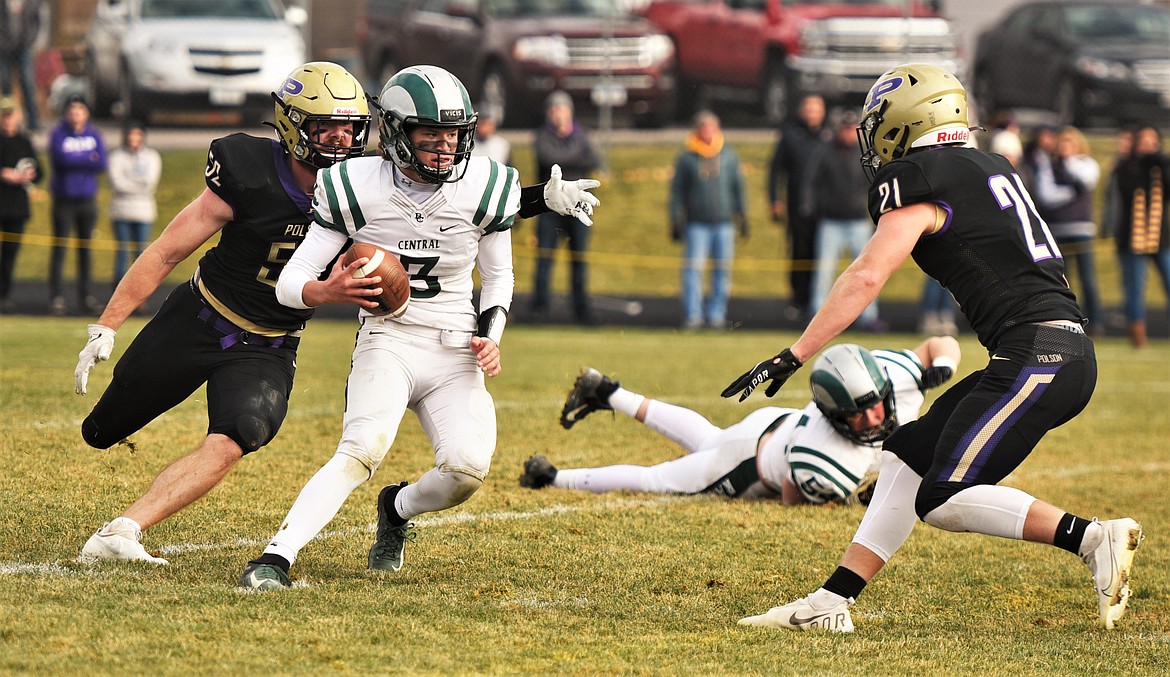 Polson defenders Braunson Henriksen (52) and Dawson Dumont (21) close in on Billings Central quarterback Adam Balkenbush during a state quarterfinal game in Polson. (Scot Heisel/Lake County Leader)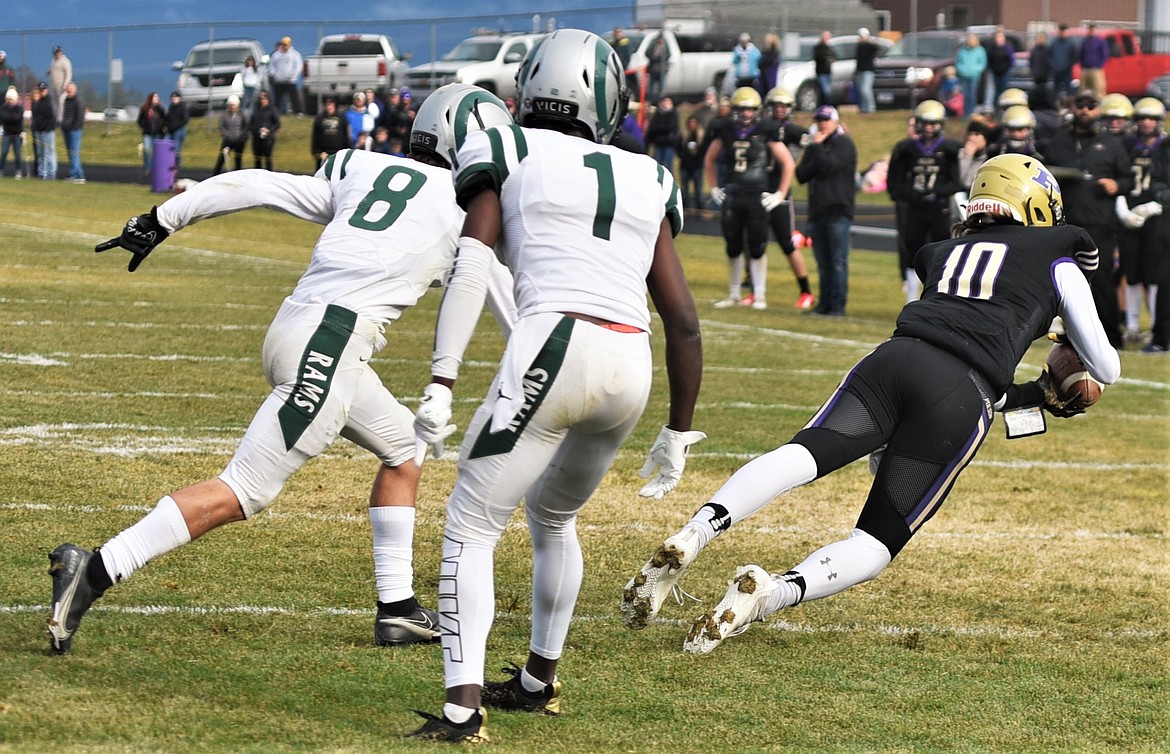 Polson receiver Colton Graham catches the first of his three touchdowns against Billings Central. (Scot Heisel/Lake County Leader)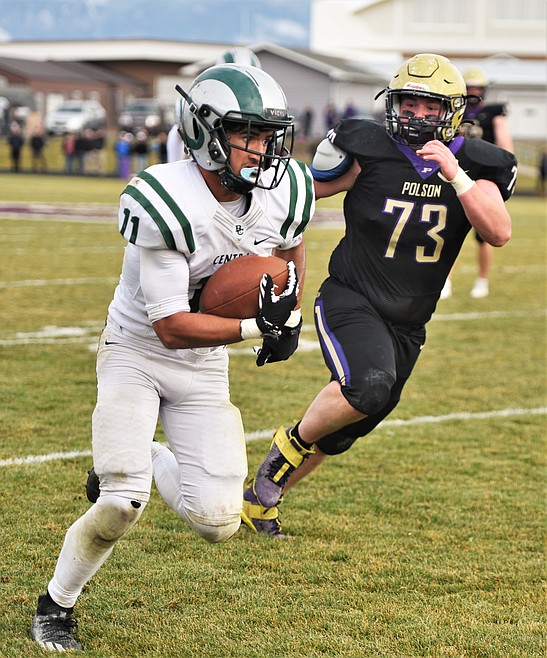 Pirates defensive lineman Aaron O'Roake chases down Rams running back Kade Boyd. (Scot Heisel/Lake County Leader)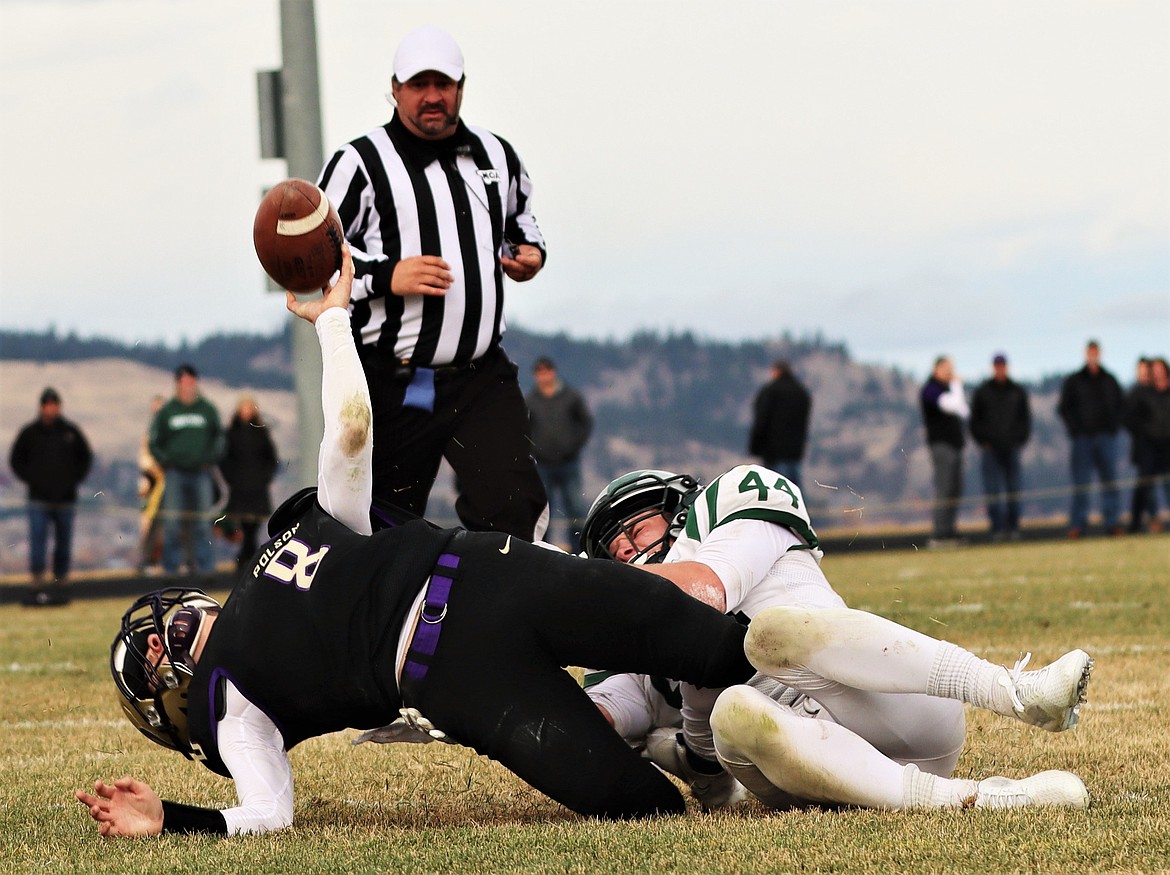 Jarrett Wilson tries unsuccessfully to get off a pass and avoid a sack against Billings Central. (Courtesy of Niki Graham)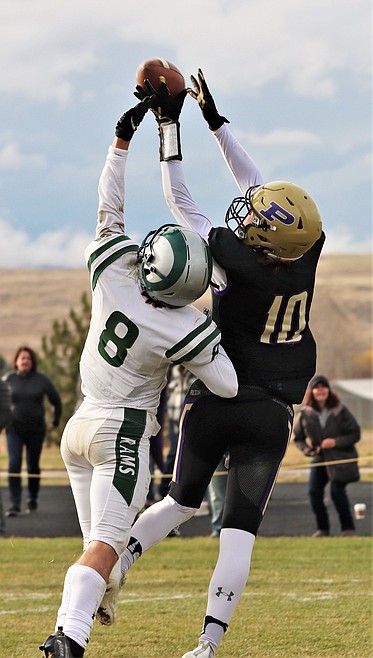 Polson receiver Colton Graham (10) pulls down a touchdown reception over Billings Central defender Travis Hadley. (Courtesy of Niki Graham)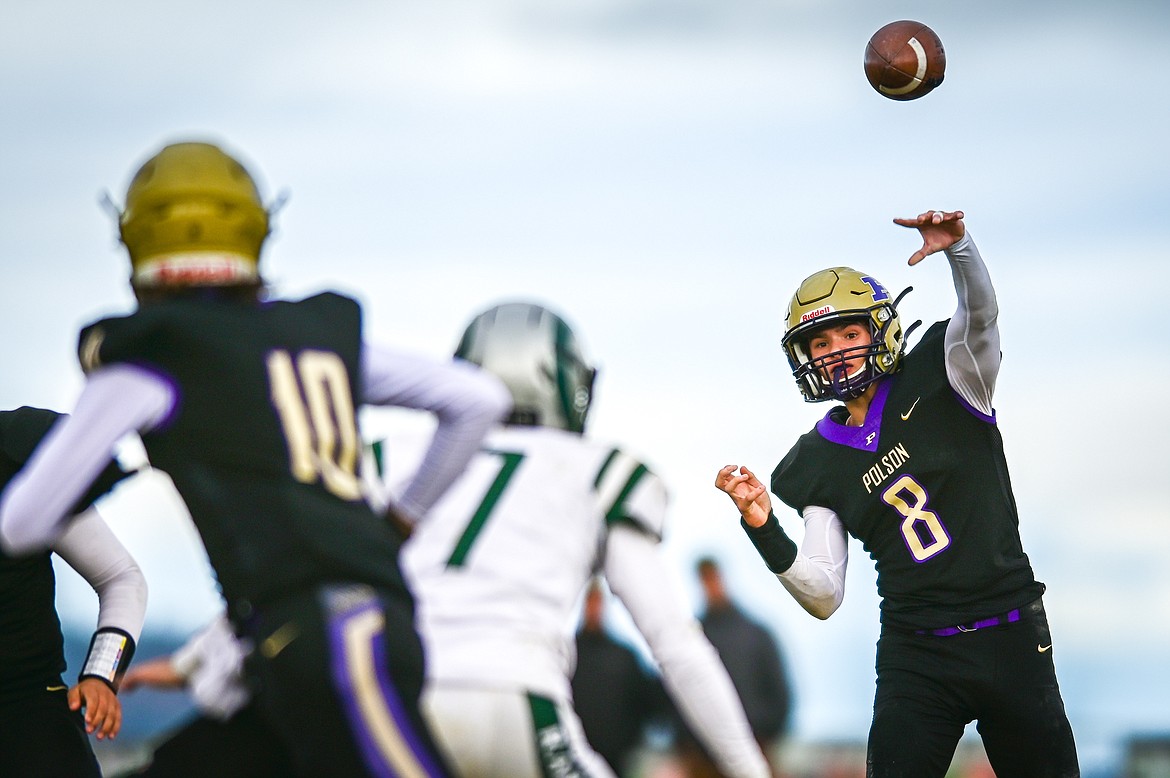 Jarrett Wilson passes to Colton Graham (10). (Casey Kreider/Daily Inter Lake)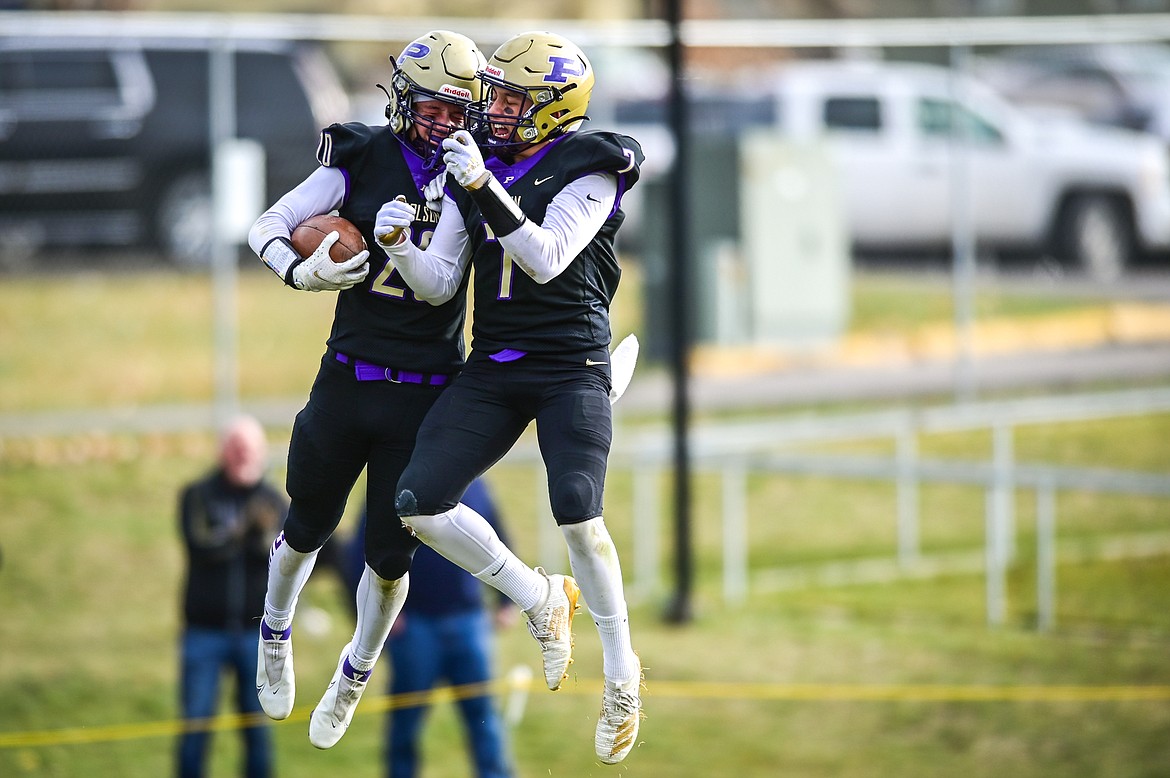 Xavier Fisher (20) and Alex Muzquiz (7) share a celebratory leap. (Casey Kreider/Daily Inter Lake)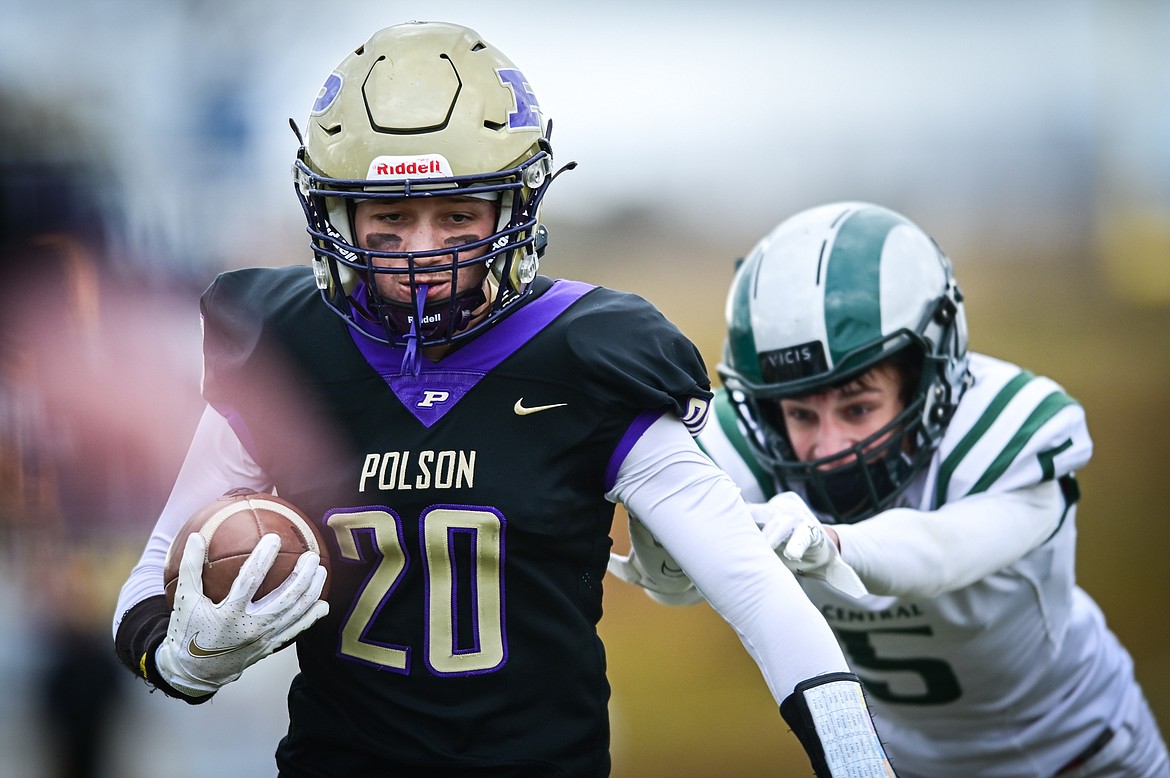 Xavier Fisher pulls away from a Billings Central defender. (Casey Kreider/Daily Inter Lake)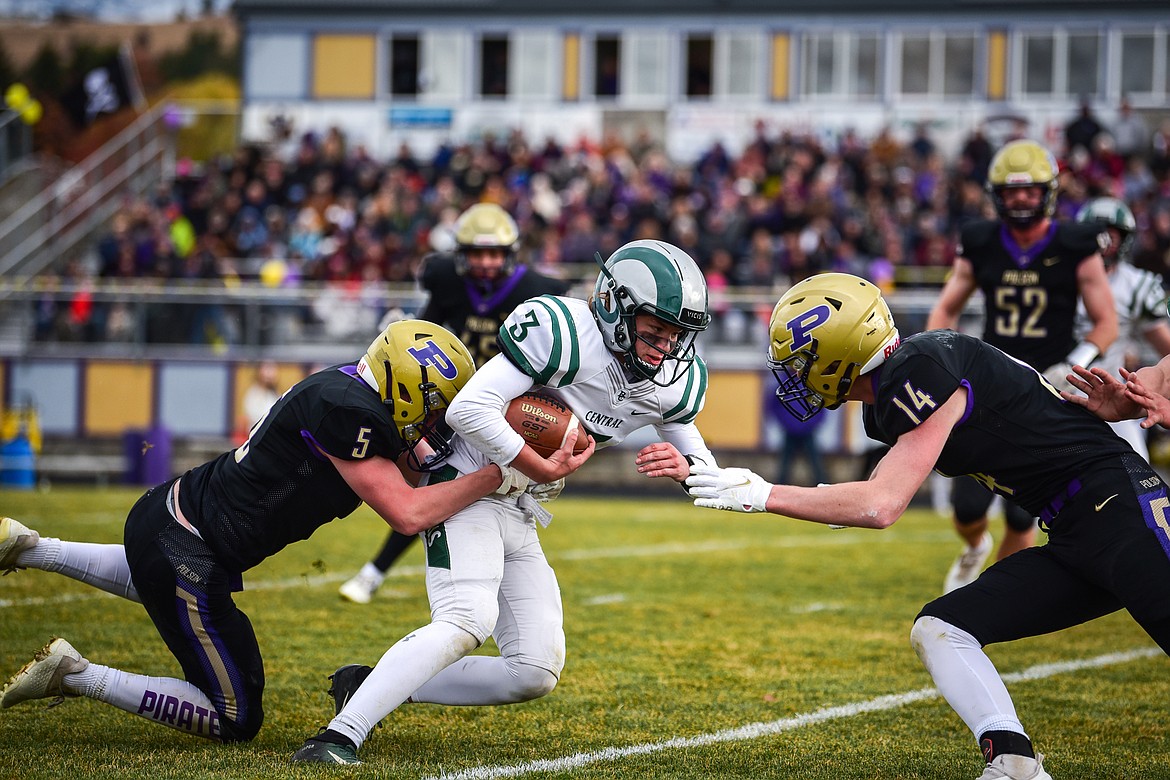 Trent Wilson (5) and Brock Henriksen take down Rams quarterback Adam Balkenbush. (Casey Kreider/Daily Inter Lake)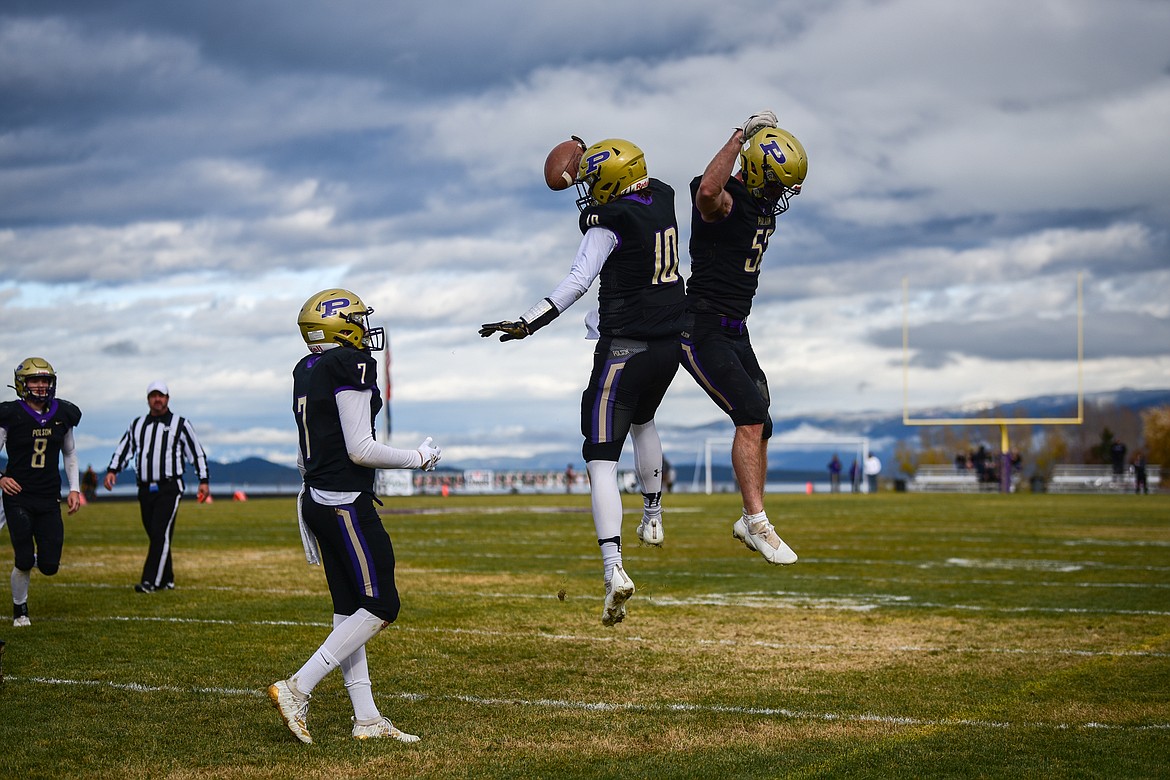 Colton Graham (10) and Braunson Henriksen jump in celebration beside Alex Muzquiz (7) after Polson a touchdown against Billings Central. (Casey Kreider/Daily Inter Lake)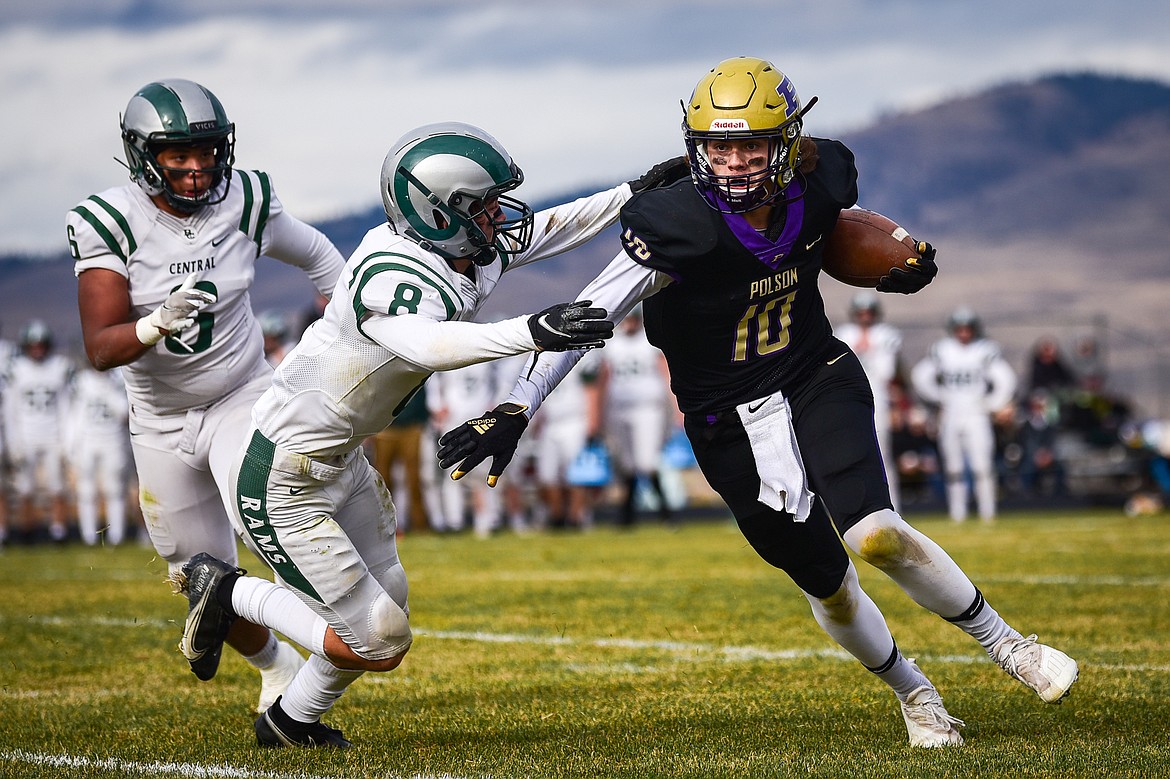 Colton Graham looks for running room as the Rams' Xavier Brackenridge (6) and Travis Hadley 98) give chase. (Casey Kreider/Daily Inter Lake)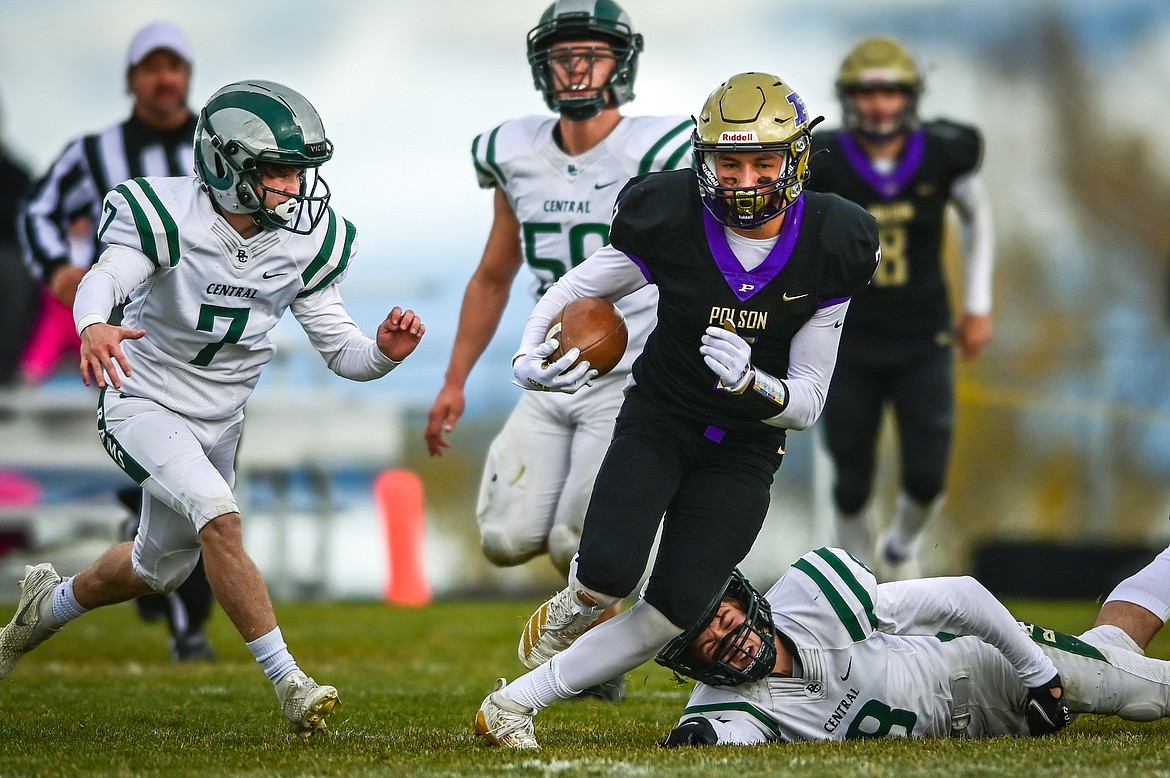 Alex Muzquiz carries the ball against Billings Central. (Casey Kreider/Daily Inter Lake)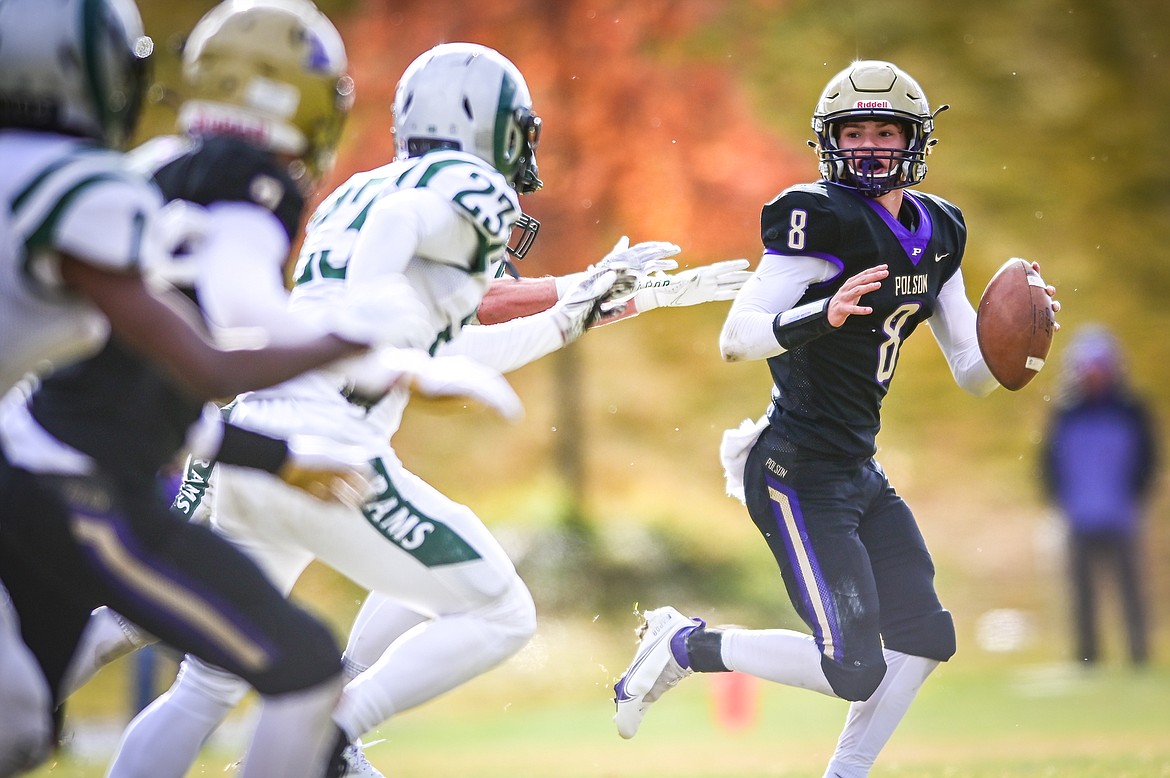 Quarterback Jarrett Wilson looks for an open receiver. (Casey Kreider/Daily Inter Lake)
Previous
Next
by
SCOT HEISEL
Lake County Leader
|
November 10, 2021 12:00 PM
The Polson Pirates are on the march, and after another convincing win Saturday afternoon at home, they're two tricky steps from a Class A state football title.
After beating up on the best teams from the West all season, Polson (10-0) controlled a top running attack from the East in the Billings Central Rams (7-3) and pulled away in the end for a 49-28 state quarterfinal victory. It was Polson's first playoff game in five years, and with the win they avenged a loss against the same team that eliminated them five years ago.
The No. 4 seed Pirates travel this week to visit another Billings-area school, the No. 1 seed Laurel Locomotives (9-0), for a 1 p.m. Saturday state semifinal. No. 3 Lewiston (8-1) visits No. 2 Hamilton (9-0) in the other semifinal.
Dual-threat junior quarterback Jarrett Wilson faced some of the toughest pressure from a defense he's seen all season but still managed to pass for 389 yards and six touchdowns on 42 attempts. He also rushed for 89 yards.
Receiver Colton Graham finished with 14 receptions for 202 yards and three TDs. Robert Perez had six catches for 47 yards and two scores, while Xavier Fisher pulled down seven passes for 90 yards and a score.
The Rams defense made a point of getting after Wilson early and often, and they caught up with him more times than he's used to. The pressure also likely contributed to a pair of interceptions from Wilson, the first of the season, to go with 47 touchdowns.
"I'm sore," Wilson said after the game. "They hit hard, they play hard."
While the offense once again put up eye-popping numbers, the defense managed to corral the dual rushing attack of Clay Oven and Kade Boyd. The Rams rushed for 235 yards on 48 carries, 206 from Boyd, but they didn't score a rushing touchdown until Boyd's 1-yard plunge in the fourth quarter. The Rams' other three scores were on passes of 34, 20 and 22 yards by Adam Balkenbush, when Polson's run-focused defense was caught off guard.
Wilson showed his versatility on defense, particularly when he stripped the ball from Boyd, who was bottled up by other Polson defenders, and took the ball 53 yards for a defensive score.
"I took it right from him." Wilson said. "Someone else hit him, and then I just pulled the ball out. I almost fell over. I wasn't even sure if I was going to get the ball and it kind of caught me by surprise."
Polson led 35-14 on two Wilson TD passes barely over a minute apart. Polson scored on the first possession of the second half on a short TD pass to Perez, at 10:50 of the third quarter. They then completed an onside kick that was recovered by the Pirates' Brock Henriksen.
That set up another Perez TD catch, covering 22 yards at the 9:29 mark.
"We know that we've got to steal possessions," said head coach Kaden Glinsmann, who tried an onside kick in the first half as well (Central recovered, but eventually gave up the ball on downs). "Teams, shoot — Libby, Ronan, every team that we play wants to bleed the clock. They don't want our offense on the field. That's part of our identity; we have to do it."
"It was intense," senior lineman Braunson Henriksen said. "It definitely wasn't our best game, but we came out on top so I'm proud of our boys for coming out and performing."
The Rams frequently ran the ball to the outside, and they had a lot of success there despite not finding the end zone much on the ground. Laurel figures to offer the same challenge to the Pirates defense on Saturday.
"They're a run-heavy team, and they're pretty much wishbone and try to run outside," Henriksen said of Laurel. "If we can stop that, we should be good."
Polson 49, Billings Central 28
BC — 7 - 7 - 7 - 7 – 28
POL — 7 - 14 - 14 - 14 – 49
BC – Preston Hubley 34 pass from Adam Balkenbush (Myles Ragar kick)
P – Colton Graham 40 pass from Jarrett Wilson (Kaden Nelson kick)
P – Wilson 53 fumble return (pass incomplete)
BC – Hubley 20 pass from Balkenbush (Ragar kick)
P – Graham 2 pass from Wilson (Robert Perez pass from Wilson)
P – Perez 2 pass from Wilson (kick wide)
P – Perez 22 pass from Wilson (Graham pass from Wilson)
BC – AJ Ulrichs 22 pass from Balkenbush (Ragar kick)
BC – Kade Boyd 1 run (Ragar kick)
P – Xavier Fisher 47 pass from Wilson (Nelson kick)
P – Graham 13 pass from Wilson (Nelson kick)
RUSH – BC 48-235 (Boyd 24-206, Oven 9-23, Balkenbush 14-7, Hubley 1-(-1), P 22-85 (Wilson 20-89, Fisher 1-1, Muzquiz 1-(-5). PASS – BC (Balkenbush 15-19-261-1), P (Wilson 30-42-389-2). RECEIVE – BC 15-261 (Doyle 3-69, Urlichs 4-66, Hubley 2-55, Boyd 3-36, Oven 2-22), P 31-389 (Graham 14-202, Fisher 7-90, Perez 6-74, Muzquiz 3-23). INT – BC 2 (Lennan 2), P1 (Fisher) FF – P2 (Wilson, DuMont). FR – P3 (Keyen Nash, Wilson, Jordan). SK – P2 (Braunson Henriksen, O'Roake).
---