Lady Pirates ace divisionals, turn to state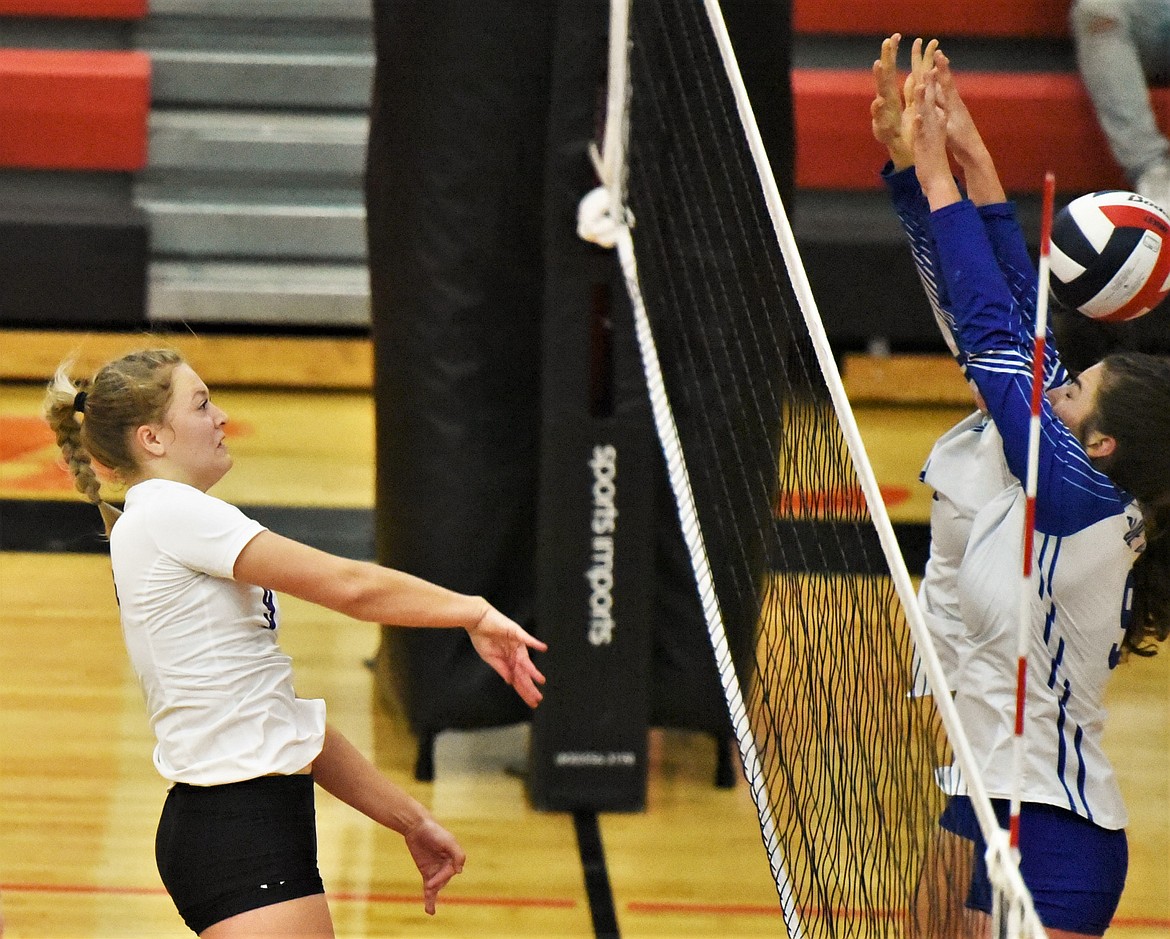 Clara Todd fires a shot past the Corvallis front line during the Western A undefeated semifinal match. (Scot Heisel/Lake County Leader)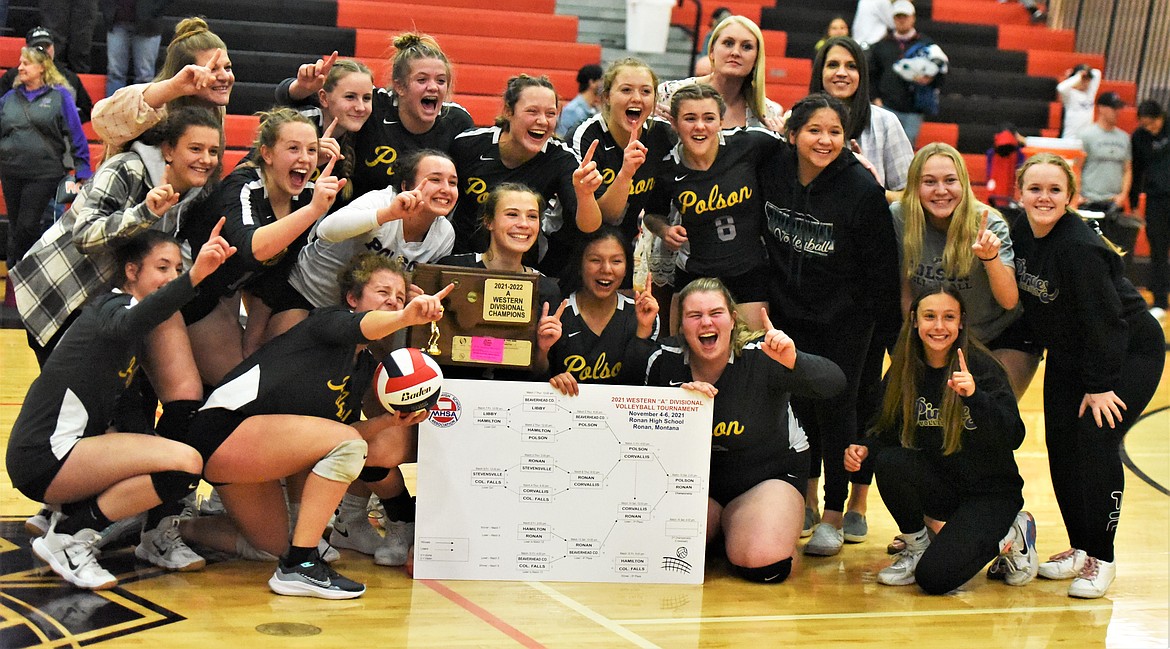 Front, from left: Nikki Kendall, Camila Foresti (holding ball), Liz Tolley (holding plaque), Turquoise Pierre, Kamdyn Burrough, manager Samantha Rensvold; Middle: manager Mary Agliano, Grace Simonich, Julia Barnard, Mckenna Hanson, Clara Todd, Lucy Violett (8), managers Tianna Walker and Carli Maley, Caitlyn Ward; Back: assistant coach Bonnie Klein, Hannah Simpson, Avery Starr, assistant coach Mariah Newell, head coach Lizzy Cox. (Scot Heisel/Lake County Leader)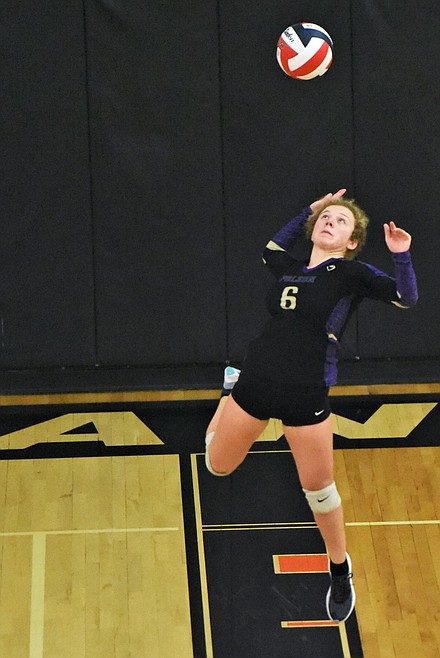 Polson's Camilla Foresti fires off a serve against Hamilton. (Scot Heisel/Lake County Leader)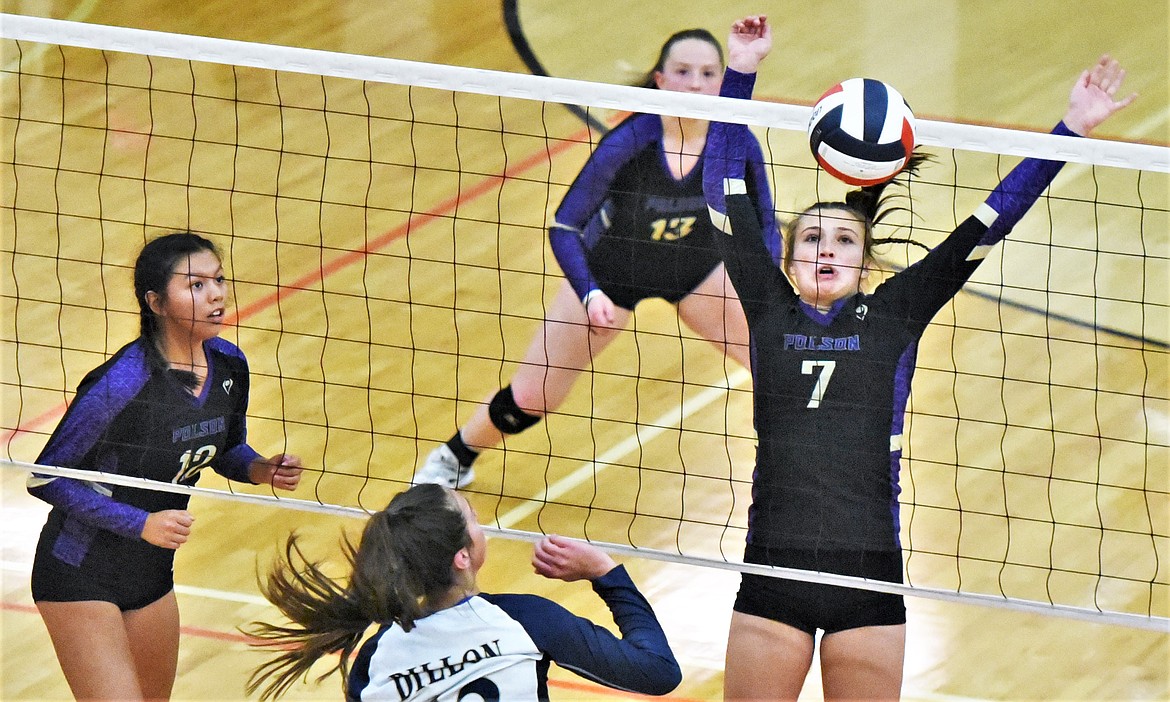 Polson senior Liz Tolley (7) gets the block for match point against Dillon as teammates Turquoise Pierre (12) and Grace Simonich watch. (Scot Heisel/Lake County Leader)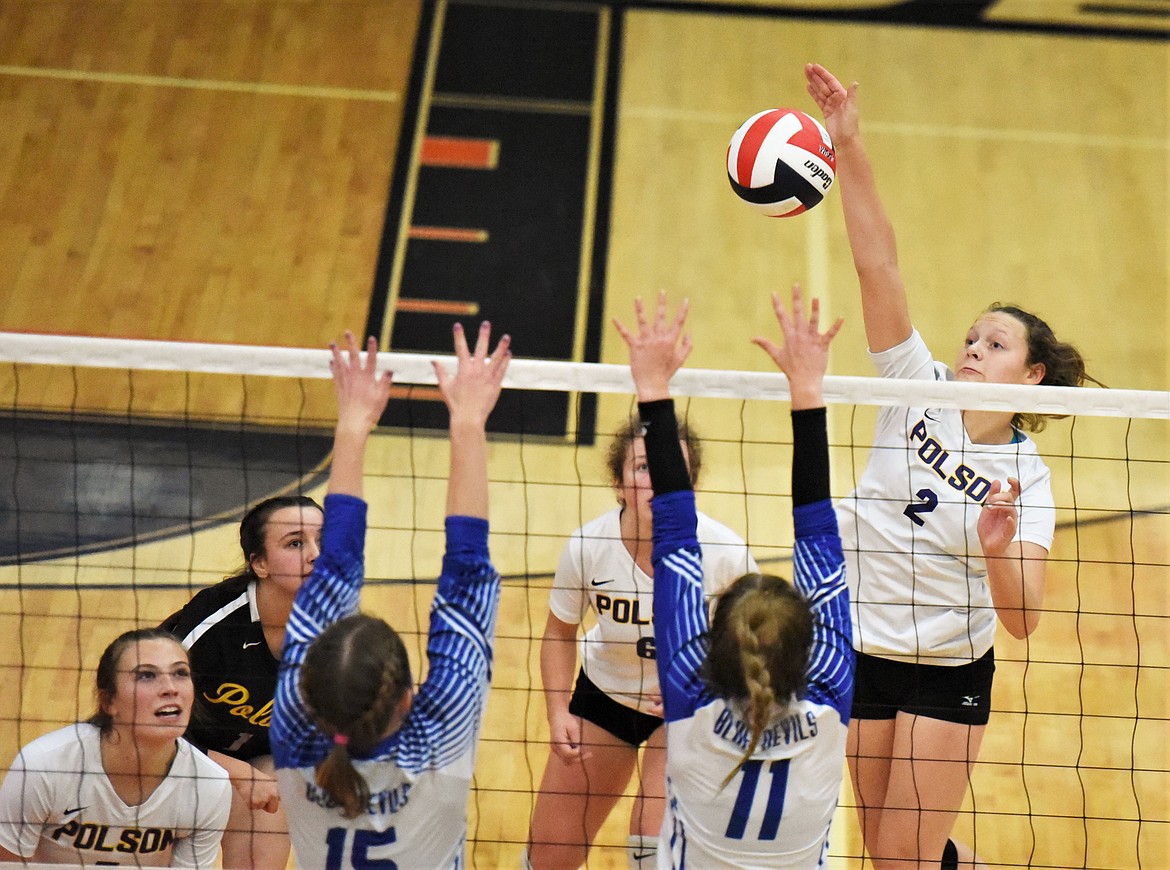 Polson's Mckenna Hanson fires off a shot against Corvallis. (Scot Heisel/Lake County Leader)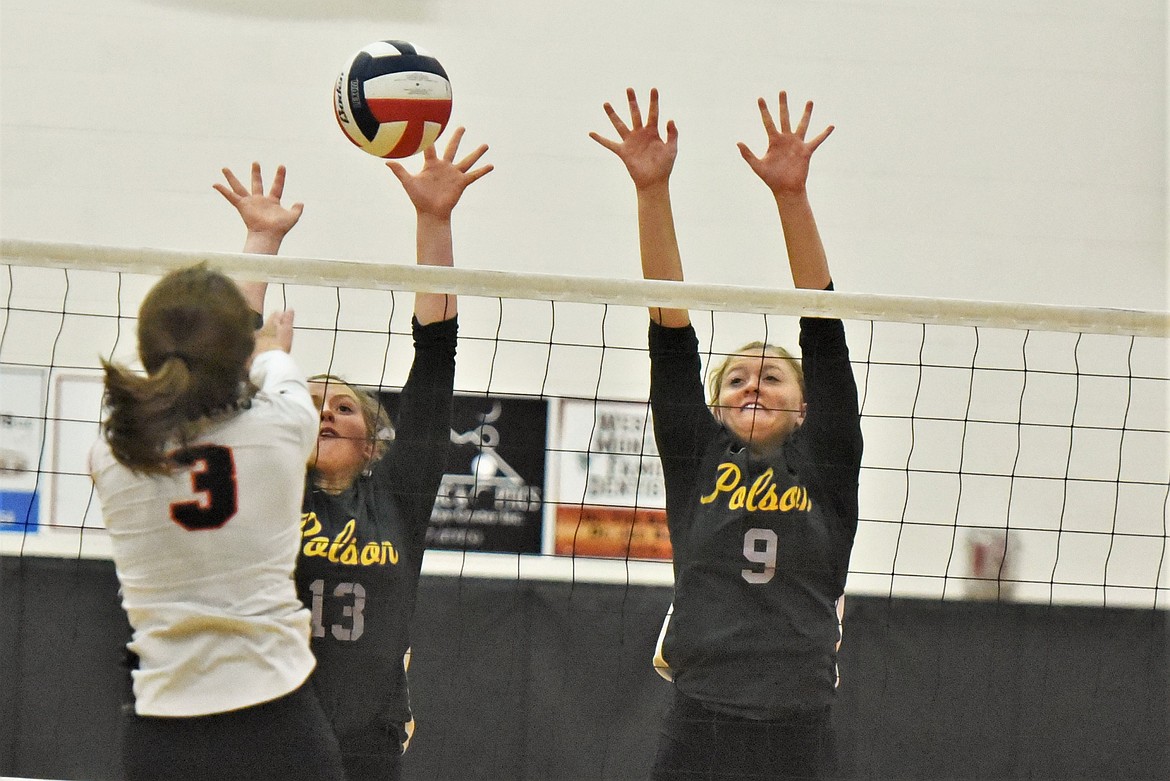 Clara Todd and Grace Simonich defend against a shot by Ronan's Olivia Clairmont the in second Western A championship match. (Scot Heisel/Lake County Leader)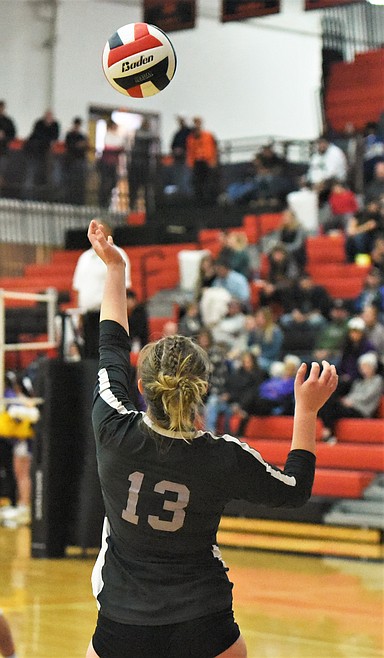 Polson's Grace Simonich launches a serve against Ronan. (Scot Heisel/Lake County Leader)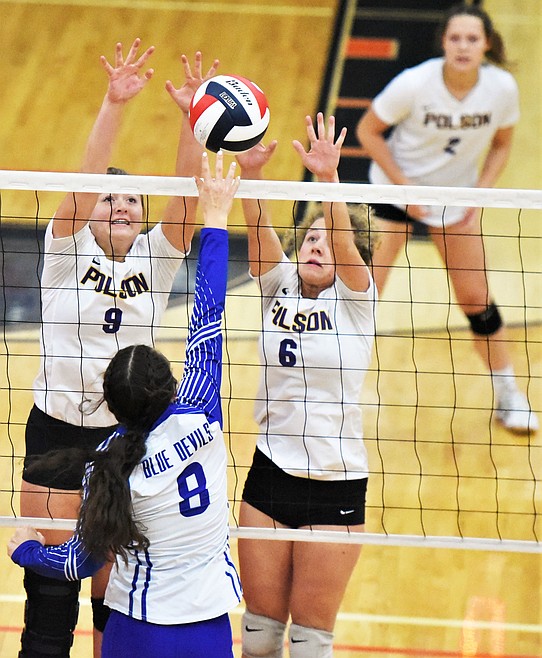 Clara Todd (9) and Camilla Foresti (6) rise to block a shot by Olivia Lewis of Corvallis. (Scot Heisel/Lake County Leader)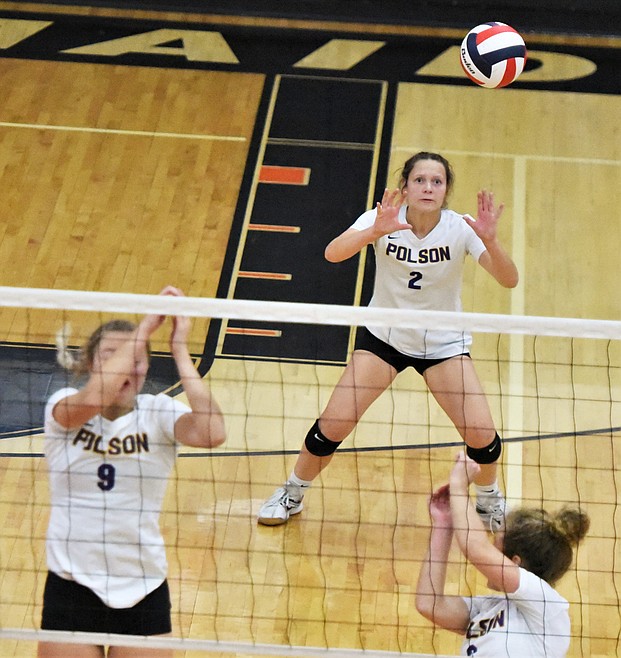 Mckenna Hanson (2) prepares to set the ball from the back line against Corvallis. (Scot Heisel/Lake County Leader)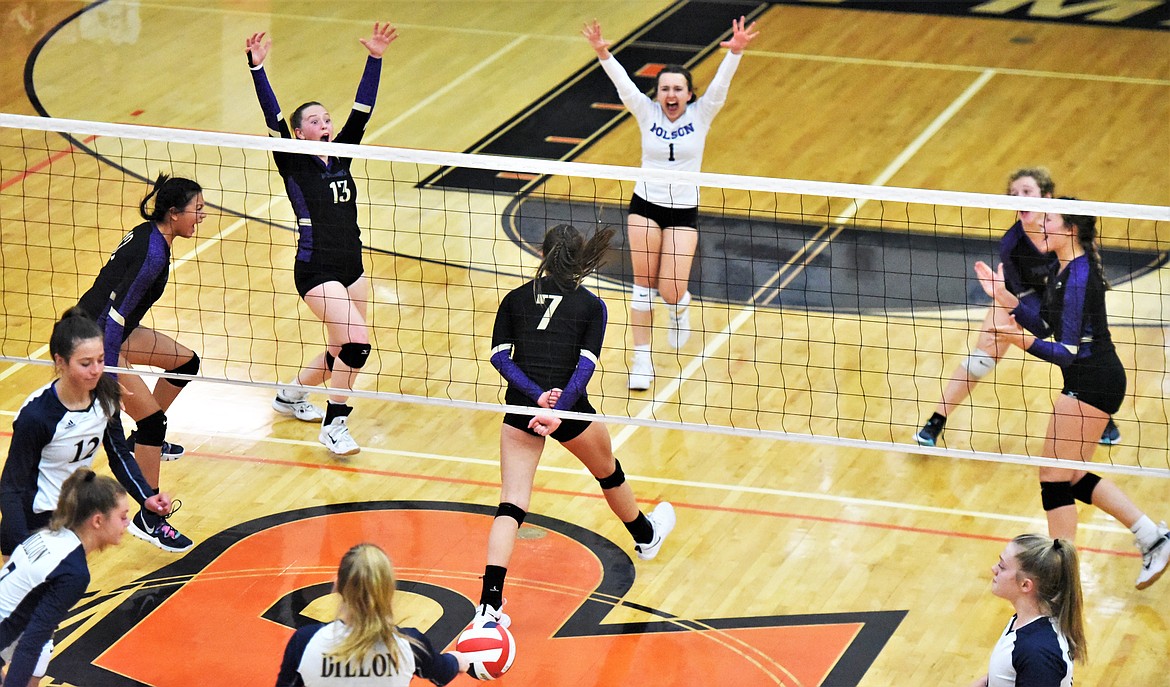 Polson players celebrate after completing a sweep of Dillon on Thursday at Ronan. (Scot Heisel/Lake County Leader)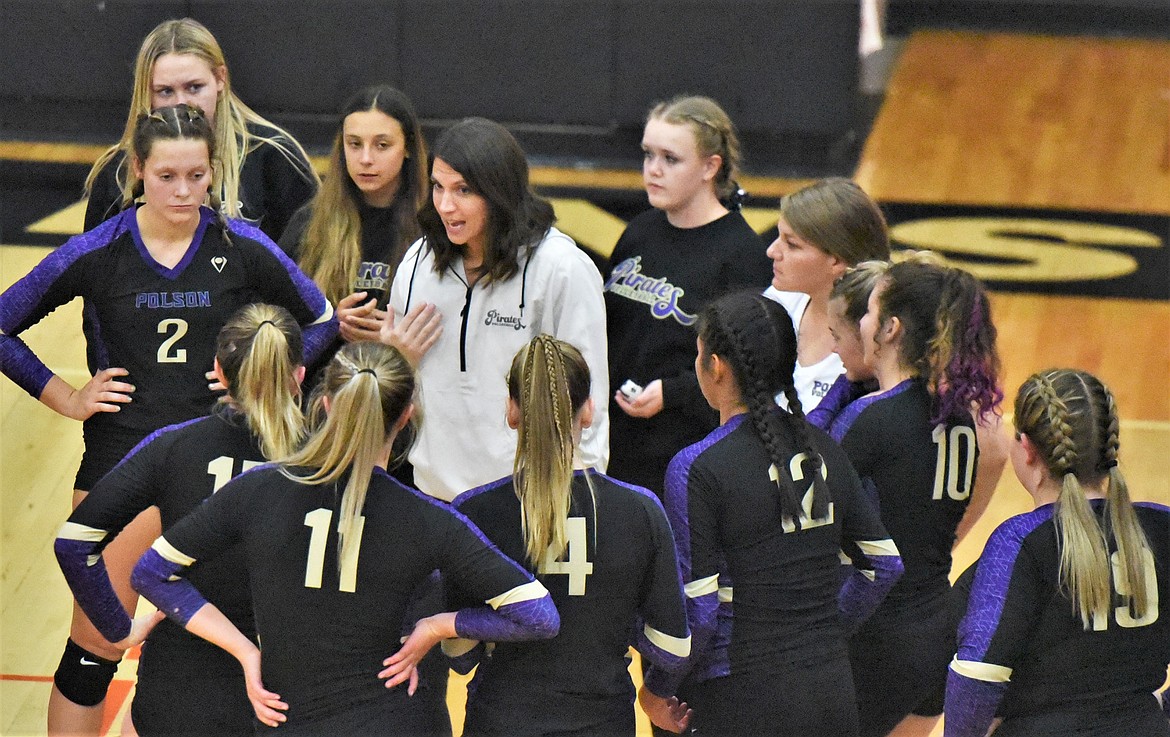 Polson head coach Lizzy Cox talks with her players during the Western A district tournament at Ronan. (Scot Heisel/Lake County Leader)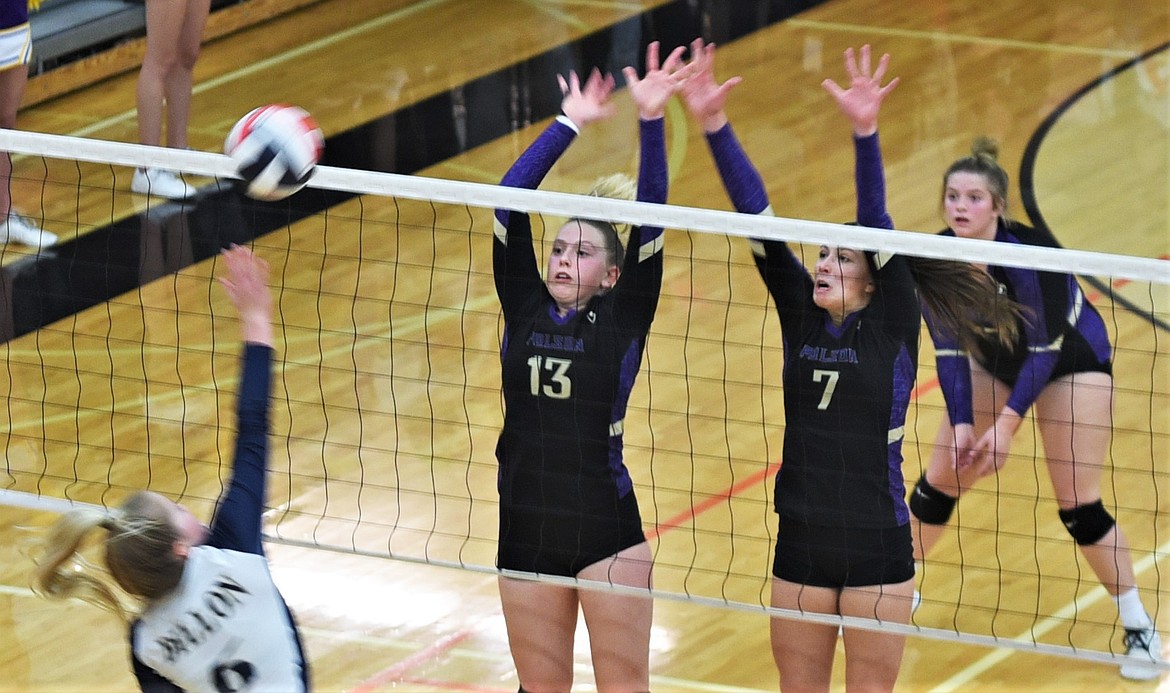 Grace Simonich (13) and Liz Tolley (7) go up to block a shot against Dillon on Thursday as teammate Avery Starr prepares to defend. (Scot Heisel/Lake County Leader)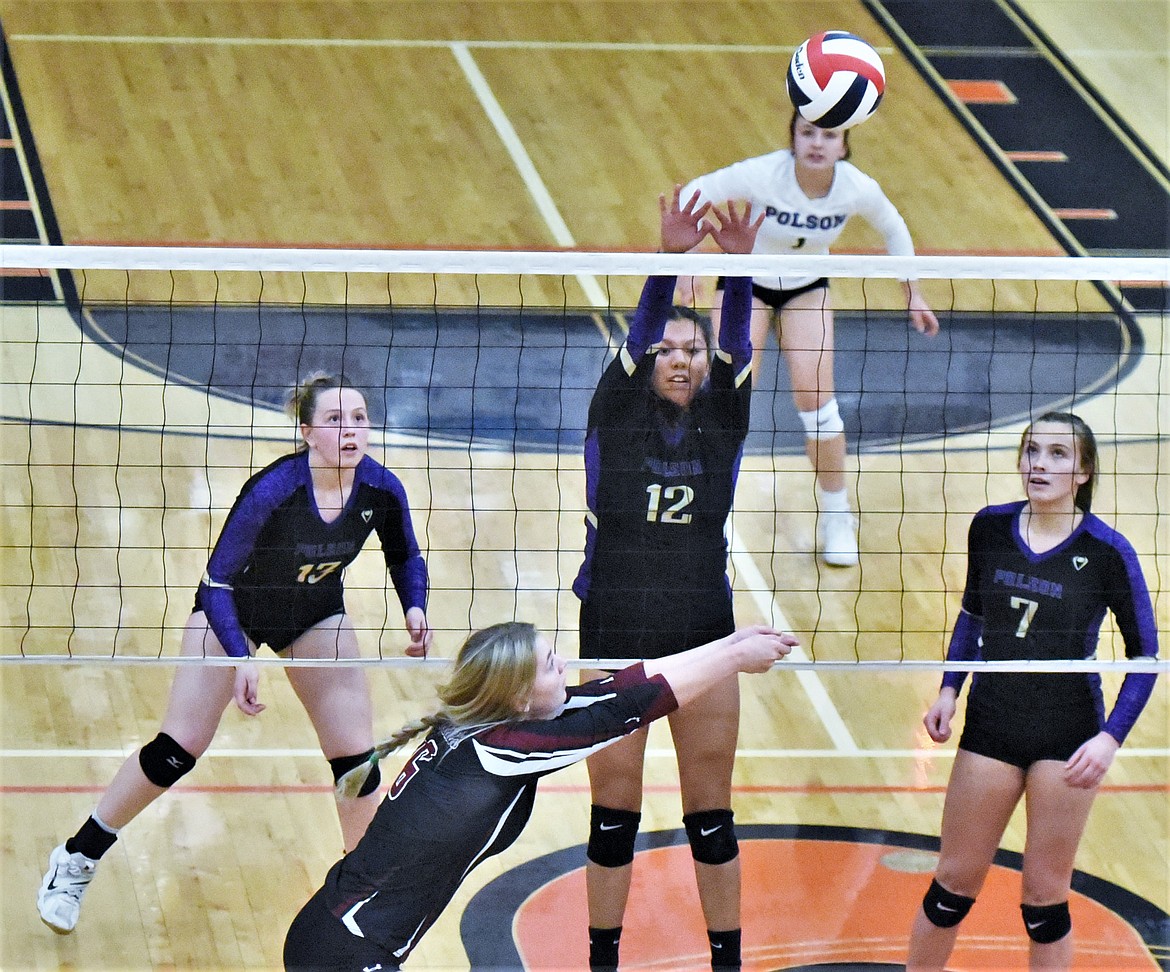 Polson senior Turquoise Pierre rises to defend a shot against Hamilton on Thursday while surrounded by teammates Grace Simonich (13), Julia Barnard (1) and Liz Tolley (7). (Scot Heisel/Lake County Leader)
Previous
Next
by
SCOT HEISEL
Lake County Leader
|
November 10, 2021 10:00 AM
The Lady Pirates volleyball team has been surprising onlookers, and often themselves, all season.
After claiming a district title on Saturday at Ronan, they are the team to beat from the West as the Class A state tournament opens Thursday in Bozeman.
Polson (16-2) enters as a No. 1 seed and will face either Hamilton or Miles City at 4 p.m.
Things got off to a rocky start at divisionals Thursday, when they lost the first set of their opener against Hamilton. Anyone who took it as a sign of weakness, however, was mistaken.
Liz Tolley and Mckenna Hanson had 10 kills each, and Camilla Foresti contributed eight kills and eight aces as Polson took the second set 25-12 and wrapped up a 4-1 victory.
In their second match Friday, they faced Southwest No. 2 seed Dillon and opened with an decisive 25-11 win in the first. They trailed 24-21 in the second set, but surged late to win 27-25.
Polson then trailed 22-14 in the third set before pulling off a stunning 11-1 run to close out the match.
The win propelled the Lady Pirates into the undefeated semifinal Friday night against the only team that had beaten them all season. Corvallis had visited Polson on Sept. 4 and won in straight sets. But a lot had changed since then, and the Lady Pirates had evolved into a more confident and capable force.
Foresti, a foreign exchange student from Italy, had 14 kills against the Blue Devils on Friday, while Tolley and Clara Todd added 10 kills each, as Polson avenged the loss with an impressive 25-17, 31-29, 25-23 sweep.
The second set was among the best of the tournament. The score was tied at 23, then 24, 25, 26, 27, 28 and 29. An ace from Avery Starr put Polson up 30-29, and Todd put the set away with a kill.
"There's a saying that I like," Polson coach Lizzy Cox said after the Corvallis match. "Little by little, a little makes a lot. We have to do the little things. … Like always looking to next ball, what's next."
"We graduated so many seniors last year. I think a lot of people counted us out … but there's something special about these girls."
With an undefeated run through divisionals in sight, Polson rested up Saturday for the 2 p.m. championship match while rival Ronan, with a loss on Thursday, had to win matches Saturday against Hamilton (10 a.m.) and Dillon (noon) for a chance at the title.
The Maidens forced a second championship match with a five-set victory and took the first set of the second championship match.
The Lady Pirates took over from there. They won the second set 25-15. Though they trailed late in the third and fourth sets, much like the Corvallis match, the Lady Pirates slammed the door in the end.
"It was back and forth," Cox said of the first match against Ronan. "In the end, they took it. It was close. They played amazing. They brought it to the very end. Kudos to that team."
Tolley admitted her team struggled to find its groove in the first match.
"It was hard because we kept making small mistakes, but we just kept talking about it and working on things."
In the end, it was Polson's players hoisting the first-place plaque.
"Ronan definitely came ready to play," Tolley said. "It was a tough match. But we wanted it. We put our hearts into it."
2nd championship: Polson def. Ronan 24-26, 25-15, 25-22, 25-23
KILLS – P52 (Liz Tolley 16, Camila Foresti 15, Mckenna Hanson 10, Clara Todd 8, Starr 2, Simonich), R34 (Rylie Lindquist 13). ACES – P8 (Kamdyn Burrough 2, Tolley 2, Foresti 2, Hanson, Starr), R5 (LaReina Cordova 2, Claire Crist 2). ASSISTS – P46 (Avery Starr 37, Simonich 6, Foresti 2), R30 (Leina Ulutoa 27). BLOCKS – P5 (Tolley 3, C.Todd 2), R6 (Olivia Clairmont 4½). DIGS – P65 (Foresti 18, Hanson 13, Tolley 11, Grace Simonich 8, Starr 6, Julia Barnard 6, Burrough 3), R80 (L.Cordova 20). (
1st championship: Ronan def. Polson 25-17, 19-25, 25-20, 14-25, 15-12
KILLS – P56 (Camila Foresti 17, Mckenna Hanson 15, Liz Tolley 13, Clara Todd 5, Simonich 4, Lucy Violett, T.Pierre), R36 (LaReina Cordova 15). ACES – P8 (Foresti 4, Tolley 3, Hanson), R2 (L.Cordova, L.Ulutoa). ASSISTS – P53 (Avery Starr 28, Grace Simonich 23, C.Todd, Foresti), R30 (Leina Ulutoa 28). BLOCKS – P6 (Turquoise Pierre 2, Tolley 2, Foresti, Violett), R10 (L.Ulutoa 4). DIGS – P75 (Foresti 19, Tolley 19, Hanson 11, Julia Barnard 10, Simonich 7, Starr 5, C.Todd 4), R99 (Rylie Lindquist 30).
Undefeated semifinal: Polson def. Corvallis 25-17, 31-29, 25-23
KILLS – C30 (Madeline Gilder 15), P44 (Camila Foresti 14, Liz Tolley 10, Clara Todd 10, Mckenna Hanson 7, Simonich 3). ACES – C7 (Paige Colaprete 2, Hailey Anderson, Olivia Lewis, Sorensen, Gilder, T.Lewis), P9 (Avery Starr 3, Foresti 2, C.Todd 2, Hanson, Simonich). ASSISTS – C27 (Tahnee Lewis 16, Colaprete ), P39 (Starr 21, Grace Simonich 15, T.Pierre 2, C.Todd). BLOCKS – C6 (Tylin Sorensen 4, Olivia Lewis ), P3 (Tolley 1bs1ba, Turquoise Pierre 2ba, C.Todd 1ba). DIGS – C69 (Gilder 16, Jessica Saturday 12), P57 (Tolley 13, Foresti 10, Hanson 10, Starr 9, Simonich 6, Julia Barnard 4, Turquoise Pierre 3, Clara Todd 2).
Polson def. Dillon 25-11, 27-25, 25-23
KILLS – D20 (Evey Hansen 5, A.Shipman 5, Zoey Morast 3, Jordan Walker 2, L.Petersen 2, Sage Hansen 2, K.Konen), P35 (Mckenna Hanson 11, Tolley 10, Camila Foresti 6, Simonich 5, Turquoise Pierre 2, Clara Todd) ACES – D6 (Ainsley Shipman 3, Leila Stennerson, Emily Matamoros, S.Hansen), P11 (Grace Simonich 5, Starr 3, Tolley 2, Hanson). ASSISTS – D16 (Lauryn Petersen 8, Stennerson 5, Walker, S.Hansen, Grayson Morstein), P33 (Grace Simonich 17, Avery Starr 11, C.Todd 2, Tolley, Hanson, Foresti). BLOCKS – D2 (Kylie Konen, Morast), P5 (Liz Tolley 5). DIGS – C44 (Matamoros 9, A.Shipman 8, Stennerson 6, Walker 4, S.Hansen 4, Morstein 4, E.Hansen 4, L.Petersen 2, Sydney Petersen 2, Konen), P53 (Grace Simonich 13, Tolley 9, Starr 8, Foresti 6, Julia Barnard 6, Hanson 5, C.Todd 3, Kamdyn Burrough 2, T.Pierre).
Polson def. Hamilton 22-25, 25-12, 25-17, 25-22
KILLS – H25 (Layne Kearns 10, Mya Winkler 9), P41 (Liz Tolley 10, Mckenna Hanson 10, Foresti 8, C.Todd 6, Hannah Simpson 4, Simonich, Starr, T.Pierre) ACES – H11(Kearns 4), P21 (Camila Foresti 8, Starr 5, Tolley 4, Kamdyn Burrough 2, Hanson, Simonich). ASSISTS – H21 (Taryn Searle 20), P36 (Avery Starr 26, Grace Simonich 7, Hanson 2, Foresti). BLOCKS – H3 (Kearns 2), P5 (Clara Todd 2bs, Tolley 1bs1ba, Burrough 1bs, Turquoise Pierre 1ba). DIGS – H62 (Guisinger 17, Kearns 15), P62 (Camila Foresti 17, Tolley 11, Julia Barnard 11, Hanson 10, Starr 7, Simonich 5, T.Pierre).
Recent Headlines
---