Maidens make an early exit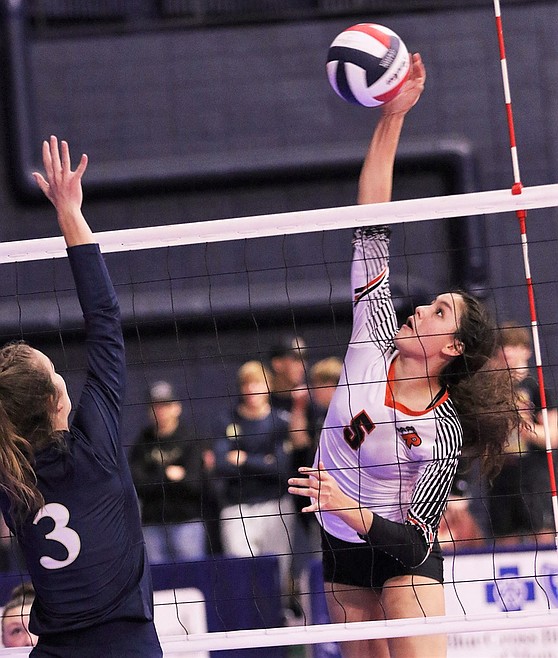 Ronan's LaReina Cordova hits a shot against Havre. (Courtesy of Bob Gunderson)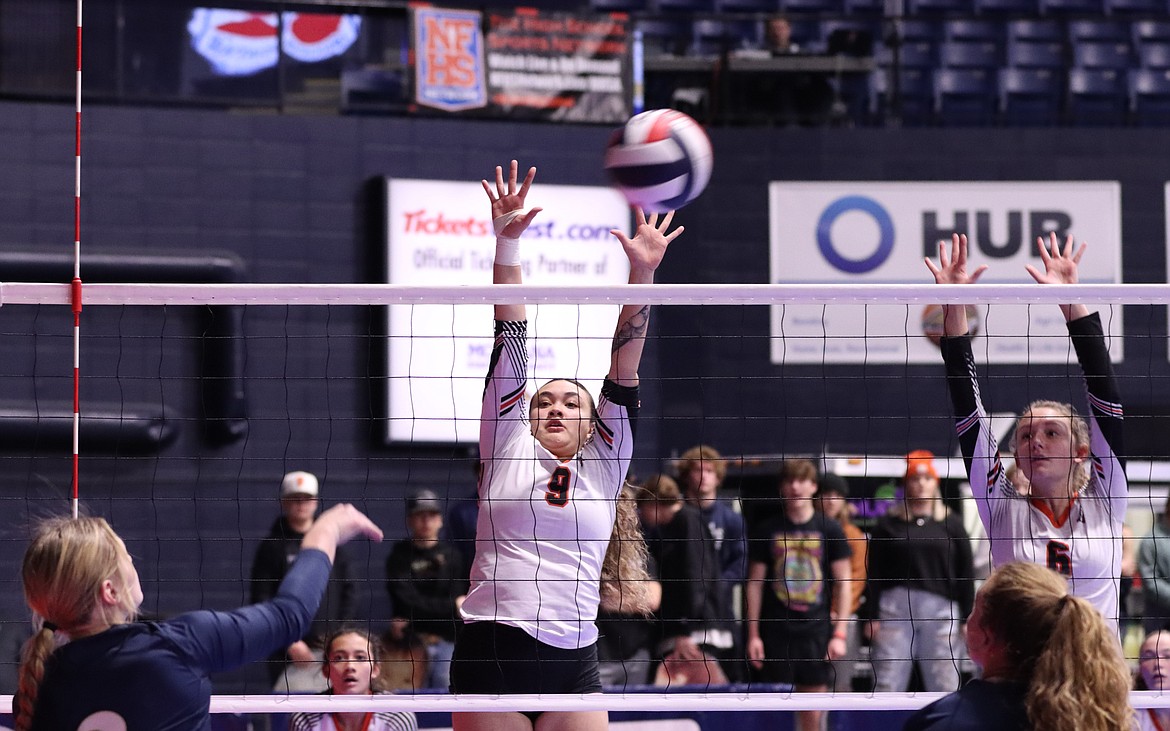 Kylie Fetui (9) and Claire Crist (6) rise to defend against Havre.(Courtesy of Niki Graham)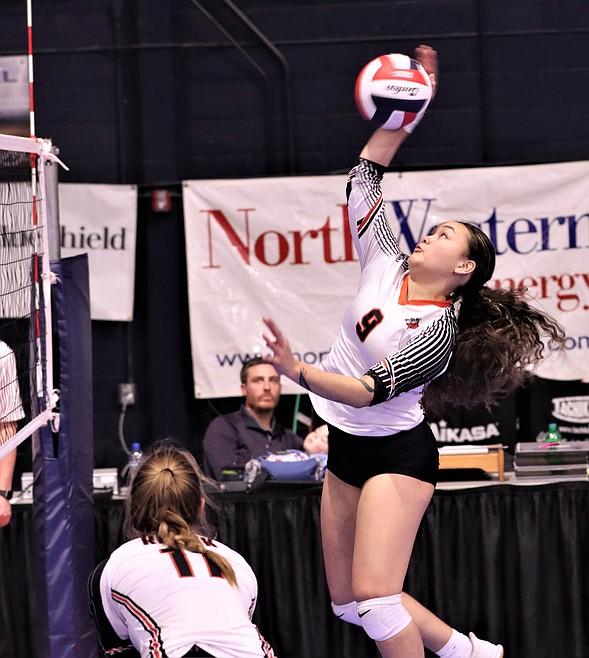 Ronan's Kylie Fetui hits a shot next to teammate Jaslyn Frost. (Courtesy of Niki Graham)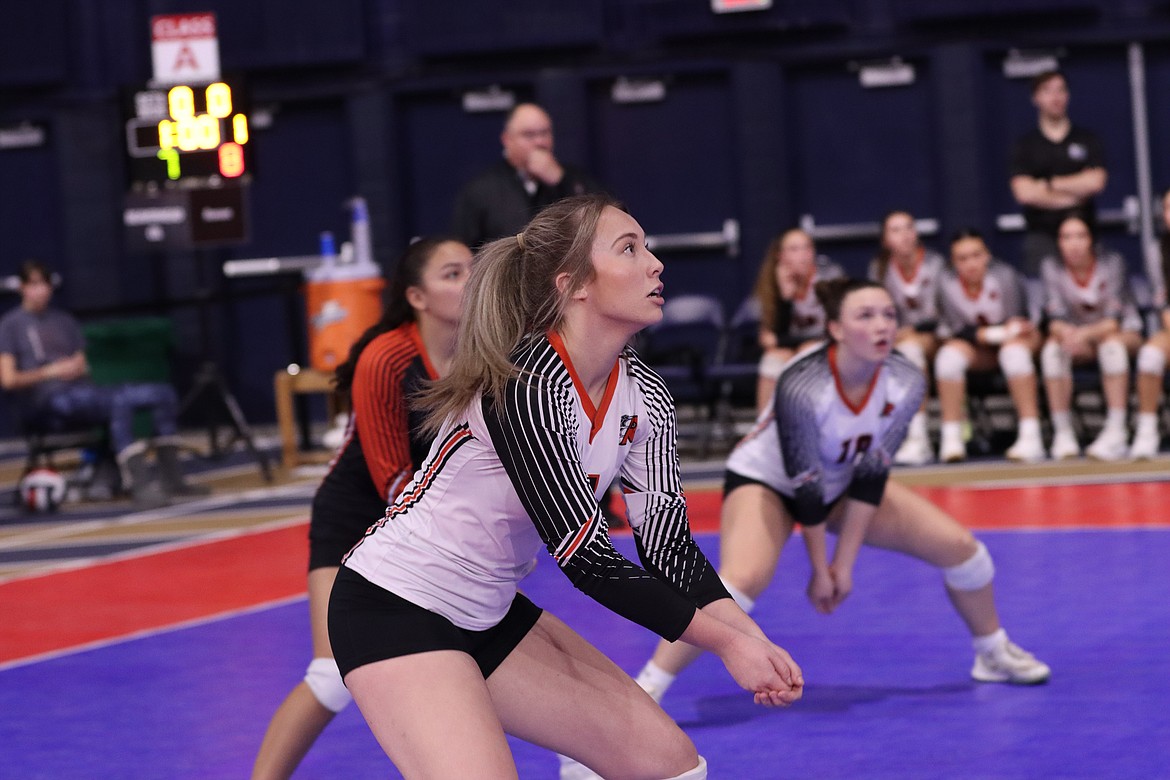 Ronan's Hannah Rowe, foreground, Margaret Cordova, left and Riley Lindquist prepare to defend. (Courtesy of Niki Graham)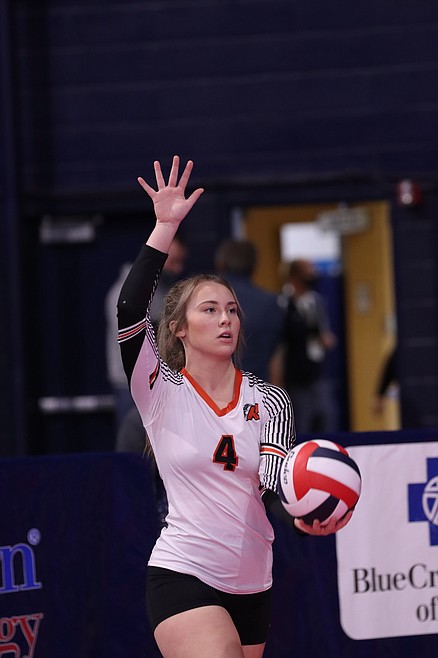 Senior Hannah Rowe serves during a match at state. (Courtesy of Niki Graham)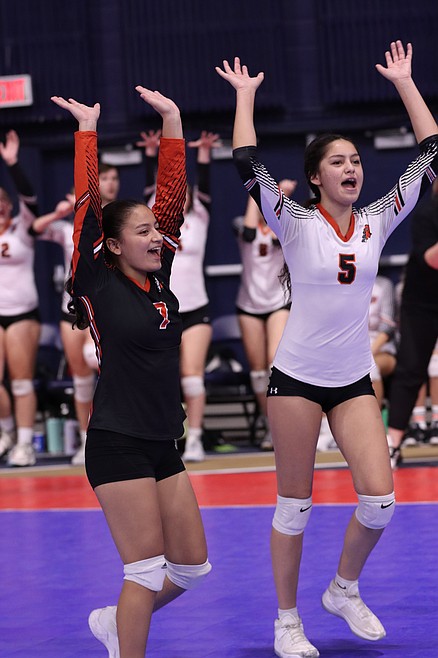 Margaret Cordova (7) and LaReina Cordova (7) celebrate a point at state. (Courtesy of Niki Graham)
Previous
Next
by
SCOT HEISEL
Lake County Leader
|
November 16, 2021 2:00 PM
Though the ending was sour, the Maidens volleyball team enjoyed another sweet season.
In 2020, Ronan reached the state tournament for the first time in nearly 20 years and eliminated rival Polson from state before bowing out.
They followed that with a return to state as the No. 2 seed out of the West last weekend in Bozeman.
While they finished with a much better record of 17-6 this season, the results at state were nowhere near what they had hoped for.
The Maidens opened with a three-set 25-16, 25-17, 25-14 loss to Havre on Thursday. The victory served as a launching pad for the Blue Ponies, who vaulted to the championship match as the No. 3 seed from the East and finished second to defending champion Billings Central.
This year's Maidens were accustomed to bouncing back. The previous weekend they had played four matches on Saturday at the divisional tournament on their home court. They handed Polson its second loss of the season in the first championship match, a five setter, before settling for a No. 2 seed with a four-set loss in the second championship match.
That resilience was lost in Bozeman, however. Facing Dillon in a loser-out match Saturday, they again lost in straight sets, 25-17, 25-19, 25-19, against a team they had handled during the regular season.
Senior LaReina Cordova led Ronan with six kills Friday and eight Saturday. Fellow senior Rylie Lindquist also had eight kills against Dillon, along with two aces and 16 digs.
Junior Leina had 16 of her team's 20 assists Saturday, and had seven Friday.
Dillon def. Ronan 25-17, 25-19, 25-19
KILLS – R-23 (Rylie Lindquist 8, LaReina Cordova 8); D-28 (Shipman 6, Petersen 5). ACES – R-2 (Lindquist 2); D-12 (Shipman 4, Hansen 3). ASSISTS – R-20 (Leina Ulutoa 16); D-20 (Stenersen 8, Petersen 8). BLOCKS – R-7 (Olivia Clairmont 4); D-3 (Hansen 2, Konen). DIGS – R-61 (Lindquist 16); D-43 (Matamoros 16, Stennerson 6).
Havre def. Ronan 25-16, 25-17, 25-14
KILLS – H-27 (Carlson 6, Y. Miller 6, Wendland 6); R-17 (LaReina Cordova 6). ACES – H-8 (Huse 4, Oliver 3, Wendland); R-2 (Claire Crist, R. Lindquist). ASSISTS – H-28 (Huse 24, Oliver); R-17 (Leina Ulutoa 7). BLOCKS – H-10 (Wendland 4, Columbus 3, Miller 2); R-3 (Lindquist, Ulutoa). DIGS – H-43 (Oliver 16, Carleson 9, Huse 6); R-49 (Lindquist 19).
(Ronan's complete stats were not available at press time.)
Recent Headlines
---