Three chiefs mural unveiled at Ronan High School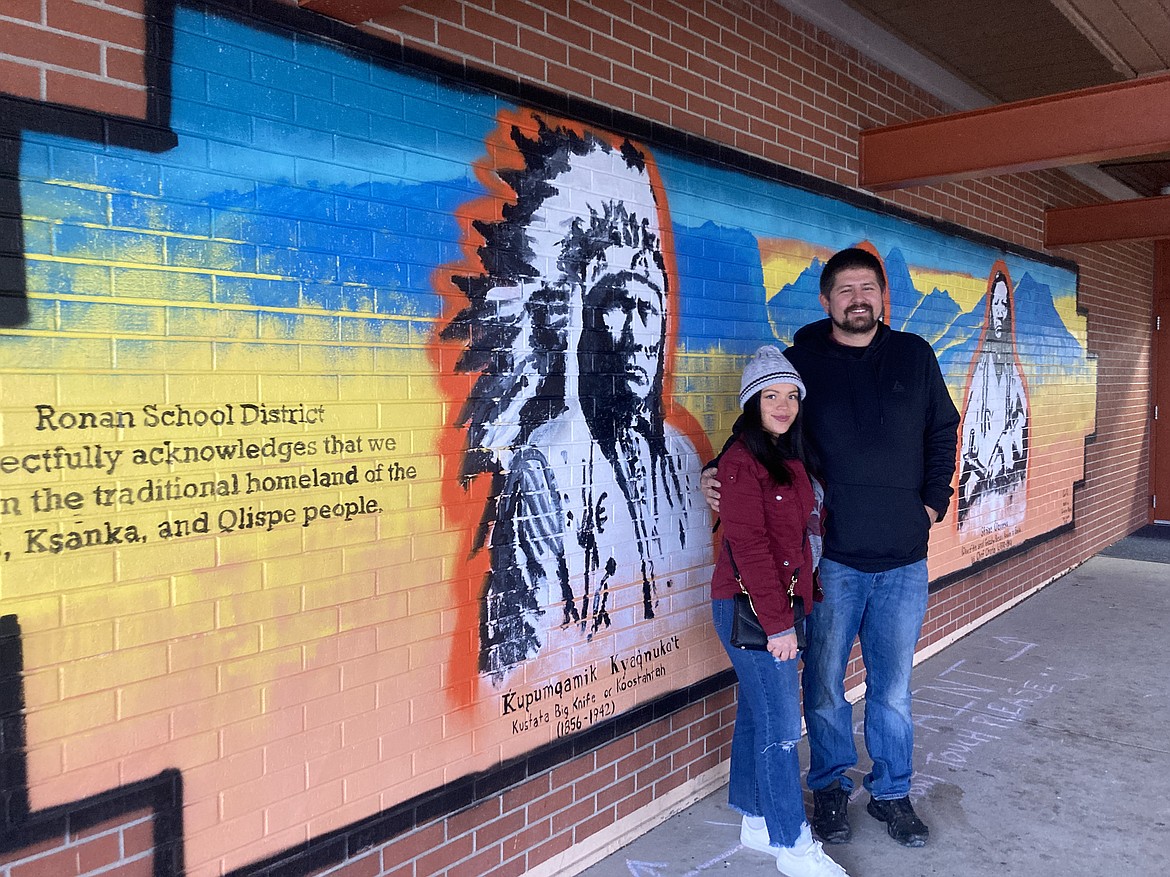 Cameron Decker stands in front of his new mural at Ronan High School with his wife, Salish language teacher Aspen Decker. (Carolyn Hidy/Lake County Leader)
by
CAROLYN HIDY
Lake County Leader
|
November 25, 2021 1:15 AM
RONAN — A giant mural honoring the three chiefs of the Flathead Indian Reservation was unveiled with drumming and speeches Friday at Ronan High School, as part of Native American Heritage Month.
The mural, created by Cameron Decker, is a representation of three leaders, three cultures and three landmark mountains from their territories, painted north to south like the geography of their territories.
On the left, the north is represented by Kootenai Chief Koostatah Big Knife and Chief Cliff Mountain. Pend d'Oreille (Qlispe) Chief Alexander, aka No Horses, is in the center, backed by Sheep's Head Mountain in the Missions. To the right is Salish Chief Charlo, Little Grizzly Bear Tracks, of the south with Arlee's Dancing Boy behind him.
Decker blended the landscape of the mountains, which are actually many miles apart on the landscape, to suggest there are no borders between them. He credited noted local artist Corky Clairmont, who started the fine arts program at Salish Kootenai College and designed the veterans memorial at tribal headquarters in Pablo, as an influential mentor.
Decker's wife, Aspen, teaches Salish language at SKC and also contributed to the concept for the mural.
"She really helped teach me about who these chiefs are, and just how important it is to represent Salish and Kootenai culture," Decker said.
Aspen said another mural will feature strong Indigenous women and children.
"I just couldn't be more proud that students get to see this, and see themselves in it, and feel pride," Cameron said. "I hope this is educational for everybody."
Decker has a long family connection to Ronan High School and the area's elementary and middle schools, which he attended. His grandparents and father taught there, and his parents met there during their teens.
"It feels really good to come back with the art degree that I earned and use my skills to brighten it up a little bit."
Decker said he enjoys making and advocating for public art.
"It's not for sale; it's for everyone to see. You can touch it; you don't have to be afraid of it; you can come take pictures with it."
He said he enjoys hearing kids talking about it as they walk by.
"Students got to come by and see it in progress. The priming, the color wash, then I put the mountains in. It's a very public process. They got to pick up a brush and help, too."
The painting took a few weeks, he said, as he was still teaching classes at SKC and he had to come by when the weather was warm enough to paint.
Decker's master's thesis on public art resulted in the tile mosaic in Riverside Park in Polson. Community members, including more than 100 kids, made tiles for that work.
This is Decker's first mural, but he said he just "attacked it the same way" as his other paintings, which are typically in small books. He will do three more school murals, at K. William Harvey Elementary, Ronan Middle School and Pablo Elementary.
He recently completed a 10-year stint teaching art at SKC. He started this week at the Missoula Art Museum as education and outreach coordinator.
---