Four Pirates claim all-state football honors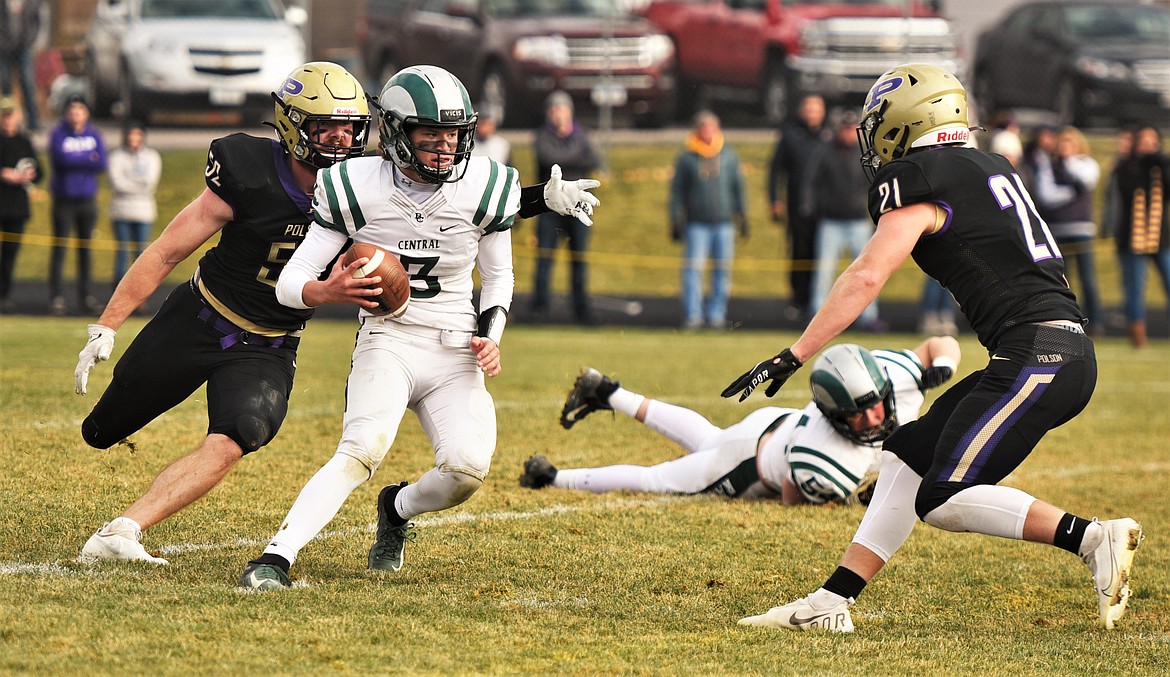 Polson defenders Braunson Henriksen (52) and Dawson Dumont (21) close in on Billings Central quarterback Adam Balkenbush during a state quarterfinal game in Polson. (Scot Heisel/Lake County Leader)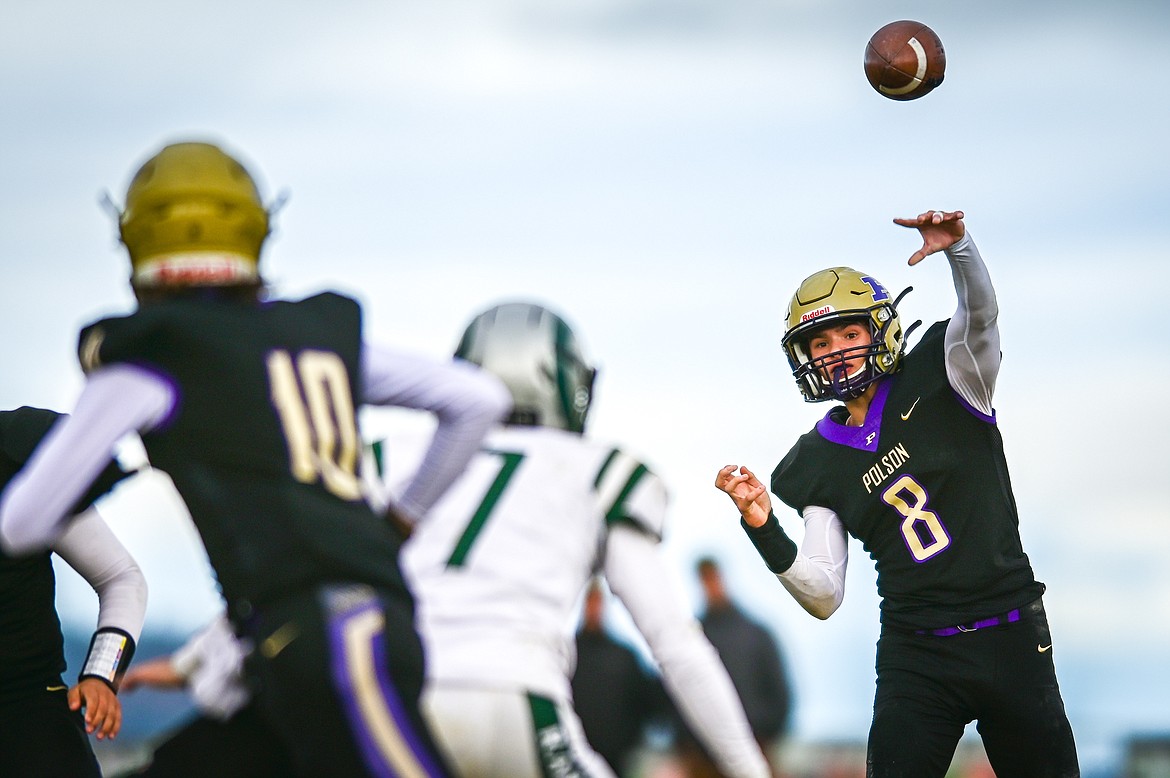 Jarrett Wilson passes to Colton Graham (10). (Casey Kreider/Daily Inter Lake)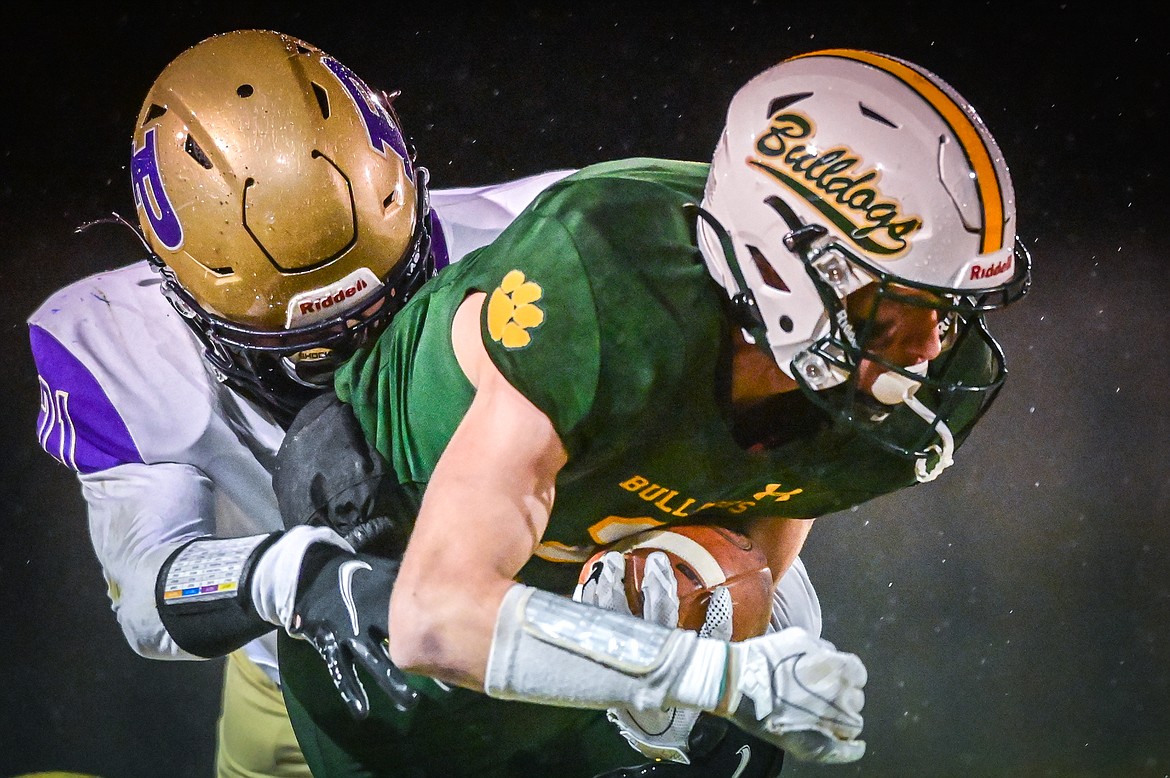 Dawson Dumont wraps up a Whitefish player. (Casey Kreider/Daily Inter Lake)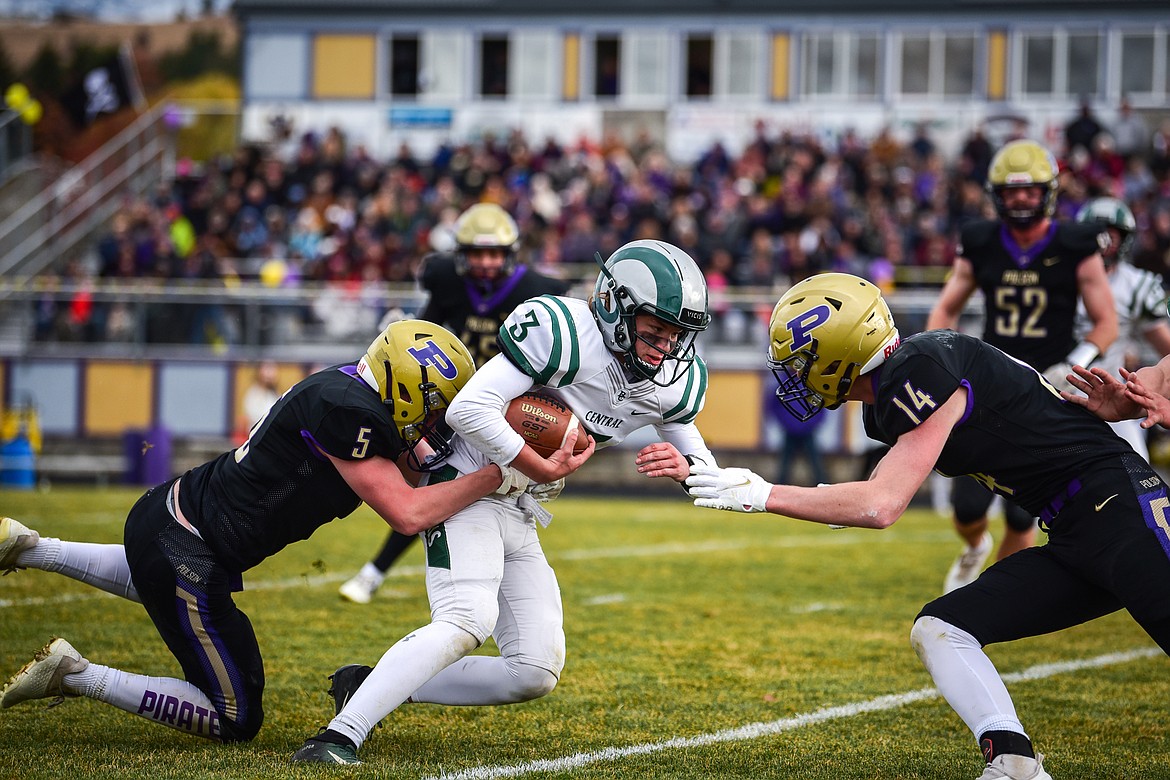 Trent Wilson (5) and Brock Henriksen take down Rams quarterback Adam Balkenbush. (Casey Kreider/Daily Inter Lake)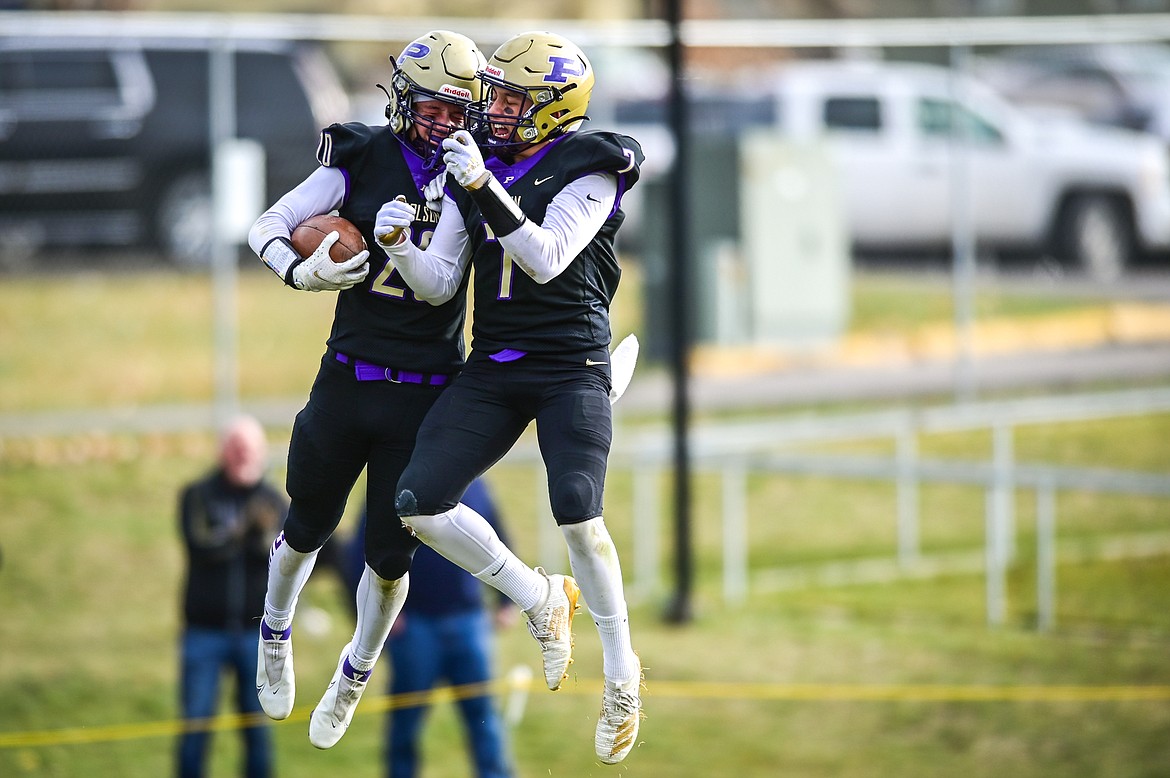 Xavier Fisher (20) and Alex Muzquiz (7) share a celebratory leap. (Casey Kreider/Daily Inter Lake)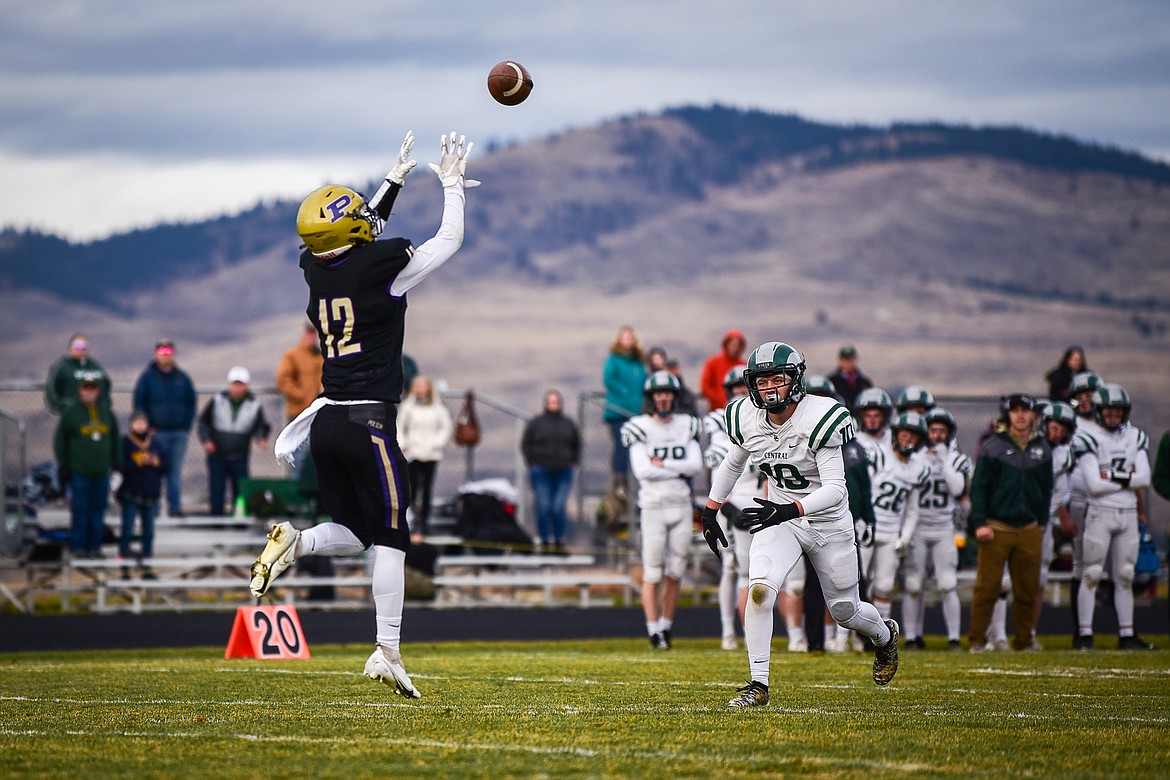 Senior receiver Robert Perez pulls down a reception against Billings Central. (Casey Kreider/Daily Inter Lake)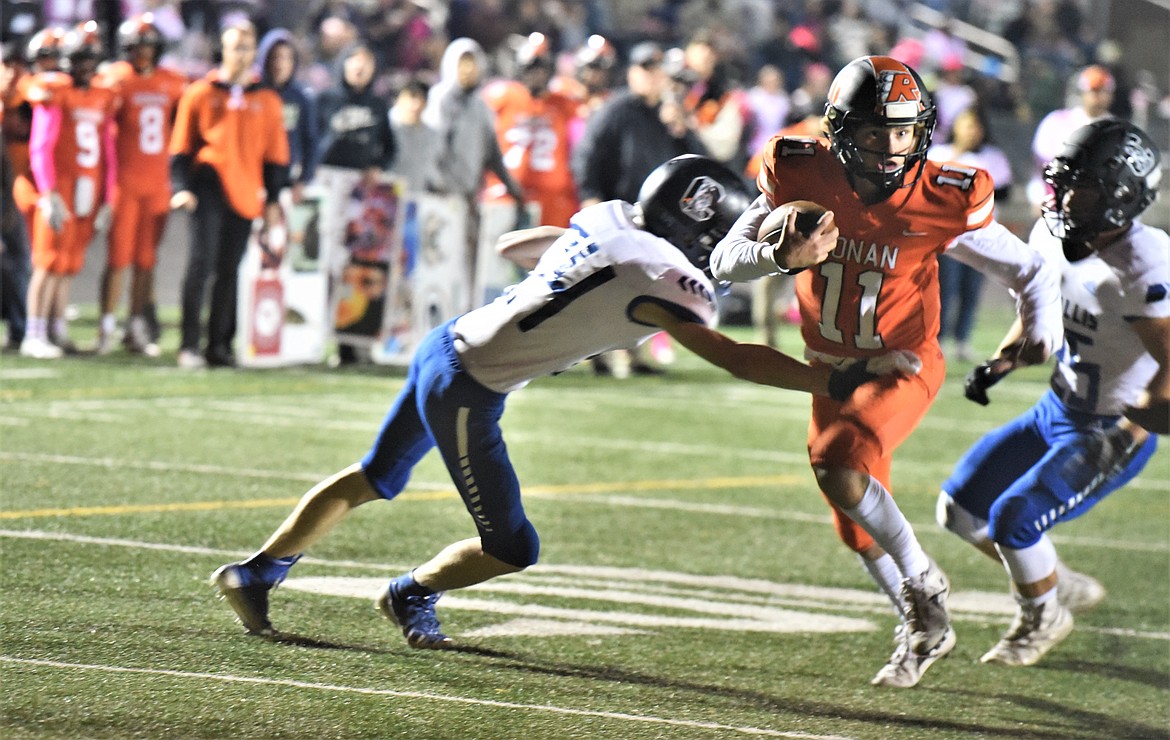 Ronan quarterback Caleb Cheff heads for the end zone on a keeper against Corvallis. (Scot Heisel/Lake County Leader)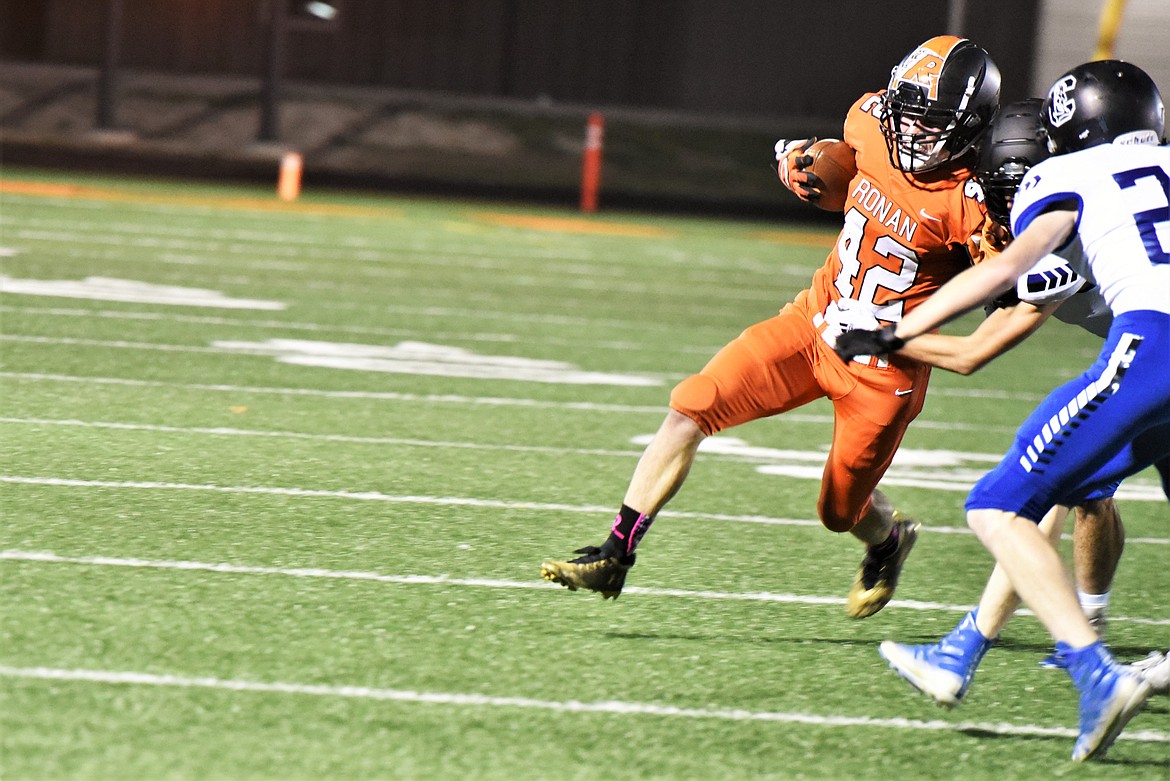 Running back Tristan Fisher heads toward the sideline as the Corvallis defense closes in. (Scot Heisel/Lake County Leader)
Previous
Next
by
SCOT HEISEL
Lake County Leader
|
November 30, 2021 3:45 PM
After wrapping up a 10-1 season and a trip to the state semifinals, the Polson Pirates football team learned this week that 11 of its players received all-conference honors, including four who were named to the Class A all-state team and two who shared most valuable player titles.
Representing the Pirates on the all-state team are junior quarterback Jarrett Wilson, senior offensive/defensive lineman Braunson Henriksen, senior receiver Colton Graham and junior linebacker Dawson DuMont.
Wilson was named co-MVP on offense, along with senior quarterback Tyson Rostad of state champion Hamilton. Henriksen shared defensive MVP honors with Hamilton junior linebacker Liam O'Connell.
Wilson passed for more than 3,000 yards for the second season in a row, connecting on four dozen touchdowns to his receiving corps while rushing for over 600 more yards on the ground that included a half dozen quarterback keepers supplemented by a pair of defensive tallies with a pick-six and a strip fumble recovery.
Wilson completed 228 of 321 passes for 3,081 yards, 48 touchdowns and three interceptions. It was his second consecutive season with more than 3,000 passing yards. He also was the team's leading rusher with 646 yards and six touchdowns. He also recorded 58 tackles as a defensive back and scored two defensive touchdowns. Wilson also was named to the all-state team last fall.
Sixteen of Wilson's TD tosses went to Graham, who finished with 69 receptions for 1,108 yards. Like Wilson, it's Graham's second all-state designation. He finished his prep football career with more than 2,200 receiving yards.
Henriksen, a two-way lineman, notched an interception, an onside kick recovery, a pair of forced fumbles, eight sacks and 19.5 tackles for loss this season while leading the team with seven hurries. The 6-5 senior had 48 tackles and a team-high eight sacks. This was the second all-conference nod for Henriksen, a second-team pick last season.
DuMont, a Western 8-man second-team pick last season for Charlo, had a fumble recovery for a touchtown, a pair of interceptions, a sack and four hurries from his outside linebacker spot. He also had four TD catches from the running back position on offense.
Seven other Pirates and a trio of Ronan players received all-conference second team or honorable mention nods.
Polson senior receivers Xavier Fisher and Alex Muzquiz landed on the second team, along with senior offensive lineman Mason Smith, senior kicker Kaden Nelson and junior linebacker Trent Wilson.
Fisher had 53 catches for 655 yards and 10 TDs. It's the second all-conference recognition for Fisher, a second-team pick last season. He finished his prep career with more than 100 catches for more than 1,200 career yards.
Muzquiz finished the season with 37 catches for 517 yards and eight TDs. He finished his career with more than 50 receptions for more than 700 career yards.
Senior offensive guard Mason Smith anchored the line for the potent Pirates offense. He recorded nine pancake blocks.
Nelson booted a pair of field goals to go with 43 extra points. Nelson, a multi-sport standout, also received an all-conference honorable mention for soccer this fall.
Junior inside linebacker Trent Wilson led the team in tackles with 108 tackles and averaged 10.8 tackles per game. He also led the defense with 37 solo tackles and 71 assists. Seven of his tackles were for a loss. It's the second all-conference nod for Trent Wilson, a second-team pick at outside linebacker last season.
Rounding out the Pirate accolades are a pair of honorable mentions for senior receiver Robert Perez and senior defensive lineman Aaron O'Roake.
Perez finished the season with 43 catches for 578 yards and eight TDs.
O'Roake's contributions included a forced fumble, a pair of sacks, and 8.5 tackles for a loss. He had 36 tackles, including two sacks.
Three players from the 1-7 Chiefs earned all-conference defensive honors. Junior Caleb Cheff made the second team for his prowess at safety. Cheff also started at quarterback for Ronan.
Earning all-conference honorable mentions for Ronan were senior lineman Max Morency and linebacker Tristan Fisher, who also started at running back, rushing for 472 yards and four TDs.
Cheff led the team with 52 tackles despite missing more than two games due to injury. Fisher was second with 51 tackles.
Western A all-state selections
Kyle Holter, Butte Central; Eyston Lakkala, Butte Central; Cody Schweikert, Columbia Falls; Mason Peters, Columbia Falls; Isaiah Roth, Columbia Falls; Callahan Hoffman, Dillon; Connor Curnow, Dillon; Jon Kirkley, Dillon; Noah Rausch, Frenchtown; Carter White, Frenchtown; Peyton Hicks, Frenchtown; Kevin Hanenburg, Frenchtown; Devin Shelton, Frenchtown; Andrew Burrows, Hamilton; Lucas Lant, Hamilton; Eli Taylor, Hamilton; Derrick Saltzman, Hamilton; Liam O'Connell, Hamilton; Tim Zohner, Hamilton; Tyson Rostad, Hamilton; Jonas Johnson, Hamilton; Cy Stevenson, Libby; Dawson DuMont, Polson; Jarrett Wilson, Polson; Braunson Henriksen, Polson; Colton Graham, Polson; Kellan Beller, Stevensville; Ryder Barinowski, Whitefish; Ty Schwaiger, Whitefish; Kai Nash, Whitefish; Talon Holmquist, Whitefish; Bodie Smith, Whitefish; Jack Akey, Whitefish; Jaxson Schluach, Whitefish.
Local all-conference first team
POLSON — Jr. QB Jarrett Wilson; Sr. WR Colton Graham; SR DE Braunson Henriksen; Jr. LB Dawson.
Local all-conference second team
POLSON — Sr. WR Xavier Fisher; Sr. WR Alex Muzquiz; Sr. G Mason Smith; Sr. K Kaden Nelson; Jr. LB Trent Wilson.
RONAN — Jr. SS Caleb Cheff.
Local all-conference honorable mention
POLSON — Sr. WR Robert Perez; Sr. DL Aaron O'Roake.
RONAN — Sr. DL Max Morency DL; So. LB Tristan Fisher.
---