$10,000 Mack Days lake trout caught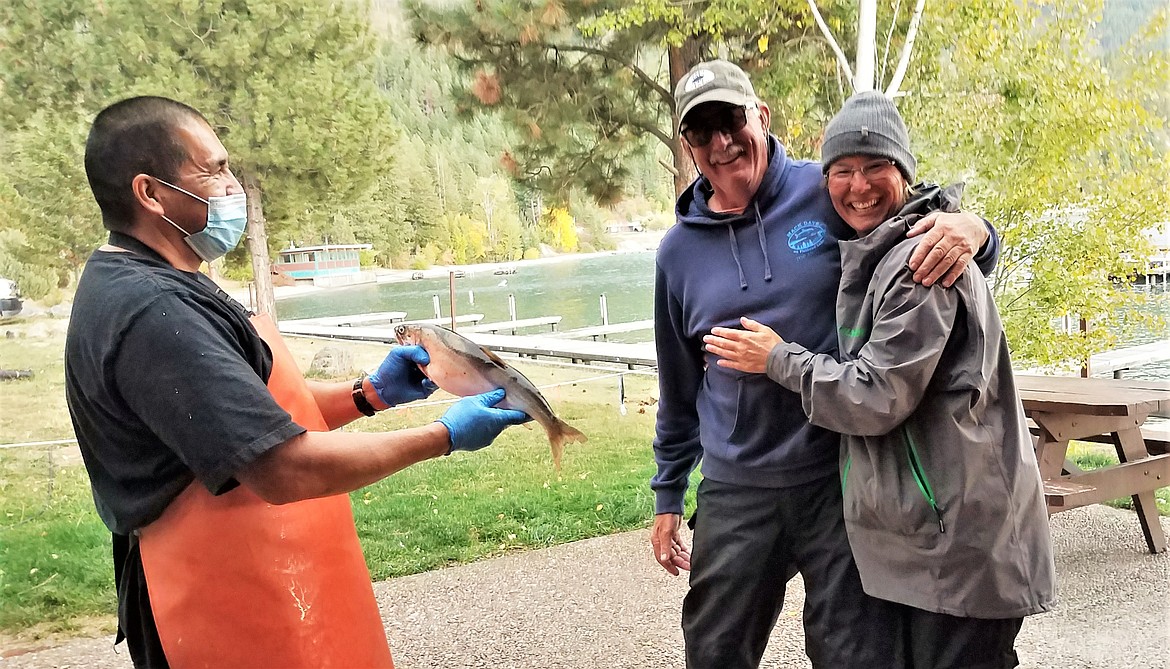 Terry Krogstad and Julie Perkins turned in the $10,000 tagged fish on Wednesday. (Courtesy of CSKT Natural Resources Department)
by
Lake County Leader
|
October 12, 2021 10:50 AM
Freddie Mack has been landed.
Persistent Mack Days anglers Terry Krogstad and Julie Perkins turned in the $10,000 tagged fish on Wednesday.
Terry stopped in front of Blue Bay as he was coming in after a day of fishing with Julie and caught the notorious Freddy in 80 feet of water.
Plenty of tagged fish for the Fall Mack Days event remain.
There are three worth $5,000, five worth $1,000 and more than 9,000 with values from $100 to $500.
There is an additional $1,000 tagged lake trout sponsored by Bretz RV and Marine in Missoula for merchandise from their business. Bretz is also sponsoring the $500 cash prize for the largest lake trout over 36 inches and 20 pounds.
Up to $200,000 in cash and prizes will be awarded at the conclusion of the event on Nov. 14. Visit www.mackdays.com to learn all the different ways to win.
A total of 7,804 lake trout entries are in through Week 4. The Monday-Thursday total was 1,402, and the Friday-Sunday total was at 6,402. Friday's return was 396 fish, with 355 Saturday and 80 on a windy Sunday.
Felix Gauci of Stevensville continues to lead the Top 20 category with a total of 656 lake trout entries. Second place is Larry Karper of Florence with 434, followed by Scott Bombard of Missoula (372), Sam Cusker of Bigfork (366), Mike Benson of Lonepine (357), Jack Kirkland of Missoula (335), Richard Kreis of Huson (322), Larry Ashwell of Missoula (282), Julie Perkins of Kalispell (268), and Terry Krogstad of Kalispell (247) and a $10,000 tagged fish.
Perkins leads the Ladies category with 268 entries, followed by Laurie Kreis of Huson (234), Kim Mack of Missoula (75), Debby Sacchi of Thompson Falls (48) and Gina Schiff of Whitefish (43).
Larry Karper leads the 70 & Over category with 434 entries, followed by Jack Kirkland (335), Larry Ashwell (282), John Gauci of Stevensville (207) and Paul Grove of Wyoming, Ill. (101).
Entries will be taken until the last day of the event. It is free to enter. Saturday, Oct. 16 is the second Bucket Day, when the heaviest bucket of four lake trout that measure under 30 inches will win a $200 cash prize.

Mack Days fishing events are sponsored by the Confederated Salish and Kootenai Tribes and sanctioned by Montana Fish, Wildlife and Parks. The event is used as a management tool to reduce the non-native lake trout in Flathead lake.

Recent Headlines
---