Lady Pirates take Round 2 against Ronan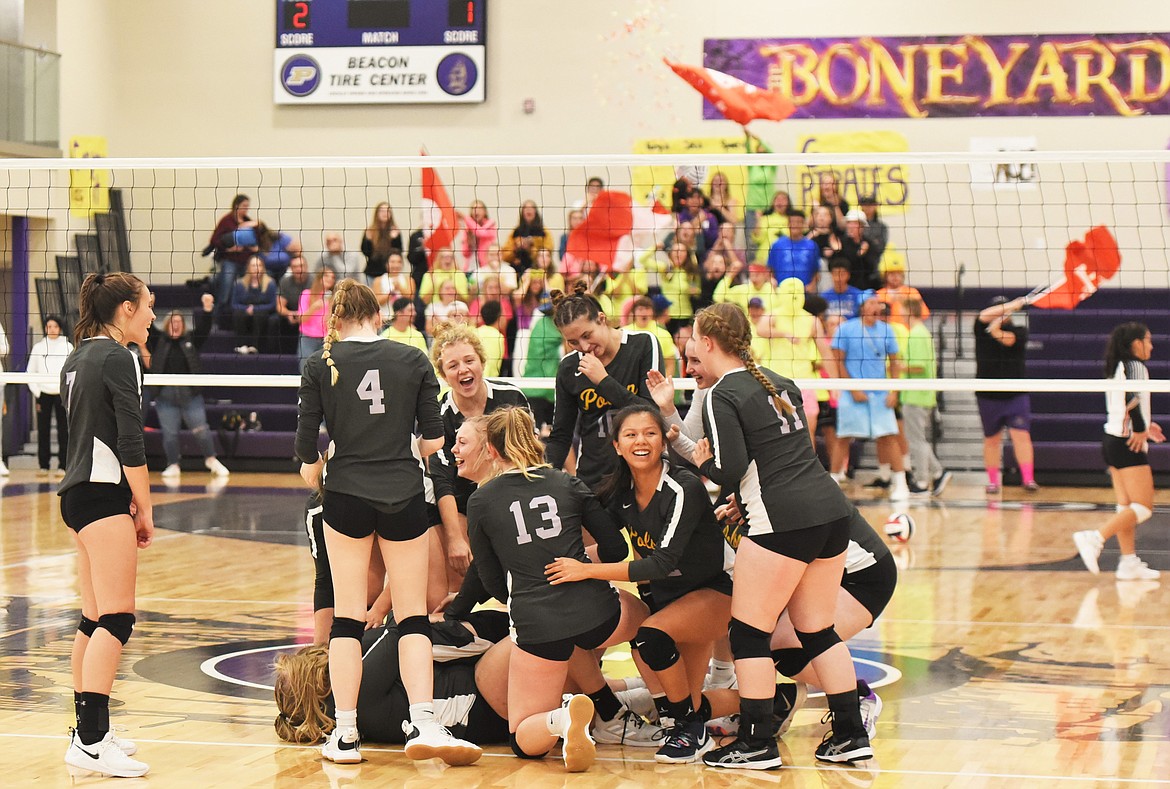 Polson players and fans celebrate after knocking off rival Ronan at home Saturday. (Scot Heisel/Lake County Leader)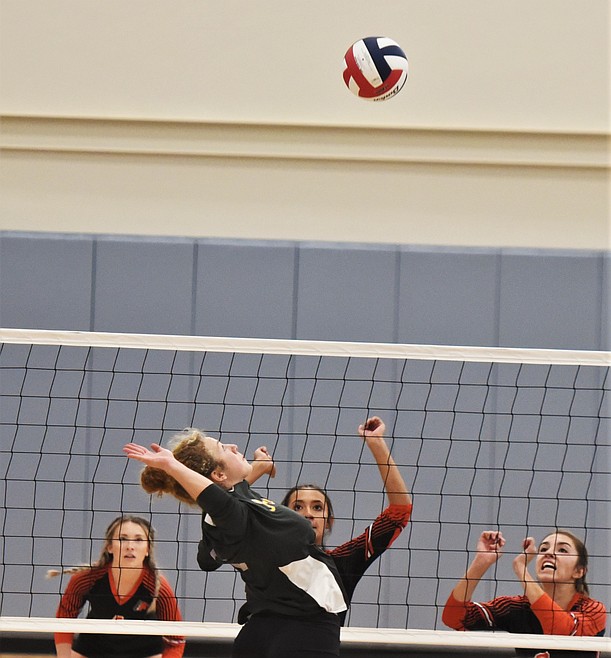 Polson's Camilla Foresti rises for a shot against the defense of Hannah Rowe (4), Leina Ulutoa, center, and Olivia Clairmont. (Scot Heisel/Lake County Leader)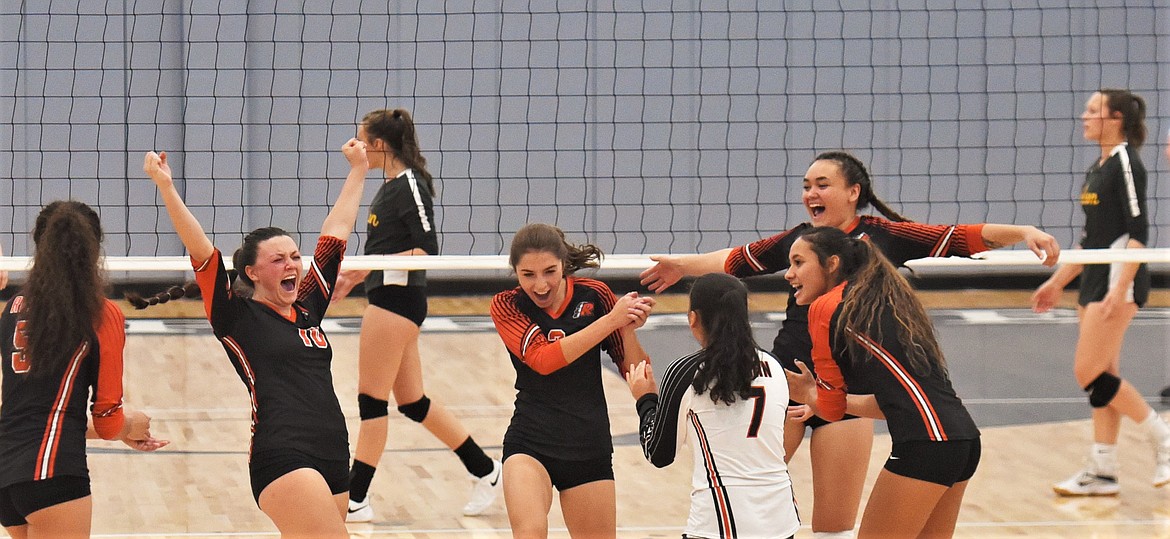 Ronan players celebrate a point against Polson. (Scot Heisel/Lake County Leader)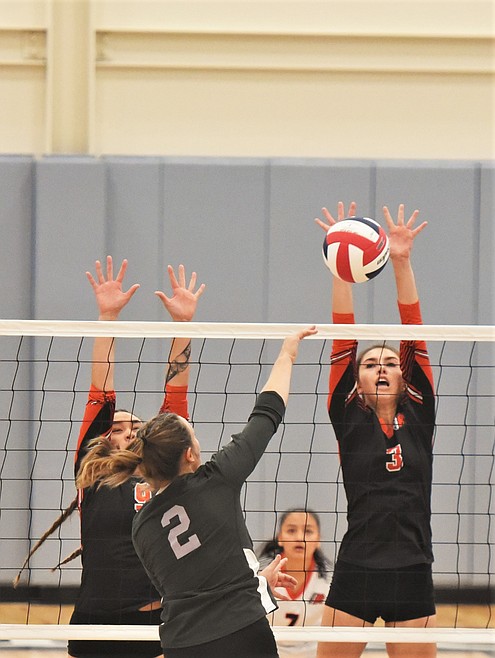 Polson's Mckenna Hanson fires a shot at Ronan's Kylie Fetui (9), Margaret Cordova (7) and Olivia Clairmont (3). (Scot Heisel/Lake County Leader)
Previous
Next
by
SCOT HEISEL
Lake County Leader
|
October 13, 2021 9:45 AM
The Polson volleyball team took another big step toward a conference title Saturday with another win over rival Ronan on their new home court at Linderman School.
Camilla Foresti led the Lady Pirates (8-1, 6-0) with 14 kills and Liz Tolley fired 12 of her own as Polson defeated the Maidens 25-13, 19-25, 25-18, 25-23.
It was the two teams' second and final meeting for the regular season. Polson won a five-set thriller at Ronan on Sept. 16. The Lady Pirates' lone defeat this season was in four sets at home against Corvallis (9-3) on Sept. 4.
Ronan (7-2, 4-2) has been dominant outside of its two meetings with Polson.
"Our middles played amazing," Polson head coach Lizzy Cox said Saturday. "Clara (Todd) did awesome, Liz (Tolley) did awesome. I think we were able to stop their middles, which weren't able to do very well when we played last time."
LaReina Cordova and Olivia Clairmont each had a team-high 10 kills for Ronan, while Riley Lindquist contributed nine kills and nine digs.
Ronan head coach Lacey Phelan said her players performed well but settled for soft, strategic shots over power shots a bit too much.
"We got into a situation where we were playing not to lose and not playing to win," Phelan said. "We were tipping at the end, and we can't tip against a team like Polson. Their defense is too good. They'll pick it up. If we're not aggressively playing offense, we're not going to beat a team like that."
Polson cruised in the opening set as the Maidens appeared to still be getting their footing. Trailing 10-9, McKenna Hanson took over service and the Lady Pirates reeled off seven straight points, at least five on kills by Foresti and Tolley. The early streak shook Ronan and boosted Polson to a 25-13 first-set win.
Ronan bounced back in a tight second set, and scored six straight points late to go up 21-15 on their way to a 25-19 win.
Neither team led by more than a few points through most of the pivotal third set. Polson put it away late on an ace by Tolley and a kill by Todd for a 2-1 advantage heading to the fourth.
With the match on the line, the Maidens hung tight and tied it up at 23-all on a LaReina Cordova kill.
Polson seized the final two points on a kill by Foresti and a match-ending kill from Lucy Violett.
During the first match in Ronan, the Maidens struggled to return Polson's serves. They did a much better job the second time around.
"Serve receive was a big focus the last two weeks," Phelan said. "I thought we improved a lot. But the first two games passing was really on but we couldn't get offense going, and the last two games offense was rolling and passing started to quiver again. … Just too many small errors along the way."
Leina Ulutoa notched 19 of Ronan's 31 assists Saturday, while the Lady Pirates got 23 assists from Avery Starr and 22 from Grace Simonich.
"I think our passing did it, and then just having a better presence in the middle opened everything up," Cox said.
The Maidens were set to visit Class B Mission on Tuesday after the Leader went to press. Both Ronan and Polson will compete at the Blocktober Classic on Friday and Saturday at Butte. The event involves single sets in a round-robin format and results will not affect official season records.
Polson def. Ronan 25-13, 19-25, 25-18, 25-23
KILLS – Ronan 32 (L. Cordova 10, Clairmont 10, Lindquist 9, Ulutoa 2, Frost); Polson 52 (Foresti 14, Tolley 12, Todd 9, Hanson 8, Violette 3, Pierre 3, Simonich 3). ACES – R1 (Ulutoa); P9 (Burrough 3, Foresti 3, Tolley, Hanson, Starr). ASSISTS – R31 (Ulutoa 19, Rowe 8, M. Cordova 2, Fetui 2); P46 (Starr 23, Simonich 22, Violett). BLOCKS – R6 (Clairmont 4ba, Frost 1bs1ba, Fetui 2ba, Ulutoa 1ba, Lindquist 1ba, L. Cordova 1ba); P4 (Todd 3, Simonich). DIGS – R52 (L. Cordova 16, M. Cordova 14, Lindquist 9, Ulutoa 5, Rowe 3, Fetui 2, Webster 2, Clairmont); P55 (Foresti 13, Barnard 11, Tolley 9, Starr 8, Hanson 7, Simonich 4, Violett 2, Burrough).
Northwest A volleyball standings
Overall — Conf.
Polson — 8-1; 6-0
Ronan — 7-2; 4-2
Libby — 5-5; 5-2
C. Falls — 7-4; 4-3
Whitefish — 1-9; 1-6
Browning — 1-8; 0-7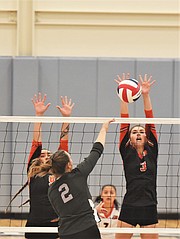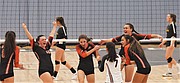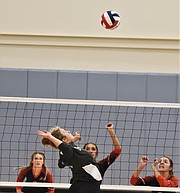 Recent Headlines
---