Polson soccer wraps up season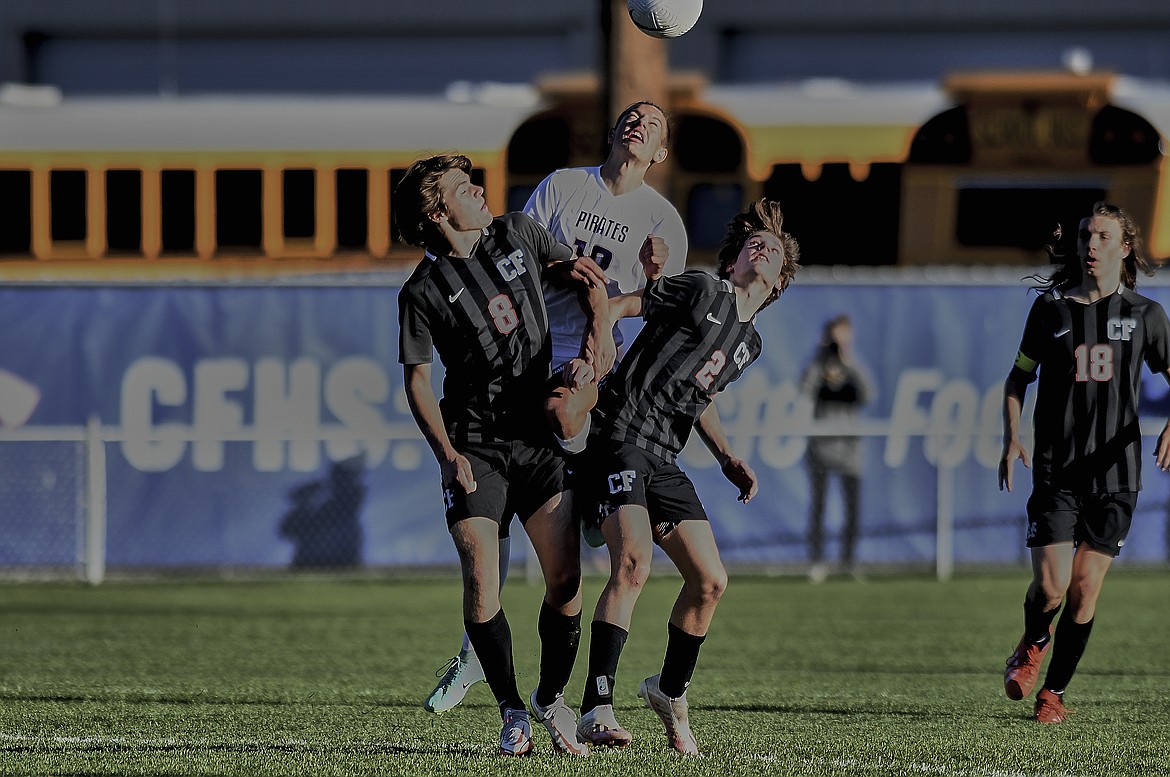 Polson senior Tray Lichtenberg goes up for a ball during the Pirates' game at Columbia Falls. (Chris Peterson/Hungry Horse News)
by
John Heglie, special for the Leader
|
October 13, 2021 9:00 AM
Polson soccer squads faced the highest degree of difficulty of their season when they closed out the regular schedule against the two top teams of the Northern A conference.
On Senior Night in Polson, the visiting Whitefish girls led a balanced attack as five different Lady Bulldogs scored goals.
The Lady Pirates (2-5-1, 4-6-2) countered with a Tia Mercer goal in the first half, her 13th of the season. Senior forward Sophia Moderie scored a late goal for her 21st of the season and 60th of her career.
At Columbia Falls, Moderie scored on a penalty kick for Polson's lone score of their season finale.
The bar was set even higher for the Polson boys as the final two games entailed facing the two teams who played in the State A title tilt last season. Polson (2-6, 2-10) was held scoreless against defending three-peat champion Whitefish as well as by the Wildcats in Columbia Falls.
Senior keeper Kaden Nelson stopped more than three dozen shots during the final contests of his prep career.
Girls: Columbia Falls 8, Polson 1
Polson 0 - 1 – 1
C-Falls 4 - 4 – 8
CF – Maddie Robison (a Neveah Carlin) 24'
CF – Hope McAtee (a Robison) 26'
CF – Robison (a McAtee) 30'
CF – McAtee (a Jenna Weaver) 38'
CF – Cheyanne Johnston-Heinz (a Weaver) 43'
CF – Johnston-Heinz (a McAtee) 54'
CF – Robison (a McKenzee West) 63'
P – Sophia Moderie (pk) 65'
CF – Robison (unassisted) 71'
SAVES – Polson 18 (Ellie Dupuis), C-Falls 2 (Zoey Byrd)
Girls: Whitefish 10, Polson 2
Whitefish 6 - 4 – 10
Polson 1 - 1 – 2
W – Emma Barron (a Sofie Saurey) 1'
W – Sadie Olson (a Barrron) 2'
W – Barron (a Healy) 7'
P – Tia Mercer (a Moderie) 10'
W – Sophie Olson (a Barron) 15'
W – Sadie Olson (a Healy) 19'
W – Barron (a¹ Genovese, a² Cooke) 29'
W – Adrienne Healy (a Maddie Muhlfeld) 45'
W – Healy (a Isabelle Cooke) 62'
W – Olivia Genovese (a Healy) 65'
W – Genovese (unassisted) 67'
P – Sophia Moderie (a Mady Luikart) 72'
SAVES – WF 9 (Norah Schmidt), Polson 21 (Ellie Dupuis 20s1b4h)
Boys: Columbia Falls 7, Polson 0
Polson 0 - 0 – 0
C-Falls 3 - 4 – 7
CF – Dale Blickhan (a Golan) 30'
CF – Kai Golan 32'
CF – Blickhan (Hunter Trenary) 36'
CF – Golan (a Sundberg) 41'
CF – Ethan Austin (a Blickhan) 47'
CF – Findley Sundberg 50'
CF – Austin (a Trenary) 53'
SAVES – Polson 22 (Kaden Nelson), C-Falls 5 (Bryce Dunham)
Boys: Whitefish 6 Polson 0
Whitefish 4 2 – 6
Polson 0 0 – 0
W – Gabe Menicke (a Chase Sabin) 5'
W – Luke Roberts (a Aaron Dicks) 8'
W – Roberts (a Dicks) 13'
W – Joe Brandt (a Lyman) 25'
W – Brandt (a Kane Nissen) 43'
W – Collin Lyman (a Townsend Reed) 77'
SAVES – WF 6 (Will Peppmeier, Ethan Schott, Ayden Mintz); Polson 12 (Kaden Nelson 12sv6h)
Recent Headlines
---